Galaxy Note 10: Fingerprint recognition issue
Last Update date :
Oct 29. 2020
Applicable Models: Galaxy Note10, Note10+, S10, S10+
Background: Few user reported that fingerprint of Galaxy device with ultrasonic fingerprint sensor may be unlocked by patterns of the silicone case. Samsung has released software patch to fix it. Please follow below steps:
If the user has registered a fingerprint on one of these devices, the user will receive a notification about Biometrics update with instructions. This update is being sent out gradually, so you may not receive the notification immediately.
If users have registered or scanned a fingerprint with a silicone screen cover on phone, especially a screen cover with a textured surface on the inside, they should remove all of existing fingerprints and re-register them again without the front cover after update is complete.
Once again, user should make sure that there's no screen cover when they register new fingerprints. User may not be able to register or scan their fingerprints if they use a screen cover, especially any screen cover with a bumped or dotted pattern.
And, user need to make sure they use their entire fingerprint when they register, so that all portions of fingerprint, including the center and corners have been fully scanned.
Update Procedure
1
When user gets the notification, they need tap to open it. Read the notices carefully and then tap Update button.
2
Update is processed. Once update is finished, restart your device.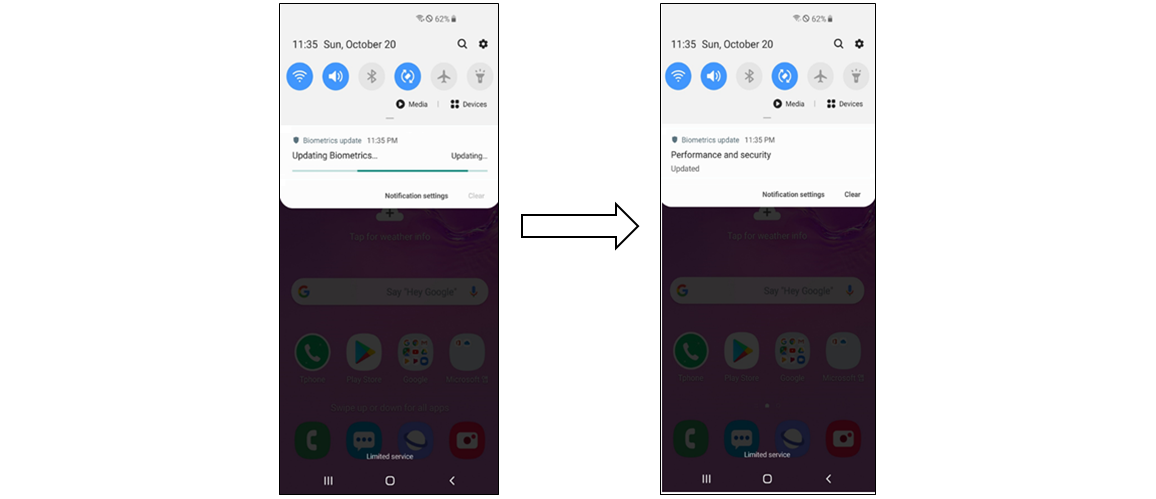 How to check if the update is completed successfully
1
From Settings, tap Biometrics and security
2
Tap Biometrics preferences
3
Check the Version name of fingerprints. If the update is completed successfully, version is like next.
Pie-OS : Fingerprints 2.0.24.20 , Q OS : Fingerprints 5.0.0.1