Know about the Home Screen of Samsung Galaxy Grand(GT-I9082)
Last Update date :
Oct 13. 2020
Samsung has come up with a 5" Smartphone with top-end features at a medium budget. Lets find out the Home screen Interface of this new device called Samsung Galaxy Grand ( GT-I9082) :
Read below for further description of home screen which is shown below :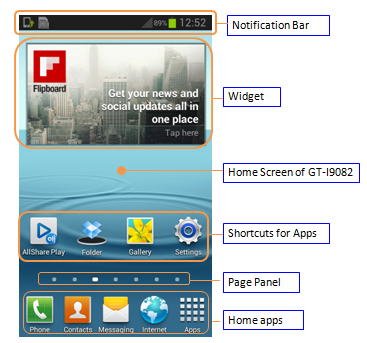 Notification Bar : User can access the following data through this notification area :
● Status of your SIM cards ( SIM1 , SIM2)
● Any new update on messaging, mails etc.
● It tells you the Battery Status.
● It shows the Mobile Operator Clock.
● It shows the strength of your Mobile network.
Widget : This is a customizable part of the home screen which user can access for Straight updates without going inside the settings of your phone. For example : A facebook widget will give you new notifications on the widget itself. This feature is dependent on the availability of Internet .
Shortcuts : A Samsung Galaxy Grand user can personalize their home screen with different shortcuts for apps they use frequently. Please refer to the represenatation above for a clear picture.
Page Panel : Samsung Galaxy Grand has 7 Pages on their home screen shown by the number of dots, that they can use for their convinience.
Home Apps : These are the common apps on the lower part of the home screen that users can access in all the pages other than the home page. These apps can be edited but usually frequently used apps find their places in this area.
CLICK HERE to know about Group Contacts in Samsung Smartphones.