What all Rear Camera modes available in Samsung Galaxy S6 Edge+(SM-G928G)?
Last Update date :
Oct 14. 2020
Your Samsung Galaxy S6 Edge+ comes with various Rear camera modes for the perfect shot. On rear camera state, there are 9 preloaded mode Auto, Pro, Selective focus, Panorama, Video collage, Live Broadcast, Slow motion, Fast motion and Virtual shot.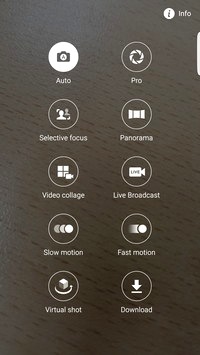 CAMERA MODE

DESCRIPTION

Auto

Take the best possible pictures by setting the device to

adjust the exposure and color of pictures automatically.

Pro

Adjust the ISO sensitivity exposure value, white balance,

focal length, and color tone manually while taking pictures.

Selective focus

Change the focus of pictures after they have been taken.

You can focus on subjects near to the camera, far away

from the camera, or both.

Panorama

Create a linear panorama by taking consecutive pictures

in either ahorizontal or vertical direction.

Video collage

Create your own short collages and slow motion videos

without any editing tools. You can easily share created

videos viayour social network accounts.

Live Broadcast

Broadcast videos on YouTube and share the link with

your friends so they can watch it live.

Slow motion

Record videos at a high frame rate for viewing in slow

motion. You can play a specific section of each video

in slow motion after recording it.

Fast motion

Record videos for viewing in fast motion. You can play

a specific section of each video in fast motion after

recording it.

Virtual shot

Create multi-directional views of objects.