What are the Gallery Grid view Menu options available in Samsung Galaxy Camera(EK-GC100)?
Last Update date :
Oct 13. 2020
The Gallery allows you to view pictures and videos you have captured. With photos, you can access the edit functions, set an image as a contact photo or wallpaper, or share the image.
You can access the Gallery by tapping Apps

> Gallery

. All of your Albums will be displayed, including those of nearby devices.
Tap on Menu

icon for the following options (some options may not appear in the Spiral or Timeline views) :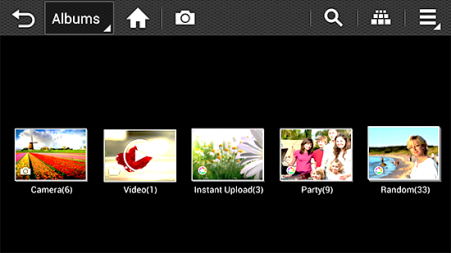 ● Slideshow: Start a slideshow of the image files in the gallery.
● New album: Create a new album.
● View by: Choose the content you would like to appear in the Gallery. Select from All, Content in device, Content in Facebook, and Content in Picasa. If the option is grayed out, there is no corresponding account present on the device.
● Select album: Select multiple albums to Delete, Share, or view a Slideshow.
● Scan for nearby devices: Scan for nearby devices you can share with wirelessly.
● Hide/Show nearby devices: Hide or show nearby devices' albums.