Check signal cable error message or No Signal on the TV
Last Update Date :
Jun 17. 2019
Please Note: This help content is only applicable to the product purchased from Indian retailers. If you require help for the products purchased outside of India contact your local Samsung subsidiary for more information.

The Check Signal Cable error message indicates that the TV detects there is a cable connected to your Samsung TV but does not detect a device connected to the other end of the cable. You may see this message when connecting any device, an antenna, or a direct cable line.


Please follow below Tips & Solution:
• Make sure that the source causing the error message is connected properly and that all connections are firm.
• Checking that the cable is properly seated in the TV and external source.
• Try Powering off the TV, Unplug the Cable wait for 10 minutes and reconnect.
No signal appears due to connectivity issue or Signal Quality Issue. Check Connectivity Guide for Connectivity issue and below mentioned procedure to check Signal Quality.
Check the Signal Quality on TV
Digital signals can still be susceptible to interference, so even if you live in a strong signal area, adverse weather conditions can affect your signal quality. You may experience small glitches in the picture or more obvious signs where the picture is deteriorating. 
When you perform the initial setup of your TV, it is important to make sure that you are receiving the correct TV signal from your local TV transmitter by making the correct regional selection. Otherwise, you may experience missing channels or find that you cannot view certain programmes due to a weak signal. 
To check the signal quality of a channel, first select a channel which seems to have a weak signal or interference . Then follow these steps to analyse the results for the selected channel:
1
Go to the Support section in Menu
Depending on your model, you can find this either by:
a) pressing the Menu button on your remote, then scrolling down to Support
OR
b) Pressing the Home button, going to the Settings cog on the Menu bar and then selecting More , then Support

Note: In New Series Press Home instead of Menu.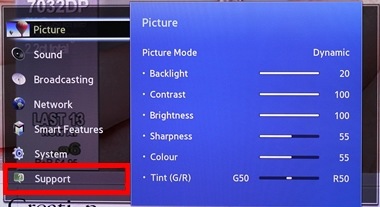 2
Now select Self Diagnosis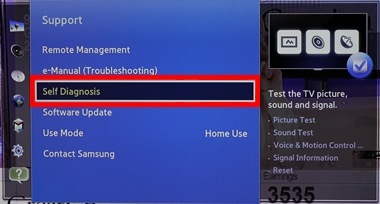 3
Choose Signal Information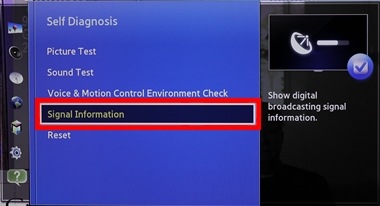 4
A Signal Information page will now appear.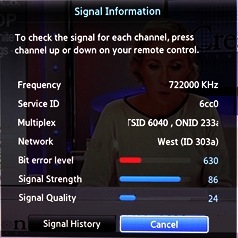 When analysing the Signal Information, it is important to note that Signal Quality is more important than Signal Strength.
Aerial Splitters
These allow two TVs to operate from the same aerial but reduce the strength of the signal available to the TV. 
Signal Boosters/Amplifiers
These devices can work well but some amplify everything, including noise and interference, it is better to ensure that your aerial is correctly installed and aligned first, before relying on an amplifier.
Note: If you are still facing the issue, Please call 1800 40 7267864 (Toll Free in India) or Chat with Us for further assistance.
Not finding what you're looking for? We're here to help.
Call

* For any printer related enquiries, please visit the HP website .
Contact Us