What is HDMI: CEC?
Last Update date :
Oct 14. 2020
High-Definition Multimedia Interface (HDMI) is a compact audio/video interface for transferring uncompressed video data and compressed / uncompressed digital audio data from a HDMI-compliant device ("The Source Device") to a compatible Digital Television, Digital Audio Device, Video Projectors, Computer Monitor is the standard for connecting high-definition home theatre components. HDMI is the only interface in consumer electronics that can carry both uncompressed high-definition video and Uncompressed Two-channel audio in all HD formats (720p, 1080i and even 1080p).
Consumer Electronics Control (CEC) is an HDMI feature designed to allow the user to command and control up-to 15 CEC-enabled devices, that are connected through HDMI. By using only one of their remote controls (for example by controlling a Television set and Home Theater System using only the remote control of the TV). CEC also allows for individual CEC-enabled devices to command and control each other without user intervention.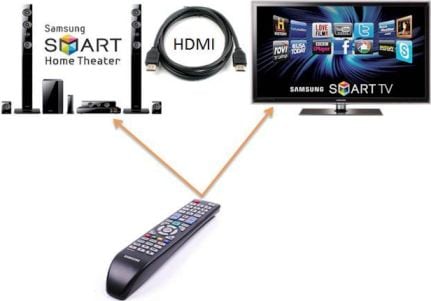 ( HDMI CEC in both TV and HTS )
NOTE : HDMI carries all Digital Video and Audio channels in a single cable to connect any HDMI-enabled source device to a Display System.
Last Updated on: 22/1/2014