* Price subject to change without prior notification
Keep clothes looking new with Diamond Drum™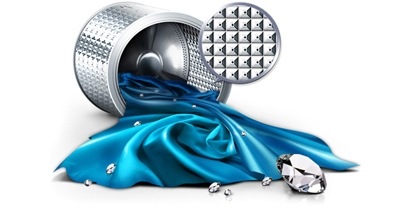 The uniquely designed holes of drum are deeply embossed in diamond shape that creates the perfect environment for gentle but effective washing of clothes. Fabric don't catch in the cubic drum and are subsequently not damaged.
5 Step Super Wash
Samsung presents a unique 5-Step Super Clean System that is engineered to remove dirt and grime easily and quickly. What is 5-step cleaning? Samsung washing machines ensure the perfect wash by its unique 5 Step Super Clean System. Step by step, it first removes dirt from between fibres, then from the fabric surface and finally lifts stains and dirt completely from the clothes. After washing, its like you're wearing as good as new clothes altogether. Step 1: deep soaking Removes deep-set dirt from between fibres • Less water is added initially to get rid of ingrained dirt, which keeps the detergent concentrated. • Gentle water currents allow the detergent to fully permeate the fabric. Step 2: soaking Eliminates heavy dirt from fabric surface • A minimum of water is added at this stage to maintain concentration of the detergent and further allow permeation of the fibres. Step 3: stain dissolving Dirt dissolves and completely separates from clothing • More powerful water currents drive detergent into the fibres to dissolve dirt. • Water is added at this stage to prevent clothing damage and enhance detergent activity. Step 4: dirt separation Completely lifts stains and dirt from clothes • Since laundry is automatically weighed at the beginning of the cycle, proper amount of water is added at this stage. • Vigorous tornado-like water currents completely lift stains and extract dirt particles from fabric. Step 5: deep cleaning Prevents removed dirt from re-contaminating laundry • In this final stage, clothes have already absorbed a certain amount of water. • Water in the tub is returned to its original level to ensure that dissolved matter does not re-attach to the fabric.
Practically dry, straight from the washer
In the Air Turbo Drying System, powerful motor rapidly rotates the washing machine drum to pull more water out the load and hence reduce drying time. With the combination of air intake and turbo power, a Samsung Washing Machine gives practically dry clothes straight from the machine.
Magic Filter
An insightful innovation that improves upon conventional technology to increase lint collection. What is Magic Filter? Samsung's Magic Filter ensures better collection of lint when the water level is low. Locating the filter in a lower position than conventional washing machines improves filtering performance at any water level. The advantages of Magic Filter • Lower Magic Filter achieves effective filtration. • Effective rinsing leads to lesser wastage of water
Stronger glass window
The tempered glass window is much stronger than conventional window to provide long life span even with scratch free surface. This highly durable window also withstands wear and tear.
Rated

5

out of

5
by
s.k.g
from
Excellent product with minimum controls
Excellent product by Samsung. I am using this machine from the past 5 years (average 1-1/2 hr daily) still it is running perfectly. Since, it does not have a built in heater, we installed an instant geyser with mixer at inlet point. This arrangement is also working very well. Initially, I was not very sure about the design of inlet solenoid valve whether the same would withstand high temperature or not, but it worked. There is no scaling or clogging. Overall nice and sturdy product with good value for money.
Date published: 2015-07-21
Rated

5

out of

5
by
Madhumita Roy
from
Great Product
This is a really superb product from my favourite Samsung. The only short coming of this product is it doesn't have hot wash. Or else, this is the perfect one for anyone.
Date published: 2015-06-01
User manual & Downloads
Live Chat
* Key feature may different from Key Spec