Galaxy Watch Active2
SM-R820NSKA
SM-R820NSKAINU
Galaxy Watch Active2 (Steel)
is rated out of
5
by
7
.
Timeless design with digital touch bezel
Cutting edge activity tracker
Wide range of watch faces to choose from
Match your style
Super AMOLED
Technology (Main Display)
3.45cm (1.4")
Size (Main Display)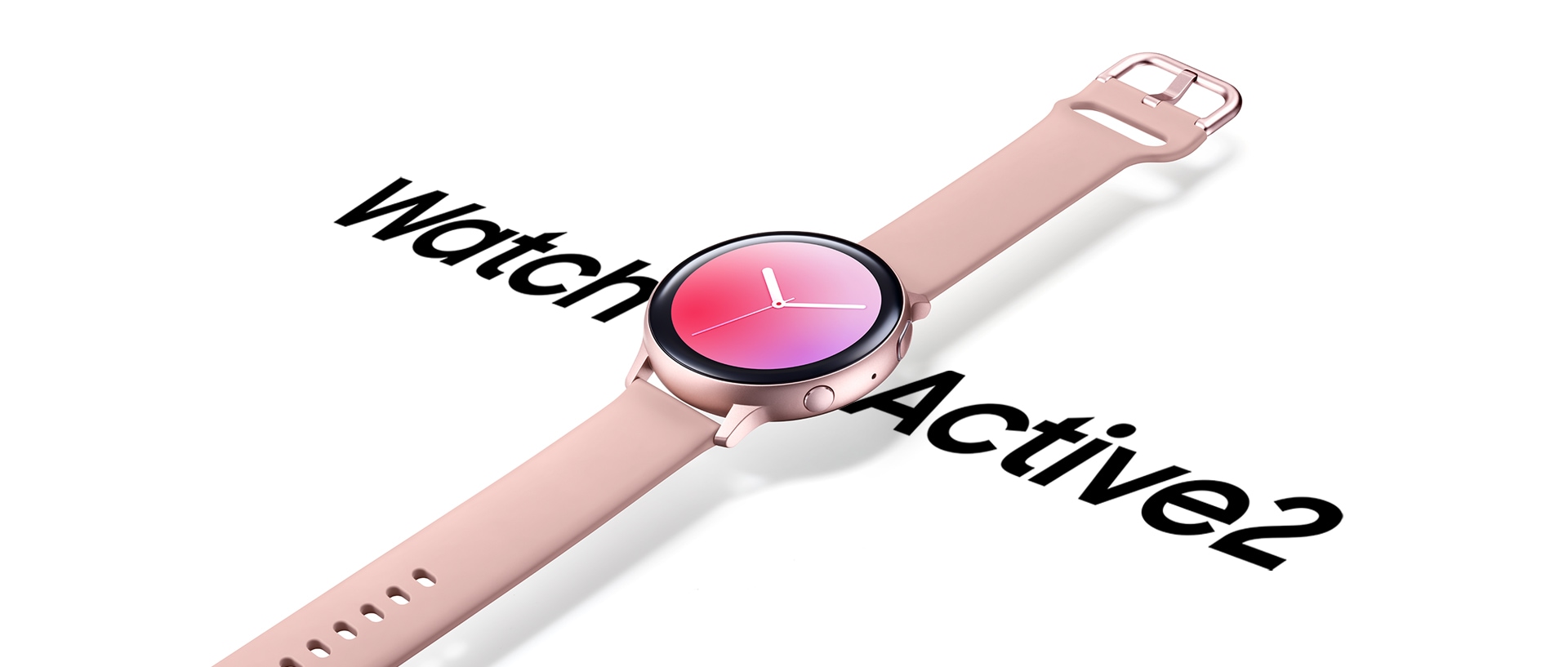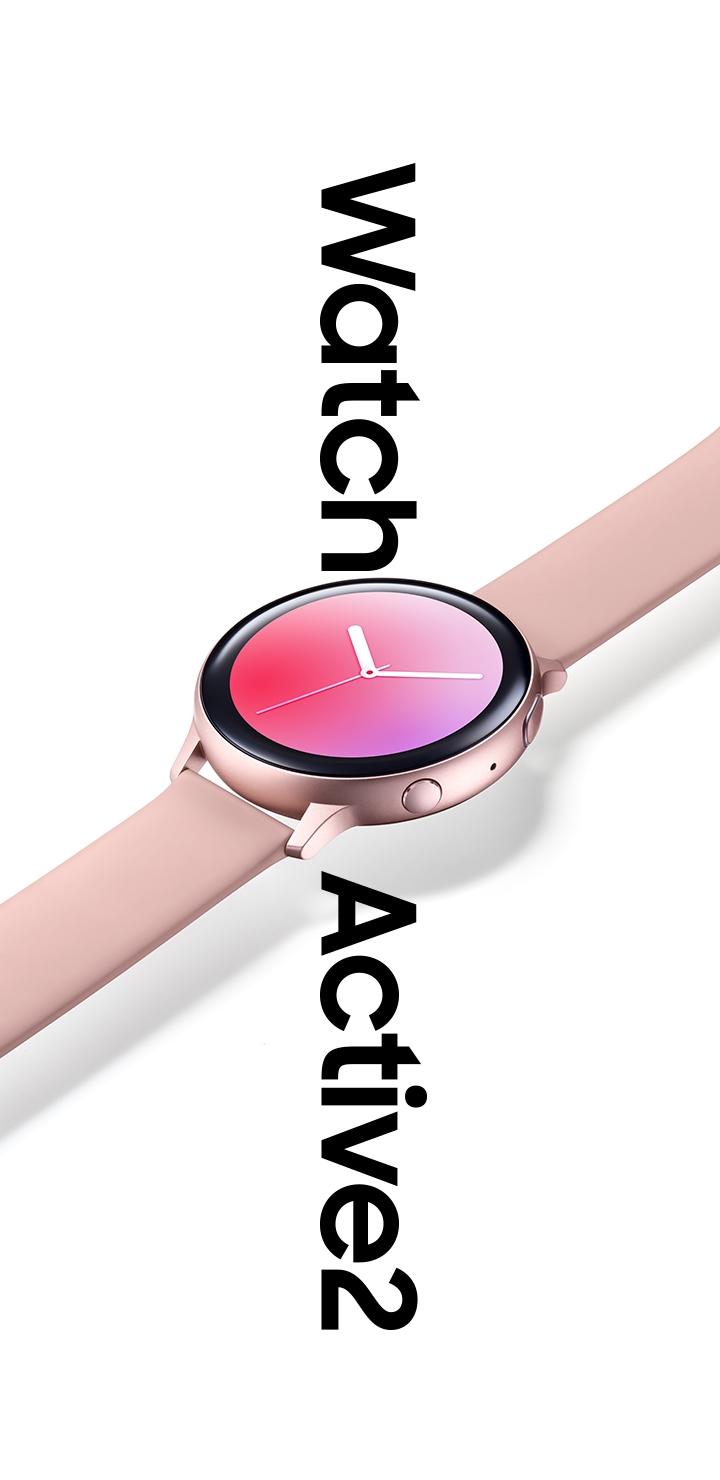 The all-new Galaxy Watch Active2 now comes with a bigger customizable screen and fresh new look. It gives you precise health insights when you need it, while keeping you fully connected. Whether you are out for a run, or pushing through your next deadline the Galaxy Watch Active2 will keep you at your optimal performance inside and out.
Custom comfort on your wrist
Get the looks and comfort you want for a wellness partner that you keep on 24/7.
The Galaxy Watch Active2 is super customizable from day one. Choose from a tough stainless steel
or lightweight aluminum body design, and personalize with a wide assortment of straps, to get a
look that's just perfect.1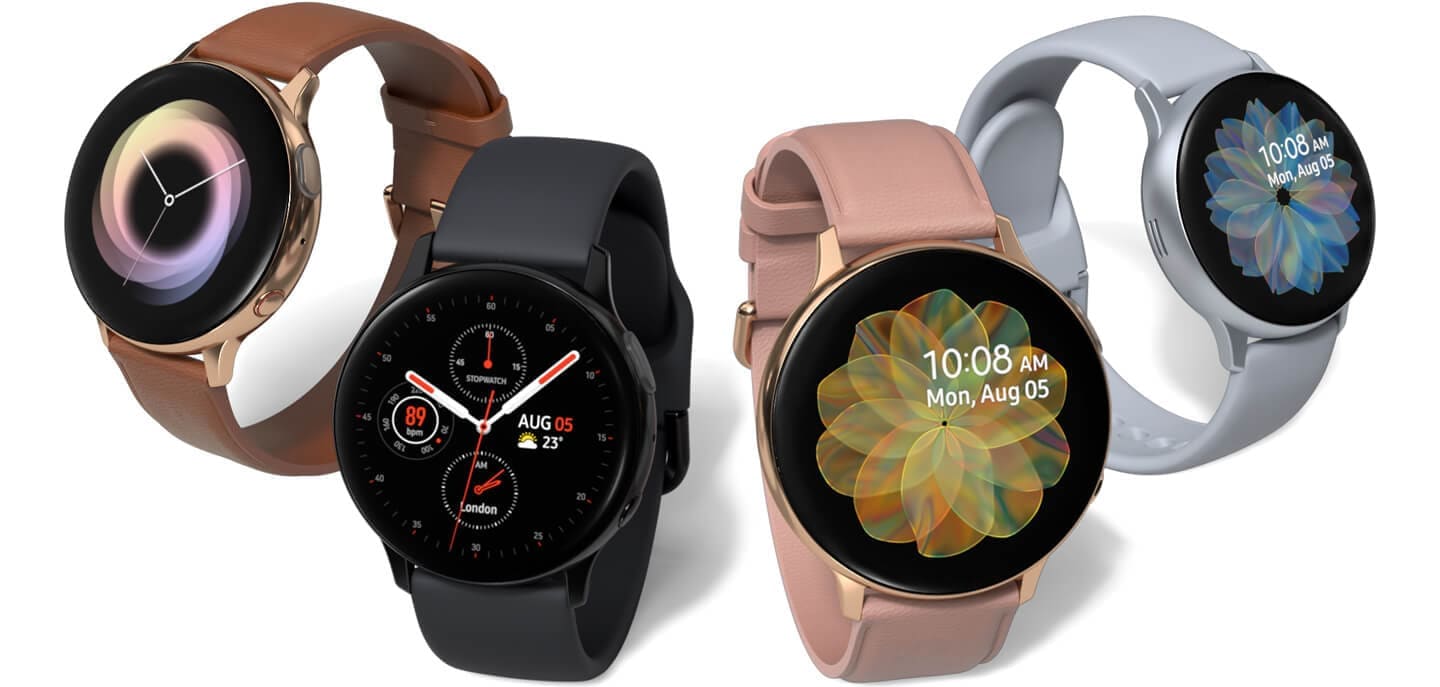 Widen your space
Maximize your screen space with an uninterrupted view on a sleek body fitted with a touch bezel for quick control.
Galaxy Watch Active2 features an enlarged display with a pure black screen and a border
that's hardly there for more space to get the insight you need.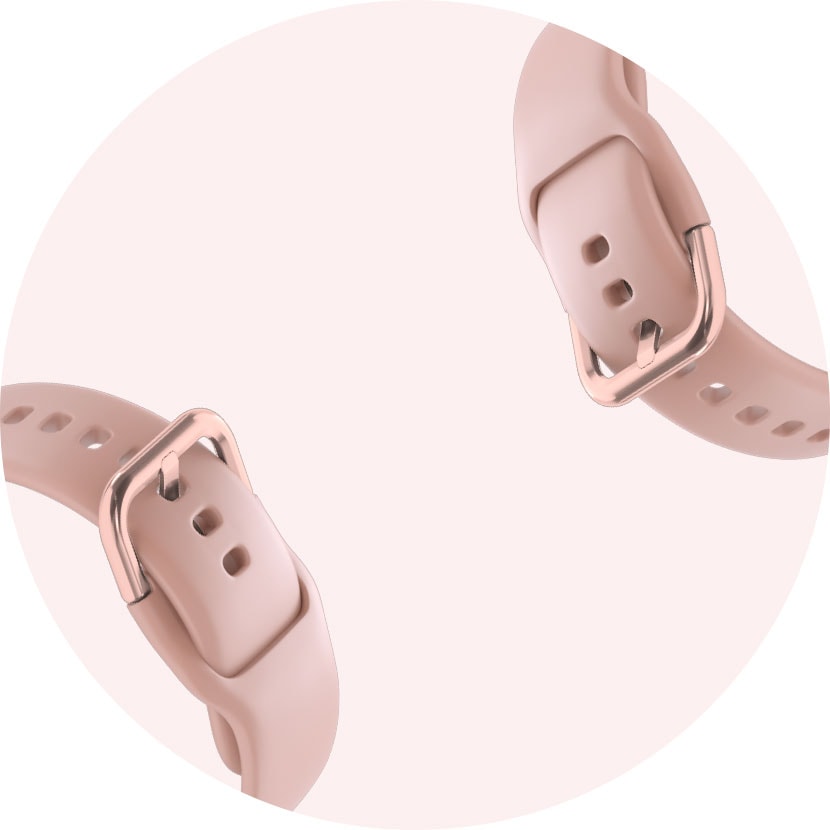 Get the look
that matches
your look

#withGalaxy
Snap your outfit
and
grab your look
Express yourself with a watch face that fits your look and mood. When you snap a picture of your outfit for the day Galaxy Watch Active2 will put together a watch face to match.
Match your strap
in a flash
Complement your style with a watch face that matches the color and material of your strap. When you buy a watch strap and scan the QR code on the package you'll get a link to Galaxy Store to download a watch face that fits it. 2,3,4
* Multi-colored straps sold separately.
* QR Code is a trademark of Denso Wave Inc.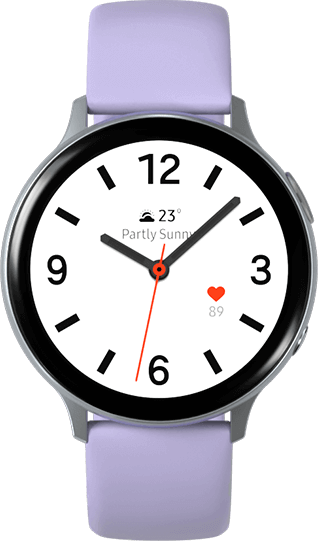 A watch to make your own
Mix and match for a watch design that fits your look. Choose from the wide selection of straps and put together
your own custom Galaxy Watch Active2.
Experience
Track your
workout on
your wrist
Galaxy Watch Active2 tracks your movements so you can just slip it on and get working out. With swimming added to automatic tracking you now get seven exercises, while manual tracking works for all activities for dozens you can track. Running coach function gives you actionable advice in real time. 5,6
Walking

Running

Cycling

Rowing

Elliptical
trainer

Others
Workout

Swimming
Heart
rate
tracking
for peace
of mind
Keeps up
where
you go
Take your watch along on the road less traveled. Galaxy Watch Active2 goes where you go with an IP68 and 5ATM water and dust rating plus military grade durability to handle a range of conditions, so you can keep it on to go farther and experience more. 16,17
Apps to push you further
Bring enhancement to your life with apps ranging from the Galaxy lineup to a large variety of downloadable 3rd party apps.
Download apps to create your own personal lineup for smart advice on the fly that you can pull up without leaving your wrist.18
Get connected
to your device
Wide compatibility with both Galaxy and non-Galaxy
smartphones. Get started by seeing which devices are
compatible with Galaxy Watch Active2.
* Android : Android 5.0 (L OS) or higher, RAM 1.5GB above (Samsung/Non Samsung)
* iOS : iPhone 5 and above, iOS 9.0 or above.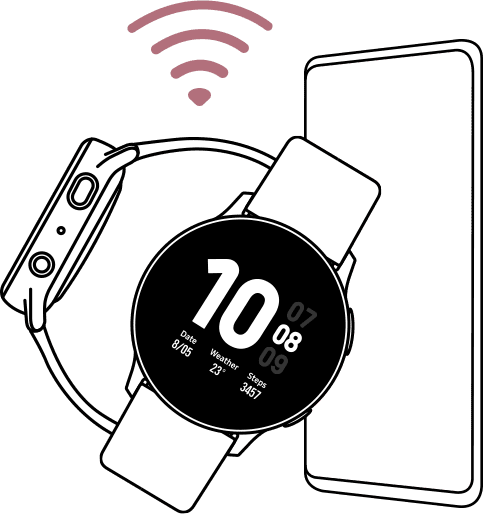 1.Availability of models may vary by country and carrier
2.Available strap models may vary country.
3.Image simulated for illustrative purpose.
4.My Style works with android smartphones paired with Samsung Galaxy Watch Active2. QR code watch face and strap matching works with smartphones paired with Samsung Galaxy Watch Active2.
5.Intended for general wellness and fitness purposes only.
6.Fitness tracking on the watch can be used as standalone, but data stored in the watch may only be partially displayed after a certain period of time. Smartphone pairing is recommended in order to keep all data stored.
7.Stress feature available in all countries except Angola, Cyprus, Algeria, Canada, and Thailand.
8.Sleep / stress management function on the watch can be used as standalone, but data stored in the watch may only be partially displayed after a certain period of time. Smartphone pairing is recommended in order to keep all data stored.
9.HR monitoring function on the watch can be used as standalone, but data stored in the watch may only be partially displayed after a certain period of time. Smartphone pairing is recommended in order to keep all data stored.
10.Camera Controller function is compatible with Samsung Galaxy S10, S10+, S10e, Note10, Note10+ and Fold models.
11.Apps available for usage may vary depending on country, region, and connection type (LTE / Bluetooth).
12.UI is subject to change.
13.SNS Viewer, Translator and camera controller app require separate download before use.
14.Actual battery life varies by network environment, features and apps used, frequency of calls and messages, number of times charged, and many other factors.
15.As assessed by Samsung. Actual battery life may vary depending on network environment, usage patterns, and other factors.
16.Galaxy Watch Active2 has a water resistance rating of 50 meters under the ISO standard 22810:2010. It is not suitable for diving or high-pressure water activities. If the device or your hands are wet, they must be dried thoroughly prior to handling.
17.US Military Standard Compliant (MIL-STD-810G)
18.Availability of apps for Galaxy Watch Active2 may differ by carrier or country.
Tizen

OS

Super AMOLED

Technology (Main Display)

3.45cm (1.4")

Size (Main Display)

1.15GHz

Processor

4

ROM Size (GB)

42

Weight (g)
Rated

1

out of

5
by
Jitesh123
from
Lte model, very high price
Bluetooth version is selling at the price of LTE version. LTE version is still not available. Better to go for other companies like fossils, apple watch, etc
Date published: 2019-11-07
Rated

5

out of

5
by
Himanshu
from
Finally!!
Finally got the black aluminium active2 today, and it's awesome, touch bezel is snappy and it's pretty lightweight
Date published: 2019-10-30
Rated

4

out of

5
by
Anonymous
from
Impressive.....
This is my first smartwatch and it looks so good..... Build Quality is superior..... Battery Backup is Up to the mark till now at moderate usage..... Bluetooth connectivity works well from around 50 to 60 feet, but I expect some more as far as the range is concerned..... Speaker is quite good..... Wants some more Apps on store for Watch, especially from Samsung itself.....
Date published: 2019-11-03
Rated

5

out of

5
by
Nazal Panoly
from
Please launch LTE version in India
There is no better android smartwatch in india that supports LTE..So if galaxy active 2 LTE version gets a launch in India...It will be a heavy success..
Date published: 2019-10-17
Rated

5

out of

5
by
Pranav20
from
touch bezel is best in the company
i was about to buy the galaxy watch but after buying active watch 2 i think i made a right decision .. touch bezel on active 2 is just amazing and the 8 photosensors can beat the watch in the game
Date published: 2019-10-29
Rated

2

out of

5
by
HealthMonk
from
Let It Pass.
please read this detailed review before you buy it. I bought this watch after a lot of research. i had option of buying versa 2 and this one. Pros - - display is good, bright enough. - readability is fair. you can see watch screen clear enough in outside condition. - phone calls are clear, with no issues of sound on other side. - battery life depends on your usage, i am getting 4 days with NO Bluetooth. with BT on, may be 1.5 days. - build is light, you wont feel much of the weight. -sleep tracking is very accurate. this is the only feature i like Cons - - charging is very slow! (2.5 Hrs) - step count is NOT accurate. 40 mins of drive will have 10 steps wrong per minute. which means 40 steps extra. also, usual walking, strolling around room will NOT be registered by watch. - stress measurement is NOT continuous, though it says measure continuously but it does not measure that. - THE BIGGEST CON is samsung health app. what that app does is, double count the steps. for example, i have 300 steps on my watch ( which is okay enough ), & my samsung health app also calculates steps using the phone's sensor. It will add those steps to the watch. example, 450 steps on phone - then samsung health app will adjust the steps on watch to 450. this is the biggest let down. watch calculates steps fairly fine on its own (not 100% accurate) but why the h*ll samsung health app has to modify step counter on watch? this is beyond my understanding. - ANOTHER biggest con is - NO exercise timer app. this is a joke of the century. watch active 2 - the word is 'Active'! it has no dedicated interval/exercise timer app where you can add workout and rest interval. you will have to pay for third party app which will cost you INR 200+ (anyway galaxy store has only credit card option, so you cant pay - those who dont have CC) - GPS drop issue is another serious flaw, which will result in your runs being inaccurately monitored overall, i wouldn't recommend this product, sorry samsung.
Date published: 2019-11-16
Rated

5

out of

5
by
Shubhamkeshri
from
Launch the active 2
Please launch the active 2 ..I am waiting for since 1 month..
Date published: 2019-10-18
User manual & Downloads
Live Chat
How It Stacks Up
No Cost EMI starts from ₹ 5,330.82/ month.
Standard EMI starts from ₹ 2,758.55/ month.

Get MakeMyTrip Travel Vouchers with up to 25% off.

Get 10% MobiKwik SuperCash up to ₹1,000.