Samsung's Wobble technology take care of your clothes and your money
Would you ever thought that you could save money while washing your clothes? Samsung's Wobble DIT washing machine has a technology that cleans and cares your clothes so they are always as good as new, while saving 40% of energy.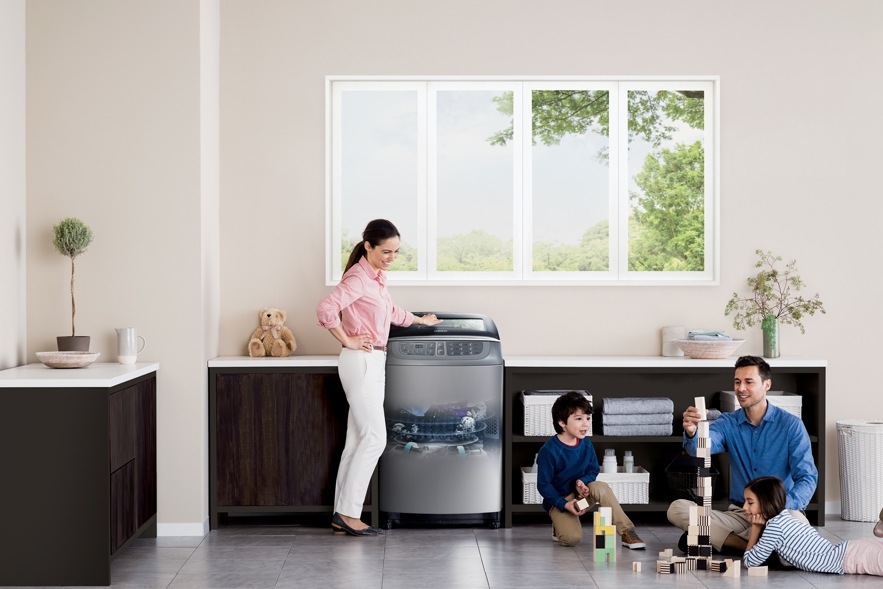 In these times, users are increasingly interested in acquiring appliances with innovative technologies that facilitate and improve their life, but without invest a huge budget. Also, if these equipments are friendly to the environment, much better!
Samsung always has those premises in mind, and with that concept has created the Wobble DIT washing machine that provides a powerful washing and a gentle care of fabrics at the same time.
What is Wobble Technology?
Samsung's unique structure of Wobble pulsators generate a multidirectional washing flow through left and right, upper and lower water movement. Wobbles Technology's dynamic water movement not only washes laundry more cleanly, but protects it from frictional damage. This means that frequent laundry, such as school uniforms or your favorite clothes, do not suffer the wear and tear caused by the brushes or pulling the knot of clothes that is formed in conventional washing machines.
Wobble technology cleans even delicate fabrics thoroughly, withouth the stress and mess of tangles. Its Magic Dispenser allows you to wash with less worry about detergent residues, as it creates a vortex of water that dissolves and disperses evenly the soap before the wash cycle begins.
Take care of your family budget and the environment
Its Digital Inverter technology (DIT) allows a 40% energy saving (it also implies lower vibrations and greater durability), so you will not only save by preserving your clothes for longer, but also in the electricity bill. This washer uses strong magnets for a more powerful and quieter performance, but it consumes less energy than conventional equipments. You will also use less water thanks to the Magic Dispenser, which prevents you from wash twice to remove detergent residues.
The design of this washing machine is also seamless, with smooth curves and chrome finish. Its door is made of tempered glass and its waterproof panel give it an elegant and modern look.
Our washing machine also has exceptional durability. The use of high quality components and excellent engineering, is backed with a 10 year warranty on its DIT engine.