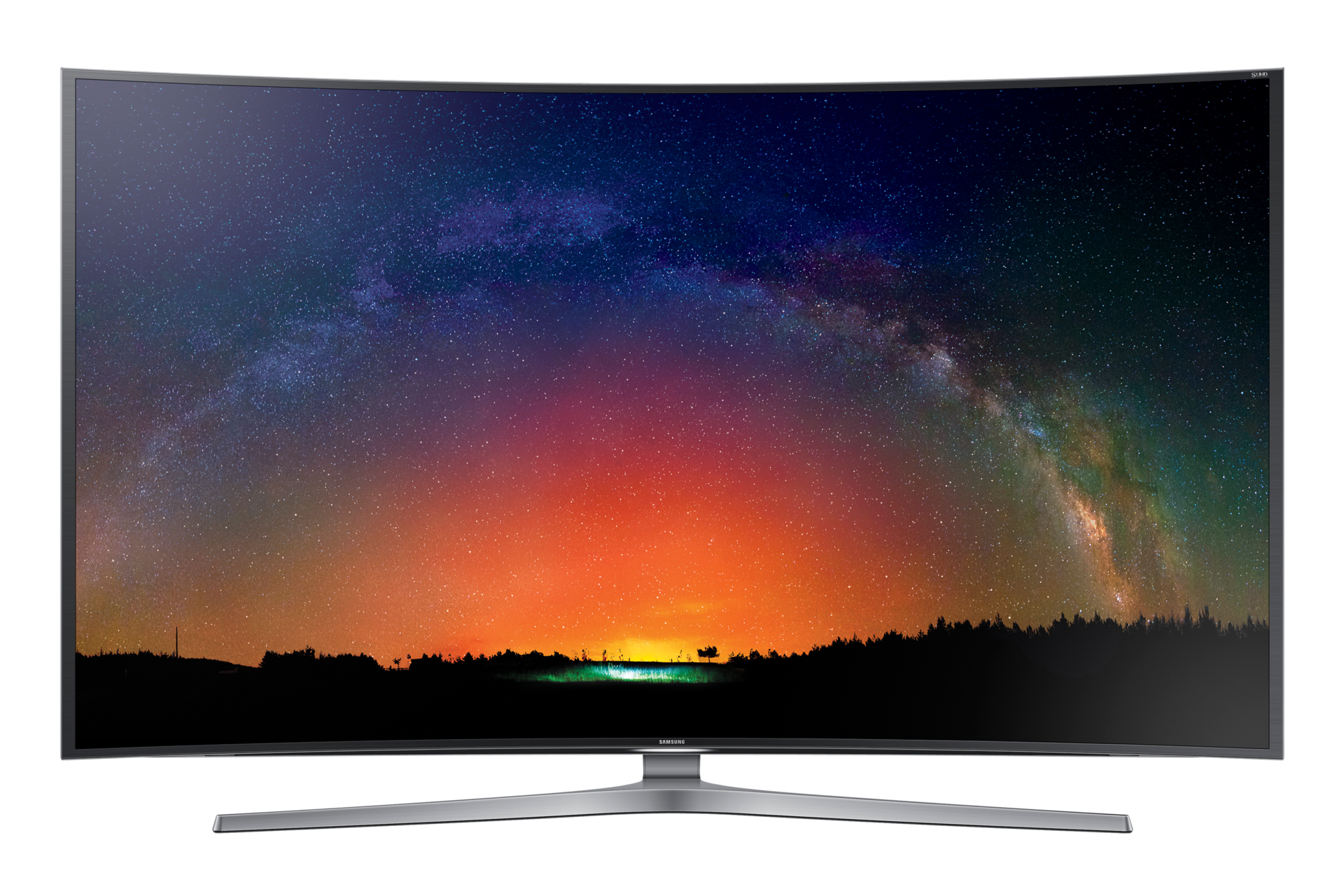 65" JS9000F Curved Smart
4K SUHD TV
UN65JS9000FXZP
SUHD 4K
Curved TV
HDR Premium / HDR
Nano Crystal Color
Nano Crystal Color
View an even wider range of brilliant and vibrant colors enhanced to be so lifelike, they stimulate more than just your sight for a total sensory experience that makes everything you watch seem real. Using groundbreaking Nano Crystal Technology, the backlight panel emits radiant light to create outstandingly precise and rich colors. Experience a spectacular range of shades, along with the deepest of blacks and most pristine whites that come to life in the most magical way. Prepare to discover Samsung's all-new SUHD TV, designed to excite all your senses.
SUHD REMASTERING ENGINE
Through Samsung's unique re-mastering algorithm, the video source of a non-SUHD content is analyzed and remastered so that the content can be displayed as close to what's intended by the content creator.
*Picture quality may vary depending on original source feed.
Peak Illuminator Pro
Peak Illuminator Pro heightens luminosity by boosting the LED backlights in bright areas of the screen. With a PQI 2x that of Peak Illuminator, the peak brightness level is even higher. So when light appears in dark areas, like streetlights illuminating a cityscape, the moment is even more magical.
*PQI (Picture Quality Index)
Precision Black
Precision Black technology enhances contrast by optimizing light emission, making everything you see more vivid and dramatic. With a PQI 2x that of conventional Samsung models, you get deeper black and purer white shades with more definition.
*PQI (Picture Quality Index)
Ultra slim premium Shirring Design
The Samsung JS9000 features an elegant shirring pattern that wraps around the back of the screen, enhancing the graceful minimal look of its sleek and slim metallic body. Raised by a stylish yet subtle Y-Beam stand, it creates a floating effect that deepens your feeling of immersion.
Experience the most immersive viewing that only a curved TV can give
Samsung's revolutionary Curved TV takes you into the new world of immersive viewing and makes you feel as though you are right in the middle of the excitement. The UHD screen is curved at the right angle to provide the best viewing distance for your living room. Also, the gently curved UHD screen gives you uniform and balanced viewing from all areas of the screen. See the finest UHD picture quality, depth and detail a UHD screen has to offer.
Auto Depth Enhancer
Flat images come to life with Samsung's Auto Depth Enhancer. Your TV intelligently applies varying levels of contrast enhancement to different areas and objects on the screen to give you a greater feeling of depth. Watch all your entertainment with a whole new level of realism.
4 times the Full HD resolution
Ultra HD viewing means you can see every intricate detail on the screen clearer than ever. Your Samsung UHD TV offers a resolution four times higher than Full HD, with accurate true-to-life color. Enjoy a picture that's optimized for even greater clarity and detail than you've ever seen before.
Now you can truly enjoy all your Smart TV content and features with ease
Say goodbye to those boring user manuals and say hello to an easier, more intuitive Smart TV that lets you dive straight into the content. It's fast, powerful, full of fun, and most of all, easy to use. It puts all your favorite content right at your fingertips on an incredibly simplified Smart Hub that's blazingly fast, thanks to Samsung's Octa Core processor. It turns on in an instant, lets you zip between content and also remembers what you were watching for super quick playback. With all that power, you can multitask with ease, searching for content or information without leaving the show you're watching. Your Smart TV experience just got a whole lot better.
A smarter TV that gets you right to your content instantly
Your gateway to the all-new, smarter TV experience is right at the bottom of the screen, so you never lose sight of your current entertainment. The fun-to-use Smart TV menu bar gives you faster, smoother and truly intuitive access to all the content you love. There's no need to fumble around searching for the content you want—it remembers your history, placing your most frequently used content right before your eyes on the menu bar so it's easier than ever to find your favorite content. You can even explore exciting new kinds of content, because Samsung Smart TV continuously recommends new featured content that you may enjoy. Discover the most seamless Smart TV experience yet.
*Requires Internet access. May not be available in all languages and areas. **Screen image seen here is a representation only. Actual user interface may differ. ***Content, TV services and capabilities pictured may not be available in all regions and territories.
Your TV and mobile devices in perfect sync
Samsung Easy Sharing makes it easy to share content between your TV and mobile effortlessly. Whether it's a fun video on your smartphone you want to share with family, or that must-see TV show you were watching on the way home that just has to get on the big screen so you can free your hands. Samsung Smart TV picks up the signal when your device is close and seamlessly plays the content in the optimal resolution for the big screen. It works the other way around, too, letting you go mobile right away so you can freely move about your house while viewing your favorite content on your device. Perfectly seamless and perfectly in sync.
*Function compatibility limited to certain television models and mobile devices. Please speak to a sales representative for details.
Get your TV to brief you every morning
Do you reach for your smartphone every morning to check the time and your schedule, and then turn your TV on to check the weather and news? Now, you can start the day with a personalized daily brief on your Samsung TV that takes care of all of them, on a big screen. Working in sync with the alarm set on your smartphone, your Samsung TV will automatically turn on and give you all the information you need to get your day started fresh. Meeting? Umbrella? Anniversary? Check, check and check.
* Screen image seen here is a representation only. Actual user interface may differ. ** Content, TV services and capabilities pictured may not be available in all regions and territories. *** Your TV will display the last channel viewed ****Function compatibility limited to certain television models and mobile devices.
Content that suits your lifestyle
Samsung Smart TVs are designed to give you what you really want and match your lifestyle, with smart apps that make life at home more fun and full of great experiences. Chefs will love the food app, while sports fans will cheer the dynamic new sport app. It also has a fitness app for those who want to stay in shape, an art education app that's great for kids, and a next-level gaming app that gamers will rave about, with a wide range of titles to choose from and easy pairing with your mobile or wearable as a controller. This is just the beginning of the amazing customized contents and services you can expect.
UHD upscaling enhances the quality of all of your viewing
Thanks to the Samsung UHD Picture Engine, you can enjoy various kinds of content with near UHD-level picture quality, even if it's not from a UHD source. Samsung's innovative 4-step Super Resolution Scaling technology enhances broadcast TV shows and movies as well as video on demand and more. That means not only does it process UHD sources at crisp 4K resolution, it even converts lower-resolution content to a level of clarity that's almost like Ultra High Definition.
*Upscaling will vary by source resolution.
Creates deeper blacks, purer whites, and enhanced color and detail in every image
Samsung raises the bar even higher with a special technology called UHD Dimming. UHD's higher resolution also means that the picture needs more processing for reproducing all the details. For that, this amazing picture technology separates the screen into sections and then calculates all the precise contrast, color, and detail levels needed for each part to perfect the image overall. That's why Samsung UHD dimming technology has been developed to process black and white as optimally as possible and produce colors that are far more vivid.
Instantly switch back and play right from where you left off
What's the point of having all those apps and features on a smart TV if they are hard to use? With Samsung Smart TVs, switching between various kinds of content is now as easy as changing your TV channel. Instantly and seamlessly switch to live TV while watching a video online, and the other way around. And when you return to your video, Samsung Smart TV remembers your activity and picks up and plays your video from right where you left off. It's time to enjoy a truly smart home entertainment experience.
* Screen image pictured is a representation and may not reflect actual user interface. * Content, TV services and capabilities pictured may not be available in all regions and territories.
Experience life-enriching apps on your Smart TV
Content is everything, and Samsung Smart TV has you fully covered. Enjoy tons of amazing apps and surf the web to your heart's content in the most seamless, intuitive way possible. Simply swipe left or right to view customized app recommendations, new featured apps and more, all at a glance. It even has an improved web browser app that gives you quick access to popular websites in your region all with a single click of a button, and without having to type in the URL.
Tons of sensational games to keep you at the edge of your seat
Samsung Smart TV takes gaming to the next level with a much wider selection of sensational, dynamic games and support for all your devices. From family-friendly to racing and even action packed shooters, you can now enjoy titles that cater to all your gaming tastes. Gaming on the big screen is more fun than ever with support for multiple devices, including game pads, mobile apps and even wearables. You can also explore spotlighted game content right from the games service menu. Game on.
* Screen image seen here is a representation only and may not reflect actual user interface. ** Content, TV services and capabilities pictured may not be available in all regions and territories.
Immersive realism with Samsung Full HD 3D technology
Prepare to see entertainment in a whole new way. Samsung's sophisticated Full HD 3D technology means you can even enjoy 3D movies and TV shows at stunning Full HD resolution. It also enhances your 3D picture quality and cuts out ghost images to give you clearer and more immersive viewing. With such a high level of realism, you've never experience 3D like this before.
Powerful Octa Core processor for speedy performance
Operating multiple functions at once doesn't mean slower performance. We've upgraded the new Smart TV with the Octa Core Processor making it exceedingly faster than its predecessor. With even more speed, it's the ultimate upgrade that can handle all the old and new amazing capabilities of the Smart TV. The extra power makes your entertainment experience faster and more enjoyable, with less waiting and more viewing.
More vibrant colors for better images
Using an advanced picture quality improvement algorithm, Samsung's Wide Color Enhancer drastically improves the quality of any image and uncovers hidden details. Now see colors as they were meant to be seen with Wide Color Enhancer.
Clear Motion Rate minimizes motion blur
Thanks to Samsung's advanced Clear Motion Rate (CMR) technology, even fast moving scenes are delivered with clarity. A higher CMR means clearer viewing and less motion blur, so you can enjoy action films, sports and other entertainment at their very best. This technology is possible due to an enhanced panel refresh rate, image processor speed and backlight technology. That means viewing that's clearly better.
Bringing a full multimedia experience into your living room
With High Definition Multimedia Interface (HDMI) inputs, the Samsung TV will transform your living room into a multimedia entertainment center. HDMI provides high-speed transmission of high definition digital data from multiple devices straight into your TV.
Watch movies from your USB
With ConnectShare Movie, simply plug your USB memory drive or HDD into the TV and instantaneously enjoy movies, photos or music. Now, you can experience a wide variety of content in the comfort of your living room on your TV.
*Supported formats include AVI, ASF, MP3, JPEG and others. See manual for full list of formats supported
*Supported formats include AVI, ASF, MP3, JPEG and others. See manual for full list of formats supported
Access the Internet without wires
With Wireless LAN Built-in, streamline your TV's connectivity capabilities without adding more external devices and maintain its attractive design.
3,840 x 2,160

Resolution

4,200R

Screen Curvature

9

Series

PurColor

PurColor

4

HDMI

3 (Set) / 1 (Rear for TV Camera)

USB
* Key feature may different from Key Spec