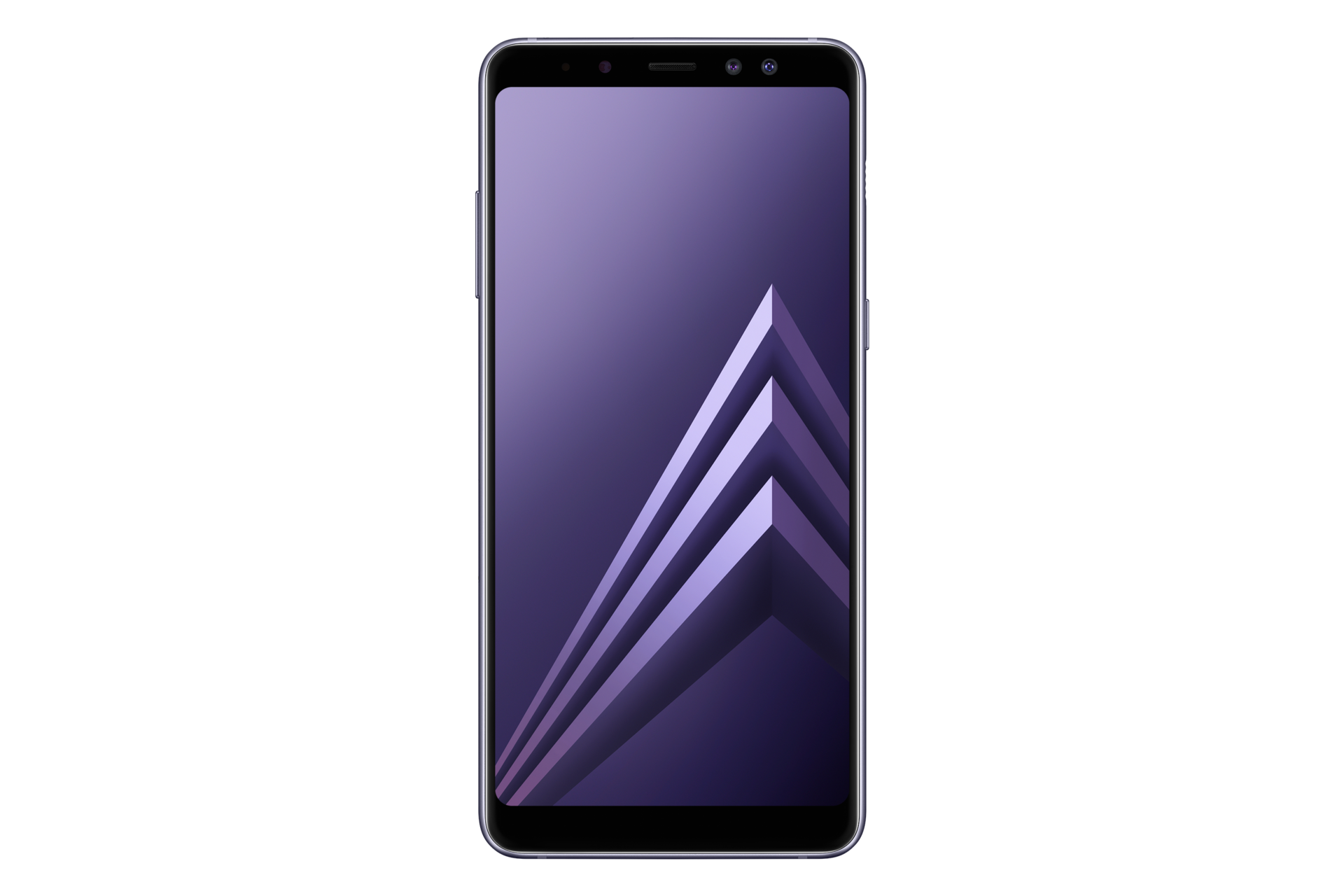 Galaxy A8+ (2018)
SM-A730FZVGMID
Infinity Display
Dual Front Camera
Bixby
Water Resistant
Expand your view
Enjoy an expansive view on the Galaxy A8+ with the Infinity Display. It's a beautiful, large display that extends from side to side for an expanded screen that you'll love to see.
Let your style show
Whether your taste is bold or classic, you can take your pick of stylish colours* on the Galaxy A8+. And with the smooth curves creating a comfortable, ergonomic grip, it's a beautiful phone you won't want to put down.
*Availabilityofcoloursmayvarybycountryandregion.
Get in the scene
You'll feel fully immersed in what's on screen thanks to the Infinity Display's 18.5:9 ratio. The biggest display for Galaxy A phones to date, it offers a wide horizontal view, providing a stunning cinematic experience.
See it all at once
The Infinity Display is also longer than the screen on the previous model, so you can read and browse with less scrolling. Whether checking your social media or reading a news article, you'll see more at one time and give your thumbs a rest.
Masterpiece in a snap
Taking stunning photos on the Galaxy A8+ is as easy as tapping the shutter. The Dual Front Camera innovates selfies and wefies, putting the focus on you and your friends so you can capture moments in a new way. And with the rear 16 MP camera, the surrounding scene will come out bright and clear, too.
Perfect your selfie
Add flair and fun to your selfies with Live focus mode on the Dual Front Camera. It blurs the background, adding bokeh so you and your friends stand out. Afterwards, you can readjust the focus to your taste. And by enabling Beauty effect before taking the photo, selfies and wefies come out stunning.
Focus on the fun
Customise your pictures with exciting stickers and filters. Decorate selfies with stickers using face-recognition technology. Or edit before you shoot with Food mode, Beauty effect, or Filters. And Beauty effect works while taking a video with the front camera, so you can look your best in action.
*Beautyeffectcanonlybeappliedwhenusingthefrontcamera. **Beautyeffectcannotbeadjustedduringvideorecording. ***Availablefiltersmayvarybyuser.
Get the shot in any light
Whether out at night or caught in the dark, you'll capture the scene clearly with the improved low-light capability on the Galaxy A8+'s rear camera. Its bright F1.7 lens, larger 1.12 ㎛ pixels, and bigger 1/2.8" sensor bring in light from the environment to make photos crisp and detailed.
A smart way to search
Easily find the image you want with the gallery search bar. As you search, the gallery analyses your photos and pulls out relevant pictures, even displaying them by category.
Works even when wet
You want a phone that works wherever life takes you. The Galaxy A8+ has an IP68 rating* for water and dust resistance, meaning neither splashes nor rain will slow you down**.
*TheGalaxyA8+isratedIP68,meaningitisprotectedagainstdustingressandiswaterresistant.Waterresistanceratingisbasedontestconditionsofsubmersioninupto1.5metersoffreshwaterforupto30minutes.Toprolongthelifeofyourdevicerinseitwithcleanwateraftersubmersionorspillageanddrywithamicrofibercloth. **TheGalaxyA8+'sIP68ratingdoesnotprotectagainstheavyrainandsignificantsplashes.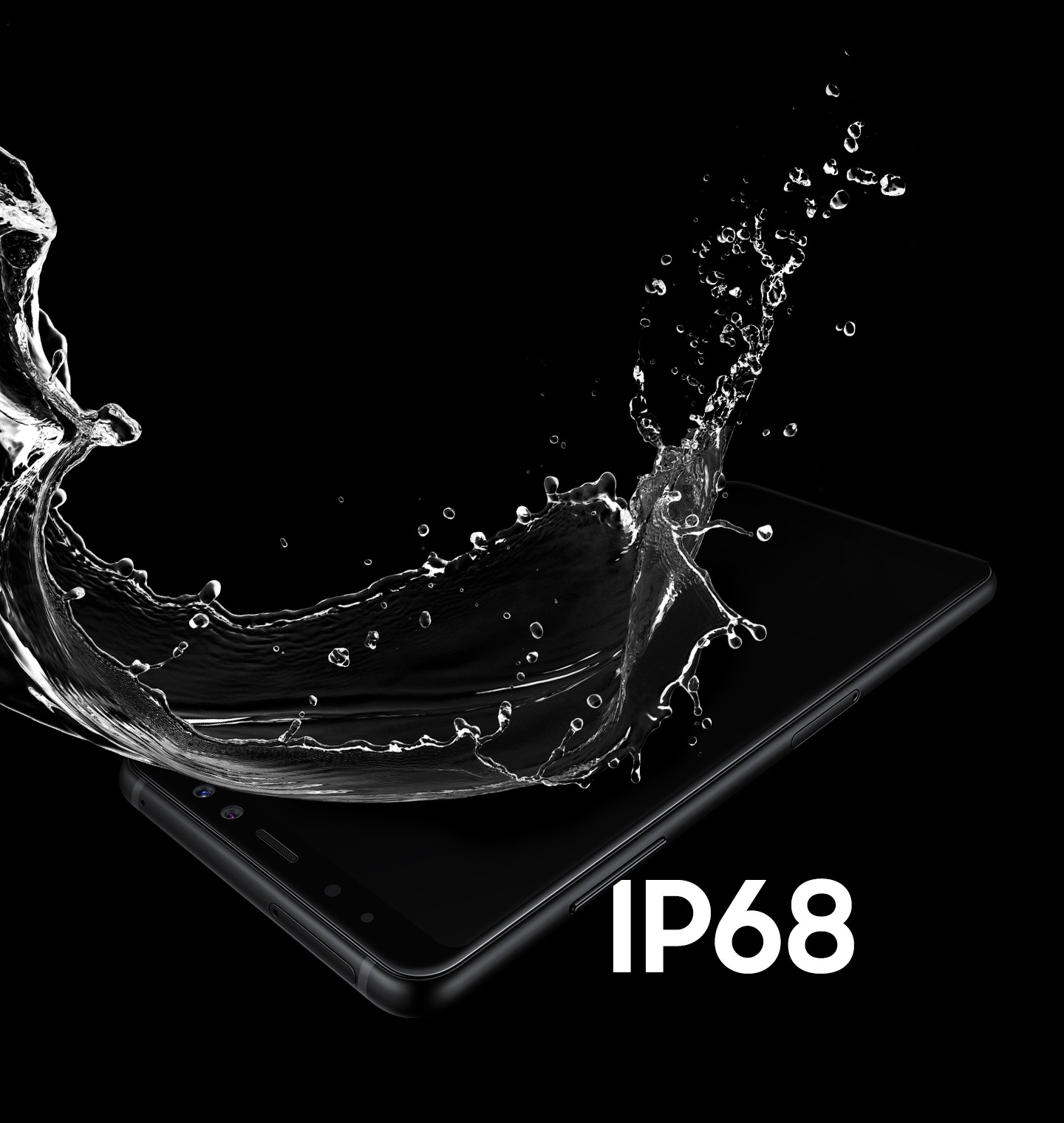 Here to help you
Keep your day on track, set reminders, and get information via your camera with Bixby. Bixby is a virtual assistant that works via text and touch and learns your habits. With Bixby Home, Bixby Vision, and Bixby Reminder, it integrates seamlessly into not just the Galaxy A8+, but also your lifestyle.
*Bixbyisonlyavailableincertaincountries,withcertaindevices,featuresandlanguages.
Always ready for you
Get informed without waking up your phone. The Always on Display screen is always available and contains important information like date, time, notifications, and even battery level.
Separate work and home chatting
Divide your work messages and personal chats with ease. With Dual Messenger, you can now connect to two different chat accounts on your favourite messenger apps*—and it's simple to install the second instance from the Home screen.
*MessengerappssupportedbytheDualMessenger,mayvarybycountryandregion.
Safeguard your data
Protect personal information with the Secure Folder* on the Galaxy A8+. It creates a separate space within the device** to store sensitive and personal data and make sure it's only accessible to you.
*Theavailabilityofthisservicewillvaryaccordingtothenatureofthecontentbeingencrypted. **SecureFolderseparatesstorageatthesoftwarelevelwithouttakingupadditionalspace.
*Theavailabilityofthisservicewillvaryaccordingtothenatureofthecontentbeingencrypted. **SecureFolderseparatesstorageatthesoftwarelevelwithouttakingupadditionalspace.
Convenient Wi-Fi control
Effortlessly conserve mobile data and battery life with adaptive Wi-Fi control on the Galaxy A8+. It remembers where you've previously connected to Wi-Fi and turns on to instantly connect when you're in range. And when you leave the service range, Wi-Fi shuts off to keep your battery from draining.*
*Wi-Ficonnectionandspeedmayvarydependingontheusageenvironment.
Swift and simple unlocking
Unlocking is as easy as taking a selfie or scanning your finger. With face recognition* and the fingerprint scanner, accessing your phone is quick and convenient.
*Facerecognitionislesssecurethanpattern,PIN,orpassword. **Screenimagesimulatedforillustrativepurposes.
Do more and store more
Whether multitasking or gaming, it's fast and seamless with the 4 GB RAM* on the Galaxy A8+. And you can easily keep important things on hand with expandable microSD storage—up to an additional 400 GB. And if you travel a lot or have two separate numbers, you also have the option to use Dual SIM.**
*AvailableRAMandstoragespecificationsmayvarybycountryandregion. **AvailabilityofdualSIMmayvarybycountryand/orcarrier. ***MicroSDcardsoldseparately.
Go beyond the phone
Change how you share and make life more convenient with the Samsung devices and services of Phone+. Track your workouts with wearables. Explore new dimensions with Gear VR. And control your smart home with Samsung Connect. At home or on the go, your life is enhanced with Phone+ and the Galaxy A8+.
User manual & Downloads
Live Chat
How It Stacks Up
* Network: The bandwidths supported by the device may vary depending on the region or service provider.
* Size and weight may vary by the device's configuration and manufacturing process.
* Images are for illustration purposes only and the accessories are sold separately.
* Features and Specifications are accurate as of commercial launch but may be subject to change without prior notification.
* User memory is less than the total memory due to storage of the operating system and software used to operate the device features. Actual user memory will vary depending on the operator and may change after software upgrades are performed
* The network capacity and data transfer speed may be reduced while dual SIM cards are used at the same time.
* Battery time is based on our own labouratory measurements, and may vary depending on factors such as device settings, usage patterns and operating conditions.
* Screen measured diagonally as a full rectangle without accounting for the rounded corners.
* Wi-Fi connection and speed may vary depending on the usage environment.