AC024HBMDKE/ID
CAC, Medium Static Pressure Duct, Heat Pump R22, Indoor Unit
Strong and Large Coverage Area
Silent Operation with the Static Pressure Control
Narror Width and Easy to Maintain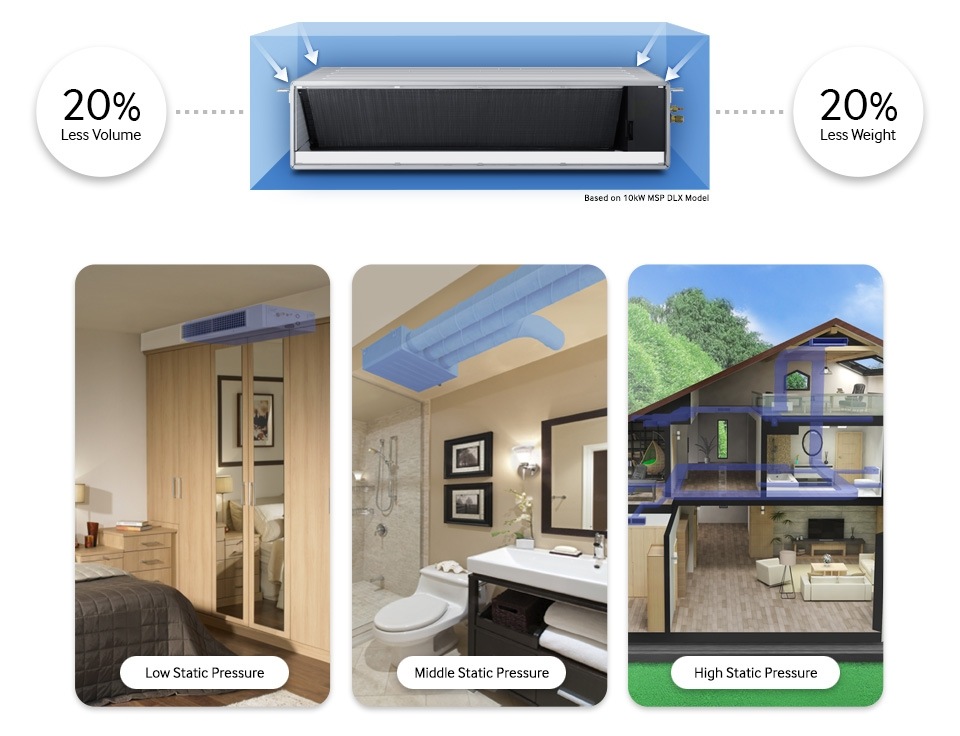 Small & light-weight
The Samsung DUCT S Air Conditioner is easy and convenient to install and maintain. Its exceptionally compact design reduces its volume and weight by 20% compared with conventional air conditioners. So it's much easier to handle and install, even in small spaces.
Automatically more comfort and performance
The Samsung DUCT S Air Conditioner's Auto ESP Adjustment function efficiently and automatically senses the external static pressure (ESP), whatever the length of duct. It then quickly adjusts its performance to optimise the air volume and pressure and minimise noise, for maximum comfort in any situation. The ESP can also be easily adjusted using a remote control, which reduces the installation time.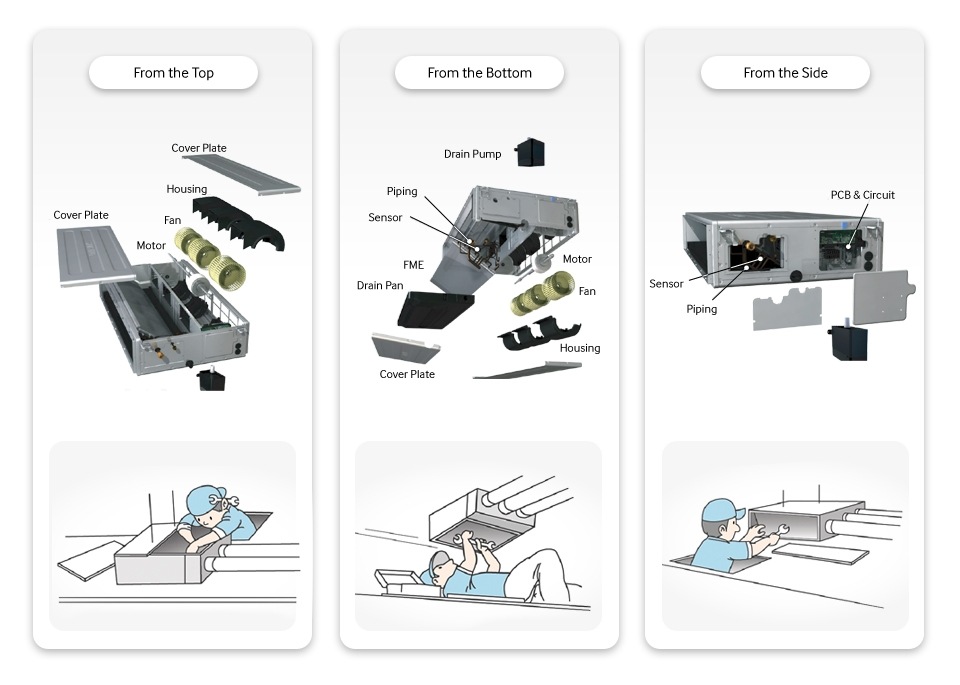 3-way service access for easy maintenance
Most ducted air conditioners are installed in a variety of locations, so they need to be accessed in different ways for maintenance. The Samsung DUCT S Air Conditioner is designed to be accessed from three directions – top, side and bottom – using an easy to remove Slide Fit cover. As a result, it's much easier to maintain wherever it's installed – saving you time and money.
Optimised comfort
The Samsung DUCT S Air Conditioner's Easy Tuning provides the delicate control needed to ensure optimum performance on any occasion. You can easily fine-tune the power of its operation to suit your level of activity. So whether you're working out or reading a book you can do it in maximum comfort, while also minimising noise and saving energy by using the most efficient settings.
High energy efficiency and savings
High energy efficiency and savings
The Samsung DUCT S Air Conditioner's advanced technologies deliver outstanding energy efficiency to save you money. The large Sirocco Fan features aerodynamic blades, so it generates more air, with less noise. The compact Flat Micro Heat Exchanger is also extremely efficient, while the Twin Rotary BLDC Compressor reduces vibration, so it's quieter and more reliable
EZ Drain Pump

An easy to install, optional EZ Drain Pump prevents the back-flow of water when draining and the outbreak of odor-causing bacteria and germs in stagnant water. Simply plug and connect, as it's compatible with all kinds of indoor units.

Easy Filter

Unlike conventional filters that are often difficult to access, the Samsung DUCT S Air Conditioner's Easy Filter is located outside, on the top. So it can easily be taken out, cleaned and put back – without having to open a cover or pull hard to get it out. And its anti-bacterial coating filters dust, dangerous airborne contaminants and allergens.
Flat Micro-channel

he FME / FMC (Flat Micro-channel Evaporator / Condenser) is highly efficient, delivering a 30% increase in efficiency compared to conventional Fin & Tube type machines. Its flat channels also help create an extremely compact and lightweight design that's 25% smaller than normal.
Specification
Features
Model Name

Indoor Unit

AC024HBMDKE/ID

Outdoor Unit

AC024HCRTEE/ID

System
Capacity

Cooling [kW]

7.18 kW

Cooling [Btu/h]

24,500 Btu/h

Heating [kW]

7.85 kW

Heating [Btu/h]

26,800 Btu/h

Power Input (Nominal)

Cooling 1)

2.45 kW

Heating 2)

2.45 kW

Current Input (Nominal)

Cooling 1)

11 A

Heating 2)

11 A

Power

MCA [A]

18.5 A (MCA)

MFA [A]

22.5 A

Energy Efficiency

EER (Nominal Cooling)

2.93

COP (Nominal Heating)

3.20

Energy Grade (Cooling)

-

Energy Grade (Heating)

-

Piping Connections

Liquid Pipe (Φ, mm)

6.35 mm

Liquid Pipe (Φ, inch)

1/4

Gas Pipe (Φ, mm)

15.88 mm

Gas Pipe (Φ, inch)

5/8

Installation Max. Length [m]

30 m

Installation Max. Height [m]

15 m

Field Wiring

Transmission Cable

0.75 ~ 1.5

Refrigerant

Type

R22

Factory Charging (kg)

1.9 kg

Power Supply (Indoor Unit) [Φ, #, V, Hz]
Fan

Type

Sirocco Fan

Motor (Output) [W]

80 W

Number of Unit (EA)

2 EA

Air Flow Rate (High / Mid / Low) [CMM]

21 / 18 / 15 CMM

Air Flow Rate(High/Mid/Low)[L/S]

350 / 300 / 250

External Static Pressure (Min / Std / Max) [mmAq]

0 / 6 / 6 mmAq

External Static Pressure (Min / Std / Max) [Pa]

0 / 58.84 / 58.84 Pa

Drain

Drain Pipe (Φ,mm)

VP20 mm (OD 26, ID 20)

Sound

Sound Pressure (High / Mid / Low) [dB(A)]

38 / 34 / 30 dBA

External Dimension (Indoor Unit)

Net Weight (kg)

25 Kg

Shipping Weight (kg)

29 Kg

Net Dimensions (WxHxD) (mm)

850 x 250 x 700 mm

Shipping Dimensions (WxHxD) (mm)

1,100 x 320 x 780 mm

Additional Accessories
Power Supply (Outdoor Unit) [Φ, #, V, Hz]
Compressor

Type

. Rotary

Model

UR5A250JHDEM

Output(kW)

2.42 kW

Oil (Type)

SUNISO

Fan (Outdoor Unit)

Air Flow Rate (Cooling) [CMM]

53 CMM

Air Flow Rate (Cooling) [L/S]

883.33

Sound (Outdoor Unit)

Sound Pressure (Cooling / Heating) [dB(A)]

52 / 53 dBA

External Dimension (Outdoor Unit)

Net Weight (kg)

62 Kg

Shipping Weight (kg)

66 Kg

Net Dimensions (WxHxD) (mm)

880 x 798 x 310 mm

Shipping Dimensions (WxHxD) (mm)

1,024 x 900 x 414 mm

Operating Temp. Range

Cooling (℃)

21 ~ 54 °C

Heating (℃)

-5 ~ 24 °C
Manual Download
CAC, Medium Static Pressure Duct, Heat Pump R22, Indoor Unit (AC024HBMDKE/ID)
Manuals

2018.09.07

User Manual ver 01

(ENGLISH)

2018.09.07

User Manual ver 01

(ARABIC)

2018.09.07

User Manual ver 01

(FRENCH)