Education
Samsung School
A total education solution which helps innovate teachers' learning tools.
FEATURES
A total education solution which helps innovate teachers' learning tools. Designed to help teachers engage pupils in the learning experience.

Giving teachers control in the digital classroom.
Student Device Control
Teachers activate applications and content across classroom devices.They are in control of the messages student share - giving them heightened control in the classroom.
Screen Monitoring
Teachers can keep track of the students' activities in the classroom and provide private coaching according to the student's level of understanding using the Screen Monitoring feature. The feature enables teachers to remotely monitor individual student's progress and provide individual attention more quickly in interactive ways.
Lesson Toolbar
Eliminating the need to switch between the content and Samsung School, Lesson Tool Bar enables teachers to utilize various sources, including web content and educational applications, more quickly and easily. Teachers can write on any content displayed on the screen, share screens with students, and monitor and lock the screens for enhanced engagement and focus.
Group Discussion
The Group Discussion feature using Screen Sharing allow up to six participants to simultaneously write on the screen. The real-time collaboration on the same lesson material helps students take an active part in the discussions.
Separable Canvas
Split an image into separate sections and enable each member of the group to complete individual part of the assignment. Using Separable Canvas feature, the group leader combines those split sections and submits the consolidated group assignment to the teacher.
Group Reporting
A group leader assigns each member a section of a report to complete using the provided template their own tablets. The group leader can combine the completed sections together into a single group report to submit to the teacher.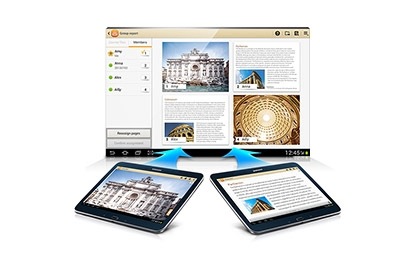 Screen Sharing
Create dynamic interaction among class participants by enabling teachers and students to share content with each other on their devices using the Screen Sharing function. While sharing a screen, a student or teacher can write on it to enhance engagement in the lesson.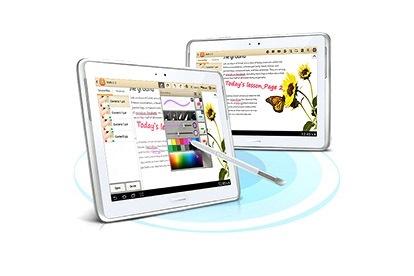 Quiz & Poll
Teachers can quickly assess individual student comprehension, stimulate interaction and increase interest with Quiz and Poll. Easy-to-use quiz and poll templates with various options empower teachers to create learning materials that correlate with students' leaning needs.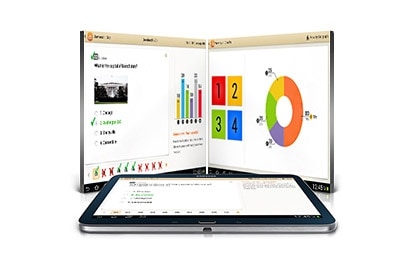 Integrated handwriting capability
Enhance involvement and creativity by encouraging students to write, draw and interact directly on educational content using the S Pen and S Note. Students can save their notes for future reference, eliminating the need to write anything on paper.