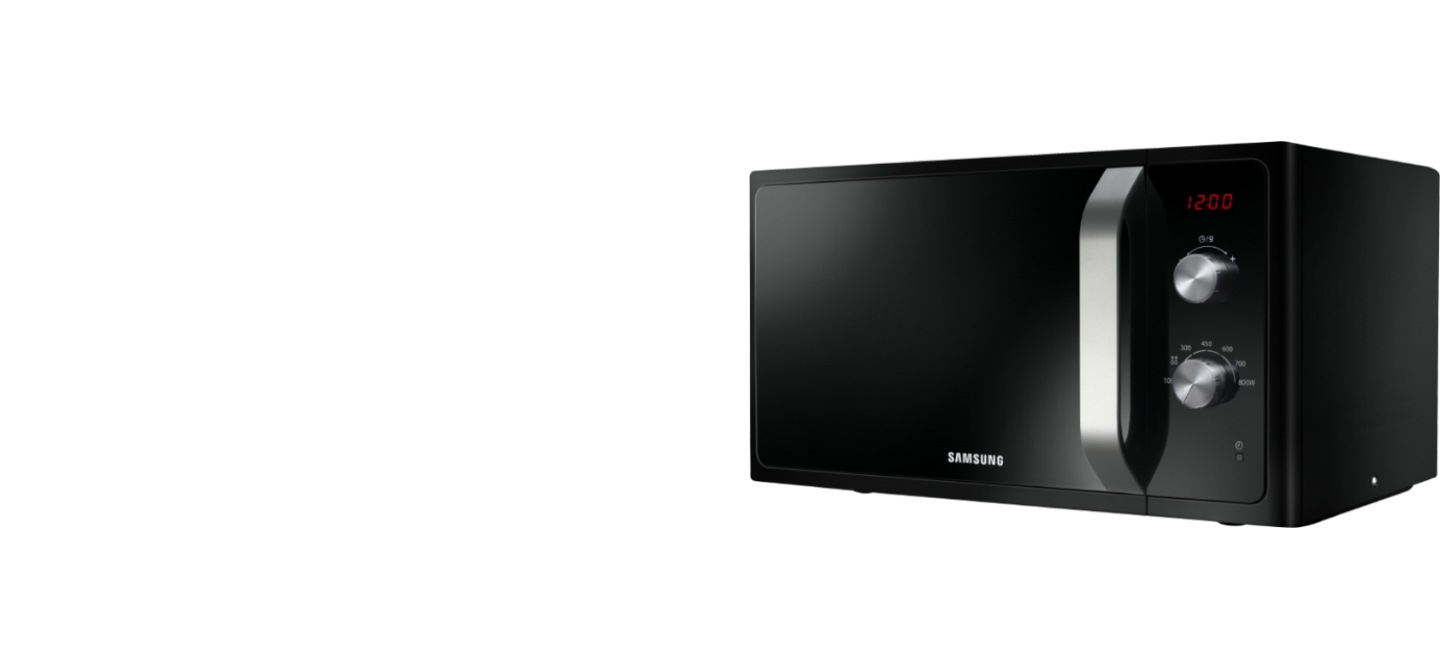 Microwave Buying Guide
Microwaves offer a fast, convenient and energy-efficient way to prepare food at home; they're more versatile than you may think, too. As well as heating and defrosting, you can find versions that grill, roast and bake like a conventional oven.
Of course, selecting the right microwave depends on your needs. To help you decide which microwave to buy, first think about how you'll use it day-to-day, and where it will sit. From freestanding to built-in, from classic controls to multi-functional, there are many options available. Compare by type, size, and feature to find the best microwave for you.
Freestanding or Built-in Microwave?
Freestanding microwaves – which are also sometimes referred to as 'countertop' microwaves – sit on your work surface. To start using it, you simply plug the microwave into a socket and turn it on. As the 'standard' microwave model, you'll find a wider range of affordable options, and simple installation is a benefit.
Built-in microwaves are fitted into a cabinet or wall – usually above the hob or oven. They need to be installed by a licensed contractor, and will come in at a higher price point than some freestanding models. However, they free up your workspace, and can help the flow of cooking when used alongside a hob or oven. Integrated microwaves also help to create a streamlined look in the kitchen.
Built-in microwaves and compact ovens look very similar. Compact ovens are smaller than single ovens, often with a capacity of up to 50 litres. Many of Samsung's compact ovens come with microwave functionality; with flexible cooking options, they can be used as a second oven, or act as a main cooking appliance in smaller homes.
Microwave Oven Types
Three types of microwaves are available: solo, grill and combi. It's possible to find freestanding or built-in versions of each. Most designs use a round turntable to aid cooking, but flatbed styles are also available. These do not use a turntable, meaning trays and rectangular baking dishes can easily fit inside. Interior space is maximised, and you don't need to spend time transferring food into smaller containers for microwaving. Some models allow you to disable the turntable, transforming the microwave into a flatbed style whenever it's convenient. There are several Samsung microwaves to choose from with this feature.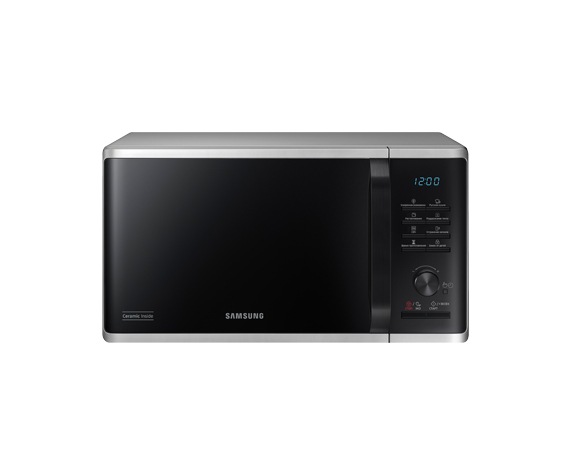 Solo
Solo microwaves are also referred to as 'standard' microwaves or 'microwave-only' models. They're ideal for simple tasks like reheating food, cooking ready meals, steaming vegetables and defrosting meat.
Choose a solo microwave if you primarily want to heat up and defrost food, and don't need extra features for more complex cooking. These are the most affordable type of microwave, and there is a wide choice of models available.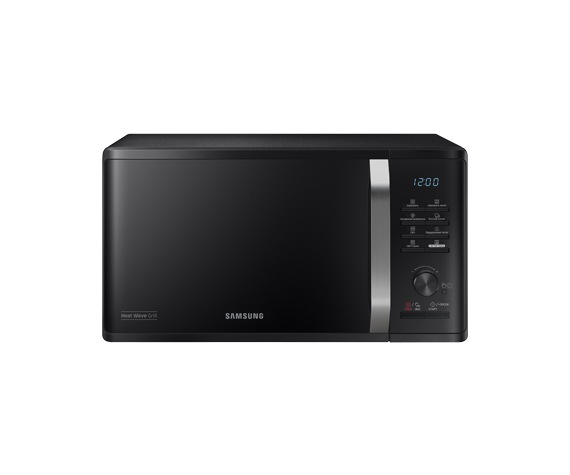 Grill
Grill microwaves offer the same features as solo microwaves, with the addition of an internal grill. This means you can brown and crisp food as well as cook it, improving food texture and giving you better-looking results. These microwaves allow you to cook things like pizza, and you can grill meat and fish too. Both the grill and microwave function can be used together or separately, giving you more flexibility when cooking. Consider a grill type if you need a microwave that can provide a wider variety of dishes than standard (an efficient option for smaller kitchens). If you don't currently have a grill, or if you want a second one, this is an ideal solution.
Microwave Sizes
Microwaves come in a range of sizes; consider a microwave's external dimensions and its capacity in litres before purchasing. This will help you to ascertain whether you have the space for it, and if it can accommodate the meal sizes you require. The more people you typically cook for, the larger the microwave capacity should be.
Microwave Wattage
Microwave power is measured in watts – the more watts, the quicker food cooks. So, if speed is most important to you, look out for microwaves with a higher wattage.
Features to Look Out For
Microwaves come with a host of features that make cooking quicker and easier. Different appliances will have different features, so it's worth understanding which of these are going to be most beneficial to you.
Auto Cook/Reheat/Defrost
Enter the food's weight, and the microwave will calculate the time and power setting for cooking or defrosting. This ensures food isn't under or over-cooked. Some microwaves allow you to enter the type of food, which provides further accuracy.
Ceramic Interiors
A ceramic interior surface allows for easy cleaning and helps to prevent discoloration from oil and grease residue over time. Antibacterial and scratch resistant, ceramic surfaces give better long-term performance than stainless steel or epoxy interiors.
Child Locks
Child locks disable the microwave's functionality, preventing children from changing cooking timings or start/stop programmes.
Deodorisation
Interior air is forced outside the machine when 'deodorisation' is selected. This eliminates odours from previous use, helping food to taste fresh.
Disable Turntables
This feature enables you to disable the turntable, so that you can use the whole interior of the microwave for large or rectangular dishes.
Door Transparency
An intentionally transparent door allows you to view food while cooking, thereby avoiding burning or overflowing. This is called EasyView™ in Samsung microwaves.
Energy Save Mode
Put your microwave in Energy Save Mode when it's in standby, to reduce power consumption and make savings on your monthly energy bills. This is called ECO Mode on selected Samsung microwaves.
Fermentation Technology
The fermentation feature allows you to make homemade yoghurt and proof dough in the microwave.
Keep Warm Function
This keeps food at the right temperature, without overcooking. This feature is particularly useful if you're preparing multiple dishes, or keeping food warm for a late arrival.
One-Touch Controls
Pre-set programmes allow you to conveniently cook different foods at the touch of a button. The Healthy Cooking feature on Samsung models allows you to pre-set your favourite recipes, so that they're cooked optimally each time.
Quick Defrost
This feature allows you to defrost foods rapidly and evenly for faster prep time.
Sensor Cooking
Sensor cooking adjusts the power level and cooking time, based on the density of moisture in the food and air, to ensure the best results. This is called Smart Moisture Sensor in Samsung microwaves.
Energy Efficiency
Microwaves are 'generally the most efficient way of cooking,'* as less energy tends to be used in the cooking process. Microwaves heat water and fat molecules within the food, but not the container they are held in – unlike an oven, which heats from the outside in. This is why microwaves can heat up some food, such as a jacket potato, quicker than an oven. However, microwaves can use a lot of energy when in standby. This is bad news for sustainable living – and for household bills. Selecting an Energy Save mode ensures power is only used for the microwave clock, and nothing else.
* Source: https://www.uswitch.com/energy-saving/guides/energy-efficient-cooking/
Microwave Maintenance
A microwave will perform best when taken care of. Follow the basics and you should get years of use from your new appliance.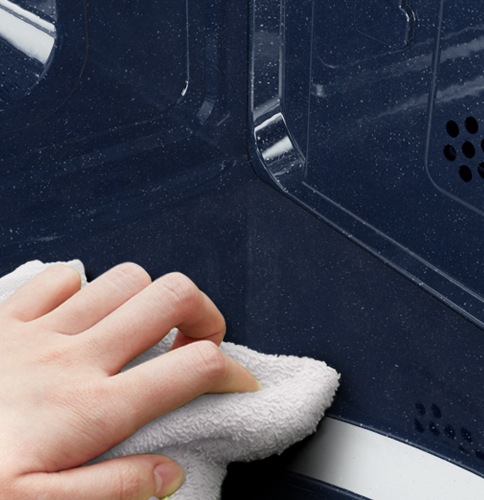 Microwave Dos
Clean regularly with warm, soapy water and a cloth, checking the door and hinges for corrosion. A dirty interior will mean food cooks slowly and less evenly. You should always unplug your microwave whilst cleaning.

Only use cookware that's labelled 'microwave safe.'

If you have a freestanding microwave, check the user manual to understand how large a ventilation gap you should leave behind and above the appliance.

Vent covered food when cooking, so steam can escape safely.
Microwave Don'ts
Clean with abrasives like steel wool or scouring sponges.

Use metal containers or objects inside the microwave – this includes food twist ties.

Press start when the microwave is empty; the microwaves released could damage the interior walls.
Whether you're looking for a straightforward solo microwave, a versatile grill microwave or a do-it-all combi, reimagine microwave cooking with appliances from Samsung.