Creating the Ultimate Experience in Mobile Entertainment with the Samsung Galaxy S9+
May 01. 2018
With the Galaxy S9+, you can have the same immersive viewing experience you expect on your TV, wherever you go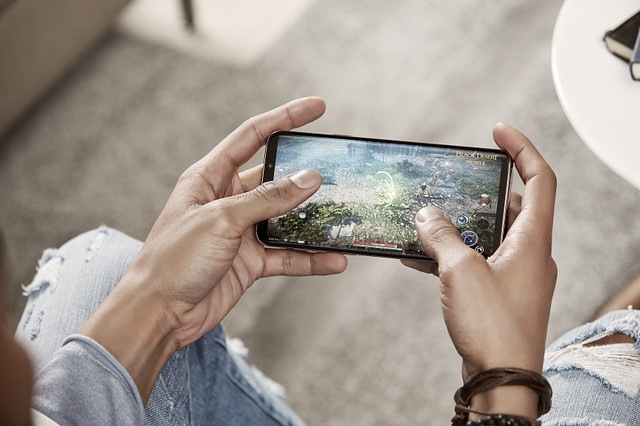 Amman, Jordan (May 2018) - Today, we live in a visual world where our go-to forms of entertainment revolve around video content. Whether it's movie night with the family, binge watching your favorite TV show on a Saturday, or winding down at the end of a long day with an episode of a feel-good classic, visual entertainment has become part of the normal routine. And with the advent of smartphones, video has expanded beyond the confines of the television, becoming easily accessible on mobile devices so you can keep up with your shows on the go.
But the advantage of mobile entertainment usually comes with the caveat of a compromised viewing experience. Being able to watch TV during your commute, in the waiting room, or on your lunch break often means forfeiting the superior quality of watching at home. However, with the latest addition to the Galaxy S lineup from Samsung, you can have the best of both worlds. The Galaxy S9+ reimagines mobile entertainment with a range of features and functions that provide a top-notch viewing experience on par with your TV at home, alongside the convenience of having your smartphone with you wherever you go.
The best in mobile viewing begins with the Infinity Display, a staple feature of Samsung's flagship smartphones that provides a beautiful and immersive multimedia experience designed to amplify visual entertainment in every form. The Galaxy S9+ boasts a Super AMOLED display, creating a bezel-less, edge-to-edge experience that engulfs the 6.2-inch screen in vivid color and striking detail. With deeper blacks, richer colors, and advanced contrast enhancement capabilities, the Infinity Display allows you to see every detail clearly in the palm of your hand.
But the viewing experience is incomplete without equally impressive sound. With stereo speakers tuned by AKG on the Galaxy S9+, immersive viewing is redefined, offering a premium listening experience when watching your favorite movies and TV shows. Built into the bottom and earpiece of the device, the stereo speakers provide a crisp, clear, and defined listening experience with superior sound quality and precision no matter how high the volume level. Further, equipped with Dolby Atmos technology, the Galaxy S9+ creates a 360-degree surround sound effect on both headphones and the smartphone speakers.
Further enhancing the mobile entertainment experience is Landscape Mode on the Galaxy S9+, which enables you to seamlessly hold it horizontally for the best user experience. In Landscape Mode, the home screen and app tray automatically adjust to appear horizontally, so you don't have to switch back to vertical mode to use your apps between episodes or during breaks.
With entertainment optimized on the Galaxy S9+, having a wide selection of content to watch is a must. Luckily, downloading and streaming multiple movies or entire seasons of your favorite shows is effortless with the Galaxy S9+, which features expandable storage up to 400GB – enough to marathon your favorite movie trilogy or binge-watch a series without pausing to download more or sacrificing old content to free up storage. Beyond mobile entertainment, this added storage also helps power the device's improved Octa-core processor for smoother and faster performance with every feature and function.
As the world embraces the mobile lifestyle and we transition to watching more video content on our smartphones than ever before, our standards for mobile entertainment experiences grow higher. As such, Samsung has reimagined entertainment from every angle with the innovative features and superior viewing quality of the Galaxy S9+.
List
No Prev Page
No Next Page