Enjoy a Cool Summer with Wind-Free™ Air Conditioner from Samsung
Jun 18. 2018
With a first-of-its-kind two-step cooling system, the Samsung AR9500M dramatically reduces energy consumption while cooling quickly and effectively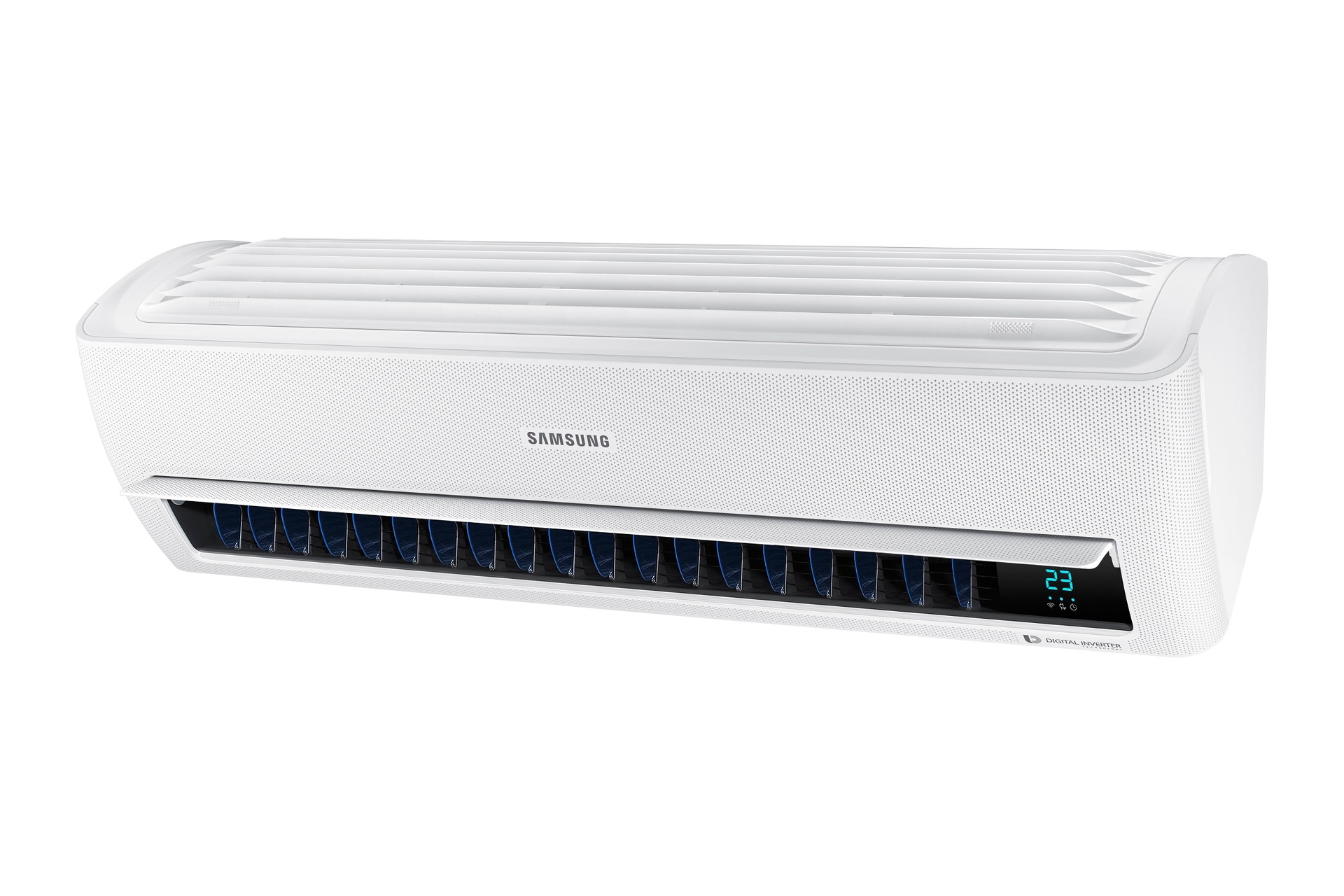 Amman, Jordan (June 2018) – with the soaring temperatures, the demand on air conditioning devices is increasing, and the innovations in this field are advancing to offer cool air without noise and save energy. Samsung released the Wind-Free™ wall-mounted air conditioner. The AR9500M air conditioner uses Samsung's exclusive Wind-Free™ cooling technology to gently disperse cold air while dramatically reducing energy consumption – providing customers with the ideal indoor conditions without the discomfort of direct cold airflow.
"With the increased temperature during summer season, an efficient cooling system can make all the difference in your day-to-day life, which is why this revolutionary air conditioner is so perfectly suited for the MENA region," said Ashraf Abu Rshaid, Head of home appliances at Samsung Electronics Levant. "With the revolutionary air conditioning capabilities of the AR9500M, users will be able to enjoy a comfortable, cool home without the unpleasant feeling of cold air blowing on them. What's more, they will also benefit from reduced energy usage and in turn, lower electricity bills."
The AR9500M uses advanced Wind-Free™ Cooling technology to maintain a comfortable room temperature by gently dispersing cold air through 21,000 micro air holes. The two-step cooling system first lowers temperatures in "Fast Cooling Mode", then automatically switches to "Wind-Free™ Cooling Mode" once the desired temperature is reached, creating "still air*" to maintain a cool and comfortable condition. Beyond eliminating the uncomfortable feeling of direct cold wind, this approach can also reduce energy consumption by up to 72 percent** compared to Fast Cooling mode.
Using Samsung's new Digital Inverter 8-Pole with POWERboost technology™, the AR9500M's motor generates fewer torque fluctuations, thus increasing the energy efficiency of the air conditioning unit. Additionally, Samsung's exclusive Wind-Free™ Cooling and POWERboost technologies shorten the time needed to reach maximum cooling by up to 43 percent compared to conventional Samsung air conditioning.
The AR9500M Wind-Free air conditioner is also Wi-Fi-enabled, meaning users can manage and monitor the appliance from anywhere through Samsung's SmartThings app. Directly from their smartphone, users can remotely regulate temperature, adjust settings, receive real time updates about performance and daily energy usage, and even troubleshoot solutions when a repair is needed.
The AR9500M's unique Triangle Architecture allows more air to be drawn in at once, through a wider inlet in the design, while the optimal width and angle of the outlet, extra v-blades, and large fan – 22 percent larger than previous models – ensure air is cooled and expelled faster, farther and wider, to reach every corner of the room.
Samsung's Wind-Free™ Air Conditioner is available in selected markets across the Middle East and North Africa.
###
*The American Society of Heating, Refrigeration, and Air-Conditioning Engineers defines "Still Air" as air currents at speeds below 0.15m/s which lacks the presence of cold drafts.
**Tested on AR07M5170HA, based on the accumulated power consumption of Fast Cooling Mode vs. Wind-Free™ Mode. When compared to Normal Cooling Mode, Wind-Free™ Cooling Mode consumes 55% less energy.
About Samsung Electronics Co., Ltd.
Samsung inspires the world and shapes the future with transformative ideas and technologies. The company is redefining the worlds of TVs, smartphones, wearable devices, tablets, digital appliances, network systems and memory, system LSI, foundry and LED solutions. For the latest news, please visit Samsung Newsroom at http://news.samsung.com.
List
No Prev Page
No Next Page