Mostafa Salahmeh, Lina Khalifeh and Ayham Otoom Join the Pyeongchang 2018 Olympic Torch Relay as Part of Samsung Electronics Campaign
Feb 12. 2018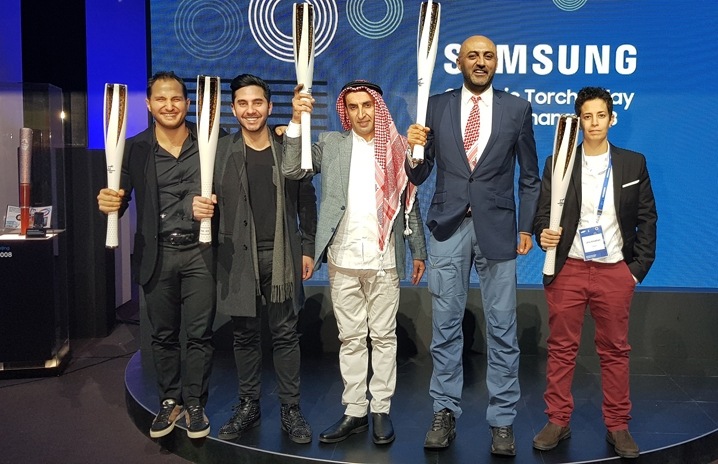 Amman, Jordan (February 2018) – To celebrate the achievements and open new horizons, Samsung Electronics Levant organised the participation of Jordanian delegates to join the Pyeongchang 2018 Olympic Torch Relay campaign that started on November 1st 2017 and ends on February 9th 2018.
Mostafa Salameh, Lina Khalifeh and Ayham Otoom joined 7,500 participants from around the globe to represent Jordan in the Torch Relay campaign, for Pyeongchang 2018 Olympics that will be held in South Korea. The participants of the torch relay campaign were selected for their achievements and the positive impact they created in their community and their role in inspiring others.
Mr. Changsup Lee, Samsung Electronics Levant Presented commented: "At Samsung Electronics, we celebrate achievements and the people who are able to inspire others, for their positive impact in creating change and influencing their surroundings by challenging themselves first and their environment, and our role enables the participants to discover and celebrate the lights of the torch relay, as it's a dream for all athletes".
"We are proud of Mostafa Salameh, Lina Khalifeh and Ayham Otoom's participation to represent Jordan in this momentous event, to reflect Jordan's image among the participants from around the globe", he added.
Samsung Electronics started its partnership with the Olympic games since 1988, and this partnership extended and Samsung became the Worldwide Olympic Partner in the Wireless Communications Equipment category. Where Samsung provides Wireless Communications Equipment and innovative products such as smartphones, tablets, laptops, personal computers and other computing equipment.
###
About Samsung Electronics Co., Ltd.
Samsung Electronics Co., Ltd. inspires the world and shapes the future with transformative ideas and technologies. The company is redefining the worlds of TVs, smartphones, wearable devices, tablets, digital appliances, network systems, and memory, system LSI, foundry and LED solutions. For the latest news, please visit the Samsung Newsroom at http://news.samsung.com.
List
No Prev Page
No Next Page