Samsung Electronics Levant & CTC Reveal the GALAXY S7 & S7 edge
Apr 19. 2016
The Next Generation of Smartphones Represent the Core of the Connected Galaxy Experience, combining sleek design with powerful performance including advanced camera features, water resistance, and external memory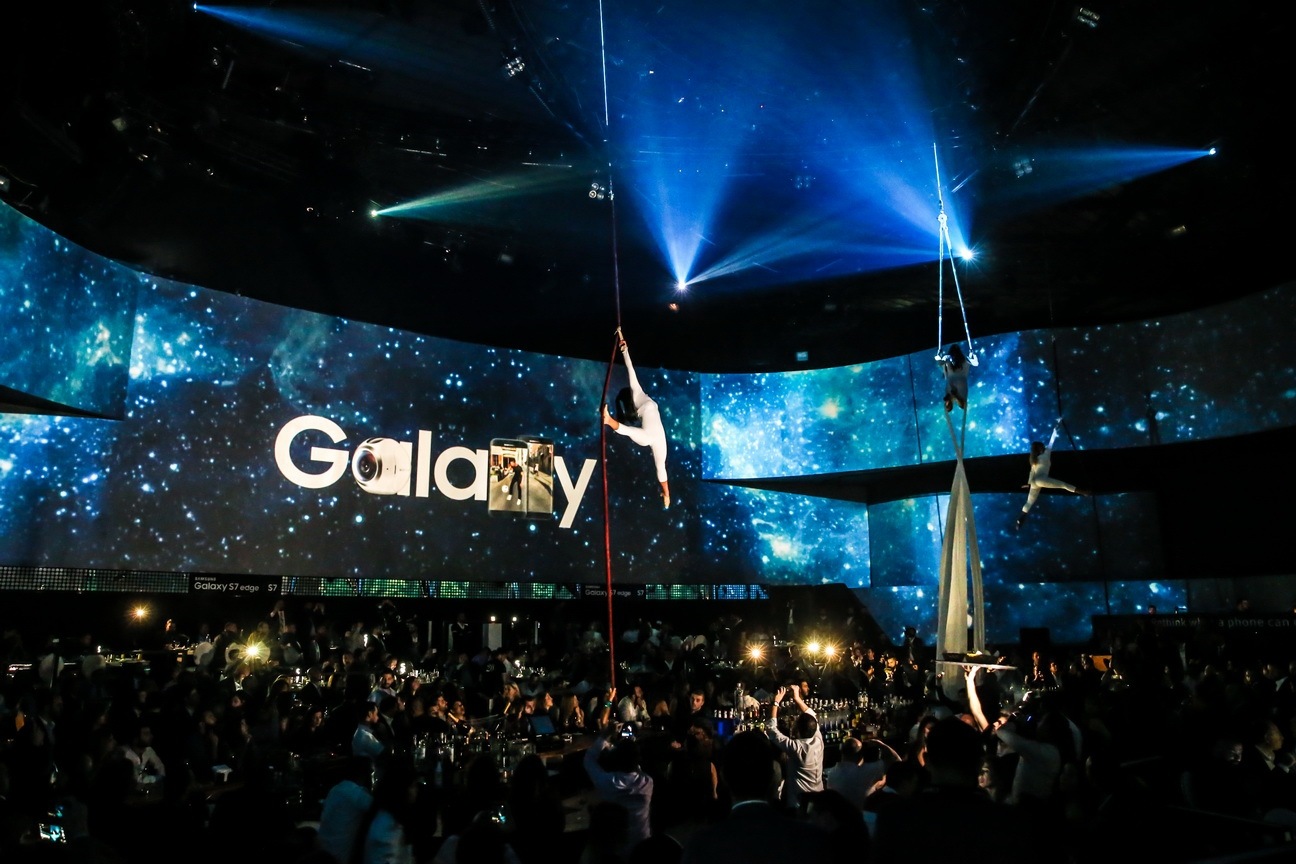 Beirut, Lebanon (April, 2016) – Samsung Electronics Levant and Cherfane, Tawil & CO.,Samsung's authorized distributor in Lebanon,announced in an event held on Wednesday, April 6th at O1NE Beirut the newest additions to the Galaxy family, the Samsung Galaxy S7 and Galaxy S7 Edge.
Mr. Changsup Lee, President of Samsung Electronics Levant welcomed the guests by saying: "I am pleased to announce the next generation of the GALAXY S series: the GALAXY S7 and S7 Edge, demonstrate Samsung's leadership in the mobile market and its commitment in offering the best devices to the consumers. As in such a short period of time, the new GALAXY S7 started to drive massive global success,and we are anticipating great success in the region".
"The New GALAXY S additions are more than just a mobile phone, presenting a complete eco-system that is integrated together to provide the best in class technologies, aiming to elevate consumers' lifestyle and complement the evolving requirements", he added.
The event continued with presentations showcasing the new smartphones featuresand a speech from Mr. Eddy Cherfan, CEO of Cherfane, Tawil & Co. highlighting the partnership with Samsung Electronics Levant saying: "CTC is very proud of its 30-year fruitful business relationship with Samsung and is extremely happy of achieving the world's best market share in any country with 71% of the total Lebanese mobile market. I am also honored of welcoming Samsung guests and partners from the whole Levant region."
"With the new S7 and S7 edge, consumers will have an exceptional mobile experience with advanced technologies, elegant design that carries the heritage of the GALAXY S series, unrivalled performance and unparalleled connectivity to a galaxy of products for a seamless experience", he added.
Galaxy S7 and Galaxy S7 edge introduce the first Dual Pixel camera on a smartphone, delivering brighter and sharper images, even in low light. Thanks to the revolutionary Dual Pixel technology, brighter lens with wider aperture, and bigger pixel, the camera has a faster shutter speed and a more accurate autofocus even in low-light conditions. Motion Panorama, a new camera mode, brings movement to traditional panoramic photos, giving the user a completely immersive visual experience.
The 5.1-inch Galaxy S7 and 5.5-inch Galaxy S7 edge are constructed with 3D glass and metal – all in a sleek design with durability and ergonomic curves for a comfortable grip. From work to play, the device's new Always-On Display, gives users a simplified, zero touch experience where they don't need to worry about missing a call or important notification.
Without compromising design, Galaxy S7 and Galaxy S7 edge both have increased utility withIP68 water and dust resistance. Edge UX; the advanced edge experience available on Galaxy S7 edge, provides convenience and increased efficiency by creating easy shortcuts to users' most loved functions such as email, selfie mode, panorama mode or third party applications.
Galaxy S7 and Galaxy S7 edge deliver fast wired and wireless charging technology. Additionally, the hybrid SIM card tray allows users to insert a microSD card for up to 200GB of additional storage.
Samsung also made significant hardware and software updates to optimize gaming performance on Galaxy S7 and Galaxy S7 edge. The powerful processer and bigger battery capacity ensure longer playing time, and the internal cooling system keeps the device from overheating. Game Launcher, a new add-on for gamers, allows users to manage battery consumption and minimize notifications. Additionally, users can record their gaming experience or share their screen to play with others. Paired with Galaxy S7 and Galaxy S7 edge, Vulkan API gives users the ability to play high-performance graphic games with lower battery consumption.
Samsung continues to push the boundaries of hardware, software and services to create devices that are designed to improve how consumers connect, share, organize and get more out of life. The company is redefining what is possible, beyond the limits of today's technology, by introducing a constellation of seamless mobile experiences.
Whether it's the seamless connection between Galaxy S7 and Galaxy S7 edge and the new Gear S2 to monitor fitness, or connecting with Gear VR– Samsung redefines what's possible for the mobile experience and beyond.
The Galaxy S7 and S7 edge are available for purchase from Samsung Dbayeh Showroom and authorized dealers. For more information, please call 01484999
###
About Samsung Electronics Co., Ltd.
Samsung Electronics Co., Ltd. inspires the world and shapes the future with transformative ideas and technologies that redefine the worlds of TVs, smartphones, wearable devices, tablets, cameras, digital appliances, printers, medical equipment, network systems, and semiconductor and LED solutions. We are also leading in the Internet of Things space with the open platform SmartThings, our broad range of smart devices, and through proactive cross-industry collaboration. We employ 319,000 people across 84 countries with annual sales of US $196 billion. To discover more, please visit our official website at www.samsung.com.
About Cherfane, Tawil & Co:
From its inception over three decades ago, Cherfane, Tawil & Co. has grown to become the leading distributor of Consumer Electronics and Household appliances nationwide. CTC is the sole and exclusive distributor of a holistic and consolidated consumer electronics and home appliances portfolio of products, under the Samsung umbrella brand.
List
No Prev Page
No Next Page