Eco-Conscious Products
Our Eco-Conscious products make for a healthy planet

Samsung Electronics gives the utmost priority to the environment -- from the moment product planning begins until a product's final disposal. Our Eco-design Process, adopted in 2004, thoroughly analyses a product's potential environmental impact. We are doing our best to make our products as eco-conscious as they are functional -- from conserving resources and making new, innovative products to ensuring they are easy to recycle at end-of-life. This is why our products are recognised around the world as eco-conscious.
2020 KPI: Developing eco-conscious products
Eco-conscious product development
Product energy efficiency improvement
Application of Eco Design Processes in Galaxy Note 8 and QLED TVs
Galaxy Note8 innovations have redefined the performance of smartphones. And its environmental performance innovation was no exception. By following our eco-design process that doesn't just meet the environmental requirements of different nations, but also considers potential impacts on the environment that go beyond regulation, Galaxy Note 8 was designed with improved environmental performance. Samsung QLED TVs utilize cadmium-free quantum dot technology while surpassing the technical limitations of conventional quantum dot technologies, which require the use of cadmium to achieve efficiency. As a result of such efforts, Galaxy Note 8 was awarded the Gold rating from EPEAT (Electronic Product Environmental Assessment Tool), and QLED TVs were awarded the Cutting Edge Sustainable Materials Management Challenge Award from the US EPA in January 2017.
Environmental Assessments of Major Products
Samsung Electronics carries out environmental assessments of major products, applying strict internationally-approved certification standards. We adopt assessment criteria fromthe Korean government's Eco-Label certification, the United States' Electronic Product Environmental Assessment Tool (EPEAT), and the sustainability certification standards of the US Association of Home Appliance Manufacturers (AHAM).
As part of our dedication to going eco-conscious, we have also developed an indicator to show the rate of our eco-conscious product development, and we have been publishing the numbers. Samsung Electronics will continue to work so that over 90% of our newly developed products are eco-conscious by 2020.
Environmentally sensitive substances in all products are strictly managed To make them safe to use
Under the principle of "no compromise on environmental issues," Samsung Electronics closely manages environmentally sensitive substances. In line with tighter international environmental regulations, we have established the 'Standards for Control of Substances Used in Products' and have been conducting thorough preliminary inspections and follow-up management on all components and raw materials that are used. We have voluntarily formulated reduction plans for the use of not only restricted substances, but also potentially environmentally sensitive ones such as polyvinyl chloride (PVC), brominated flame retardants (BFRs), beryllium and antimony. All the while, we have been continuously reducing the use of environmentally sensitive materials in products.
Samsung Electronics has been proactively managing environmentally sensitive substances since 2004, two years in advance of the EU's Restriction of Hazardous Substances (RoHS) Directive. The impetus for establishing a stringent management system internally before the EU issued its Directive was Samsung Electronics' management philosophy emphasizing the environment. Starting in 2005, we built a lab for analyzing environmentally sensitive substances and volatile organic compounds and we set up a self-monitoring system. Moreover, we were certified as an authorized testing lab by the Federal Institute for Materials Research and Testing (BAM) of Germany, achieving recognition for our credibility and expertise in chemical substance analysis.
Samsung Electronics acknowledges the environment as an important value for the future, and we have adopted our own standards that are stricter than international requirements in terms of hazardous substance verification and management. Our Hazardous Substance Management Standards are categorized into 4 classes and, accordingly, we examine and improve our products to make them safer and more eco-conscious.
Samsung Electronics' environmentally sensitive substance management history
2018
· Plans to restrict the use of 4 types of phthalates (DEHP, BBP, DBP, DIBP) in all components
2016
· Restricted use of 4 types of phthalates (DEHP, BBP, DBP, DIBP) in new components
2015
· Banned the use of hexabromocyclododecane (HBCD) and nonylphenol
2013
· Released phthalate and antimony-free products (some components of laptops, TVs, monitors and home theater products)
2012
· Released PVC-free products (some components of laptops, TVs, monitors and home theater products)
· Banned the use of chlorinated flame retardants in mobile phones and MP3 players
2011
· Released mobile phones completely free of beryllium compounds
2010
· Banned the use of cobalt chloride
· Released newly developed mobile phones, cameras, and MP3 players completely free of BFRs and PVC
2008
· Banned the use of perfluorooctanesulfonic acid (PFOS) and antimony compounds
· Released mobile phones completely free of BFRs and PVC (some models)
2006
· Set plans to reduce the use of BFRs and PVC
2005
· Banned the use of PBB and PBDE in products and BFRs in packaging materials
· Developed a technical tree to reduce the use of BFRs (supply chain improvement)
2004
· Completely removed cadmium (Cd), lead (Pb), mercury (Hg) and hexavalent chromium (Cr6+)
2003
· Introduced the Standards for Control of Substances Used in Products
Samsung Electronics continues to research ways to save energy
Samsung Electronics ceaselessly endeavors to manufacture highly energy-efficient products that use less energy for better performance. If a product can deliver an even more outstanding performance using less energy, then customers can save on energy costs. Less energy is used to generate power, resulting in lower greenhouse gas emissions. As a result of applying innovative, energy-efficient technologies on our products, we were able to lower the energy consumption of our products by 36% compared to 2008. This means we were able to make a better-performing product using half the energy. But our work does not stop there -- we continue our research to develop groundbreaking technology that will reduce energy use even further.
Samsung Electronics' Products with Eco-conscious Technology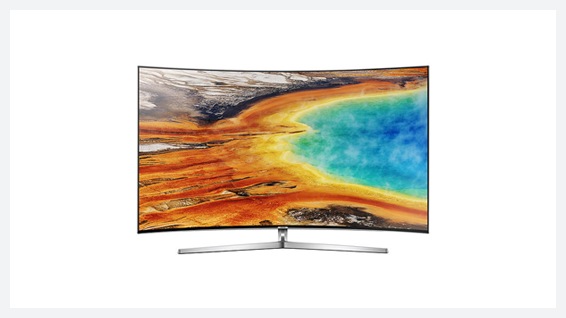 LED TV (UE65MU9000)
· EU Energy Label A+ (A++ to E)
· Features Energy-saving Mode
· Screwless design
(Improved productivity, improved recyclability)
· Used 21% sugar cane for accessory bags
Smartphone (Galaxy Note8)
· Uses highly-efficient chargers (20% recycled plastic, 86% charging efficiency, 0.02W in standby mode)
· Features Ultra Power-Saving Mode
· Uses bio-based materials
(Ear jack_bio nylon, packaging_sugarcane and bamboo by-products)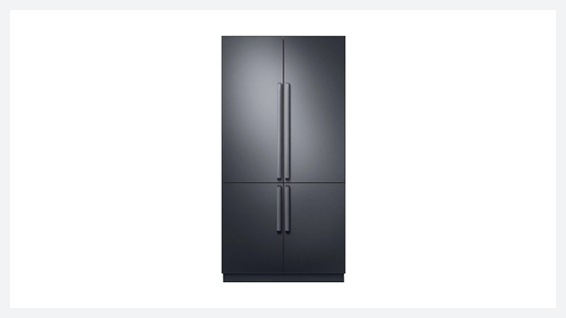 Refrigerator (DRF427500AP)
· ENERGY STAR® certification
· Triple metal cooling
· Flex temperature control (Refrigerator ↔ Freezer)
· HFC-free refrigerant (R600a)
- First built-in refrigerator to use HFC-free refrigerant in the US.
Memory (20nm 8GB HBM2 DRAM-based 2nd gen. Aquabolt)
∙ 2.7 times higher power efficiency. (Operates at 2.4Gb/s)
- Comparison: 8Gb GDDR5 graphic DRAM, operates at 8Gb/s
∙ Developed the world's first 2.4Gb/s 8GB HBM2 DRAM
∙ Features engineering technology that optimizes signal transfer and heat control technologies
∙ 1.5 times higher data transfer speed compared to 1st gen HBM2
∙ World's first to offer 1.2TB/s data processing speed, equipped with four 8GB modules
Washing Machine (Quick Drive)

∙ EU Energy Label A+++ (A+++ to D)
∙ Reduces washing time by 51% by combining a rotating disc of top-loading washing machine to front-loading washing machine
∙ Auto Optimal Wash measures adds the optimal amount of detergent and fabric softeners based on the conditions of the laundry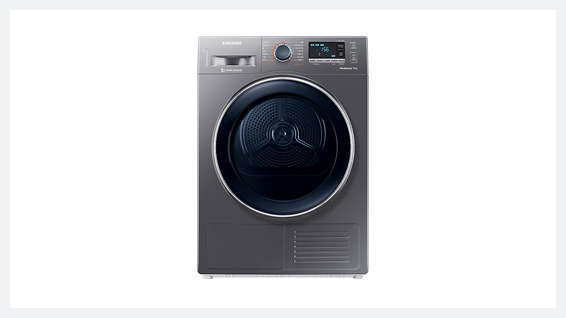 Dryer (DV90M53A0Q*)

∙ Highly-efficient inverter heat pump dryer
∙ 99.9% air sterilization of wet and dry laundry
∙ Easy-to-check water level indicator