Resource Efficiency
Conserve, use longer, and reuse
Since the Industrial Revolution, economic growth accompanied the reckless excavation and exploitation of natural resources. Experts have warned of the environmental problems from such excavation and future resource depletion. Samsung Electronics is aware of these warnings and implementing a wide range of response measures.
In the process of product development and manufacturing, we efficiently use resources by technology innovation and find ways for inevitable waste and end-of-life products to use again. We will keep effort in making better products with fewer resources and to convert e-waste into usable resources.
Resource Efficiency KPI
Cumulative take-back of global e-waste

Use of Recycled Plastic

Use of sustainably sourced paper packaging

Waste recycling rate of Samsung Locations

Water use intensity
Cumulative take-back of global e-waste

Use of Recycled Plastic

Use of sustainably sourced paper packaging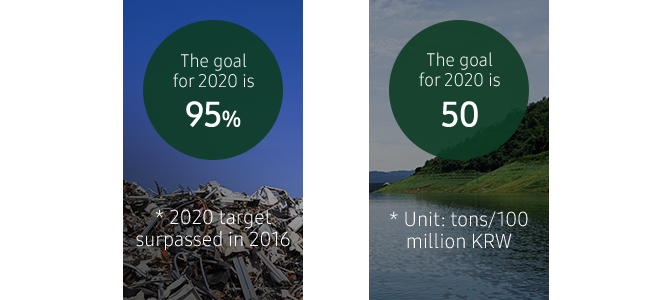 Waste recycling rate of Samsung Locations

Water use intensity
We aim for a circular economy in which resources are continuously reused
To protect an environment in crisis and use resources more efficiently, Samsung Electronics is engaged in efforts to focus on a circular economy. Going beyond the conventional practice of using resources once and discarding them, Samsung is working to ensure that resources can be reused by recovering, reusing and recycling after the product's lifespan. By minimizing the type of materials used and optimizing the assembly method, we have developed production methods that minimize the use of resources. By collecting products that have reached the end of their life span we recover valuable materials. Through this circular economy, Samsung is lowering the amount of natural resources required for production, reducing greenhouse gas and pollutants from the incineration of waste, and preventing soil and underground water contamination caused by landfills.

Above all, the best way to conserve resources is by making quality, long-lasting products. By strengthening the durability of our products before release through a series of strict reliability tests and by providing convenient repair services through its global service locations, including continuous software updates, Samsung is expanding the lifespan of our products to further contribute to the circular economy and conserving resources.
Circular economy structure adopted by Samsung Electronics
We breathe new life into end-of-life products
Establishing a circular economy system is an essential and fundamental factor in minimizing waste and using resources efficiently.
Therefore, Samsung Electronics globally operates the Re+ Program, e-waste collection program. End-of-life products are collected through our service centers or recycling cooperatives, and the collected e-waste are recycled using an environmentally friendly method and reused as useful resources. We were able to collect a total of 3.55 million tons of waste products between 2009 and 2018.
Once a resource is used, it is recovered, recycled and reused.
Samsung Electronics is moving away from the previous resource consuming structure, where resources were disposed after a single use, and pursuing various activities that consider closed-loop recycling, which recovers, recycles, and then reuses used resources. As part of our effort to establish a resource recycling social structure, we first analyze the composition of our major products and re-analyze from different angles the impact that each substance has on supply chain safety, the environment, society, and the economy.
One of the representative cases of Samsung's recycling efforts is the Asan Recycling Centre, which is established and operated by Samsung. All major metal and plastic that comes out of the recycling centre are re-used to make electronics. Since it was established in 1998, The Asan Recycling Centre has been recycling waste electronics. In 2018 alone, it has processed 369,000 units of refrigerators, washing machines, air conditioners, and IT devices, separating 25.207 tons of major metals (steel, copper, aluminium, etc.) and plastic to be recycled. The plastic from waste electronics, sorted at the Asan Recycling Centre, are supplied to plastic manufacturers who reformulate them for reuse. Using a jointly-developed technology, Asan Recycling Centre has established a closed-loop recycling system that makes it possible to use the renewed plastic in Samsung products. The 2,743 tons of renewed plastic produced through this closed-loop recycling system in 2018 were used in Samsung refrigerators, air conditioners and washing machines. And when you consider the renewed plastic acquired from other channels, approximately 39,000 tons were used in making appliances, TVs, monitors and mobile phone chargers. Copper is separated from major components (wires, compressors, etc.), recycled and used to make other electronics. Another example is cobalt, which is one of the major resources used in mobile phone batteries.
We convert manufacturing waste into resources
The amount of waste produced from product development through the manufacturing process is considerable. For complex electronic devices with numerous components, even the packaging thrown away for each part adds up. At the end of a project, the many pilot products used to refine a product all go to waste. If these are all incinerated or buried, the environment will be polluted and resources will be depleted. By processing the waste through an environmentally responsible recycling company, Samsung is increasing the recovery of recyclable materials and has achieved its overall waste recycling goal of 95% in 2016, four years earlier than planned.
We have replaced single-use plastic packaging materials with eco-friendly materials.
Recently, marine plastic pollution, microplastics, and other plastic-related issues have become a hotly debated topic around the globe. In line with such trend, Samsung Electronics has established environmentally conscious packaging policy and is replacing single-use plastic materials used in our product packaging with paper, bioplastic or other environmental materials. Bioplastic is an eco-friendly plastic with lower fossil fuel content enabled through the use of starch, sugar cane, and other bio materials. Also, we plan to use only the paper that obtained the sustainable forest certification in the packages and manuals of all our products by 2020.
Applications of Eco-friendly Packaging Materials
Extended product lifespan through customer services and improved durability.
Samsung Electronics strives to improve the durability of its products by conducting various tests such as strength, drop, and lifespan tests in the product development stage so that our customers can enjoy consistent performance longer. Going beyond meeting international standards, we also conduct threshold tests such as free fall tests by different angles and floor material, and waterproof tests under various conditions.
Samsung also strives to minimize parts replacement and repairs due to product failure. Furthermore, we are focusing our efforts to extend the lifespan of products by providing quick product diagnostics and fixes by repair experts. To this end, we are providing convenient product pick-up and walk-in service options for repair and are continuously expanding Samsung's authorized network of Care Repair Centers to provide more accurate and faster diagnostics and repair services.
"Galaxy Upcycling"
– Fulfilling Social Responsibility  through Discarded Mobile Phones
Since 2016, Samsung Electronics has continuously pursued the Galaxy Upcycling Project, which turns old Galaxy smartphones that are no longer used into newly functioning IoT devices. Thanks to such IoT devices – pet feeders and door bells, to name a few – we were able to improve the quality of life of our consumers while also protecting the environment.
In 2018, we carried out low-end ophthalmoscope development project by using the Galaxy Upcycling technology as our appropriate technology. In cooperation with Project BOM of Yonsei University Health Syste, which Samsung Electronics supports through the Tomorrow Solution Program, we developed ophthalmoscopes that can be used in developing countries where people cannot receive appropriate medical treatment due to the difficulty of distributing expensive diagnostic devices. As a result, many developing country residents are expected to escape from the risk of blindness. Furthermore, we plan to expand the use of technology to cervical diagnostic devices, among others, to contribute further to the promotion of health in developing countries.
The "Galaxy Upcycling Program" plans to propose various concepts going beyond the health sector to reduce the waste of resources in cooperation with institutions that strive to achieve sustainable development in a resource-constrained environment.
Conserve, reuse and recycle valuable water resources
In response to the increasingly serious global water resource crisis, and as part of our environmental protection efforts, Samsung Electronics instituted the 3R (Reduce, Reuse, Recycle) Strategy for water resources. We prevented the waste of water resources by replacing old valves to stop leaks and by developing sophisticated control units so that only the necessary amount is used. In addition, we reformed our processes so that water can be reused and water consumption reduced. Previously, water used in one process could not be reused in another since each process required water with different standards. However, by standardizing water, we can now reuse water in multiple processes. Thanks to such efforts, we were able to reuse 60,609 tons of water in 2018, which is 8% more than the year before, and reused water made up 45.1% of the total water used. We continue to seek various ways to reduce our intensity-based water consumption (ton/KRW 100 million) to 50 by 2020.
Our Environmentally Conscious worksites coexist with nature