HG48AC460KWXXM
Advanced HC460 Series 48"
Exceed guest expectations with an advanced, affordable hospitality display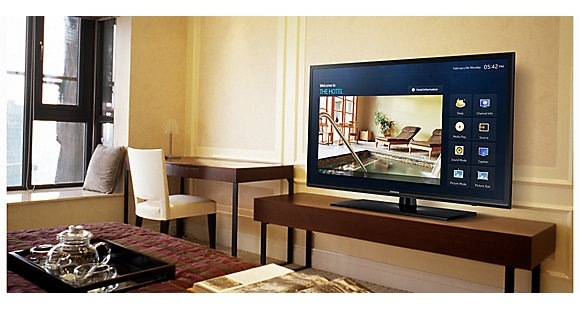 Enhance the guest room ambience with advanced, affordable hospitality displays
Successful hoteliers know that travelers expect an in-room entertainment experience similar to what they experience at home. However, hotel owners and managers must control costs when investing in new displays. Samsung HC470 Series high-performance displays include many features hoteliers need, at a reasonable cost. Their modern, streamlined design contributes to a pleasant room ambiance and superior viewing experience that includes a Home menu that puts essential information at guests' fingertips. Plus, these affordable displays offer a cost-effective management solution by leveraging existing infrastructure that is sure to please both guests and hoteliers.
Simplify display and content management with LYNK REACH 3.0
Streamline in-room display and content management while controlling costs with the Samsung LYNK REACH solution and REACH Server by leveraging your existing infrastructure. You can remotely control multiple TVs from a single location to increase your efficiency and productivity without the need for bulky set-top boxes (STBs) in each room. Plus, you can create various groups of displays with dedicated content for each group, which is ideal for targeting a specific group of guests such as convention attendees or tourist groups.
Provide advanced, customised content for greater guest convenience
Elevate guest services and generate additional revenue simply and easily with content management through the LYNK REACH solution. For hotel managers, Samsung LYNK REACH 3.0 includes a fully customisable UI that provides a highly flexible way to craft your hotel's unique messaging to inform and entertain guests. Editable templates allow you to change text and image size, colour, font, placement and so on, to optimise the appearance of your content and to enhance your brand image. Plus, you can generate incremental sales by providing guests with in-room marketing content, such as promotional offers displayed on a ticker. You can also generate additional revenue by advertising with live channel, which provides an easy new template for text or image advertisements in hotel lobbies or restaurants. For hotel guests, LYNK REACH 3.0 provides add-on guest conveniences with weather information and timely flight information from selected airports using 3rd-party content providers.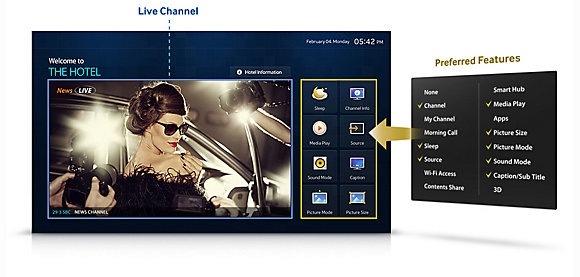 Treat guests to a warm welcome through your hotel's customised Home menu
Enhance guest convenience and your hotel brand, even in a no-network environment, with the Hospitality Home menu. Greet guests with a simplified Home screen that displays a live channel stream plus a welcome message, hotel information and the time and date. Increase guests' comfort with easy Home screen access to commonly used hotel features, such as morning wake-up calls, My Channel and sleep timers. The welcome message, hotel information, and easy access features can be edited from the factory mode. Plus, these customisations can be easily cloned to a USB for efficiently applying the same content to displays in other guest rooms.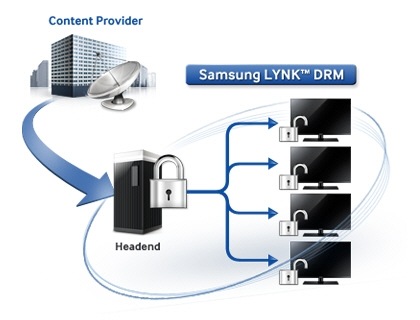 Protect content with advanced DRM technology
Enhance security with LYNK™ Digital Rights Management (DRM) technology, a software-based and cost-effective alternative to hardware-based content protection systems. As it is a fully software-based solution, Samsung LYNK™ DRM has a high adaptability to various head-ends. Also, it is easier to implement and manage, without any hardware upgrades or changes for error management and is, therefore, more cost-efficient.
Multi-code Remote

Increase guests' TV-viewing enjoyment by eliminating annoying interference from other remote signals in applications, such as hotel fitness centres, where multiple TVs are in close proximity. The multi-code remote can control up to 10 TVs individually in the same room.

Hotel Logo and Welcome Messages

Enhance your hotel's brand awareness while greeting your guests with a unique hotel logo and customisable messages. Hotels can display their logos and greetings on screen for an adjustable period of 3 to 7 seconds whenever their guests turn on the TV.
SmoovieTV® Compatibility

Make your hospitality TVs another source of revenue and derive potential revenue from SmoovieTV.. The Samsung hospitality TV is compatible with SmoovieTV, which is a prepaid TV solution supported by the channel bank editor setting free channels and premium paid channels for your guests' selection.

Channel Editor

Hotel managers can easily manage and arrange the channel mix for both analogue and digital channels without the need to adjust and edit channel lists by different TV systems. Channels can be reordered and renamed to the hotel's preference with channel mapping.
My Channel

Enable guests to easily find and enjoy the programming of their choice without having to manually scroll through hundreds of TV channels. My Channel's quick search function allows guests to find channels suited to their tastes, by country and genre.

USB Cloning

Simply set up multiple TVs without repeating cumbersome setting processes. Hotel managers do not have to set up each individual TVs with USB Cloning. They can easily store the settings from one TV on a USB device and then clone those settings onto other TVs.
Connect Share

Media entertainment including movies, music, and images come alive on the screen by simply plugging a USB drive directly into the TV.

Security Mode

The HC470 Series displays provide unique and strong display content management with Security Mode. Using this feature, you can disable critical functions of the displays to easily prevent changes to the displays' settings. You can also block non-compliant content or the transmission of unwanted Teletext (TTX) with a signal to maintain complete control of content on guest room displays, including input through HDMI® and USB ports. This feature is also highly beneficial for controlling displays in environments that require tight security, such as prisons.
Specification
Display

Backlight

LED

Screen Size

48"

HD/FHD

HD

Resolution

1366 x 768

Picture Engine

HyperReal Engine

Static Contrast Ratio

5,000:1

Response Time

6 ms

Viewing Angle (H/V)

178/178

Brightness (Typical)

250 cd/m²

Wide Color Enhancer Plus

Yes

Film Mode

Yes

Audio

Dolby

Dolby Digital Plus / Dolby Pulse

DTS Studio Sound / DNSe+

DTS Studio Sound

DTS Premium Sound / DTS Premium Sound 5.1

DTS Premium Sound 5.1

Auto Volume Leveler

Yes

Speaker Type

Down Firing + Full Range

Sound Output (RMS)

10 W x 2

General Feature

Wireless LAN Builit-in

No

ConnectShare™ (USB 2.0)

Movie

Soft AP

No

OSD Language

Local Language

Digital Clean View

Yes

Anynet+ (HDMI-CEC)

Yes

Caption (Subtitle)

Yes

Picture-In-Picture

Yes

Auto Channel Search

Yes

Auto Power Off

Yes

EPG

Yes

Teletext (TTX)

Yes

Sports/Football Mode

Basic

Game Mode

Yes

Sleep Timer

Yes

Hospitality Feature

Hospitality Home Menu

Yes

Samsung LYNK™ REACH (RF)

Yes

Samsung LYNK™ REACH Server Compatibility

Yes

Samsung LYNK™ SINC Compatibility

No

H.Browser Compatibility

No

Hospitality Plug&Play (Easy Set-up)

Yes

RJ12/IR Pass Through

No

Power On Mode

Yes

USB Cloning

Yes

Logo Display with Time Out Setting (BMP/Movie)

Yes

Welcome Message

Yes

Music Mode (Input: PC/AV/Component/HDMI)

Yes

Music Mode Backlight on/off

Yes

Auto Source Mode

Yes

Energy Saving Mode (BLU Control)

Yes

External Clock Compatibility

No

External Clock Back Up Supply

No

External Clock Dimming Control

No

Software Clock

No

My Channel

Yes

Multi Code Remote

Yes

Screwed Remote Battery Cover

Yes

Security Mode

Yes

Smoovie Compatibility

Yes

Soundbar Compatibility

No

Samsung LYNK™ DRM

Yes

Interface

HDMI (Side/Rear)

0 / 1 EA

USB (Side/Rear)

1 / 0 EA

Component In (Y/Pb/Pr) (Side/Rear)

No

Composite In (AV) (Side/Rear)

0 / 1 EA

Headphone (Side/Rear)

No

Headphone ID (Side/Rear)

No

Digital Audio Out (Optical) (Side/Rear)

No

Audio Out (Mini Jack) (Side/Rear)

No

PC In (D-sub) (Side/Rear)

0 / 1 EA

PC/DVI Audio In (Mini Jack) (Side/Rear)

0 / 1 EA

RF In (Terrestrial / Cable input) (Side/Rear)

0 / 1 EA

RS-232C

No

Variable Audio Out (Side/Rear)

No

Variable Audio Out Volume Control (Side/Rear)

No

RJ12 for External Control (Side/Rear)

No

RJP Jack (Remote Jack Pack) (Side/Rear)

Yes

System

DTV Tuner Built-in

DVB-T / C

Analog Tuner

Yes

Design

Colour

Black

Stand Type

Square

Swivel (Left/Right)

No

Dimension

Set Dimension with Stand (WxHxD)

1,083.2 x 677.0 x 203.9 mm

Set Dimension without Stand (WxHxD)

1,083.2 x 637.8 x 90.9 mm

Package Dimension (WxHxD)

1,292.0 x 720.0 x 155.0 mm

Weight

Set Weight with Stand

9.9 kg

Set Weight without Stand

9.1 kg

Package Weight

13.7 kg

Mechanical Specification

VESA Mount

200 x 200 mm

VESA Screw Size

M8

Power

Power Supply

AC100-240V 50 / 60 Hz

Power Consumption (Rated)

84 W

Power Consumption (Stand-by)

0.3 W

Eco
Accessory

Remote Controller Model

TM1240

Battery (for Remote Control)

Yes

Power Cable

Yes

Data Cable

No

Quick Install Guide

Yes

Stand Mount Kit

No
Features and specifications are subject to change without prior notification.
Manual Download
Advanced HC460 Series 48" (HG48AC460KWXXM)
Manuals

2014.08.11

User Manual

(ENGLISH)

2014.08.11

User Manual

(CHINESE(Simplified))

2016.06.07

Upgrade File(USB type) ver 1025.0

(MULTI LANGUAGE)

2015.08.06

Upgrade guide ver 1.0

(MULTI LANGUAGE)