SBB-SS08EL1/XS
Signage Player Box SBB-SS08E
All-in-One Box Function Transforms Presentations into Powerful and Versatile Viewing Experiences
A Powerful, Fully-Integrated Solution to Enhance Content Management
All-in-One Box Function Transforms Presentations into Powerful and Versatile Viewing Experiences
While many standard video walls, such as Samsung's UDE-B and UDE-C, require a variety of additional equipment and programs, including a PC and media player for information processing, software for content management and a device for source switching, Samsung's Signage Player Box addresses all these needs in small, yet powerful, device to ensure seamless connectivity and simplification. This device integration reduces setup cost and complexity compared to video walls that require the use of individual devices and complex cable arrangement to achieve the same level of functionality. As the Signage Player Box offers a PC and media player function through its embedded chip, Samsung SMART Signage Platform (SSSP), the all-in-one, versatile box transforms the common video walls using its powerful Quad Core CPU for faster information processing and easy-to-use content management performance with MagicInfo S3. The enhanced performance, flexibility and convenience of Samsung's Signage Player Box enable you to improve your information delivery and boost revenue with brilliant, large-scale digital signage – all in a cost-efficient manner.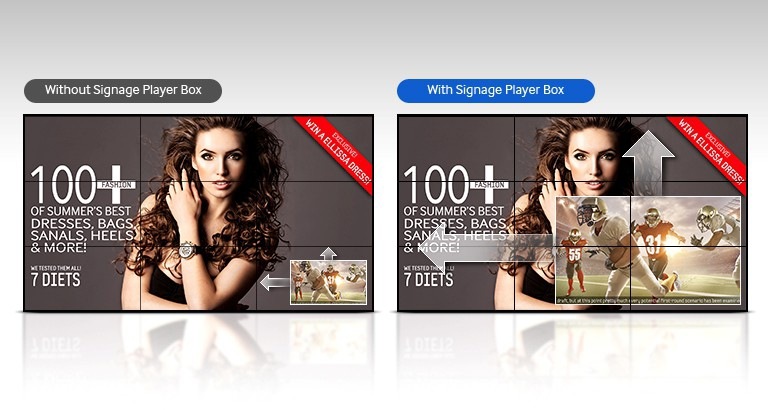 A Powerful, Fully-Integrated Solution to Enhance Content Management
Powered by the 3rd Generation SSSP, Samsung's Signage Player Box transforms common video walls into powerful displays without additional PCs and set-back boxes (SBBs). The all-in-one solution makes content managers easily monitor and control all displays by simply connecting the first display with the Signage Player Box and then connecting all other displays by Display Port daisy chain. With common video walls, this level of management is not possible without a bundled LAN (RJ45) connection and server license fee. The device's connectivity extends across display configurations up to 10 x 10, resulting in a reduced total cost of ownership (TCO) by eliminating installation costs and the need to purchase LAN cables and license fees. Similarly, the device enables easy switching between different content sources, such as a TV set-top box (STB) or DVD player. Along with optimised control, the device's integration of advanced technologies enhance content management. Unlike the location and sizing restrictions experienced with the Picture-in-Picture (PiP) function of common video walls, there are no limitations on the placement or size of PiP screens with video walls using the Signage Player Box, including PiP screens being displayed across the bezel. The device's expanded connective enables a variety of content to be shown using the PiP screen, including TV and promotional messaging, for added convenience. To ensure installation is kept simple, clean and tidy, the Signage Player Box also features a slide-in-module (SIM)-type design that makes it easy to slide the device inside the video wall display.
Specification
Connectivity
Power

Power Supply

AC 100 - 240 V ~ (+ / - 10%), 50 / 60 Hz

Dimension

Set Dimension (WxHxD)

321.6 x 35.1 x 203.4 mm

Package Dimension (WxHxD)

432 x 95 x 269 mm

Weight

Set Weight

1.3 kg

Package Weight

2.1 kg

Operation Conditions

Temperature

10 °C - 40 °C

Humidity

10 - 80%

General Feature

Special

Cortex-A9 1GHz Quad Core CPU, 2D & 3D Graphics Engine -Up to 1920 x 1080. 32bpp -Supports OpenGL ES GPU, 8 GB (2.65 GB Occupied by O/S, 5.35 GB Available) FDM / HDD / SSD, 1.5 GB,48 bit DDR3-933 (1866 MHz) Memory, 10/100 Mbps (MDC) Ethernet, USB 2.0 Port x 2, RJ-45, RS232 In / Out (Stereo), IR In, Audio In (HDMI1, HDMI2, AV / COMPONENT)

Accessory

Included

User Manual, Power Cord, DVI to HDMI Cable (Short, Long)
Features and specifications are subject to change without prior notification.
Manual Download
Signage Player Box SBB-SS08E (SBB-SS08EL1/XS)
Manuals

2017.05.19

User Manual ver 04

(ENGLISH)

2017.05.19

User Manual ver 04

(ENGLISH)

2017.05.19

User Manual ver 04

(INDONESIAN)

2017.05.19

User Manual ver 04

(CHINESE(Simplified))

2017.05.19

Quick Guide ver 01

(ENGLISH, ARABIC, CHINESE, CHINESE, FRENCH, PORTUGUESE, VIETNAMESE)

2018.05.02

Install Guide(MagicInfo Express 2 Setup for Windows ) ver 3.0 1011.8

(KOREAN, ENGLISH, ARABIC, BULGARIAN, CHINESE, CHINESE, CROATIAN, CZECH, DANISH, DUTCH, DUTCH(BEL), ESTONIAN, PERSIAN, FINNISH, FRENCH, , GERMAN, GREEK, HEBREW, HUNGARIAN, INDONESIAN, ITALIAN, LATVIAN, LITHUANIAN, NORWEGIAN, POLISH, PORTUGUESE, ROMANIAN, RUSSIAN, SERBIAN, SLOVAK, SLOVENIAN, SPANISH, SWEDISH, THAI, TURKISH, UKRAINIAN, VIETNAMESE)

2018.05.02

Install Guide(MagicInfo Express 2 Setup for MAC) ver 3.0 1011.8

(KOREAN, ENGLISH, ARABIC, BULGARIAN, CHINESE, CHINESE, CROATIAN, CZECH, DANISH, DUTCH, DUTCH(BEL), ESTONIAN, PERSIAN, FINNISH, FRENCH, , GERMAN, GREEK, HEBREW, HUNGARIAN, INDONESIAN, ITALIAN, LATVIAN, LITHUANIAN, NORWEGIAN, POLISH, PORTUGUESE, ROMANIAN, RUSSIAN, SERBIAN, SLOVAK, SLOVENIAN, SPANISH, SWEDISH, THAI, TURKISH, UKRAINIAN, VIETNAMESE)

2016.09.09

Install Guide(MagicInfo Express 2 User Manual) ver 2.6_1.2

(ENGLISH, ARABIC, BULGARIAN, CROATIAN, CZECH, DANISH, DUTCH, ESTONIAN, PERSIAN, FINNISH, GREEK, HEBREW, HUNGARIAN, INDONESIAN, LATVIAN, LITHUANIAN, NORWEGIAN, ROMANIAN, SERBIAN, SLOVAK, SLOVENIAN, UKRAINIAN, VIETNAMESE)