Treat Your Clothes As You Do Yourself
Give your workout clothes the care they need.

In this day and age, we all seem to sweat it out for different reasons. Whether it's to boost our mood, sharpen our focus or keep our health in check, those intense workout sessions have become an integral part of our daily lives. And with that comes the tricky part of not only choosing what to wear but maintaining our fitness gear to maximize efficiency.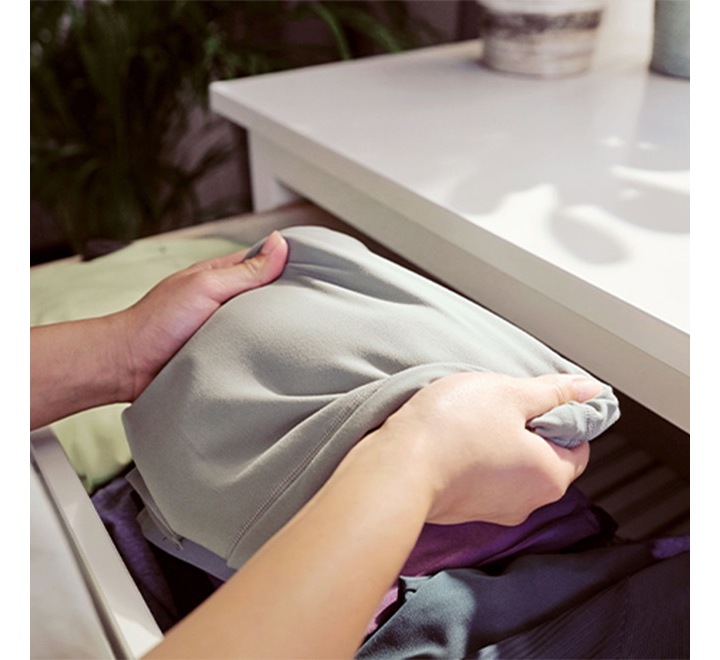 • Pleasant and soft to the touch, bamboo is a highly porous and absorbent fiber that reduces perspiration odor and absorbs moisture.

• Elastane can stretch 600 percent without ripping, which makes it all the more prone to damage if not treated correctly.

• Merino wool is an uber soft, sweat-wicking fabric that is ideal for regulating body temperatures.

• Polypropylene is lightweight and durable, making it ideal for when your fitness routine takes you outside.


Get the most out of your workout
Another thing to keep in mind is what exercise we want to do and where we plan to do it. For those longer, more intensive workouts with plenty of stretching and grueling cardio sessions, bamboo is ideal, as is highly elastic elastane.

If you want to keep perspiration to a minimum, merino wool's anti-bacterial fibers manage moisture and regulate body temperature, reducing odor and making sure you don't get clammy when working out.

Heading outdoors? Polypropylene is both thin and flexible and will keep you nice and dry when exercising in sleet, rain or high humidity, yet warm when chasing the miles in the cold.
"Just as I take care of myself,
the same goes for my clothes."
Well-being on every level
Ocean is someone who leads a very active life and realizes the need for preserving the look and feel of her training outfits. "In order to maintain the quality, my fabrics need to be cared for properly," she says. "Just as I take care of myself, the same goes for my clothes."
From Lycra to silk, the clothes we wear need to be treated delicately if we want them to last. And it goes without saying that we need to exercise a little caution when washing delicate fabrics. Wash your gear inside out with a mild detergent, and steer clear of fabric softeners and dryers.

But if you're pressed for time and weighed down by what to do, don't sweat it. Samsung's EcoBubble™ thoroughly penetrates and preserves intricate fabrics quickly and rinses out without leaving any unwanted residue behind.
Care for myself.
Care for my clothes.