Purchase and Enjoy Exclusive Offers
Own the Galaxy Note Fan Edition Now
Valid from Nov 24. 2017 to Dec 31. 2017 Expired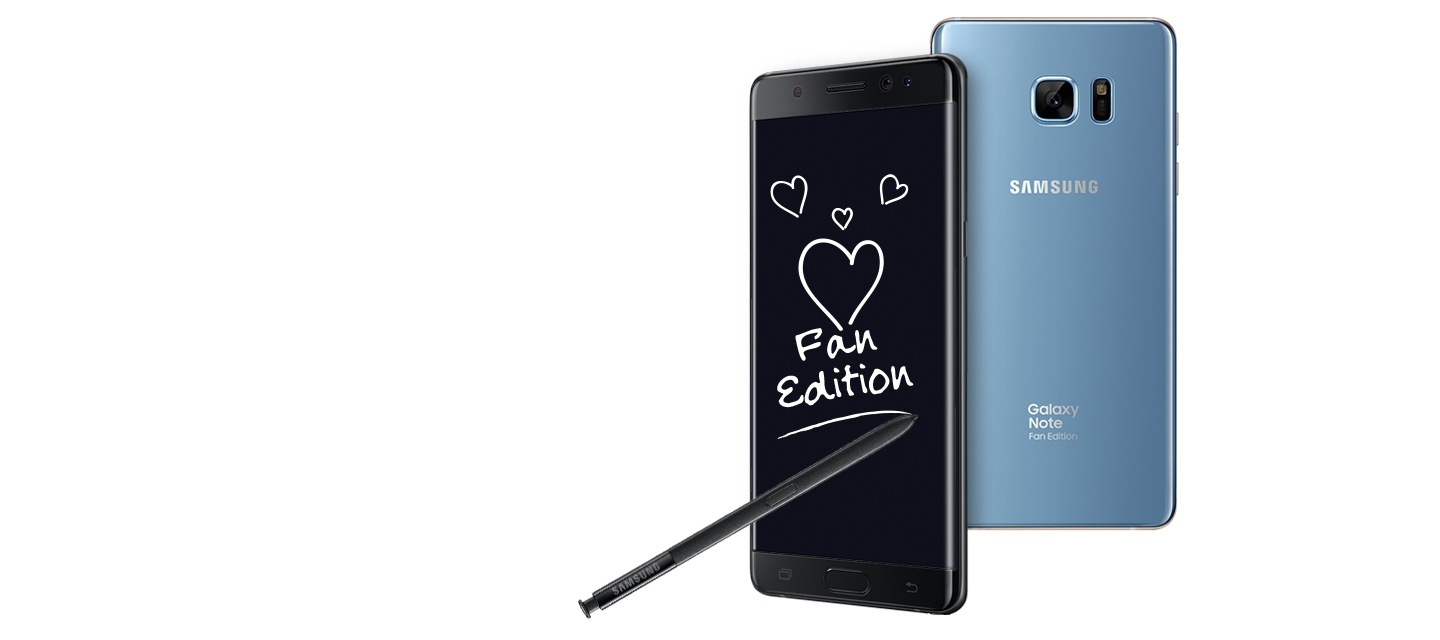 Samsung Galaxy Note Fan Edition (FE) Year End Treats Campaign
1. Introduction
1.1 The Samsung Galaxy Note Fan Edition (FE) Year End Treats Campaign ("Campaign") is organised by Samsung Malaysia Electronics (SME) Sdn. Bhd. (629186D) ("Samsung").
1.2 This Campaign is opened to Customers (more particularly described in 4.1 below) who is a MySamsung app user and receives the MySamsung Treats Redemption Code.
1.3 By participating in the Campaign and with every purchase of Samsung Galaxy Note Fan Edition and redemption of MySamsung Treats Redemption Code, between 24th November 2017- 31st December 2017 at Samsung Experience Stores ("SES"), Samsung Authorized Dealers and participating partners ("Participating Outlets"), Customer will be entitled to receive one (1) RM200 Rebate off the Retail Recommended Price (RRP). Each Customer will also receive a Galaxy Note Fan Edition Clear View Cover which is bundled in the box with the device.
1.4 This Campaign is limited to 15,000 units of mySamsung Treats Redemption codes, on a first come first served basis and while stocks last.
1.5 By participating in the Campaign, customer agrees and acknowledges that the sale transaction in this Campaign is between the Participating Outlets and Customer. SAMSUNG is not responsible for the sale but merely provides the recommended retail price ("RRP") and redemption guidance.
2. Campaign Mechanics
The following are three (3) steps for the Samsung Galaxy Note Fan Edition (FE) Year End Treats Campaign:-
Step 1: Choose preferred outlet

Customer to walk in to any Participating Outlets where Customer would like to make a purchase of the Samsung Galaxy Note Fan Edition.

Step 2: Redeem mySamsung Treats

Before Payment,

i) Customer to select on Note FE deal on the mySamsung Treats page.

ii) User to tap on "Redeem Now" once at the Participating Outlet and show to outlet staff.

iii) Redemption Code (E-voucher) will appear with a 60 minutes countdown timer and Customer must redeem the E-voucher within the 60 minutes time frame.

iv) Samsung Retail Associate (RA) to VERIFY the redemption code by swiping on the "Swipe Here" Tab

v) Offer redeemed. Customers can now enjoy the offer and proceed with purchase of the Note FE.

Step 3: Payment

Customer can deduct RM 200 off the RRP and make full payment for the balance for the Note FE.
3. Duration
The Campaign will run from 24th November 2017, 10:00:00 to 31s December 2017, 23:59:59 ("Campaign Period"). SAMSUNG reserves the right to shorten, extend or cancel the Campaign Period without prior notice.
4. Eligibility
4.1 The Promotion is open to all Malaysian citizens and residents of 18 years old and above (as at January 2017); except Samsung's employees, its related agencies, resellers, retailers and dealers (and all of their immediate families).
5. Payment
Customer acknowledges, understands and agrees that all transactions are between Customer and the Participating Outlet sonly. SAMSUNG only acts as the coordinating party and is not involved or a party of any monetary/sale and purchase of this Campaign transaction.
7. Limitation of Liability
Customer agrees that is the promotional items are being sold to Customer on an "AS IS" and "AS AVAILABLE" basis.
To the extent permitted by applicable law, SAMSUNG excludes all express or

implied warranties, terms and conditions including, but not limited to, implied

warranties of merchantability, fitness for a particular purpose, and non-

infringement.

Customer shall assume full responsibility in case of any accident, damage or

claim resulting from participating in this Campaign.

Warranty of the Samsung Galaxy Note Fan Edition is subject to standard product warranty coverage as per terms and conditions stated in the official corporate website at http://www.samsung.com/my/support/warranty. Customer is advised to check the website from time to time and stay informed for any changes on the terms and conditions of the warranty.

All transportation, personal costs and/or any other costs, fees and/or related expenses arising out of the collection of the phone are the Customer's sole responsibility.
9. Indemnity
By redeeming the MySamsung Treats Redemption Code and proceeding with the purchase of Note FE, Customer agrees to fully indemnify and hold SAMSUNG (and our affiliates and subsidiaries, and our and their respective officers, directors, employees, agents) harmless from any claim or demand, including reasonable legal fees, made by himself/herself or any third party due to or arising out of his/her breach of these Terms and Conditions.
10. Privacy
By providing Customer's personal data to Samsung, Customer is indicating that he/she has read, understood and agreed that his/her personal data will be recorded, stored or otherwise processed in accordance to Samsung's Privacy Policy available at http://www.samsung.com/my/info/privacy.html.
11. General
11.1 No trade up or trade in (with other mobile phone) is allowed in this Campaign. This Campaign is strictly for the purchase of the Samsung Galaxy Note Fan Edition without any trade up or trade in transaction between Customer and selected outlet.
11.2 In the event Customer have queries with regard to the Campaign; please call Samsung helpline at 1-800-22-8899 for clarification.
11.3 SAMSUNG reserves the right to make amendments to the Terms and Conditions of the Campaign herein without prior notice.
11.4 In case of any dispute, SAMSUNG reserves the right to make the final decision and shall have the right to cancel, disqualify the order or forfeit the deposit necessarily.
11.5 By participating in this Campaign, Customer fully and unconditionally agrees to and accepts Samsung's Privacy Policy as stated above, and the Terms and Conditions herein.
11.6 By redeeming the MySamsung Treats Redemption Code and proceeding with the purchase of Note FE, Customer agrees to grant SAMSUNG and their respective parent companies, subsidiaries, affiliates, licensees, directors, officers, agents, independent contractors and advertising/promotion agencies the use of his/her full details submitted through the Campaign, without further compensation, unless prohibited by law.
11.7 In the event of inconsistencies between the terms and conditions found elsewhere with regard to this Campaign (if any) and the Terms and Conditions herein, the latter shall prevail.
11.8 These Terms and Conditions herein shall be governed by the laws of Malaysia and the jurisdiction of the courts of Malaysia.
Get stock alert
Get alerts when this item is back in stock and available to buy, by adding your email to opt into alerts
By providing your email you agree to marketing communications & stock alerts from Samsung
We will email you when inventory is added.
Thank you.
Create your wishlist
Don't miss out on the products you love.
Sign in/Sign up now to access your wishlist on all your devices and get updates on great promotions.
Add to wishlist
Do you want to add this product to your wishlist?
Wishlist
This product has been added to your wishlist.
Delete option
Are you sure you want to delete this option?
EMIs (Pay in Easy Monthly installments)
Installment Calculate
Installments are provided by Santander Consumer Bank S.A.