Galaxy Tab A from RM559
Valid from 5th October till 4th November 2018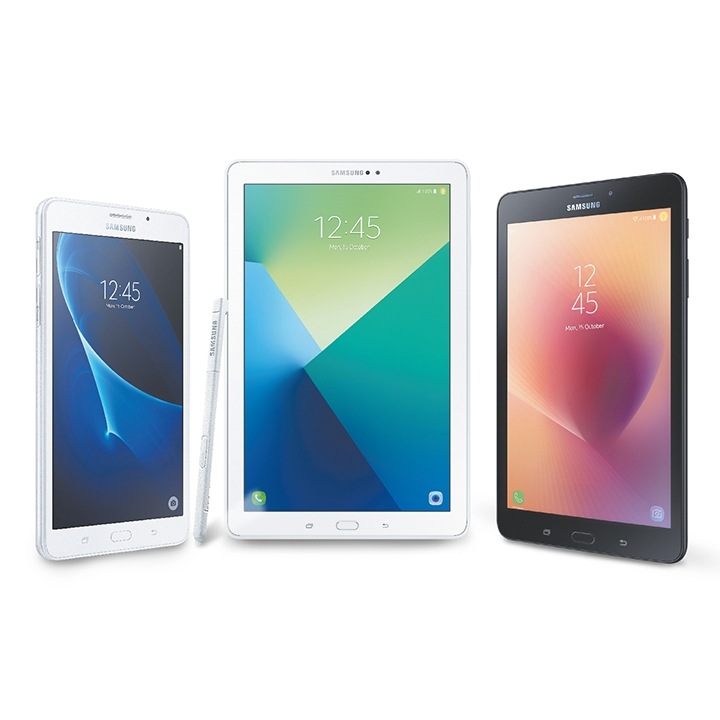 Duration
Galaxy Tablet October Fest ("Promotion") will run from 5th October – 4th November 2018 ("Promotion Period") at the participating outlets. Samsung Malaysia Electronics (SME) Sdn Bhd ("Organiser") shall reserve the right to shorten or extend the Promotion Period at its sole discretion without any prior notice.
Eligibility
The Promotion is open to all Malaysian and non-Malaysian except the Organiser's distributors, retailers, resellers and their employees. In the event the consumer is below 18 years old, please seek consent from parent/guardian before participating in this Promotion. Participation by consumers under 18 years old will be deemed to be accompanied with consent by the parent/guardian.
How to Participate
Purchase one (1) unit of selected Samsung Galaxy Tablet devices within the Promotion Period from the Participating Outlets to be entitled to a discount as below:-
| Selected Samsung Galaxy Tablet Devices | Great value Tablet |
| --- | --- |
| Galaxy Tab A (10.1) with S Pen - P585 | RRP RM 1,499 >> Promo RM 1,299 |
| Galaxy Tab A (8.0) - T385 | RRP RM 1,129 >> Promo RM 959 |
| Galaxy Tab A (7.0) - T285 | RRP RM 659 >> Promo RM 559 |
Promotion Period
5th October – 4th November 2018 ("Promotion Period") or while stocks last, whichever is earlier.
Participating Outlets
All Participating Samsung Authorised Dealers Nationwide. View more on https://www.samsung.com/my/mobile/authorised-dealers/
Liability and Responsibility
1. All transportation, personal costs and/or any other costs, fees and/or related expenses that are incurred for this Promotion are the sole responsibility of the customers.
2. By participating in this Promotion, each Customer agrees to release and hold the Organiser and its employees, officers, directors, shareholders, agents, representatives, parent companies, affiliates, subsidiaries, licensees, advertising, promotion, and fulfillment agencies, and legal advisors, harmless from any and all losses, damages, rights, claims and actions of any kind in connection with the Promotion or resulting from acceptance, possession, use or misuse of the promotion items including without limitation, personal injury, death, and property damage, and claims based on publicity rights, defamation, or invasion of privacy.
Rights of the Organiser
1. In case of any dispute, the Organiser reserves the right to make the final decision. The Organiser's decision is final and no further correspondence or appeal will be entertained.
Terms of Participation
1. By participating in this Promotion, consumer fully and unconditionally agrees to and accepts the Terms and Conditions stated herein and decisions of the Organiser.
2. By participating in this Promotion, consumers agree to grant the Organiser and their respective parent companies, subsidiaries, affiliates, licensees, directors, officers, agents, independent contractors, and advertising/promotion agencies the use of his/her name, details submitted, pictures and videos for all communication materials, without further compensation, unless prohibited by law.
3. The Organiser reserves the right to amend these Terms and Conditions without prior notice.
4. During the Promotion Period, Samsung may collect consumer's information (whether on our own or by appointed service provided) for the purposes relating to this Promotion. By participating in the Promotion, you have read and agreed with the Samsung Privacy Policy at https://www.samsung.com/my/info/privacy.html
5. Samsung shall not be liable for any loss or damage whatsoever which is suffered (including but not limited to indirect or consequential loss) and/or for personal injury which is suffered or sustained arising from or in connection with the Promotion.
6. These Terms and Condition herein shall be governed by and interpreted in accordance with Malaysian law and the parties submit to the exclusive jurisdiction of the Malaysian courts.