Smart TV iflix promo
Enjoy 12 months unlimited access to iflix (worth RM96)
Valid from Nov 01. 2017 to Dec 31. 2017 Expired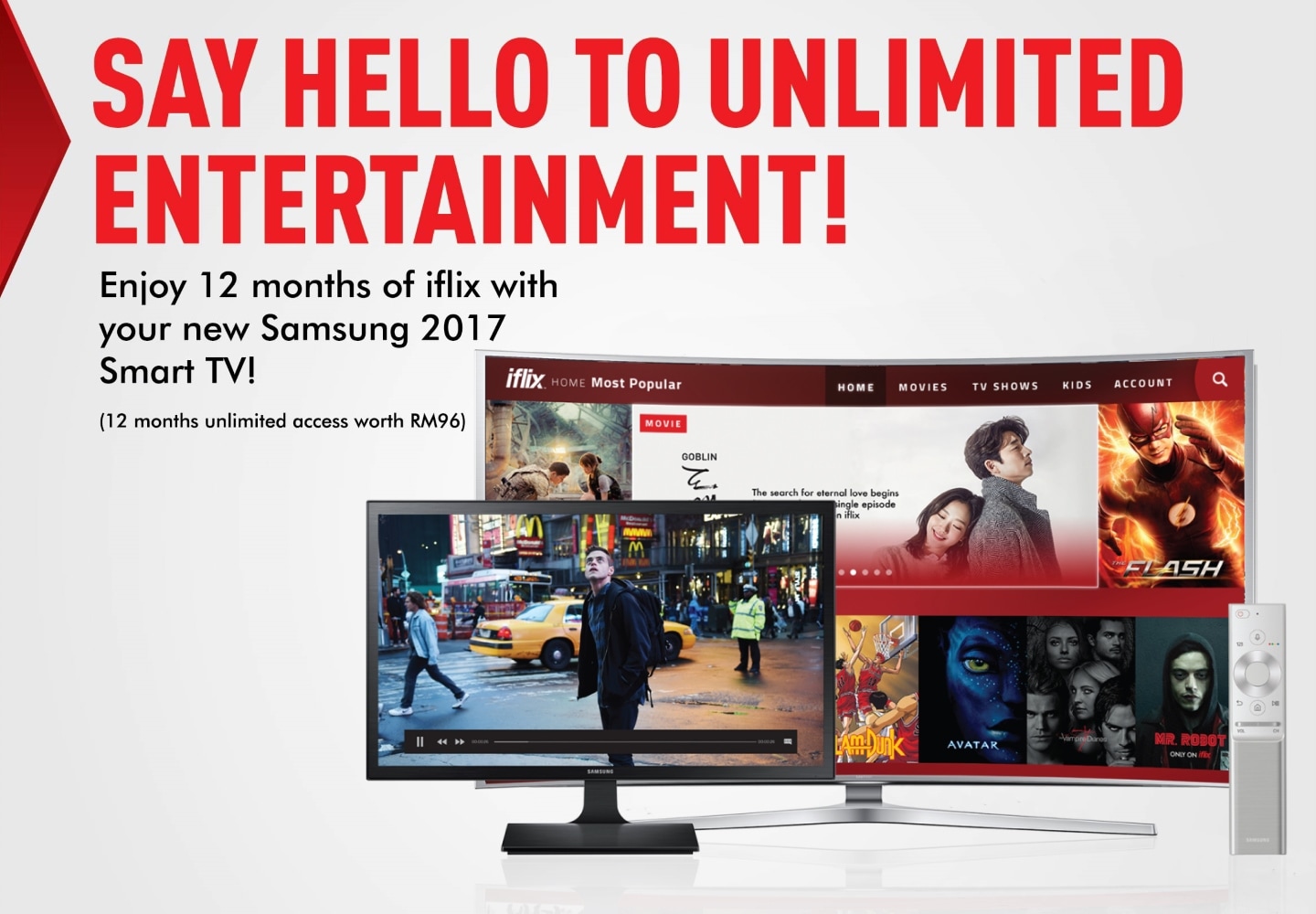 Introduction
The Samsung Smart TV Content Pack 2017 ("Promotion") will run from 1st November to 31st December 2017 ("Promotion Period") while stocks last. Samsung Malaysia Electronics (SME) Sdn Bhd ("Organiser") shall reserves the right to shorten or extend the Promotion Period at its sole discretion without prior notice.
By participating in this Promotion, customer ("Customer") who purchase the selected models TV with TV promotion sticker on the box during the Promotion Period (1st November 2017 – 31st December 2017) will be entitled to one iflix voucher with 12-month free subscription on Smart TV.
This Promotion is available at all Samsung Authorised Dealers only.
Promotion Models
The Promotion is valid for the following Samsung Consumer Electronic Products ("Products") only:
| | |
| --- | --- |
| Product Category | Model |
| | QA88Q9FAMKXXM |
| | UA82MU7000KXXM |
| | QA75Q8CAMKXXM |
| 75" Q7F 4K Smart QLED TV | QA75Q7FAMKXXM |
| | UA75MU6100KXXM |
| | QA65Q8CAMKXXM |
| | QA65Q7FAMKXXM |
| | UA65LS003AKXXM |
| | UA65MU9000KXXM |
| | UA65MU8000KXXM |
| | UA65MU7000KXXM |
| | UA65MU6300KXXM |
| | UA65MU6100KXXM |
| | QA55Q7FAMKXXM |
| | UA55LS003AKXXM |
| | UA55MU8000KXXM |
| | UA55MU7000KXXM |
| | UA55MU6300KXXM |
| 55" MU6303 Curved Smart 4K UHD TV | UA55MU6303KXXM |
| | UA55MU6100KXXM |
| | UA55M6300AKXXM |
| | UA55M5500AKXXM |
| | UA49MU6300KXXM |
| | UA49MU6303KXXM |
| | UA49M6300AKXXM |
| | UA49MU6100KXXM |
| | UA49M5500AKXXM |
| | UA43MU6100KXXM |
| | UA43M5500AKXXM |
*Content Value worth up-to RM 96 (Customer must register iflix voucher code within Promotion Period, 16 May 2017 - 31 March 2018.)
Eligibility
The Promotion is open to all Malaysian, 18 years of age on the date the purchase transaction is made pursuant to the Promotion except the employees and their immediate families of Samsung, Samsung authorized dealers, Samsung Brand Shop and participating agencies.

If Customer is below 18 years of age, please ensure the parent / legal guardian reads and agrees to the Terms and Conditions of this Promotion herein on behalf of Customer. It shall be deemed that the Customer's parent / legal guardian has agreed to the Terms and Conditions of this Promotion upon the Customer's participation in this Promotion.
Only each of the selected TV model is only entitled to have one (1) unit of iflix content voucher inside the TV box throughout the Promotion Period.
This Promotion is limited to the selected TV models at Samsung Authorised Dealers outlet and subject to availability.
Smart TV content voucher access is subject to participating content partner's individual activation process and terms and conditions as set out in their respective websites as well as subject to change without prior notice.
How to Participate
Purchase any of the Product of the Promotional Models during the Promotion Period at all participating Samsung Authorised dealers outlets.

You shall obtain the iflix's voucher code from in or on the Product's package upon the purchase.

For iflix redemption, go to www.samsung.com/my/iflix to register your e-voucher code to enjoy the complimentary of iflix 12-month subscription.

You are advised to read and understand the terms and conditions set by iflix's registration page at https://iflix.com/termsofuse.html and agree to the same before you proceed with the subscription accordingly.

Next, you are requested to sign up the account via a Facebook account or email address.

Once you are signed up, it will prompt you to play from the iflix application when you are selecting the content to play.
Terms and Conditions
By participating in this Promotion, Customer fully and unconditionally agree to and accept the Terms and Conditions and decisions of the Organiser.
Promotion valid only for Customer that purchase any of the Product of the Promotional Models listed herein during the Promotion Period from 1st November 2017 to 31st December 2017.
One Customer shall receive one iflix's voucher card from the Product package upon the purchase of one unit of the Product of the Promotional Model in order to enjoy the complimentary of iflix 12-month subscription.
Samsung shall not be liable for any loss or damage whatsoever which is suffered (including but not limited to indirect or consequential loss) for personal injury or any losses howsoever caused which is suffered or sustained, as a result of accepting or using any of the complimentary of iflix 12-month subscription.
Samsung reserves the right to alter, extend or terminate and amend the Terms and Conditions including terminating the complimentary subscription stated herein at any time without prior notice and without any liability. Customer's continuous use of the iflix subscription is deemed to be an unconditional acceptance and agreement by Customer of the alteration, extension, termination and/or amendments to the Terms and Conditions herein. In case of any disputes in connection with the complimentary of iflix 12-month subscription, Customer agrees that the decision of Samsung shall be final.
By receiving and continuing to use the complimentary of iflix 12-month subscription, Customer agrees to release and hold the Samsung and its employees, officers, directors, shareholders, agents, representatives, parent companies affiliates, subsidiaries, licensees, advertising, promotion, and fulfillment agencies, and legal advisors, harmless from any and all losses, damages, rights, claims and actions of any kind in connection with the voucher redemption, service subscription or resulting from acceptance, possession, use or misuse of the voucher, or from any gift-related activity, including without limitation, personal injury, death, and property damage, and claims based on publicity rights, defamation, or invasion of privacy.


Samsung collects, uses, processes and/or discloses (including to third parties overseas) Customers' personal information in order to provide the services, and is in accordance with the Samsung Privacy Policy (www.samsung.com/my/info/privacy.html). Each Customer consents to such collection, use, processing and disclosure of his/her personal information, and represents and warrants that all information provided is true and accurate in all respects.
All transportation, accommodation, personal costs and/or any other costs, fees and/or related expenses that are incurred to receive the complimentary of iflix 12-month subscription are the sole responsibility of the Customer.
These Terms and Conditions herein is governed by the laws of Malaysia and any dispute shall be referred to the exclusive jurisdiction of courts of Malaysia.
Get stock alert
Get alerts when this item is back in stock and available to buy, by adding your email to opt into alerts
By providing your email you agree to marketing communications & stock alerts from Samsung
We will email you when inventory is added.
Thank you.
Create your wishlist
Don't miss out on the products you love.
Sign in/Sign up now to access your wishlist on all your devices and get updates on great promotions.
Add to wishlist
Do you want to add this product to your wishlist?
Wishlist
This product has been added to your wishlist.
Delete option
Are you sure you want to delete this option?
EMIs (Pay in Easy Monthly installments)
Installment Calculate
Installments are provided by Santander Consumer Bank S.A.