Exciting Roadshow Deals
at 1 Utama Shopping Centre, Oval Concourse, New Wing, Lower Ground
Valid from Aug 22. 2017 to Aug 27. 2017 Expired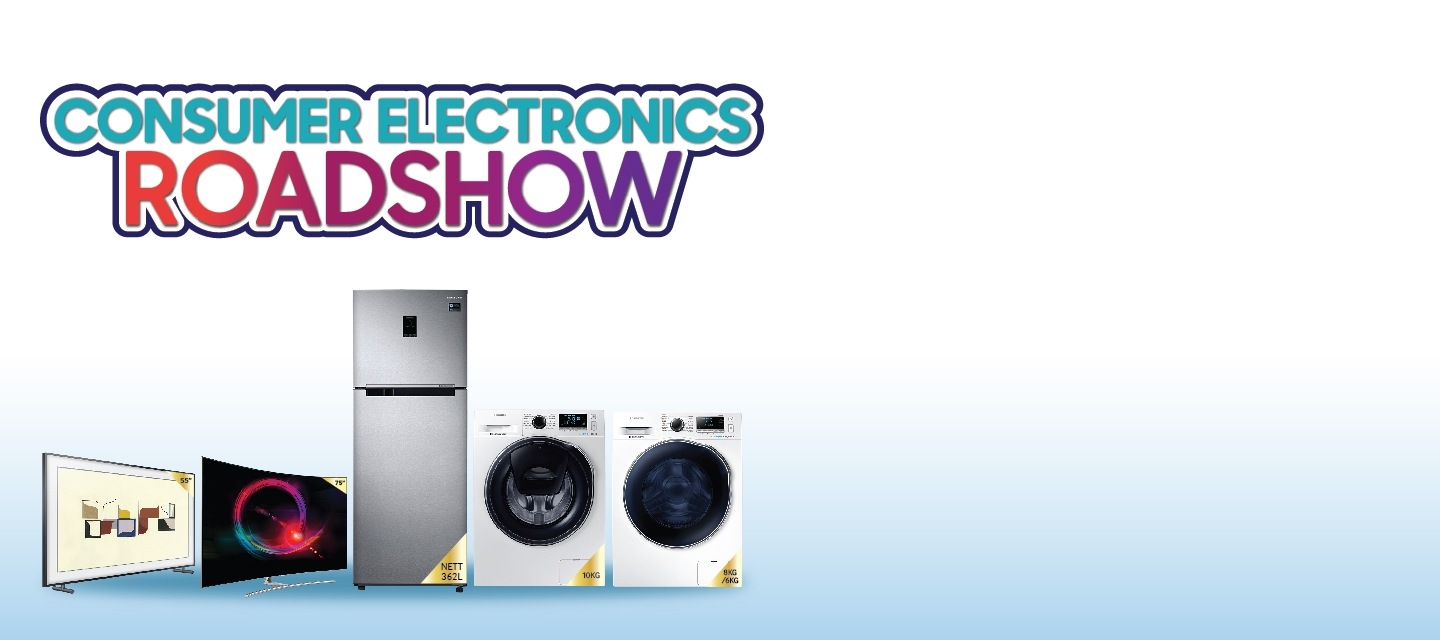 TERMS AND CONDITIONS

Introduction
The Samsung Best Denki (1U) Roadshow Promotion ("Promotion") is organized by Samsung Malaysia Electronics (SME) Sdn. Bhd. (629186D) ("Samsung") from 22nd Aug 2017 to 27th Aug 2017 ("Promotion Period"). The terms and conditions and the Privacy Policy posted on this site will be construed as the terms and conditions ("Terms and Conditions") of this Promotion.
By participating in this Promotion, customer ("Customer") must purchase either one of the Promotion Products from Best Denki (1U). ("Retailers").
| | | | | | | |
| --- | --- | --- | --- | --- | --- | --- |
| Category | Item No | Model | RCP(RM) | Promo Price(RM) | Cost Saving(RM) | Roadshow Promotion |
| TV | 1 | QA75Q8CAMKXXM | 36,999 | 36,999 | | Free Galaxy S8+ worth RM3,699 and Gear S3(Sport) worth RM1,399 |
| TV | 2 | QA75Q7FAMKXXM | 35,999 | 35,999 | | Free Robotic Vacuum Cleaner(VR20K9350WK/ME) worth RM3,599 |
| TV | 3 | QA65Q7FAMKXXM | 19,999 | 19,999 | | Free Sound+ (HW-MS650/XM) worth RM1,899 |
| TV | 4 | QA55Q7FAMKXXM | 9,999 | 9,999 | | Free Sound+ (HW-MS550/XM) worth RM1,599 |
| TV | 5 | UA65MU7000KXXM | 11,499 | 9,999 | 1,500 | Consumer Rebate RM1,500 |
| TV | 6 | UA55LS003AKXXM | 9,999 | 9,999 | | Free Customizable White Frame worth RM599 and Best Denki Voucher worth RM300 |
| Category | Item No | Model | RCP(RM) | Promo Price(RM) | Cost Saving(RM) | Roadshow Promotion |
| Audio & Video | 1 | HW-M550/XM | 1,499 | 1,399 | 100 | Consumer Rebate RM100 |
| Category | Item No | Model | RCP(RM) | Promo Price(RM) | Cost Saving(RM) | Roadshow Promotion |
| Vacuum Cleaner | 1 | VR20K9000UR/ME | 1,999 | 1,999 | | Free Best Denki Voucher worth RM600 |
| Category | Item No | Model | RCP(RM) | Promo Price(RM) | Cost Saving(RM) | Roadshow Promotion |
| Refrigerator | 1 | RF50K5980DP/ME | 6,299 | 6,299 | | Free Best Denki Voucher worth RM700 |
| Refrigerator | 2 | RF50K5910SK/ME | 5,299 | 5,299 | | Free Best Denki Voucher worth RM600 |
| Refrigerator | 3 | RT38K5562SL/ME | 2,279 | 2,279 | | Free Best Denki Voucher worth RM300 |
| Category | Item No | Model | RCP(RM) | Promo Price(RM) | Cost Saving(RM) | Roadshow Promotion |
| Washing Machine | 1 | WA21J7700GP/FQ | 3,599 | 3,599 | | Free Best Denki Voucher worth RM1,000 |
| Washing Machine | 2 | WA21M8700GV/FQ | 3,599 | 3,599 | | Free Best Denki Voucher worth RM500 |
| Washing Machine | 3 | WA18M8700GV/FQ | 3,099 | 3,099 | | Free Vacuum Cleaner(VC20M2510WB/ME) worth RM329 |
| Washing Machine | 4 | WD80J6410AW | 3,399 | | | Free Best Denki Voucher worth RM500 |
| Category | Item No | Model | RCP(RM) | Promo Price(RM) | Cost Saving(RM) | Roadshow Promotion |
| Microwave/Oven | 1 | MC32K7055LT/SM | 1,499 | 1,499 | | Free Glass Roaster worth RM49.90 |
| Microwave/Oven | 2 | MG28J5255GS/SM | 699 | 699 | | Free Glass Roaster worth RM49.90 |
| Microwave/Oven | 3 | MC455THRCSR/SM | 1,819 | 1,819 | | Free Best Denki Voucher worth RM300 |
| Category | Item No | Model | RCP(RM) | Promo Price(RM) | Cost Saving(RM) | Roadshow Promotion |
| Air Conditioner | 1 | AR12MVFHJWKNME | 1,799 | 1,799 | | Free Best Denki Voucher worth RM200 |
| Air Conditioner | 2 | AR09MVFHJWKNME | 1,499 | 1,499 | | Free La Gourmet Lunch Box worth RM65.90 |
| Air Conditioner | 3 | AR09MVFSBWKNME | 1,799 | 1,749 | 50 | Consumer Rebate RM50 and Free La Gourmet Lunch Box worth RM65.90 |
| Category | Item No | Model | RCP(RM) | Promo Price(RM) | Cost Saving(RM) | Roadshow Promotion |
| Refrigerator/ Washing Machine | 1 | Bundle RT35K5562SL + WW10K6410QW | 6,028 | | | Free Vacuum Cleaner(VC20M2510WB/ME) worth RM329 and Microwave (MG23K3513GK) worth RM449 |
Duration

The Promotion is from 22nd Aug 2017 to 27th Aug 2017 ("Promotion Period"). Samsung reserves the right to shorten, extend or cancel the Promotion period without prior notice. This Promotion is on a first come first served basis and subject to stocks availability.
Eligibility

The Promotion is open to all Malaysian, 18 years of age and above (as at 22nd Aug 2017) except the employees and their immediate families of Samsung, participating Samsung Brand Shops and participating agencies.

If Customer is below 18 years of age, please ensure the parent / legal guardian reads and agrees to the Terms and Conditions of this Promotion herein on behalf of Customer. It shall be deemed that the Customer's parent / legal guardian has agreed to the Terms and Conditions of this Promotion upon the Customer's participation in this Promotion.
Payment

Customer acknowledges, understands and agrees that all transactions are between Customer and the Retailers only. Samsung only acts as the coordinating party and is not involved or a party of any monetary/sale and purchase transactions as well as payment method between Customer and the Retailers in this Promotion.
Customer's Covenants

For clarification purposes, by participating this Promotion, Customer acknowledges that the free Best Denki voucher is subject to terms and conditions of the issuer, Best Denki voucher cannot be exchanged with cash or any other item.
Delivery

Customer acknowledges, understands and agrees that delivery of goods is between Customer and Retailers only. Delivery of goods is subject to Retailer's discretion on delivery charges.
Limitation of Liability

To the extent permitted by applicable law, Samsung excludes all express or implied warranties, terms and conditions including, but not limited to, implied warranties of merchantability, fitness for a particular purpose, and non-infringement.

Customer shall assume full responsibility in case of any accident, damage or claim resulting from participating in this Promotion.

Warranty of the Samsung product is subject to standard product warranty coverage as per terms and conditions stated in the official corporate website at http://www.samsung.com/my/support/warranty. Customer is advised to check the website from time to time and stay informed for any changes on the terms and conditions of the warranty.

All other transportation, personal costs and/or any other costs, fees and/or related expenses that are incurred to participate in this Promotion are the sole responsibility of the Customers.
General

The Promotion is available during the Promotion Period only. The Free Gifts and/or PWP products are on first come first served basis and while stocks last. For the PWP promotion, Customer must purchase the promotion item(s) mentioned above in the same transaction, on the same day of purchase of Samsung products.
The Free Gift is not redeemable for cash, not exchangeable or transferable, and cannot be used in conjunction with other promotional offers.
Samsung reserves the rights to change the Free Gifts with products of similar value in the event of out of stocks.
All premium gift pictures are for illustration purpose only.
No trade up or trade in (with other TV) is allowed in this Promotion.
In the event Customer have queries with regard to the Promotion; please call Samsung Premium Customer Careline at 1-800-88-7799 for clarification.
To the extent permitted by law, Samsung reserves the right to make amendments to the Terms and Conditions of the Promotion including shortening or extending the Promotion period without prior notice.
Samsung reserves the right to disqualify any redemption of in the event of violation of any of the Terms and Conditions.
In case of any dispute, Samsung reserves the right to make the final decision and shall have the right to cancel, disqualify the promotion necessarily.
By participating in Promotion, Customer fully and unconditionally agrees to and accepts Samsung's Privacy Policy as stated above, and the Terms and Conditions herein.
By placing an order, Customer agrees to grant Samsung and their respective parent companies, subsidiaries, affiliates, licensees, directors, officers, agents, independent contractors and advertising/promotion agencies the use of his/her full details submitted for purpose of redemption and/or this Promotion, without further compensation, unless prohibited by law.
Samsung shall not be liable for any loss or damage whatsoever which is suffered (including but not limited to indirect or consequential loss) for personal injury or any losses howsoever caused which is suffered or sustained, as a result of accepting or using any of the travel warrant.
In the event of inconsistencies between the terms and conditions found elsewhere with regard to this promotion (if any) and the Terms and Conditions herein, the latter shall prevail.
These Terms and Conditions herein shall be governed by the laws of Malaysia and any disputes arising out of this Promotion and/or the terms and conditions herein shall be referred to the jurisdiction of the courts of Malaysia.
Get stock alert
Get alerts when this item is back in stock and available to buy, by adding your email to opt into alerts
By providing your email you agree to marketing communications & stock alerts from Samsung
We will email you when inventory is added.
Thank you.
Create your wishlist
Don't miss out on the products you love.
Sign in/Sign up now to access your wishlist on all your devices and get updates on great promotions.
Add to wishlist
Do you want to add this product to your wishlist?
Wishlist
This product has been added to your wishlist.
Delete option
Are you sure you want to delete this option?
EMIs (Pay in Easy Monthly installments)
Installment Calculate
Installments are provided by Santander Consumer Bank S.A.