Super Smart TV Deals
Enjoy Unlimited Entertainment Worth Up to RM670
Valid from Oct 01. 2016 to Oct 31. 2016 Expired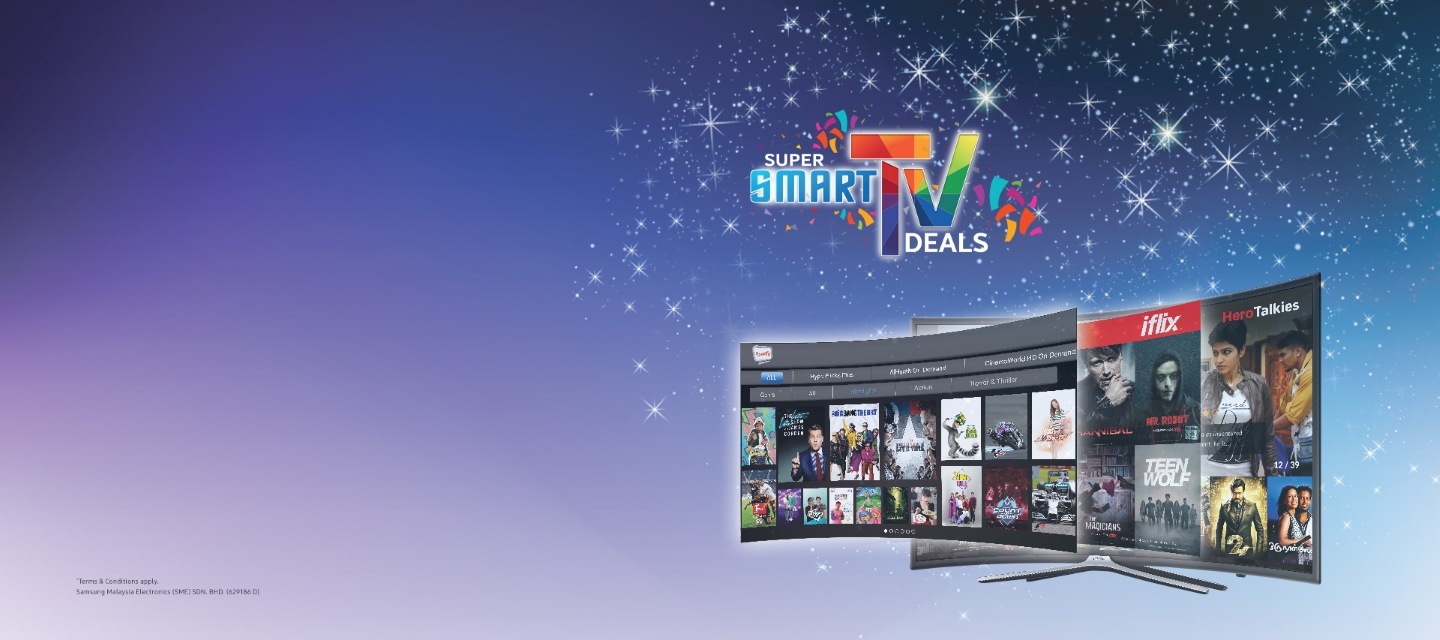 Introduction
The Samsung Super Smart TV Deals 2016 ("Promotion") will run from 1st to 31st October 2016 ("Promotion Period") while stocks last. Samsung Malaysia Electronics (SME) Sdn Bhd ("Organiser") shall reserves the right to shorten or extend the Promotion Period at its sole discretion without prior notice.
By participating in this Promotion, customer ("Customer") purchase the selected TV models with promotional sticker on the TV box during the Promotion Period (1st – 31st October 2016) to be entitled to one Smart TV content booklet.
This Promotion is available at all Samsung Authorised Dealers only.
Promotion Models
The Promotion is valid for the following Samsung Consumer Electronic Products ("Products") only: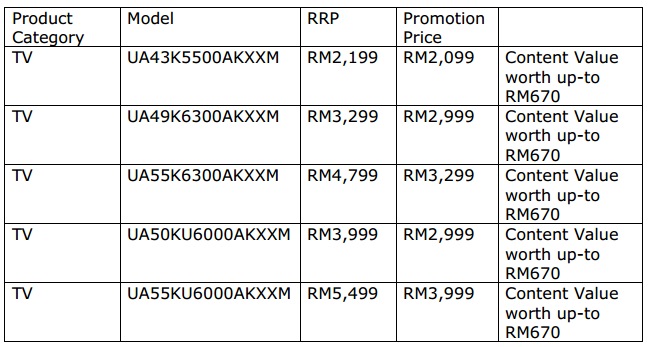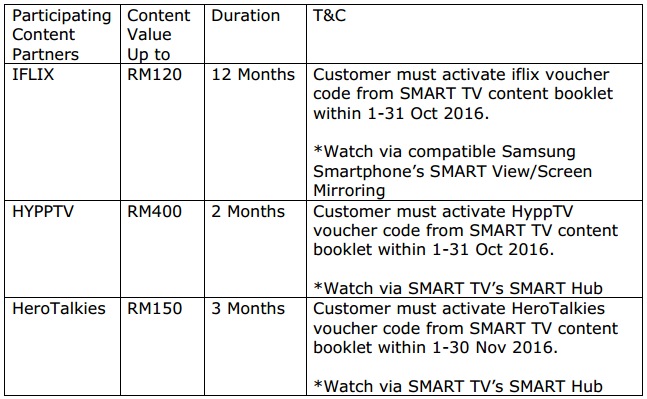 Promotion price is GST inclusive.
Purchase of selected Samsung SMART TVs and activation of code must be within promotion period to enjoy the entitlement.
The content value is derived from an average market cost. The cost of content may vary from time to time and is subject to change without prior notice.
SMART View or Screen Mirroring is applicable to compatible Samsung Galaxy mobile devices only.
TV value comparison is based on same TV model of 2015 (UA40J5500 and UA48J6300) VS. 2016 (UA43K5500 and UA49K6300).
Duration
The Samsung Super Smart TV Deals 2016 will run from 01 October 2016 [12.00am] to 31 October 2016 [11.59pm] ("Promotion Period").
Eligibility
The Promotion is open to all Malaysian, 18 years of age on the date the purchase transaction is made pursuant to the Promotion except the employees and their immediate families of Samsung, Samsung Brand
Shop and participating agencies.
If Customer is below 18 years of age, please ensure the parent / legal guardian reads and agrees to the Terms and Conditions of this Promotion herein on behalf of Customer. It shall be deemed that the Customer's parent / legal guardian has agreed to the Terms and Conditions of this Promotion upon the Customer's participation in this Promotion.
Each of the selected TV model is only entitled to have one (1) unit of SMART TV content booklet inside the TV box throughout the Promotion Period.
This Promotion is limited to the selected TV models at Samsung Authorised Dealers outlet and subject to availability.
Smart TV content voucher access is subject to participating content partner's individual activation process and terms and conditions as set out in their respective websites as well as subject to change without prior notice.

Payment
Customer acknowledges, understands and agrees that all transactions are between Customer and the Retailers only. Samsung only acts as the coordinating party and is not involved or a party of any monetary/sale and purchase transactions as well as payment method between Customer and the retailer in this Promotion.
Liability and Responsibility
Customers shall assume full responsibility in case of any accident, damage or claim resulting from participation of this Promotion and/or usage of their purchased Product.
All transportation, accommodation, personal costs and/or any other costs, fees and/or related expenses that are incurred in relation to the purchase of the Product are the sole responsibility of the Participants.
By participating in the Promotion, Customer agrees to release and hold the Organiser and its employees, officers, directors, shareholders, agents, representatives, parent companies, affiliates, subsidiaries, licensees, advertising, promotion, and fulfillment agencies, and legal advisors, harmless from any and all losses, damages, rights, claims and actions of any kind in connection with the Promotion including without limitation, personal injury, death, and property damage, and claims based on publicity rights, defamation, or invasion of privacy.
General
By participating in this Promotion, Customers fully and unconditionally agree to and accept the Terms and Conditions herein and the Samsung Privacy Policy at http://www.samsung.com/my/info/privacy/
In the event Customer have queries with regard to the Promotion; please call Samsung Premium Customer Careline at 1-800-88-9999 for clarification.
To the extent permitted by law, the Organiser reserves the right to make amendments to the Terms and Conditions of the Promotion without prior notice.
In case of any dispute, Samsung reserves the right to make the final decision and shall have the right to cancel the Promotion necessarily.
In the event of inconsistencies between the terms and conditions found elsewhere with regard to this promotion (if any) and the Terms and Conditions herein, this Terms and Conditions shall prevail only to resolve/reconcile the differences with regard to this Promotion.
This Terms and Conditions herein shall be governed by the laws of Malaysia and any disputes arising out of this Promotion and/or the terms and conditions herein shall be referred to the jurisdiction of the courts of Malaysia.

Get stock alert
Get alerts when this item is back in stock and available to buy, by adding your email to opt into alerts
By providing your email you agree to marketing communications & stock alerts from Samsung
We will email you when inventory is added.
Thank you.
Create your wishlist
Don't miss out on the products you love.
Sign in/Sign up now to access your wishlist on all your devices and get updates on great promotions.
Add to wishlist
Do you want to add this product to your wishlist?
Wishlist
This product has been added to your wishlist.
Delete option
Are you sure you want to delete this option?
EMIs (Pay in Easy Monthly installments)
Installment Calculate
Installments are provided by Santander Consumer Bank S.A.