Terms & Conditions

INTRODUCTION
The Great Samsung Treat 2018 ("Promotion") will run from 1st July 2018 to 31st August 2018 or while promotional stocks last, whichever is earlier ("Promotion Period"). Samsung Malaysia Electronics (SME) Sdn Bhd ("Samsung") reserves the right to shorten, extend or cancel the Promotion Period at its sole discretion without prior notice.
This promotion is available at Samsung Authorised retail outlets only. Find out more at: Samsung Authorised Dealer
PROMOTIONAL PRODUCTS
1. The promotion is valid for the following Samsung Consumer Electronic Products ("Promotional Products") only: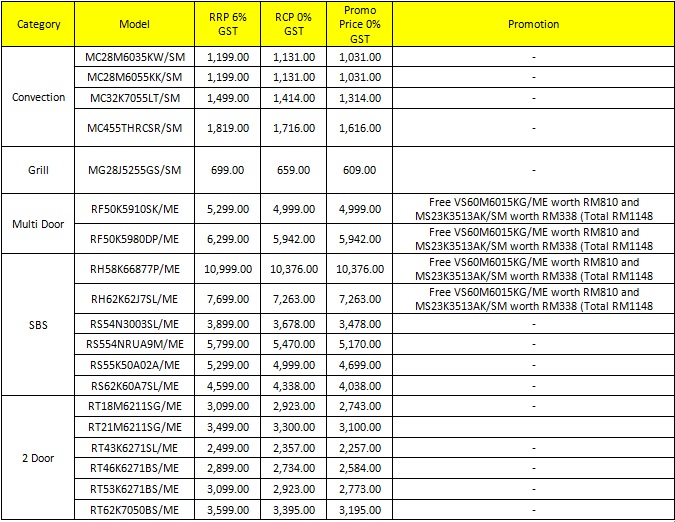 TERMS AND CONDITIONS
1. The promotion is available during the Promotion Period only.
2. By participating in this promotion, consumer fully and unconditionally agrees to and accepts the Terms and Conditions stated herein and the decisions of Samsung on every aspect of this promotion shall be final and binding.
3. All pictures and/or images of the promotional products found in any advertising and marketing materials are for illustration purposes only and may be different from the actual products.
4. Samsung reserves the right to amend these Terms and Conditions without prior notice to the extent permitted by law.
5. Samsung shall not be liable in any way for any costs, expenses, damages, liability or injury arising out of or in any way connected with the promotion.
6. By participating in this promotion, each consumer agrees to release and hold Samsung and its employees, officers, directors, shareholders, agents, representatives, parent companies, affiliates, subsidiaries, licensees, advertising, promotion, and fulfillment agencies, and legal advisors, harmless from any and all losses, damages, rights, claims and actions of any kind in connection with the promotion or resulting from acceptance, possession, use or misuse of the free gift, or travel to or from any gift-related activity, including without limitation, personal injury, death, and property damage, and claims based on publicity rights, defamation, or invasion of privacy.
7. In case of any dispute, Samsung reserves the right to make the final decision. Samsung's decision is final and no further correspondence or appeal will be entertained.
8. During the Promotion Period, Samsung may collect consumers information including personal information in the form of, among others, survey forms, (whether on our own or by appointed service provided) taken during the promotion. By participating in the promotion, you agree that the collection of such information will be processed, handled and use in accordance with the Samsung Privacy Policy at https://www.samsung.com/my/info/privacy.html
9. These Terms and Condition herein shall be governed by and interpreted in accordance with Malaysian law and the parties submit to the exclusive jurisdiction of the Malaysian courts.