Aeon Credit Service Raya Exclusive Deals
Own Your Dream Samsung TV and Digital Appliances Promotion
Valid from 1st May to 30th June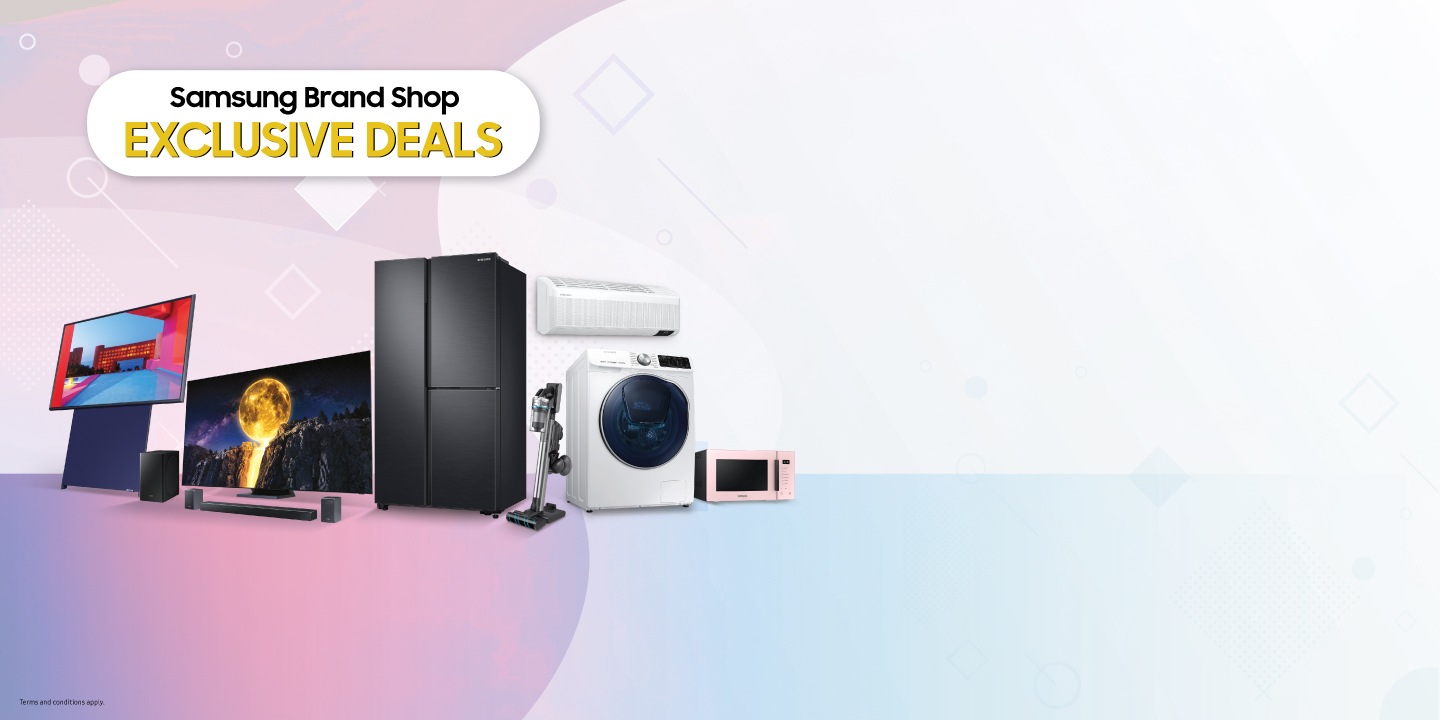 Highlights
Terms & Conditions
Highlights
Purchase selected Samsung TV and Digital Appliances
through the AEON Credit Service Easy Payment Plan with installment up to 48 months
Terms & Conditions
The Aeon Credit Service Raya Exclusives: Purchase Any Samsung TV or Digital appliances via AEON Credit Service Easy Payment Plan ("EPP") in a single receipt (. ("Promotion")
The Promotion will run from 1st May 2020 to 30th June 2020 ("Promotion Period"). Samsung Malaysia Electronics (SME) Sdn Bhd ( "Organizer") reserves the right to shorten, extend or cancel the Promotion Period at its sole discretion without prior notice.
This Promotion is only available at selected Samsung Brand Shop ("Participating Outlets"). The details of the Participating Outlets as stated in Appendix 1 herein.
How to Participate
1. Purchase any Samsung TV or Digital Appliances via AEON Credit Service Easy Payment Plan ("EPP") in a single receipt within the Promotion Period at the Participating Outlets in order to enjoy the following options:
i. Instalment extended tenure to 48-months on a minimum financing amount of RM2,000.00;
ii. Delay Initial Payment for every successful application.
2. The Promotion is open to all Malaysian Citizen ONLY ("Eligible Participant") who have applied for AEON Credit's Objective Finance Business Scheme ("OFB") for the purchase of Samsung TV & Digital appliances from the Participating Outlets.
3. The Promotion is open to all residents of Malaysia including Malaysians and non-Malaysians, 18 years of age and above (as at 1st January 2019) except the employees or the immediate families of the Organizer, their affiliates and/or related companies, distributors, retailers, dealers, advertising and promotion agencies. In the event the consumer is below 18 years old, please seek consent from parent/guardian before participating in this Promotion. Participation by consumers under 18 years old will be deemed to be accompanied with consent by the parent/guardian.
4. To participate in this Promotion, Eligible Participant is required to submit the COMPLETED application form together with required supporting documents at the Participating Outlets.
Terms and Conditions of Participation
1. Only extended finance tenure and delay initial payment applicable for this promotion, other terms & conditions remain unchanged as per the Product Financing Scheme.
2. The finance price shall exclude RM47 or RM94 agreement fees.
3. All approved application must have minimum of RM48 of monthly repayment instalment. AEON Credit Service's processing and approval of application is subjected to AEON Credit Service's terms and conditions. Application will be processed within 3 working days provided all required documentation / information have been submitted. Failure of submission of required documentation/ information shall extend the approval process. All application approvals are subjected to AEON Credit Service's assessment guidelines and deemed final.
4. This promotion shall not clash with other AEON Credit Service's Financing scheme promotion which run concurrently.
5. Aeon Credit Service reserves the rights to revise the terms and conditions of the promotion.
6. Successful applicants will be eligible for Delay Initial Payment.
7. The purchase combination of Samsung TV or Digital Appliances is allowed under the Promotion.
8. AEON Credit Service Easy Payment Plan is subject to the terms and conditions which can be viewed at the https://www.aeoncredit.com.my/easy-payment/objective-financing
Terms and Conditions
1. The Promotion is available during the Promotion Period only.
2. The Promotion value is not redeemable for cash, not exchangeable or transferable.
3. The Organizer reserves the rights to change the Promotion with product/offer of similar value without any prior notice.
4. By participating in this Promotion, the Eligible Participant fully and unconditionally agrees to and accepts the Terms and Conditions stated herein and decisions of the Organizer.
5. The Organizer reserves the right to amend these Terms and Conditions without prior notice to the extent permitted by law.
6. The Organizer is not liable in any way for any costs, expenses, damages, liability or injury arising out of or in any way connected with the Promotion.
7. The Organizer shall not be liable for any loss or damage whatsoever or personal injury which is suffered (including but not limited to indirect or consequential loss) or sustained as a result of or in connection with the Promotion.
8. By participating in this Promotion, each Eligible Participant agrees to release and hold the Organizer and its employees, officers, directors, shareholders, agents, representatives, parent companies, affiliates, subsidiaries, licensees, advertising, promotion, and fulfillment agencies, and legal advisors, harmless from any and all losses, damages, rights, claims and actions of any kind in connection with the Promotion or resulting from acceptance, possession, use or misuse of the OFB, or travel to or from any gift-related activity, including without limitation, personal injury, death, and property damage, and claims based on publicity rights, defamation, or invasion of privacy.
9. In case of any dispute, the Organizer reserves the right to make the final decision. Organizer's decision is final and no further correspondence or appeal will be entertained.
10. The Organizer may collect Eligible Participant' information including personal information in the form of, among others, survey forms, redemption forms, taken during the Promotion Period. By participating in the Promotion, you agree that the collection of such information will be processed, handled and used in accordance with the Samsung Privacy Policy at http://www.samsung.com/my/info/privacy.html.
11. In the event of inconsistencies between the terms and conditions found elsewhere with regard to this Promotion (if any) and the Terms and Conditions herein, the latter (i.e. these Terms and Conditions) shall prevail.
12. These Terms and Condition herein shall be governed by and interpreted in accordance with Malaysian law and the parties submit to the exclusive jurisdiction of the Malaysian courts.
APPENDIX 1
PARTICIPATING OUTLETS
Brand Shop

Outlet Address / Phone/ GPS

WILAYAH PERSEKUTUAN

E.S.H ELECTRICAL SDN BHD@SS2, PETALING JAYA

ESH Electrical SS2
No. 6, 8, 10, 12, Jalan SS 2/24, SS 2, 47300 Petaling Jaya, Selangor
03-78753692
Click Me:
https://maps.app.goo.gl/kuVj2xAKjXekuChf6

E.S.H ELECTRICAL@EKOCHERAS MALL, CHERAS

ESH Electrical EkoCheras
S-02 & 02A, 2nd Floor, EkoCheras Mall No. 693, Batu, 5, Jalan Cheras, Taman Mutiara Barat, 56000 Kuala Lumpur, Wilayah Persekutuan Kuala Lumpur
03-91346698
Click Me:
https://maps.app.goo.gl/Qwyas8k5nUvkajHdA

SUPREME HOME APPLIANCES@KEPONG

SUPREME HOME APPLIANCES SDN BHD
36G & 38G, VISTA MAGNA, METRO PRIMA KEPONG, Metro Prima, 52100 KEPONG, Federal Territory of Kuala Lumpur
03-67311032
Click Me:
https://maps.app.goo.gl/WaEsBzHdbjVBrRaM8

SUPREME HOME APPLIANCES@WANGSA WALK MALL

SUPREME HOME APPLIANCES SDN BHD
LOT G-13, WANGSA WALK MALL, Wangsa Maju, 53300 WANGSA MAJU, Federal Territory of Kuala Lumpur
03-23035891
Click Me:
https://maps.app.goo.gl/kkpDCedfwN9EDESM6

UNHUAT ELECTRONIC@BANDAR BARU WANGSA MAJU

UNHUAT ELECTRONIC SDN BHD
12 & 14 SEKSYEN 1 BANDAR BARU WANGSA MAJU (NEAR JUSCO), Seksyen 1 Wangsa Maju, 53300 SETAPAK, Federal Territory of Kuala Lumpur
03-41495982
Click Me:
https://maps.app.goo.gl/5VQU3TnZDHYKkuVC6

SELANGOR

DESA HOME THEATRE@ONE CITY

Desa Home Theatre Sdn Bhd
One Space, The Square, Jalan USJ 25/1C, One City, 47100 Subang Jaya, Selangor
03-50223077
Click Me:
https://maps.app.goo.gl/HA3xo3nSrw4rH7Gd8

E.S.H ELECTRICAL SDN BHD@EMPIRE SHOPPING GALLERY, SUBANG JAYA

E.S.H ELECTRICAL SDN BHD
UG-02,EMPIRE SHOPPING GALLERY 47500 SUBANG JAYA Selangor MY, Ss 16, 47500 Subang Jaya, Selangor
03-56316877
Click Me:
https://maps.app.goo.gl/rPXHmTMCgfApfXhy8

HOE HUAT ELECTRIC@ENCORP STRAND MALL, KOTA DAMANSARA

Hoe Huat Electric Sdn Bhd
Lot F-5, First Floor, Encorp Strand Mall, No.1, Kota Damansara, PJU 5, The Strand, 47810 Petaling Jaya, Selangor
03-61437635
Click Me:
https://maps.app.goo.gl/wn3WL7LDHG667js86

HOME NET ELECTRICAL@PUCHONG

HOME NET ELECTRICAL SDN BHD
NO20-22 BDR PUTERI PUCHONG, Bandar Puteri Puchong, 47100 Puchong, Selangor
03-80684348
Click Me:
https://maps.app.goo.gl/igZBwPmdUMqdHPKv7

SUPREME HOME APPLIANCES@BANDAR BARU AMPANG

Supreme Home Appliances Sdn.Bhd
16&18, Jalan Wawasan 2/12, Bandar Baru Ampang, 68000 Ampang, Selangor
03-42784426
Click Me:
https://maps.app.goo.gl/QYMZCpobRw7yb4AcA

TBC ELEKTRIK@KUALA SELANGOR

TBC @ Kuala Selangor
43 & 45, Jalan Medan Niaga 2, Kampung Baharu, 45000 Kuala Selangor, Selangor
03-32897610
Click Me:
https://maps.app.goo.gl/rvht5MMnb7jDaijn7

TBC ELEKTRIK@SUNGAI BULOH

TBC ELEKTRIK SDN BHD
399 JLN 1A/A BDR SG BULOH, Bandar Baru Sungai Buloh, 47810 SUNGAI BULOH, Selangor
03-61567368
Click Me:
https://maps.app.goo.gl/Hica95i8RxKaRx3H8

TBM @3 DAMANSARA, PJ

TBM - 3 Damansara (Tan Boon Ming Sdn. Bhd.)
No 3 Jalan SS20/27 Lot L1-3A, 1st Floor, Damansara Utama, 47400 Petaling Jaya, Selangor
03-77101212
Click Me:
https://maps.app.goo.gl/7UjiFobdRG8gYFGZA

VISION DIGITAL SHOP@SHAH ALAM

Vision Electrical Shop
16G, Jalan Dinar C U3/C, Seksyen U3, 40150 Shah Alam, Selangor
03-78469255
Click Me:
https://maps.app.goo.gl/6MRwajSwuvAPb9e77

WENG HING ELECTRONICS@SELAYANG BARU

Weng Hing Electronics Sdn Bhd
11 Jalan 11B, Kampong Selayang Baru, Selayang Baru, 68100 Batu Caves, Selangor
03-61386352
Click Me:
https://maps.app.goo.gl/XrpZNYaVRCWqJz4G6

WING MING ELECTRICAL@PORT KLANG

WING MING ELECTRICAL CO. SDN BHD
35, Jalan Beringin, Kawasan 13, 42000 Pelabuhan Klang, Selangor
03-31654143
Click Me:
https://maps.app.goo.gl/hxehvpzEnRSCa2Ke9

CHOP HOCK LEONG @ SUNGAI BESAR

CHOP HOCK LEONG SDN BHD
NO. 40 & 42, Jalan Sbbc 6, Sungai Besar, 45300 Sungai Besar, Selangor
03-32241343
Click Me:
https://maps.app.goo.gl/pZhoWJWZ6JJQz9PQ9

NEGERI SEMBILAN

NANG HONG SALES & SERVICES@AVENUE TAMAN KORPORAT, NILAI

NANG HONG SALES & SERVICES SDN BHD
NO 20 , TINGKAT BAWAH, 9 AVENUE TAMAN KORPORAT, Bandar Baru Nilai, 71800 Bandar Baru Nilai, Negeri Sembilan
06-7999211
Click Me:
https://maps.app.goo.gl/3i3V6wx7a9hBve2E

NANG HONG SALES & SERVICES@CENTRAL BUSINESS PARK, SEREMBAN 2

NANG HONG SALES & SERVICES SDN BHD
27-28 CENTRIO BUSSINESS PARK, Seremban 2, 70300 SEREMBAN 2, Negeri Sembilan
06-6013146
Click Me:
https://maps.app.goo.gl/GMxKSzf5JF9WfZZy5

NANG HONG SALES & SERVICES@JALAN DATO BANDAR TUNGGAL, SEREMBAN

NANG HONG SALES & SERVICES SDN BHD
135-138, Jalan Dato Bandar Tunggal, Bandar Seremban, 70000 Seremban, Negeri Sembilan
06-7628833
Click Me:
https://maps.app.goo.gl/DMbCdDZGbgMdqETe8

NANG HONG SALES & SERVICES@PARKING GIANT, SENAWANG

NANG HONG SALES & SERVICES SDN BHD
CP04, GIANT HYPERMARKET SENAWANG, LOT 1571, MUKIM AMPANGAN, Medan Perdagangan Oakland, 70450 Seremban, Negeri Sembilan
06-6757155
Click Me:
https://maps.app.goo.gl/HKH1tfxUhLADknF9A

PENANG

BAN HIN BEE @BAYAN BARU, BUKIT JAMBUL

BHB BJ i-Avenue - Ban Hin Bee Sdn Bhd
1-1-23A, 25 & 26, Ideal Avenue, Jalan Tun Dr. Awang, Kampung Seberang Paya, 11900 Bayan Lepas, Penang
012-4980380
Click Me:
https://maps.app.goo.gl/3fsJxZrzBA9aVioRA

BAN HUAT ELECTRICAL SALES & SERVICE @ BAGAN AJAM

Ban Huat Electrical Sales and Services Sdn. Bhd.
400, Jalan Paku Lima, Kampung Bagan Ajam, 13000 Butterworth, Pulau Pinang
04-3242084
Click Me:
https://maps.app.goo.gl/LseWDeaAginQjH3g7

C. S. E. BEST POINT FURNITURE & ELECTRIC@CHAI LENG PARK

BEST POINT FURNITURE & ELECTRIC SDN BHD
LOT 2975G, GROUND FLOOR, CHAI LENG PARK COMPLEX, SEBERANG PERAI, Taman Chai Leng, 13700 Butterworth, Penang
04-3900060
Click Me:
https://maps.app.goo.gl/gDgdejbFCeoKVRbW6

CHOP SENG HOCK ELECTRICAL @PUSAT PERNIAGAAN ALMA, BUKIT MERTAJAM

CHOP SENG HOCK ELECTRICAL SDN BHD
NO. 36, 38G, PUSAT PERNIAGAAN ALMA, Pusat Perniagaan Alma, 14000 Bukit Mertajam, Penang
04-5522968
Click Me:
https://maps.app.goo.gl/d81Y4TDaicFU4C9v7

SYARIKAT ELEKTRIK SIANG@JALAN STATION, BUKIT MERTAJAM

SYARIKAT ELEKTRIK SIANG SDN BHD
15 & 16, JALAN STATION, 14000 Bukit Mertajam, Pulau Pinang
04-5386915
Click Me:
https://maps.app.goo.gl/4PQncR2EgmLG44Lf8

SYARIKAT ELEKTRIK SIANG@SIMPANG AMPAT

SYARIKAT ELEKTRIK SIANG SDN BHD
1691, Jalan Besar, Taman Keruing, 14100 Simpang Ampat, Pulau Pinang
04-5683000
Click Me:
https://maps.app.goo.gl/C5N1CvZA1koSF8HA7

WAH LEE CHAIN-STORE@ PUSAT PERNIAGAAN MAJU JAYA, BUKIT MERTAJAM

Wah Lee Group-Store
2020-2028, Jalan Maju, Pusat Perniagaan Maju Jaya, 14000 Bukit Mertajam, Pulau Pinang
04-5394262
Click Me:
https://maps.app.goo.gl/8xugLRDrtjtkVH9L7

C. S. E. BEST POINT FURNITURE & ELECTRIC@TANJONG TOKONG

C. S. E. BEST POINT FURNITURE & ELECTRIC SDN BHD
C-G-8, C-G-9 & C-G-10 VANTAGE DESIRAN TANJUNG TOKONG, Seri Tanjung Pinang, 10470 Tanjung Tokong, Penang
04-8917588
Click Me:
https://maps.app.goo.gl/2YViiS8oehZJPwUx7

KEDAH

CHANG SIN LETRIK@CHANGLOON

Chang Sin Letrik Sdn. Bhd.
No. 72&72A, Jalan, Sintok, 06010 Changlun, Kedah
04-9245370
Click Me:
https://maps.app.goo.gl/nj1xLvTfvbpxXCmK6

LAGENDA TECH ELECTRONIC@SG PETANI

Lagenda Tech Electronic & Services
191, Jalan Legenda 7, Lagenda Heights, 08000 Sungai Petani, Kedah
04-4248488
Click Me:
https://maps.app.goo.gl/P6wchw7cYVDFAJVT6

ORION ELECTRONIC@LANGKAWI

ORION ELECTRONIC SDN BHD
NO.1,2,3 & 4, BATU 1, KUAH, Kampung Pokok Asam, 07000 Langkawi, Kedah
017-4698488
Click Me:
https://maps.google.com/?cid=3650964761029017381

SURIA JERAI ELECTRICAL@ PEKAN SIMPANG KUALA, ALOR SETOR

SURIA JERAI ELECTRICAL SDN BHD
11, 11A, 11B, 12, 12A, & 12B, PEKAN SIMPANG KUALA, Pekan Simpang Kuala, 05400 Alor Setar, Kedah
04-7722952
Click Me:
https://maps.app.goo.gl/zju8duhfh5i8FoEw7

PERAK

HOCK LOONG ELECTRICAL CORPORATION@JALAN PASIR PUTEH, IPOH

HOCK LOONG ELECTRICAL CORPORATION SDN BHD
497-501, Jalan Pasir Puteh, Taman Happy, 31650 Ipoh, Negeri Perak
05-2416292
Click Me:
https://maps.app.goo.gl/mnCpki5M45rtf9eFA

HWA LIAN TRADING@BATU GAJAH

HWA LIAN TRADING
13, Jalan Kemajuan, 31000 Batu Gajah, Negeri Perak
05-3661287
Click Me:
https://maps.app.goo.gl/v1SA386vQCdFj4V36

PARKWAY ELECTRONIC@SRI MANJUNG

PARKWAY ELECTRONIC SDN BHD
LOT 2373 - 2374, TAMAN SAMUDERA, Taman Samudera, 32040 Seri Manjung, Perak
05-6885014
Click Me:
https://maps.app.goo.gl/DFe6Rwezz21YAWg36

SIMEES HOME ELECTRIC@MEDAN IPOH

SIMEES HOME ELECTRIC SDN BHD
NO. 57 & 59, Jalan Medan Ipoh 1A, Bandar Baru Medan Ipoh, 31400 Ipoh, Negeri Perak
05-5454691
Click Me:
https://maps.app.goo.gl/dtDkeGgZhNDCnioM9

SUNGAI SIPUT ENTERPRISE@SUNGAI SIPUT

SUNGAI SIPUT ENTERPRISE
14-15, Persiaran Orkid 1, Taman Orkid, 31100 Sungai Siput, Negeri Perak
05-5984328
Click Me:
https://maps.app.goo.gl/7AeiZU2v8FThpDGG7

SYARIKAT ELEKTRIK SIANG@TAIPING

SYARIKAT ELEKTRIK SIANG SDN BHD
NO. 9, Susur Simpang,jalan simpang batu 2 1/2 Simpang, Kampung Pengkalan Aor, 34000 Taiping, Perak
05-8478410
Click Me:
https://maps.app.goo.gl/8CmhR6SmFiDBmX3j8

XINGLEE ELECTRICAL & HIFI CENTRE@TELUK INTAN

XINGLEE ELECTRICAL & HIFI CENTRE
2A,2B,2C, BANGUNAN TABUNG HAJI, Pekan Teluk Intan, 36000 Teluk Intan, Perak
05-6230722
Click Me:
https://maps.app.goo.gl/uMebFGTrHHWGRezZ6

JOHOR

A.E.S SALES & SERVICE @ PLENTONG

A.E.S Sales & Service Sdn. Bhd.
82750, Malaysia, 4, Jalan Mutiara 4, Taman Perindustrian Plentong, 82750 Johor Bahru, Johor
07-3577540
Click Me:
https://maps.app.goo.gl/7RNczm1NE8gtYY9R7

A.E.S SALES & SERVICE @ TAMAN MUTIARA EMAS

A.E.S SALES & SERVICE SDN BHD
NO.61 & 63, TAMAN MUTIARA EMAS, Taman Impian Emas, 81300 Skudai, Johor
07-5500212
Click Me:
https://maps.app.goo.gl/b7dLW4AZeVVta91a6

BM SALES & SERVICES @TAMAN BUKIT INDAH, NUSAJAYA

BM SALES & SERVICES SDN BHD
NO 15, 17 & 19, Jalan Indah 15/2, Bukit Indah, 79100 Nusajaya, Johor
07-2395550
Click Me:
https://maps.app.goo.gl/sXeS6A8N5RcApTcg8

DARSON ELECTRONICS @ TAMAN NUSA BESTARI

EMART Nusa Bestari
21-33, Jalan Bestari 12/2, Taman Nusa Bestari, 81300 Skudai, Johor
07-5563418
Click Me:
https://maps.app.goo.gl/xMryTc2VXqLGGWku7

DINOR MARKETING@INDAHPURA, KULAI

DINOR MARKETING SDN BHD
549, 550, 551, 552, 553, 554, INDAHPURA, Bandar Indahpura, 81000 Kulai, Johor
07-6621055
Click Me:
https://maps.app.goo.gl/zSvRPnuvZ7TJzSTLA

DINOR MARKETING@TAMAN JOHOR, KEMPAS

Dinor Elektrikal Kempas Jaya
2, Jalan Arung 1, Kawasan Perindustrian Taman Johor, 81200 Johor Bahru, Johor
07-2346789
Click Me:
https://maps.app.goo.gl/1HnE5KxGftdyXWRK7

ELEKTRONICK KECK SENG @ BUKIT INDAH

Elektronik Keck Seng Bukit Indah
Bukit Indah, 81200 Johor Bahru, Johor
07-2446148
Click Me:
https://maps.app.goo.gl/SoAYHXdfTXBTKLUT7

LIONMAS FURNISHERS@JALAN GENUANG, SEGAMAT

LIONMAS FURNISHERS (M) SDN BHD
128A & 128B1 , JLN GENUANG, Kampung Abdullah, 85000 Segamat District, Johor
07-7769919
Click Me:
https://maps.app.goo.gl/7ULjTMKbSMAMcHwSA

LIONMAS FURNISHERS@JALAN RAYA, KULAI

Lionmas Kulai
No.13, 14 & 15, Jalan Raya, Taman Kulai, 81000 Kulai, Johor
07-7669907
Click Me:
https://maps.app.goo.gl/f1FnHzhheH9AdTcc8

LIONMAS FURNISHERS@PLAZA PELANGI

LIONMAS FURNISHERS (M) SDN BHD
LOT 5.08, 5.09, 5.09A, PLAZA PELANGI, 2, TAMAN PELANGI, Taman Pelangi, 80400 Johor Bahru, Johor
07-7669955
Click Me:
https://maps.app.goo.gl/WziE9tHLMTYpSg7F8

LIONMAS FURNISHERS@PONTIAN

LIONMAS PONTIAN
No.140, Jalan Bakek, Kampung Atap, 86000 Pontian, Johor
07-7669968
Click Me:
https://maps.app.goo.gl/arLWEfgaBkiQjqMZA

LIONMAS FURNISHERS@TAMAN UNGKU TUN AMINAH, SKUDAI

Lion Mas
72-78, Jalan Nakhoda 7, Taman Ungku Tun Aminah, 81300 Skudai, Johor
07-7669925
Click Me:
https://maps.app.goo.gl/YuvX7PqQDi2FDRan7

SENG ELECTRIC SALES & SERVICE@TAMAN MOUNT AUSTIN

SENG ELECTRIC SALES & SERVICE SDN BHD
1&3, Taman Mount Austin, 81100 Johor Bahru, Johor
07-3618822
Click Me:
https://maps.app.goo.gl/JauurStqh7P8Qp1n8

SS AUDIO SDN BHD@BANDAR PERMAS JAYA, MASAI

SS Audio Sdn Bhd (HQ)
5, Jalan Permas 9/12, Bandar Baru Permas Jaya, 81750 Masai, Johor
07-3823200
Click Me:
https://maps.app.goo.gl/cDzjbD1apqj5gydi8

STY ELECTRIC AUDIO@JALAN MERIAM, MUAR

STY ELECTRIC AUDIO SDN BHD
93 & 95, JALAN MERIAM, Kampung Rawang, 84000 Muar, Johor
06-9538478
Click Me:
https://maps.app.goo.gl/3MXFyJJureEpuCYD6

SYARIKAT HOE HENG ELECTRONIC SDN BHD@BATU PAHAT

SYARIKAT HOE HENG ELECTRONIC SDN BHD
57, Jalan Mohd. Akil, Kampung Pegawai, 83000 Batu Pahat, Johor
07-4352233
Click Me:
https://maps.app.goo.gl/537H4GGxLMBh7ft38

TANRADIO.COM @KOTA TINGGI

TANRADIO.COM SDN BHD
NO.48 & 50, Jalan Jaafar, Pusat Perdagangan Kota Tinggi, 81900 Kota Tinggi, Johor
07-8832734
Click Me:
https://maps.app.goo.gl/HRDSeTH1SoNZZ5deA

TONG SIN ELECTRIC@KLUANG

TONG SIN ELECTRIC SDN BHD
NO.21 & 23, Jalan Mad Lazim Saim, Kampung Masjid Lama, 86000 Kluang, Johor
07-7734999
Click Me:
https://maps.app.goo.gl/tvqAWzn69eYHmBEJ6

MALACCA

HENG HENG ELECTRIC@MASJID TANAH

HENG HENG ELECTRIC (M) SDN BHD
No 1369, 1370, & 1371, KOMPLEKS PERNIAGAAN, 78300, Kawasan Perindustrian Ringan, 78300 Masjid Tanah, Malacca
06-3842405
Click Me:
https://maps.app.goo.gl/ZzSmtfLQstw741ne7

HENG HENG ELECTRIC@SUNGAI UDANG

HENG HENG ELECTRIC (M) SDN BHD
31, 33, & 35, PLAZA SUNGAI UDANG, Plaza Sungai Udang, 76300 Sungai Udang, Malacca
06-3511580
Click Me:
https://maps.app.goo.gl/qjQaoeDkeGSMptFD7

PERABOT SUNGAI RAMBAI@MALACCA TOWN

PERABOT SUNGAI RAMBAI SDN BHD
NO. 24, 26, 28, 30, TAMAN PUNCAK BERTAM, Kampung Tujuh, 75250 MALACCA TOWN, Malacca
06-3322222
Click Me:
https://maps.app.goo.gl/NrEsm6dzgKQWA5Ty6

SONG MING ELECTRICAL TRADING@JALAN MUNSHI ABDULLAH

SONG MING ELECTRICAL TRADING
61, Jalan Munshi Abdullah, 75100 MALACCA TOWN, Melaka
06-2816128
Click Me:
https://maps.app.goo.gl/oteoQRxnNrhzjko59

STY ELECTRIC AUDIO@BATU BARENDAM

STY ELECTRIC AUDIO SDN BHD

NO. 98, 100, 102, TAMAN MUTIARA MELAKA BARU, BATU BERENDAM, 75350 MALACCA TOWN, Malacca
06-3176389
Click Me:
https://maps.app.goo.gl/9V8KzGG9iUUqdyP29

U ELECTRIC@TAMAN SERI MANGGA, SEKSYEN 1

U Electric Sdn. Bhd.(formerly U Audio Electric S/B)
Jalan Seri Mangga 2/1, Taman Seri Mangga, 75250 Melaka
06-3371128
Click Me:
https://maps.app.goo.gl/QnRyKPNxYgKXXvbXA

KELANTAN

G-ORANGE HOMEMART@TUNJUNG, JALAN KUALA KRAI, KOTA BAHRU

G-Orange Mall
LOT 2138, WISMA G ORANGE, TUNJUNG, BATU 4 1/2, 15050 Kota Bharu, Kelantan
09-7125555
Click Me:
https://maps.app.goo.gl/AdM7C3zPQ1urR79EA

PAHANG

DARSON ELECTRONICS @JALAN PENJARA

E-Mart Jalan Penjara
No. 61, Jalan Penjara, Taman Raya, 25000 Kuantan, Pahang
09-5124602
Click Me:
https://maps.app.goo.gl/zPjNBKwfB3VWYHZ97

NEW KIM SENG HIN ELECTRICAL@JALAN HAJI ABDUL AZIZ

NEW KIM SENG HIN ELECTRICAL
69, Jalan Haji Abdul Aziz, 25000 Kuantan, Pahang
09-5133188
Click Me:
https://maps.app.goo.gl/gRKQwHTinYKcAcz29

SYARIKAT HIAP HUAT LETRIK@BANDAR INDERAPURA, JERANTUT

SYARIKAT HIAP HUAT LETRIK
LOT 14-15, BANDAR INDERAPURA, Bandar Inderapura, 27000 Jerantut,Pahang
09-2662392
Click Me:
https://maps.app.goo.gl/Fa1KpWmFXfWKeXrS6

TERRENGGANU

SENG HUAT ELECTRICAL & HOME APPLIANCES@JALAN PAYA KELADI, KUALA TERENGGANU

SENG HUAT ELECTRICAL & HOME APPLIANCES SDN BHD
NO 31&32, Pusat Niaga Paya Keladi, 20100 Kuala Terengganu, Terengganu
09-6203339
Click Me:
https://maps.app.goo.gl/ydsBvzqbu29K4gzh8

SABAH

KEDAI LETRIK POLLY@BANDAR SABINDO, TAWAU

KEDAI LETRIK POLLY
393, BLOCK E, BANDAR SABINDO, Bandar Tawau, 91012 Tawau, Sabah
089-771578
Click Me:
https://maps.google.com/?cid=16310947594594512788

SING KWANG ELECTRONIC CENTRE@PUTATAN, KOTA KINABALU

Sing Kwang
Lot 14 & 15, Putatan Central Plaza, Jalan Putatan, Bandar Putatan, 88200 Kota Kinabalu, Sabah
088-771778
Click Me:
https://maps.app.goo.gl/EexxVw5qb8RDMa5N6

YICK MING WATCH RADIO DEALERS@KOTA BELUD

YICK MING WATCH RADIO DEALERS
NO.37, Lorong Keruak, 89157 Kota Belud, Sabah
088-976082
Click Me:
https://maps.app.goo.gl/FqiCip5PqsZU3V4A7

SING KWANG ELECTRONIC CENTRE@LABUAN

Sing Kwang Electronic Centre Sdn Bhd
U0227, JALAN KEMAJUAN, Bandar Labuan, 87008 Labuan, Labuan Federal Territory
087-412789
Click Me:
https://maps.app.goo.gl/uRcaJDxyzFi4hLMZ6

DARSON ELECTRONICS @ SANDAKAN

DARSON ELECTRONICS SDN BHD
LOT 116,117, HARBOUR MALL SANDAKAN, SANDAKAN HABOUR SQUARE, 90000 SANDAKAN, SABAH

SARAWAK

C L KHOON ELECTRONICS@MEGA EMART COMMERCIAL SHOPHOUSE, MIRI

C L KHOON ELECTRONICS SDN BHD
SUBLOT 11, LOT 8821, BLOCK 1 LLD, MEGA EMART COMMERCIAL SHOPHOUSE, 98000 Miri, Sarawak
085-419882
Click Me:
https://maps.app.goo.gl/uTPPqN3NCXF9uxXG8

K.H. ENTERPRISE@PELITA COMMERCIAL CENTRE, MIRI

K.H. ENTERPRISE (MIRI) SDN BHD
LOT 601, PELITA COMMERCIAL CENTRE, Pelita Commercial Centre, 98000 Miri, Sarawak
085-416690
Click Me:
https://maps.app.goo.gl/15hBnrAAGBmVmX1UA

KUAN SING ELECTRICAL@PARK CITY COMMERCIAL SQUARE, BINTULU

Kuan Sing Electrical (M) Sdn. Bhd.
No. 253-256, Ground Floor, Park City Commercial Square Phase 4, Jalan Tun Ahmad Zaidi, 97000, Bintulu, Sarawak, Parkcity Commerce Square, 97000 Bintulu, Sarawak
086-331 732
Click Me:
https://maps.app.goo.gl/dcLLyKdvRfWgiUQJ9

C L KHOON ELECTRONICS@PALM ROAD, KUCHING

C L KHOON ELECTRONICS SDN BHD
LOT 202-204, SECTION 19, KTLD, 93400 Kuching, Sarawak
082-234899
Click Me:
https://maps.app.goo.gl/fsy3tVX6C3Wf1cZc8

SIONG HOW ELECTRICAL & ELECTRONIC@MJC, KUCHING

Siong How
Ground Floor BF 102-104, Jalan Batu Kawa Batu Kawa, New Township, 93250 Kuching, Sarawak
082-458389
Click Me:
https://maps.app.goo.gl/Xo5ru6eja8Awc3Rb7

SIONG HOW ELECTRICAL & ELECTRONIC@JALAN MATANG, KUCHING

SIONG HOW ELECTRICAL & ELECTRONIC SDN BHD
GF SUBLOT 34-36, PHASE 23, TAMAN LEE LING, Petra Jaya, 93050 Kuching, Sarawak
082-645389
Click Me:
https://maps.app.goo.gl/CpmVQiEAW6xi9F9T8

KIONG HUO ELECTRICAL@SIBU PAHLAWAN

Kiong Huo Electrical Sdn Bhd
NO 16, LORONG PAHLAWAN 6, Pekan Sibu, 96000 Sibu, Sarawak
013-8010820
Click Me:
https://maps.app.goo.gl/ANg9KpEYCMtVgjteA