How do I watch a video on device while doing something else on the device simultaneously?
Last Update Date :
Jan 09. 2018
Last updated: 29 April, 2014
Playing a video
Your mobile device can play videos in the following formats: 3G2, 3GP, ASF, AVI, FLV, M4V, MKV, MP4, WEBM, and WMV. To play videos on your device, touch Apps
> Video
.
The Personal tab contains videos captured or downloaded. When DLNA-enabled devices are available you can also view videos available on those devices by touching the Devices tab. Touch a video to begin playback on your device.
Note: If the Devices tab does not appear and you verified that both devices are connected to the same Wi-Fi access point then touch
to scan for nearby devices.
Your device supports the ability to multitask while you are watching a video. You can watch the video while reading email, browsing the web, sending messages, or even while playing games.
Pop-up Video Multitasking
You can do something else on your device while you watch a video, such as read email, browse the web, send messages and even play games. Follow these steps to do so.
1. Play a video from the Gallery
or Video
.
2. When you open a video for viewing with the Video application touch Pop up Video
. If the control menu is hidden simply touch the video to unhide the menu.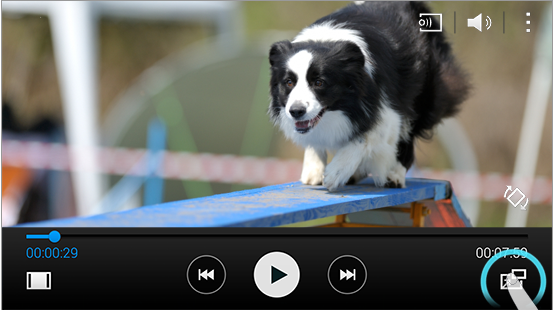 3. The video will be shown in a smaller window and will remain on the screen until the video finishes playing. In the example below, we are composing an email while watching a video in the pop-up window.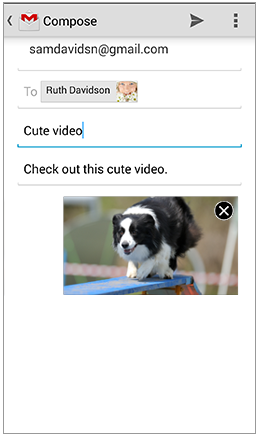 You can navigate the device normally and the video will remain on top. To return to the video player double-touch the video window.
You can move the video to a different area of the screen by touching and holding the window: drag it to the desired screen location and release it.
Touch the video window to pause the video. You can then touch
in the top-right corner of the window to close it.
Using two fingers, make a "pinch" or "expand" motion on the screen to resize the video window.
Need more help? Contact Us.
Call
Personal assist for Galaxy Fold
24 hours a day/ 7 days a week
1 800 88 7799
For Mobile Devices and Samsung Pay Enquiries
24 hours a day/ 7 days a week
1 800 22 8899
For Home Appliances and Other Product Enquiries
24 hours a day / 7 days a week
1 800 88 9999

Call From Overseas
24 hours a day/ 7 days a week
+603 7713 7420
For Online Store or Orders Enquiries
Mon - Fri 9am - 6pm (Excluding Sat, Sun & Public Holidays)
+603-5191-1515
* For any printer related enquiries, please visit HP website .
Contact Us