Samsung Remote Service
Last Update Date :
Jan 23. 2018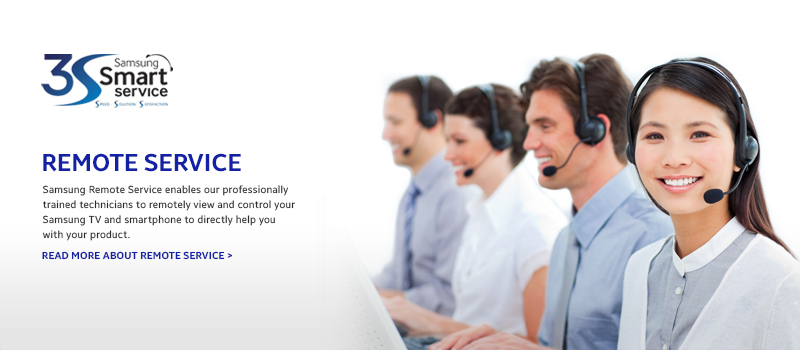 Samsung Remote Service enables one of our specially trained technicians to remotely view and control your Samsung Smartphone to directly help you with your product.
Remote Service can provide:
1
Help setting up a Google and Samsung account
2
Software and app updates
3
Backups & factory resets
4
Help with setting up email accounts and day-to-day tasks
Remote Service advantages:
1
Bespoke and direct assistance as if you were with a technician.
2
Optimised device settings and advice on how to use features.
3
All steps are shown live on-screen.
Remote Service requirements:
- Your device is running at least Android 2.2 (Froyo) and above.
- Your device has a stable internet connection
- Your device has the Smart Tutor app installed from the Google Play Store. 
You can now install Smart Tutor with a click at below!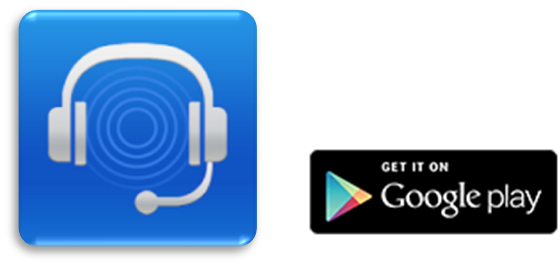 Steps to use Remote Service: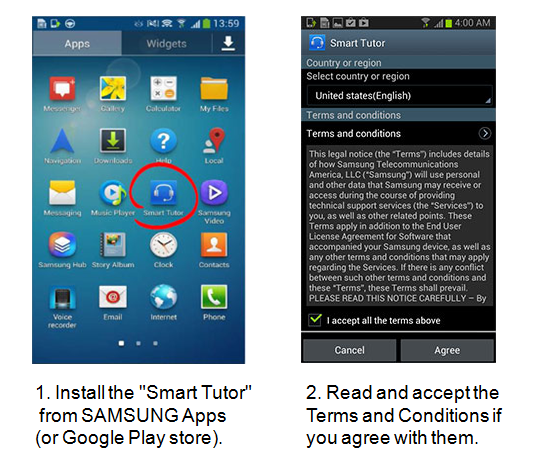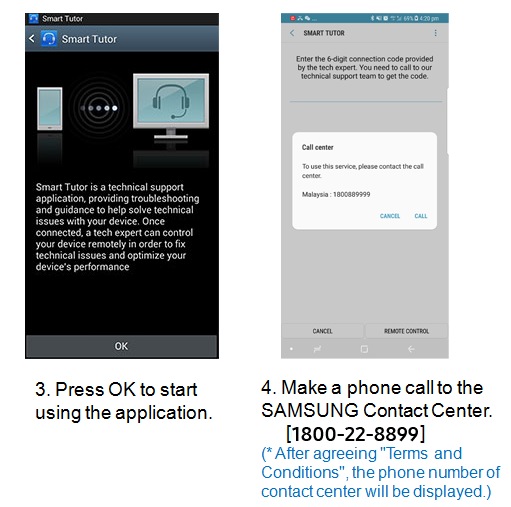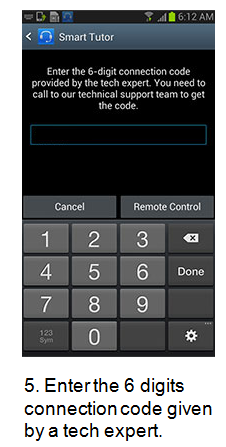 6
Once connected, a tech expert will diagnose your mobile remotely.
7
If you want to terminate "Smart Tutor", please tap "Disconnect" menu.
Note: if you ring customer service using the smartphone that you want to connect to Remote Service, you will need to put the phone call on speakerphone and minimise the caller app to the Smart Tutor app to enter the 6-digit PIN.
Try our Remote Service today!
 
[Safe and Reliable] - You don't have to worry about exposing private information.
"Smart Tutor" restricts a tech expert from accessing applications with customer's private information such as Gallery, Message, e-mail and other throughout special features.
When a tech expert is trying to access personal information and menu, some pop-up will be displayed and it will ask your permission.
 
[Convenient & Easy] - Get Support quickly and easily if using 3G/4G or Wi-Fi.
Do ensure you are connecting to Wi-Fi to enjoy FREE support! You can still using 3G(or 4G) data connection for Remote Service, local operator will charge some fee according to your network data fee.
Need more help? Contact Us.
Call
Personal assist for Galaxy Fold
1 800 88 7799

24 hours a day/ 7 days a week

For Mobile Devices and Samsung Pay Enquiries
1 800 22 8899

24 hours a day/ 7 days a week
For Home Appliances and Other Product Enquiries
1 800 88 9999

24 hours a day / 7 days a week
Call From Overseas
+603 7713 7420

24 hours a day/ 7 days a week

For Online Store or Orders Enquiries
+603-5191-1515

Mon - Fri 9am - 6pm (Excluding Sat, Sun & Public Holidays)

* For any printer related enquiries, please visit HP website .
Contact Us