7.1.4Ch Soundbar HW-N950
HW-N950/XY
7.1.4Ch Soundbar HW-N950
is rated out of
5
by
46
.
A masterful sound experience
By combining Samsung's innovative mastery in home entertainment solutions with 65 years of Harmon Kardon's audio technical expertise, the two brands continue to push boundaries to bring state-of-the-art sound to the home entertainment experience.
Experience immersive surround sound
The Soundbar delivers true cinematic surround sound in your living room. Sound moves all around you thanks to up-firing and side-firing speakers, with atmospheric 7.1.4ch sound. Imagine the majestic sound of a condor's wings as it swoops from one corner of the screen to another.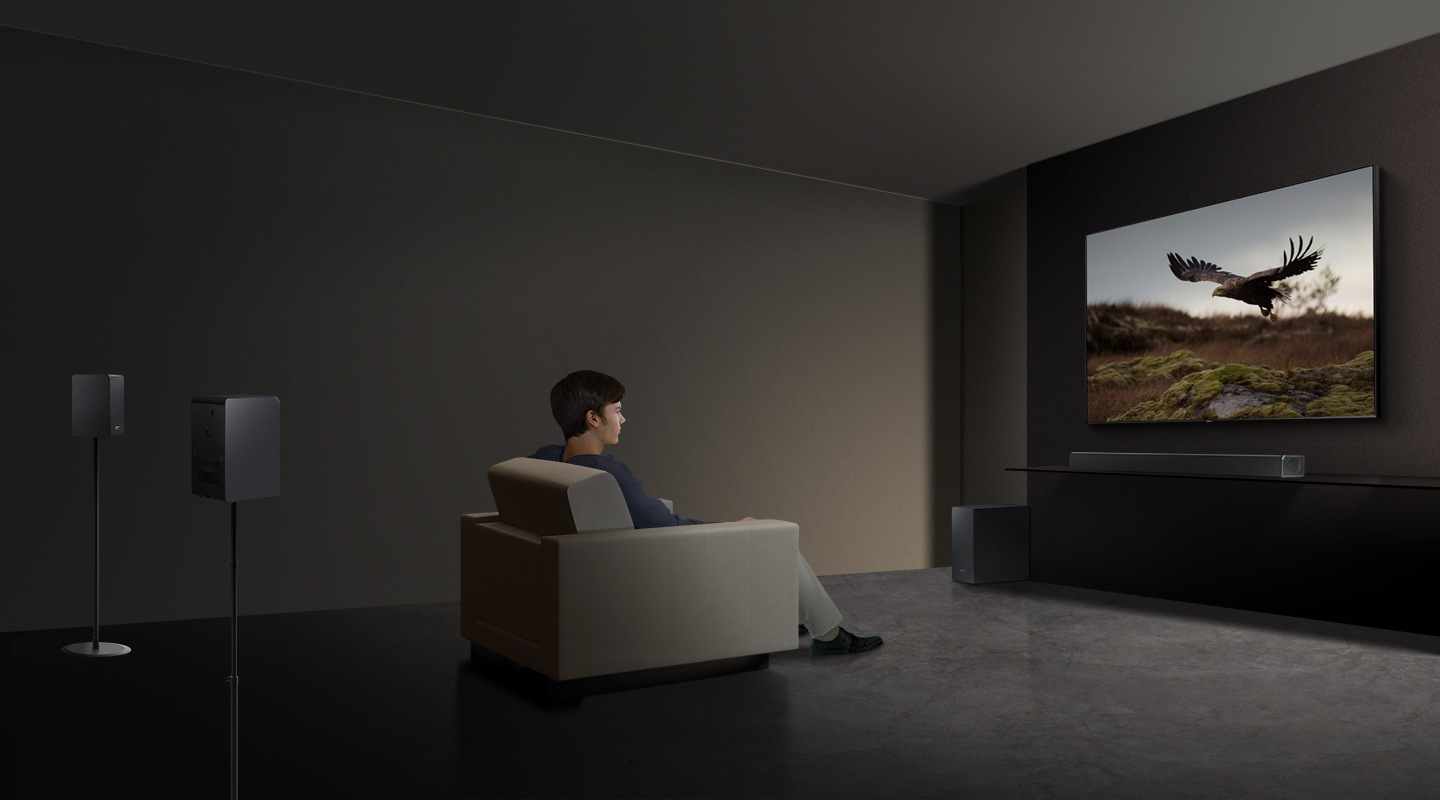 True 7.1.4ch sound
Be surrounded by a complete audio environment with the 7.1.4ch Soundbar, powered by up-firing and side-firing speakers. With object-based sound playbacks like Dolby Atmos®, DTS: X™, and MPEG-H, you can experience captivating entertainment.
Up-firing speakers
Powerful sound waves shot to the ceiling make your audio seem like it's dropping in from above. Amazing overhead sound for a deep cinematic experience in the heart of your space.
Side-firing speakers
With side-firing speakers on each end of the Soundbar, you'll be totally immersed in surround sound. Side to side, front to rear, from virtually all angles.
Wireless rear speaker kit included
The sound system package includes 2 wireless rear speakers, featuring up-firing technology to complete your ultimate home cinema surround sound set up. Take your entertainment to the next level with wireless rear speakers.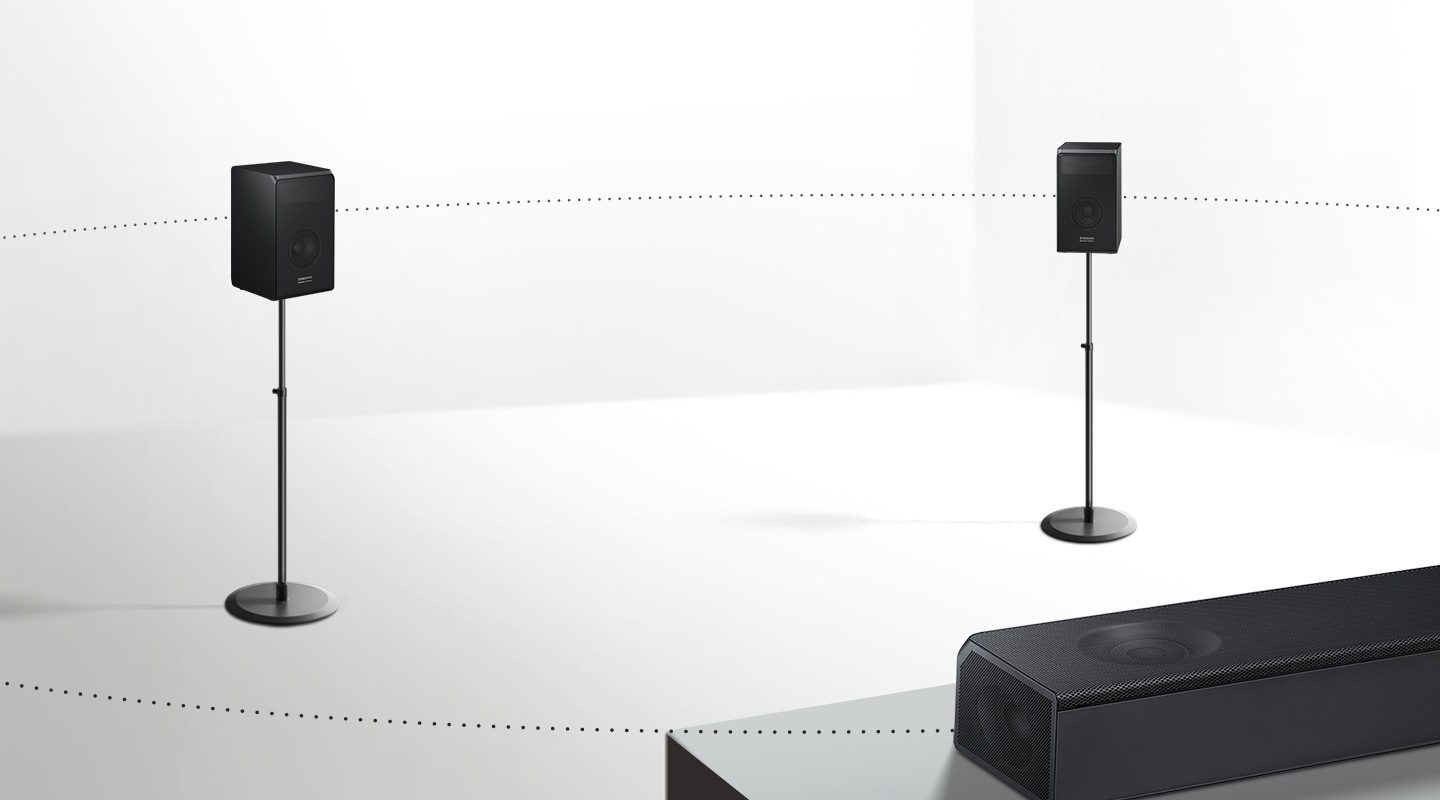 * Wireless Rear Speaker Kit needs to be connected to a power supply.
Let the original sound come alive
Transform your music to a more detailed and dynamic sound. Upscale any of your music files up to 32bit for richer sound.
Sweet spot anywhere you sit
Every spot is the sweet spot. Get consistently amazing sound everywhere in the room with the Soundbar's state-of-the-art wide-range tweeter.
A truly seamless 4K experience
Your UHD content, UHD Blu-ray™ Disk Player, and Soundbar are the perfect combination for incredible entertainment. With 4K Pass-Through, your 4K content plays seamlessly with additional dynamic surround sound. Don't miss out on amazing content quality.
Wireless music streaming
The Soundbar uses Wi-Fi & Bluetooth® for easy wireless connections to other devices. Enjoy music from your mobile in top audio quality anywhere, no strings attached.
Control with one remote
You don't need several remotes. For power, volume, and even the sound effects, you can control key Soundbar functions with a Samsung TV remote through TV's UI.
* Compatible with select Samsung TVs. Please check in store for more details.
* Compatible with select Samsung TVs. Please check in store for more details.
Listen smarter with SmartThings
SmartThings lets you add your speakers to your network, giving you greater control over your audio throughout your smart home. Take connected living to the next level.
* SmartThings compatible devices may vary by region. This function may differ by mobile and OS (Operating System). Download and installation of SmartThings app are required.
* SmartThings compatible devices may vary by region. This function may differ by mobile and OS (Operating System). Download and installation of SmartThings app are required.
Rated

5

out of

5
by
TyDolla
from
Awesome Soundbar
I love most everything about this soundbar. I've always had nice 5.1 or better systems with receivers. I recently moved to a new house and purchased a 4k TV. My receiver was missing many newer features that I now wanted (4k pass-through, Atmos). I was debating purchasing a new receiver and Atmos capable speakers, but didn't want to spend the money on gear that would take up more space in the living room and require wiring. I'd never been much of a fan of soundbars, but read reviews on the HW-N950 and was hooked. Pros--- Setup was super simple---plug the soundbar, sub, and surrounds into power, then connect the soundbar to TV ARC via HDMI. You can also connect two HDMI cables to it and pass through to TV, which I tested and had no issues with. Design is beautiful. It's heavy (in a good way) and is a perfect look for me. I love that when Atmos is detected, it scrolls across the little display on the front-right. Sound is incredible. Anything in Atmos is beautiful. I've literally closed my eyes and listened to sections of movies multiple times because I could not believe how great it sounded. Music sound really good as well...instruments are much clearer than with my old system. Acoustic, EDM, and country music all rock through the soundbar. Bass is strong and most always well balanced. Video pass through had no issues. HDR in general comes through as does Dolby Vision. Once I tested these features I switched to only using the soundbar connected to ARC on my TV, so I can't say I've used pass through extensively. Price---this one will be debated, but this is a good price for what you get. To replace my receiver with an Atmos 4k pass through equivalent and buy Atmos capable speakers would cost twice as much. I have no cables running around the living room (wife happy), great performance, and saved money overall. General use is simple and I love it. I turn my TV on, soundbar comes on, and vice versa. I've connected my phone via Bluetooth and haven't had any issues. Some people may want more than 2 HDMI ports, but using with ARC means there is no real need...it would also add to cable management issues (more on that below). Cons--- Cable management is a bit tough if you are going to use the two HDMI-in ports on the soundbar. There is not much space, causing less-flexible HDMI cables to put pressure on the HDMI ports. In-wall rated HDMI cables, for instance, are rigid and have to bend awkwardly out of the back of the soundbar. I'm not sure why they don't have the HDMI ports sticking straight out of the back...that would help. It would also be helpful if the power and input cables weren't on opposite sides of the soundbar, but that may be to reduce the chance that power would interfere with or degrade input/output signal. Price---not really a con for me, as I think the value of this product is so high, but it is still the cost of a decent laptop or mini vacation. Calibration---for this price, I really wish a calibration/configuration tool was provided. The last few receivers I've bought have come with microphones and apps that auto-calibrate sound based on your room and seating position. This thing sounds amazing out of the box without any changes, but I'd appreciate an automatic way of optimizing. Other thoughts--- I've read complaints about the Samsung app that people are using to connect to or manage the soundbar from their phones. I looked up the app from my iPhone and it had bad reviews, so I didn't download it and don't plan to. I'm not sure why you'd want or need an app for this, as it's so simple to setup and use without. Maybe if it offered auto-calibrate or other cool features, but AFAIK it does not. It is unfortunate that people base some of their review on Samsung's app and not on the soundbar itself. I have not connected it to WiFi, as I do not want it to auto-update firmware. If I see an update that contains features I want, I'll give it a shot, but no need right now. If you want a clean, minimalist look, crazy-good Atmos, 4k pass-through, and overall great sound.... this soundbar is for you. Buy it!
Date published: 2018-11-15
Rated

2

out of

5
by
Anonymous
from
Many bugs!
I bought this yesterday. Had it up and running great, except after upgrading the firmware to 1003, the screen goes black and the the movie completely stops no matter what app or source I use. This will happen 10 - 15 times during a movie. Tried several different movies, and several different devices and I get the same results. 1003 Firmware broke my soundbar completely. I will be bringing this back to today and purchasing a competing system.
Date published: 2018-11-24
Rated

5

out of

5
by
Gpcaraudio
from
Excellent!
Got the N950 a few days ago. It sounds amazing. Setup is pretty straight forward. Extremely satisfied with this purchase. The subwoofer is tuned nice and low and a lot more powerful than I ever expected from an 8" woofer. The sound quality of the mids and highs is fantastic. I'm using the ARC hdmi connection from the sound bar to the TV for the video pass through and running the sony x800 UHD player to one of the hdmi inputs. To get the atmos sound mode I had to adjust the settings on the UHD 4k player (basically turning off all the sound assist features on the player, and rate to 192khz) doing this displays "dolby atmos" across the sound bar screen on media coded with atmos and disables the other sound modes. It took me a day to figure this out but it was not soundbar related as it was from the audio settings on the player itself. Tip during setup that is not really "exactly" noted in the manual: plug in the subwoofer and rear speakers, press and hold the bottom on the back of the rears and subwoofer until the slow blue flashing light. THEN plug in the sound bar and turn on, hold up on the remote for approx 5 seconds until the message is displayed on the soundbar screen. This connects ALL wireless speakers. In the beginning I had plugged in the soundbar sub and rears, turned the sound bar on, the sub was linked from turn on but the rears were not, and could not get the rears to connect doing the steps in the manual. Its not rocket science it just does not note the exact steps i outlined in the manual. So if anyone is having rear wireless connection just do the steps exactly as I noted. Hope that helps anyone struggling on setup.
Date published: 2018-12-23
Rated

5

out of

5
by
Soulman1
from
Best ATMOS sound bar money can buy
I've had the N950 for three months, in combination with my LG 55OLEDB7, Nvidia Shield and Sky Q Box. Here's my experience so far. As you'd expect for the price, sound quality is very good. Detailed and balanced, reaching loud levels of cinematic sound when you need it. Dolby ATMOS takes this experience to another level, it has been implemented extremely well. The difference between ATMOS and regular surround is difficult to express in words; the stage opens right up and you become enveloped in sound whizzing around the listening area. There is a real sense of vertical sound but keep in mind this is 'only' a sound bar, expectations should be realistic, but Samsung/Harmon Kardon have really set the bar here! The volume of each channel (centre, side, front top, rear, rear top) can be adjusted. My sub-woofer is placed in the corner of the room behind the TV unit, set to -6 and shakes the house without breaking a sweat. PROS: - Easy set-up, Nvidia Shield connected to N950 HDMI port, with LG TV & Sky Q connected over ARC for TV Apps (the Shield doesn't support Dolby Vision from Netflix but LG's OLED range does) - No trouble playing TrueHD Dolby ATMOS and DTS-X content from the Shield. - No trouble streaming Dolby Digital Plus ATMOS with Dolby Vision from the TV's Netflix app over ARC. - Switching sources is simple (and family friendly) - pressing any button on the Sky or Shield remote does the job. - Clarity of sound. Crystal clear dialogue with regular TV viewing and movies alike. - Dolby ATMOS. Wow, the rear speakers explode into action compared to regular surround. The race scene at the start of Ready Player One is a showcase for the ATMOS capabilities of this sound bar. CONS: - SmartThings App: Bit of a pointless app but necessary to use features of the sound bar such as updating firmware or using the graphic equaliser. - HDMI Handshake issues with Sky Q connected to N950 HDMI input (similar complaints on Sky Community website about other TV and AVR brands). It's a Sky problem, but one you should be aware of if wanting ATMOS from Sky (currently only available with movies or sports subscription). Irrelevant if connecting Sky box direct to TV. Tips to get the most out of this sound bar: You'll get the best possible sound with Dolby ATMOS, it can reach the N950 in two ways: 1) Dolby TrueHD: Lossless 7.1 format contained in Blu-ray discs or MKV files, can be played from a capable streaming device (Nvidia Shield or Blu-ray player) but cannot be streamed over ARC* so must be connected to N950 HDMI inputs. *eARC supports TrueHD, but the N950 and LG B7 don't have it at time of review. 2) Dolby Digital Plus: Compressed 7.1 format used by Netflix, Amazon etc, can be streamed over ARC from TV to N950. Lower bit-rate sound quality, but still sounds fantastic and certainly better than no ATMOS at all. Ensure TV sound output settings are set to 'auto', PCM won't work. Use Smart mode: There's little info in the manual about the three different sound modes, but Smart mode is definitely the better sounding option for regular surround sound (Dolby Digital). Sounding louder and clearer than standard mode, it uses DSP to send discrete audio to the rear channels when there would otherwise be no signal there. Not available with ATMOS or DTS-X. . Unlike most sound bars, this is a true 7.1.4 system, meaning you WILL need content encoded with 7.1 or 5.1 surround for the rear speakers to receive signal. Ignore reviewers complaining they "can't hear voices" or "can't hear music" from the rear speakers. Simply put, if you're not playing 7.1 or 5.1 content, there IS NO SIGNAL for the rear speakers (unless you switch to 'virtual surround' mode, urgh). Do yourself a favour and do plenty of research on surround sound and where you'll source it from, before spending this kind of money. Would I recommend this to a friend? Absolutely.
Date published: 2019-05-14
Rated

5

out of

5
by
luv2review
from
best sound bar ever
Review of Samsung N950 Soundbar Recently took delivery of the Samsung N950 soundbar. Packaging was substantial and on opening all components were found to be well protected and in perfect visual condition. Included was the Soundbar, Subwoofer,2 rear speakers, remote and all associated cables. Attached the soundbar to backing board screwed to the wall beneath our TV. Left the recommended 3" space below the TV to the top of the soundbar Found that this gave the most stable location for the soundbar and would recommend this if you have the space. Note (Make sure to take a note of the serial number before mounting the soundbar. It gets hidden and as I found out is not the same as shown on the outer packaging!!) The sub woofer and rear speakers all paired wirelessly with the main unit and initial setup was easy once the soundbar location was determined. Connected the Telus STB and Blu ray (Sony) to Soundbar HDMI inputs and connected soundbar output to ARC input on TV (LG OLED) Initial sound from TV was limited to soundbar only with zero sound from the rear speakers. Checked all settings and found to be in order. Then checked Blu-ray with Celtic Thunder DVD. This produced some very faint sound from the rear speakers but had to put your ear right up to them to hear anything! Downloaded two test Atmos clips and played them through the Blu-ray and this then showed the full capability of this system. What a difference. The whole room was filled with sound that moved right around you. Realised at this point that this was what true surround sound should be and not just an interpretation of what it should be. My first two test tries were certainly not true surround sound. Checking the settings on the soundbar I settled on the smart setting and found this to be best at what it is supposed to do and pick the best reproduction for the input source. I also changed the connections to both the STB and the Blu-ray player to the TV inputs with only the ARC connection from the Soundbar to the TV. This did not change any of the quality of the output but corrected an annoying connection problem in that, when powering on, the Blu-ray player would always turn on automatically and if TV was the choice one had to power down the Blu-ray and change inputs back to the TV I am not sure whether this will work with all TV's but certainly OK for the LG Played an Atmos movie through the Netflix app on the TV and full "Atmos" came through and confirmed by the Atmos logo showing on the display of the soundbar. Have been using this for two weeks now I find that the regular TV channels sound is far better and clearer. Much wider sound field in the front particularly and, when detected, true rear sounds are very accurately heard from the rear speakers. Makes listening to all content much better. This is certainly the best soundbar that I have ever heard
Date published: 2019-02-11
Rated

5

out of

5
by
Quinny2122
from
Awesome sound
I have had this soundbar now for 4 weeks and was reluctant at first because of the cost but as soon as I brought it home and set it up it blew me away. The sound that this soundbar creates while watching movies or listening to music is nothing but awesome. Its worth every penny. The Dolby atmos is amazing the way it fills the room with sound. The bass from the subwoofer shakes the settee which is 6 metres away from the subwoofer. My friends and family have come round to listen and their reaction is always the same WOW. My only Criticism is I am find it difficult to tweak the speaker levels on all the speakers which I have read will improve the sound quality even further.
Date published: 2018-10-06
Rated

2

out of

5
by
Jelmer
from
Bad rear speakers, wont advise
Happy with the soundbar, not with the rear speakers , went for repair because of low sound rear speakers. returned to me with the same problem, almost no sound from rear speakers, while the motherboard been replaced. I believe its the soundbar itself that have not got the future to use all speakers to listen music..
Date published: 2019-02-16
Rated

4

out of

5
by
frenzy382
from
Good performance, but....
I've bought a number of soundbars recently (different manufacturers) trying each one out, and was not happy. There were some fundamentals that they just couldn't get right. Eventually I ended up with the HW-N950 and out of the box it was way better than others. Good front seperation, good height... One issue for me....rear speaker volume. These really need to be enabled to pump up the volume more. I've had to drop the front to pretty much as low as possible, in order to hear the rear speakers. On occasion I can just hear it. I do have quite a large room, but the sales pitch I was given was that this system would be ideal for large rooms...well, for me, it 'nearly' is. I'm hoping a future firmware update can nail this issue...then it would be 5/5!
Date published: 2019-01-11
User manual & Downloads
Live Chat
* Key feature may different from Key Spec