A masterful sound experience
By combining Samsung's innovative mastery in home entertainment solutions with 65 years of Harmon Kardon's audio technical expertise, the two brands continue to push boundaries to bring state-of-the-art sound to the home entertainment experience.
Experience immersive surround sound
The Soundbar delivers true cinematic surround sound in your living room. Sound moves all around you thanks to up-firing and side-firing speakers, with atmospheric 7.1.4ch sound. Imagine the majestic sound of a condor's wings as it swoops from one corner of the screen to another.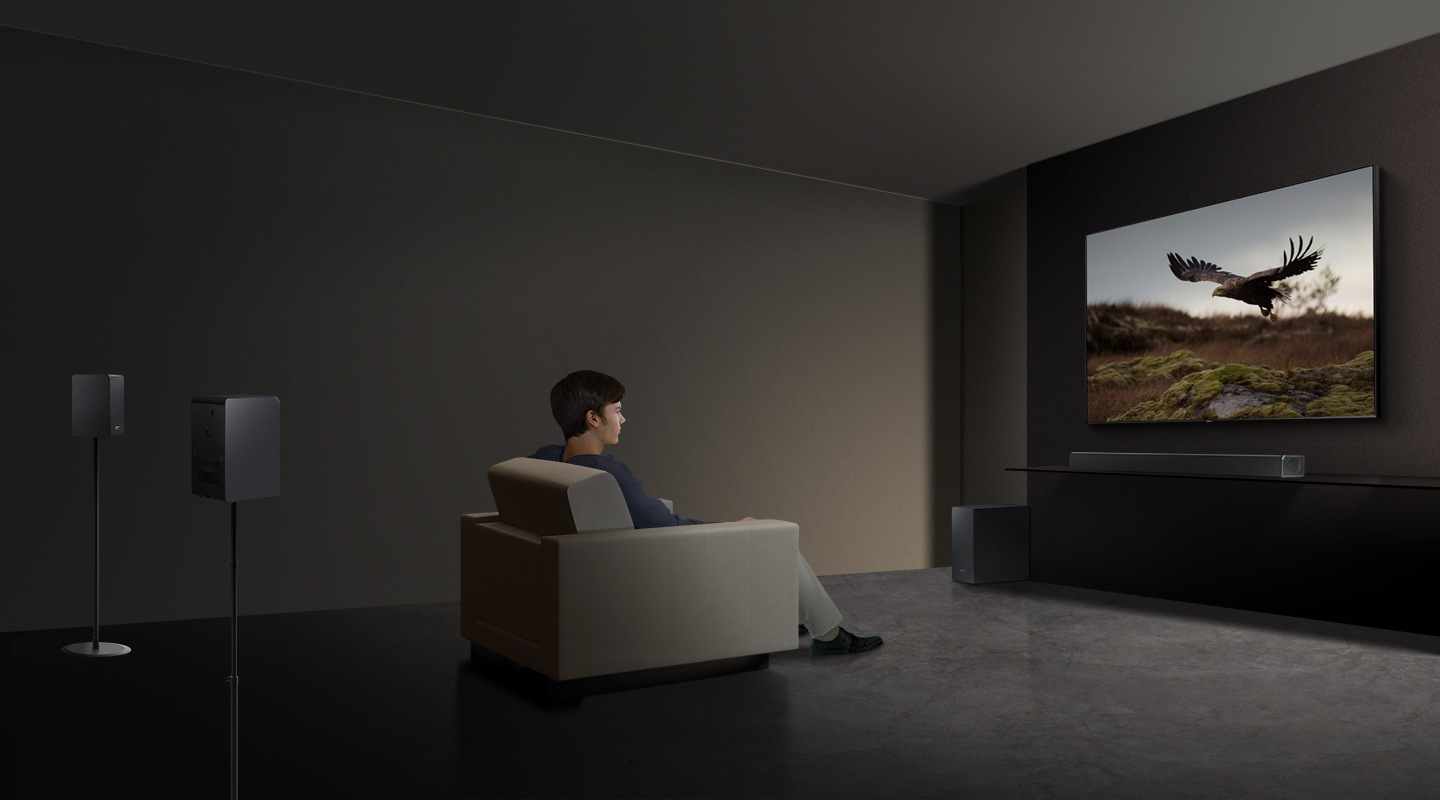 True 7.1.4ch sound
Be surrounded by a complete audio environment with the 7.1.4ch Soundbar, powered by up-firing and side-firing speakers. With object-based sound playbacks like Dolby Atmos®, DTS: X™, and MPEG-H, you can experience captivating entertainment.
Up-firing speakers
Powerful sound waves shot to the ceiling make your audio seem like it's dropping in from above. Amazing overhead sound for a deep cinematic experience in the heart of your space.
Side-firing speakers
With side-firing speakers on each end of the Soundbar, you'll be totally immersed in surround sound. Side to side, front to rear, from virtually all angles.
Wireless rear speaker kit included
The sound system package includes 2 wireless rear speakers, featuring up-firing technology to complete your ultimate home cinema surround sound set up. Take your entertainment to the next level with wireless rear speakers.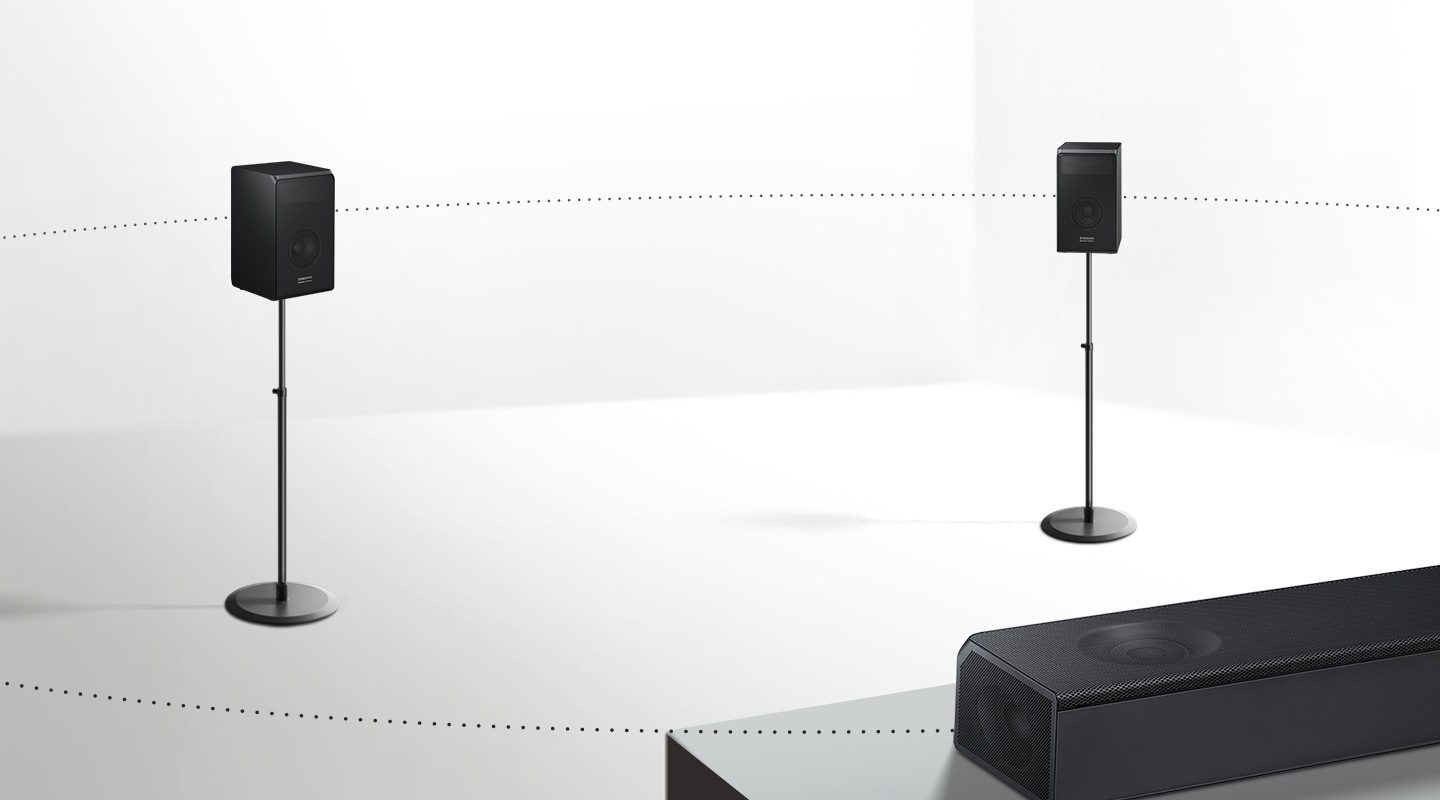 * Wireless Rear Speaker Kit needs to be connected to a power supply.
Let the original sound come alive
Transform your music to a more detailed and dynamic sound. Upscale any of your music files up to 32bit for richer sound.
Sweet spot anywhere you sit
Every spot is the sweet spot. Get consistently amazing sound everywhere in the room with the Soundbar's state-of-the-art wide-range tweeter.
A truly seamless 4K experience
Your UHD content, UHD Blu-ray™ Disk Player, and Soundbar are the perfect combination for incredible entertainment. With 4K Pass-Through, your 4K content plays seamlessly with additional dynamic surround sound. Don't miss out on amazing content quality.
Wireless music streaming
The Soundbar uses Wi-Fi & Bluetooth® for easy wireless connections to other devices. Enjoy music from your mobile in top audio quality anywhere, no strings attached.
Control with one remote
You don't need several remotes. For power, volume, and even the sound effects, you can control key Soundbar functions with a Samsung TV remote through TV's UI.
* Compatible with select Samsung TVs. Please check in store for more details.
* Compatible with select Samsung TVs. Please check in store for more details.
Listen smarter with SmartThings
SmartThings lets you add your speakers to your network, giving you greater control over your audio throughout your smart home. Take connected living to the next level.
* SmartThings compatible devices may vary by region. This function may differ by mobile and OS (Operating System). Download and installation of SmartThings app are required.
* SmartThings compatible devices may vary by region. This function may differ by mobile and OS (Operating System). Download and installation of SmartThings app are required.
Rated

5

out of

5
by
Gpcaraudio
from
Excellent!
Got the N950 a few days ago. It sounds amazing. Setup is pretty straight forward. Extremely satisfied with this purchase. The subwoofer is tuned nice and low and a lot more powerful than I ever expected from an 8" woofer. The sound quality of the mids and highs is fantastic. I'm using the ARC hdmi connection from the sound bar to the TV for the video pass through and running the sony x800 UHD player to one of the hdmi inputs. To get the atmos sound mode I had to adjust the settings on the UHD 4k player (basically turning off all the sound assist features on the player, and rate to 192khz) doing this displays "dolby atmos" across the sound bar screen on media coded with atmos and disables the other sound modes. It took me a day to figure this out but it was not soundbar related as it was from the audio settings on the player itself. Tip during setup that is not really "exactly" noted in the manual: plug in the subwoofer and rear speakers, press and hold the bottom on the back of the rears and subwoofer until the slow blue flashing light. THEN plug in the sound bar and turn on, hold up on the remote for approx 5 seconds until the message is displayed on the soundbar screen. This connects ALL wireless speakers. In the beginning I had plugged in the soundbar sub and rears, turned the sound bar on, the sub was linked from turn on but the rears were not, and could not get the rears to connect doing the steps in the manual. Its not rocket science it just does not note the exact steps i outlined in the manual. So if anyone is having rear wireless connection just do the steps exactly as I noted. Hope that helps anyone struggling on setup.
Date published: 2018-12-23
Rated

5

out of

5
by
Quinny2122
from
Awesome sound
I have had this soundbar now for 4 weeks and was reluctant at first because of the cost but as soon as I brought it home and set it up it blew me away. The sound that this soundbar creates while watching movies or listening to music is nothing but awesome. Its worth every penny. The Dolby atmos is amazing the way it fills the room with sound. The bass from the subwoofer shakes the settee which is 6 metres away from the subwoofer. My friends and family have come round to listen and their reaction is always the same WOW. My only Criticism is I am find it difficult to tweak the speaker levels on all the speakers which I have read will improve the sound quality even further.
Date published: 2018-10-06
Rated

5

out of

5
by
3axis
from
Shockingly expensive but worth every penny
This soundbar is big, in every sense! To hear it is like you were deaf before, you can tell where every penny went. Dolby Atmos is like 3d sound and even mp3s sound superb, it makes you want to turn it up to the point where you damage your house foundations. If you are considering buying this, don't hesitate.
Date published: 2018-10-05
Rated

5

out of

5
by
philisawesome
from
Loud and exciting. Atmos is tremendous
Had this for nearly a week and it's really superb. The biggest issue of the week was finding a pair of 1/4" UNC 20 thread screws to attach the rear speakers to my existing speaker brackets on the wall. The soundbar is really well put together. Lovely finish and is loud. Very loud. Atmos and DTS:X works wonderfully well. Fantastic Beasts Atmos soundtrack has been a standout so far along with Jurassic Park's DTS:X soundtrack where the T-Rex made the room shake. Added bonus the Nintendo Switch's LPCM surround works when it's connected directly into the soundbar.
Date published: 2018-09-01
Rated

3

out of

5
by
ren_123
from
Good sound; nightmare to contol
I have this set up with a Samsung Q9 (2018) and Panasonic UB9000; trying to get it to do what I want is a nightmare. Constantly discounts the ARC connection and switches to DIN which has nothing connected, no user interface for setup and the app does nothing. Now connects to my TV via wireless and I can't stop it meaning no ARC control of volume or Blu-ray, my 10 year old Yamaha system was far easier to set up and control. Also no calibration options for setup
Date published: 2018-11-11
Rated

1

out of

5
by
cwazypaving
from
Avoid: hidden 5min power off kills this product
Having been pleased by this product, I find it has a hidden feature that it turns off if the content is paused! The time it takes is a few minutes, you can't even make a cup of tea without having to get the remote and turn it back on. I found some forums complaining about this and they seem to have been ignored. Well I am now gutted to have paid £1500 for this product to find that it has this stupid "feature", it makes it not fit for purpose and with no option to change it and it being ignored by Samsung I would no longer recommend this product and I am upset to recently have spent nearly £6000 on Samsung products to discover this and that Samsung don't seem to care!
Date published: 2018-11-02
User manual & Downloads
Live Chat
How It Stacks Up
* Key feature may different from Key Spec