Q90 Soundbar
is rated out of
5
by
99
.
Immersive Sound with true 7.1.4ch sound.
1. True 7.1.4ch Sound
Sound moves around you in three dimensions, delivering a full 7.1.4ch audio experience.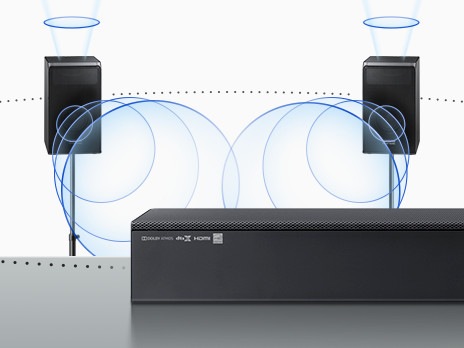 2. Wireless Up-firing Rear speaker incl
Bring true wireless surround sound with the included Samsung Wireless Rear Speakers with up-firing drivers.
3. Adaptive Sound
Automatically enhances voice clarity on low volumes.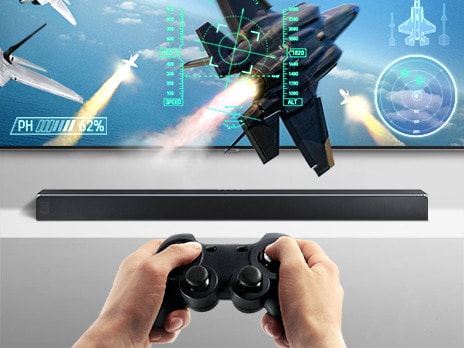 4. Game Mode Pro
Get yourself in the game with a unique setting that boosts game sound effects.
Immersive Sound with true 7.1.4ch sound
The Soundbar delivers true cinematic surround sound in your living room. Sound moves all around you thanks to up-firing and side-firing speakers, with atmospheric 7.1.4ch sound.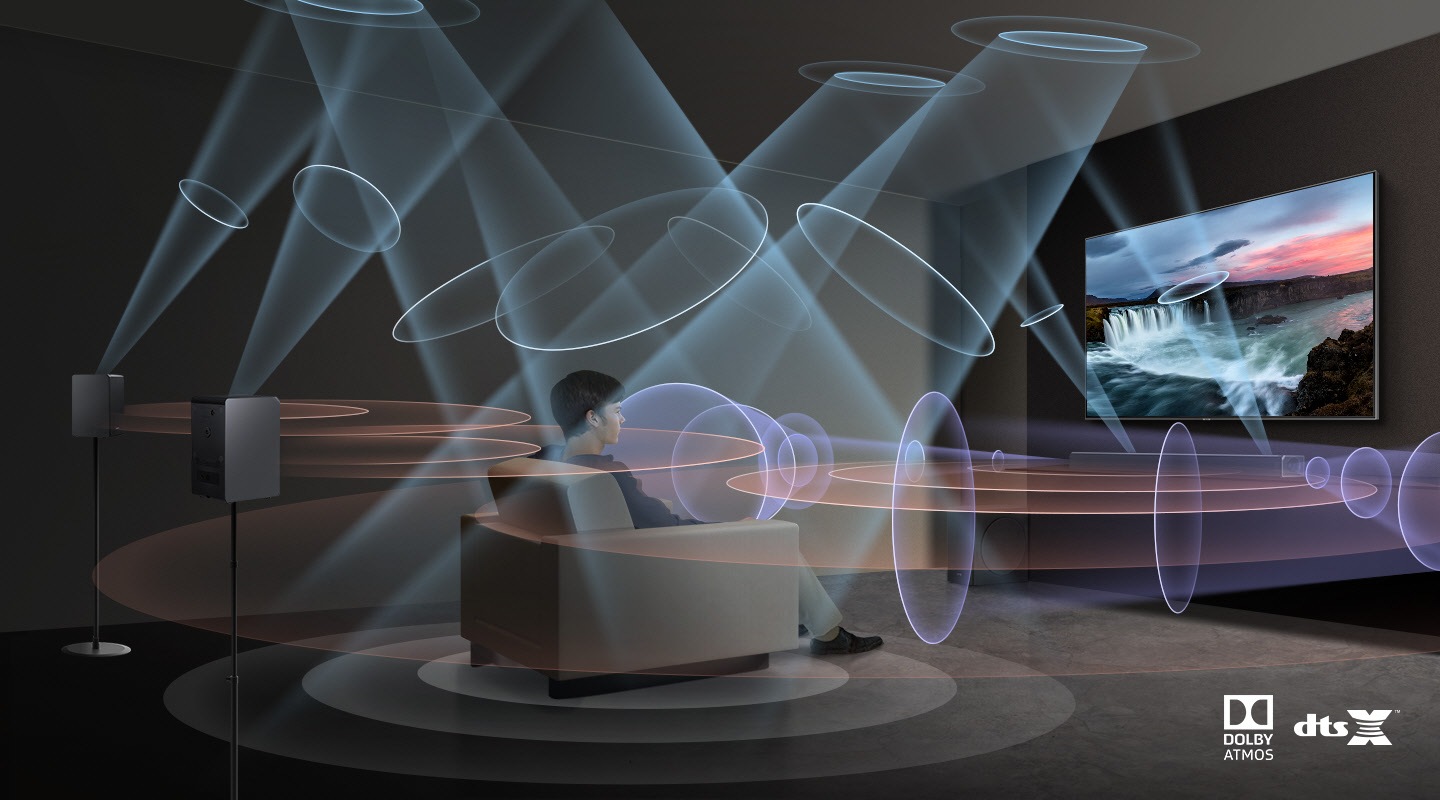 Up-firing speakers
Powerful sound waves shot to the ceiling make your audio seem like it's dropping in from above. Amazing overhead sound for a deep cinematic experience in the heart of your living space.
Side-firing speakers
With side-firing speakers on each end of the Soundbar, you'll be totally immersed in surround sound. Side to side, front to rear, from all angles.
Wireless Up-firing Rear speaker included
The sound system package includes 2 wireless rear speakers, featuring up-firing technology to complete your ultimate home cinema surround sound set up. Take your entertainment to the next level with wireless rear speakers.
Adaptive Sound helps you hear more
Samsung soundbar analyses the sound signal to automatically deliver optimised sound based on each scene. Adaptive Sound lets you hear voices clearly even on low volumes so even quiet conversations are heard.
Sound, Completed by Audio Masters
By combining Samsung's innovative mastery in home entertainment solutions with 65 years of Harmon Kardon's audio technical expertise, the two brands continue to push boundaries to bring state-of-the-art sound to the home entertainment experience.
Hear better. Play better.
Brace yourself for a powerful, immersive gaming experience with subwoofers that enhance the scene and up-firing speakers that provide incredible surround sound. The soundbar automatically switches to Game Mode when connected to your Samsung TV so you can focus on playing, not setting up.
* This feature is supported only when the game console is connected to select 2019 Samsung TVs via HDMI (all QLED TVs, RU7400 series, and above). Game consoles supported include PlayStation 4 and Xbox. Compatible TVs and game consoles may change.** Game console purchase separately.
Sweet spot anywhere you sit
Every spot is the sweet spot. Get consistently amazing sound everywhere in the room with the Soundbar's state-of-the-art wide-range tweeter.
Seamless HDR 10+ experience
With 4K pass-through built in, connecting 4K video sources like your Blu-ray player or game console is easy. It even works with HDR 10+ sources, allowing you to enjoy audio with pristine quality matching that of your video. One HDMI connection and you're set.
* HDR 10+ picture quality output available with equivalent input.
Music comes alive with your voice
Can't recall the title? Enjoy your Soundbar hands-free using Alexa voice control. Ask Alexa to play something by simply saying the title or a few lines of the song's lyrics. No matter what kind of music you're in the mood for, Alexa will find it.
* An Amazon Echo Device is required to use this feature. This service is provided by Amazon and is subject to availability and change without notice. Amazon, Alexa and all related logos are trademarks of Amazon.com, Inc. or its affiliates. A subscription to a music service will be required for music playback.
Wireless music streaming
The Soundbar uses Bluetooth for easy wireless connections to other devices. Enjoy music from your mobile in top audio quality anywhere, no strings attached.
Control with One Remote
You don't need several remotes. For power, volume, and even the sound effects, you can control key Soundbar functions with a Samsung TV remote through your TV's UI.
* Actual product may vary by TV model and region.** Compatible with selected Samsung TVs. Please check in-store for more details.
* Actual product may vary by TV model and region.** Compatible with selected Samsung TVs. Please check in-store for more details.
Listen smarter with SmartThings
SmartThings lets you add your speakers to your network, giving you greater control over your audio throughout your smart home. Take connected living to the next level.
* SmartThings compatible devices may vary by region. This function may differ by mobile and OS(Operation System). Download and installation of SmartThings app are required.
* SmartThings compatible devices may vary by region. This function may differ by mobile and OS(Operation System). Download and installation of SmartThings app are required.
Rated

1

out of

5
by
Stefan71
from
Sounds great when it works incidently
Constantly Disconnects! I bought it 4 weeks ago and it never worked as it should since then. This soundbar sounds Great when working. BUT it constantly disconnects from the Subwoofer and Surround Speakers This is a systematic flaw and must be addressed and fixed regarding the products price and being a flagship model. Samsung fix it!
Date published: 2019-06-15
Rated

1

out of

5
by
ShiroEd
from
Constantly Disconnects!
This soundbar sounds incredible BUT it disconnects from the Subwoofer and Surround Speakers when it's turned off and the only way to reconnect is to manually reconnect or power cycle the speakers. This is clearly a fundamental systemic flaw and one that must be addressed and fixed. Please Samsung lets us many users experiencing this know what the nature of this problem is and what we can expect as a fix. Is it a firmware update or a hardware issue? How did this pass testing?!?
Date published: 2019-06-11
Rated

1

out of

5
by
Nosoundatall
from
Constantly disconnects rear speakers
So annoying because when the soundbar works it is awesome. But, I'm on my second unit but both have the same fault, each time you switch them off they then lose the connection to the rear speakers and sub. Reading through Samsung sites elsewhere in the world, and on AV forums site, this seems to be a global problem. It looks like the wireless connection fails on some units.
Date published: 2019-06-15
Rated

4

out of

5
by
JC101
from
Jaw dropping sound
Bought this to compliment my new Q950r TV and so far I'm really happy with it. Whilst it's no looker from a design aesthetic the build quality is first rate with very heavy speakers (note if you want to wall mount the sound bar is very heavy). Once you get it wired up to the TV and Xbox the sound is amazing. Everything from terrestrial TV, atmos movies, games or music via bluetooth just sounds incredible. Play an Atmos test video and the sound truly envelopes you from all sides, behind and above. Main points: Pro's - Easy to set up with wireless speakers and sub woofer - Integrates well with the TV,automatically transferring the wi-fi details and allowing control via remote and menus - Sound is unbelievable, it replaced a Yamaha sound projector and blows it out of the water, in part because you have actual surround speakers plus a wonderful sub woofer - In atmos mode with the right movie it is sublime. - I wasn't expecting it to be good with music but is excellent, it must have a great DAC because it picks out every note and is well balanced with on the bass if you drop the s/w down a bit. Con's - It isn't pretty and the surround speakers aren't small - you have to hook the xbox direct to the soundbar. When that happens you lose the TV been able to use the one remote function to control the xbox which is annoying - I also think the TV no longer recognises that I have an xbox so the automatic switching into games mode for games and HDR for movies seems to have been lost, very annoying. - For £1,500 you might think that the machine would come with a mike to autocalibrate itself to the room and set up all 17 speakers and s/w. But no you have to try and do this yourself and there isn't even a test tone. - Linked to the above the machines cannot, unlike my old yamaha, have onscreen menus to control setup or make changes. Instead you have a tiny 1 inch scrolling display that you need to work with. Crazy ! - manual is poor, it doesn't explain the different sound modes or when/how to use them In short a fantastic machine but not without flaws.
Date published: 2019-05-21
Rated

5

out of

5
by
Namdnas
from
The best soundbar on the market!
I'm going to start my review off a little differently than I do most. If you are looking at or even considering this soundbar for purchase...GET IT. There. Now, let me explain why... The soundbar market is ever-expanding and slowly getting better in quality. You have those that prefer a full home theater system and they will argue that even a lower quality home theater system (5.1) would be better than even an Atmos soundbar, because the Atmos is usually very "gimmicky". Then you have others who prefer the soundbar due to various reasons, such as aesthetics and space limitations. I fall into the soundbar crowd. So, why should someone who prefers soundbars suffer from "lesser quality" than those who prefer a full home theater system? Well...we no longer have to...and for not much more than a higher quality home theater system would cost! Enter the Samsung Q90R, Samsung's flagship model for 2019. Under this model, you also have the Q80R (the same system as the Q90, just minus the rear Atmos speakers) and their smaller sibling, the Q70R. There's also a Q60R as well, I believe. These were made in partnership with Harman/Kardon and woah, it shows. These soundbars are designed to go with their respective Q-series Samsung TV's, even down to the size, to match. If you already have one of these TV's, even better. If not, they still work great solo - just minus a few "quality of life" features that basically builds the soundbar into the TV (feature-wise). It's definitely not a deal-breaker, however. I personally feel that this series of soundbars is the first to make them a viable centerpiece for your Home Theater setup. This is the Q90R. Let's get to it! Let's take a look at the packaging first - this is usually where our first impressions come from. No standard L-shaped "Tetris" soundbar box here. Nope. This is a full-fledged packaging. This can be a bit awkward (and heavy) to move around and/or carry, so, you MAY need help. Inside, everything is packaged great. Upon opening the box, the first thing I see is a bag with an included USB thumb drive that includes the (still current, as of this review) 1008.0 firmware. I believe they included this because some people were having issues with updating the firmware from the factory version. This 1008.0 version also fixes an issue where the rear speakers would pop/crackle and wireless connection problems. Up top, the first thing you get to is the soundbar itself. Weighing in at nearly 20 lb. alone, this thing is a behemoth! It's color and full metal body/grill are a sight to behold. Getting this out of the box, below you will find the subwoofer, two rear surround speakers and a box with all of your accessories (power cables, remote, HDMI cable, etc - everything you will need for hookup), all well packaged. As far as general impressions go, I'm going to be gushing over pretty much everything for this review. Let me say - this DOES NOT HAPPEN OFTEN. I am prone to finding issues with things and also being super picky in various aspects when I am setting up and using something. While there are some minor flaws here and there (I mean, nothing is perfect!), I literally cannot find a single thing to dock a star for. The quality of this soundbar is exceptional. Of all the soundbars I've ever owned in the past, or even seen on store shelves, this one is king. The only thing I can think of to advise here is - make sure you have the space for this! Unboxing it is an "OMG" experience and I immediately began wondering how I'm going to make it fit. I didn't. I had to buy a whole new entertainment center to accommodate this beast. And I'm glad I did. Even in the new entertainment center, I had it on the shelf just below the TV and found that the upper shelf was blocking the upward-firing Atmos speakers. So, I had to get a riser stand for the TV just so I could move this soundbar up top with the TV. Without the riser stand, it would have blocked some of the bottom of my LG C8's screen. Ok, setup! You are going to want to spend some time setting this up properly. By "properly", I mean updating the firmware (which takes about 30 minutes) and getting the rears on wall mounts or some form of speaker stands. I will warn you that the rears weigh about 4.5 lb. each and may be incompatible with some speaker stands. The stands I got would not hold them properly and they were sagging. So, I got a pair of stands (Monoprice) where I could just sit the speakers on them and they worked perfectly and look good, to boot! For the firmware update, the maintenance USB port is underneath the soundbar (really, my biggest complaint...). I had to prop the bar on it's backside and pray that it didn't fall over on me while I had the USB stick in, doing the update. The instructions that came with the thumb drive are VERY specific. There are multiple steps and you MUST follow them exactly. I think the reason why a lot of people still have issues with the rear speakers after the update is because they didn't do the last step, which is updating the subwoofer and rear speakers after the initial update to the soundbar. I did the update specifically as outlined and it took about 30 minutes total and have had ZERO connection issues. On the rear, you have one HDMI input, two HDMI outputs and an optical input. There is NO ethernet network cable port on this. I used the optical input for my PC sound and it works fantastic! I use it primarily for gaming on my PS4 PRO and also watch Netflix/Hulu, etc via my TV apps. Everything works great together. I also wanted to say that I've read and heard about issues from others with Samsung soundbars and LG TV's not playing well together. Well, I guess that issue is fixed with this soundbar as well, as I've not had any problems. CEC works great and everything shuts down and powers on automatically, depending on what I'm using. The HDMI ports on the Q90R are 2.0. Nope, no 2.1 here. Which, given the price of this, made me a little sad...and the fact of knowing that next years model will likely have 2.1 ports. But regardless, it's still pretty future-proof because of the e-ARC support. If you also have an e-ARC supported TV (likely via a firmware update, if one was available...I know the LG C8 TV's and previous models did not get an e-ARC update...) that you can plug the device into another HDMI port of your TV and it would basically act as if it were plugged straight into the soundbar. You can get full, uncompressed audio, including Dolby Atmos, via ARC. I did want to also comment on the wireless bass speaker. Not only is it MUCH bigger than I expected, but it's side-firing. Also, if you own cats (or other shedding animals, lol) - be super careful. The side of the bass has a huge, round fabric mesh on it which can easily be clawed and destroyed (and collect lint, dust and fur equally as well). Just be mindful of that. I did also quickly want to go over the Samsung SmartThings app. Honestly, this gave me the biggest impression of all, as I didn't have very high expectations. I was worried that it would be useless, not very functional or just gimmicky. Seeing it had great reviews in the iOS app store, I immediately thought...well, it must not be that bad! It's great, actually. Download the app, create or sign into your Samsung account and get started. You can create a "room" in the app that each of your Samsung devices are located and even move the devices in-between rooms. You can also fully control the soundbar via the app! This includes input, levels for bass, center, left, right, etc. Oh and the main reason you want this app is for the firmware updates. Given that I've already updated via the USB and there's not been a new firmware released since this one, back in July, there's no updates currently available. But it's nice to know I can do my future updates via this app. Finally, lets go over sound quality. Let me preface this by saying I do have a hearing disorder (mostly in my right ear), but both ears have certain tone frequencies that I can and cannot hear easily. I want to say, this Q90R soundbar has the best sound that I've ever heard from either a soundbar or a dedicated Home Theater System. Cranking up Fortnite on my PS4, which was PLENTY loud for me, even at 20% volume (it goes to 100%...), I was able to hear sounds and effects that I've literally never heard before. EVER. Mind blown. Even my wife was seriously impressed and she's not easily impressed by electronics and gadgets. I also tested the new Borderlands 3 and Remnant games and both were equally impressive! I moved to Netflix, via my LG C8 TV app and tried out Love, Death and Robots (which also has a great Atmos track)...it almost blew me out of the room. I'm used to the volume of this show being super low on other soundbars I've played it on. Not now! ***Because of this soundbar, I can hear things so much better and so much clearer and for that, Samsung, I thank you. Thank you for providing me with something that will allow me to experience and enjoy fuller and more sound in my games and movies that I otherwise would have never experienced. I've never been this far immersed in sound in my life.*** In conclusion, I absolutely LOVE this soundbar and hope that it lasts me many, many years, until I'm finally ready to move over to HDMI 2.1. This gets 5-stars all the way. The price and sound quality alone kills any other soundbar out there and even some standard 5.1 home theater systems. I seriously can't recommend this (or again, any soundbar in the Q-series) enough. Buy it. [This review was collected as part of a promotion.]
Date published: 2019-10-01
Rated

5

out of

5
by
TBrock60
from
Fantastic sound
Had this for a few weeks now. Updated it while setting it up and have had zero issues. We've had a couple of power outages and it has reconnected seamlessly.
Date published: 2019-10-28
Rated

5

out of

5
by
Satty
from
Best soundbar I've ever had
Bought this recently to go with my QLED TV, having had some soundbars in the past I was looking for something which would give me Dolby Atmos and 7.1 without having to go the whole route of wiring up by living room and drilling holes in the ceiling. This fit the bill perfectly. I cant even being to compare it to my old 3.1 sound bar this thing is on another level. Amazing sound quality. Yes its not the cheapest but then you get what you pay for. highly recommended to anyone who doesn't want the hassle of getting speakers fitted into your ceiling and wires everywhere but still wants to experience quality Dolby Atmos 7.1 sound.
Date published: 2019-10-16
Rated

2

out of

5
by
BTDissapointed
from
Too many bugs! Research a lot before buying
Just to make this quick, when switching between hdmi, it tends to not recognize what's plugged into the hdmi ports. Unplug and plug back in, it magically works again. No thank you. Also, I have a small living room but the rear speakers and sub continuously disconnect and reconnect throughout a movie, using either surround or Dolby. I am frustrated and would return this if it wasn't past the 15 day allowance. Going back to my other system. When this works, it's fantastic. All updates were installed as well. Thank you.
Date published: 2019-10-08
User manual & Downloads
Live Chat
* Key feature may different from Key Spec