Introducing a mind-bending new screen interface, SMART signage, plus a chance to win a QLED TV
Hi,


Welcome to the latest in Samsung innovation. This time, we look to the future with wireless charging, mind-bending developments in screen technology, introduce a washing machine that cuts your washing time in half and reveal that Samsung has been named New Zealand's 'Most Trusted TV & Home Entertainment Brand'.
Fumbling around for a charging cable is so last year. The Galaxy S9 or S9+'s Fast Charge Wireless Charging Stand* holds your phone at a comfortable angle while it charges, so you can carry on browsing, texting and listening to music as it powers up.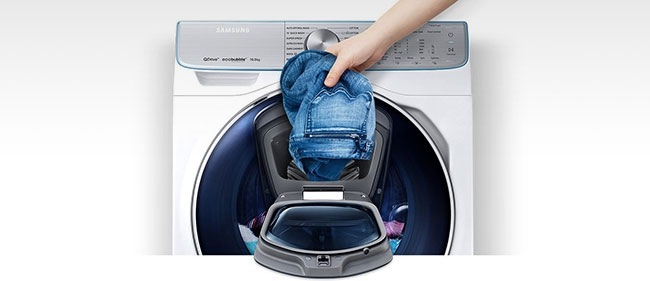 Less time on laundry, more time on you


Now you can breeze through your laundry chores without compromising on cleanliness. Samsung's new QuickDrive™ washing machine technology cuts washing time by 50%* without affecting cleaning performance. Thanks to the independently rotating drum and back plate, you'll get a full clean every time, in half the time.
* Tested on WW8800M compared with Samsung WW8500K. Saves 50 % time on Cotton (40 ℃, half load) and eCotton cycle with washing performance within ±2 %. Saves 20 % energy on Cotton (40℃, half load) and Super Speed cycle (40 ℃, 5 kg load), based on Intertek data.
The TV you control with your mind


"We wanted to show how new technology can affect the daily life of
[people with disabilities]."
– Martin Kathriner, Senior Professional, corporate affairs,
Samsung Electronics Switzerland.
In line with our 'design for all' philosophy, Samsung has created the first Smart TV which can be controlled by brain waves. This innovative device can allow users with reduced mobility to change channels and adjust the volume level with minimal face movements. The first prototype, developed in collaboration with University of Lucerne and the Swiss Center of Paraplegia, has been successfully tested by Swiss Paralympic athlete Beat Bösch, with a second prototype entering development this month.

New Zealand's most trusted electronics brand



Reader's Digest has named Samsung New Zealand's Most Trusted TV & Home Entertainment Brand. The independently commissioned Reader's Digest study asked consumers for their views on 65 categories of products and services across a broad range of industries. Samsung was rated top for things like reputation, great customer service, quality, and innovation.
Samsung's digital signage solutions are set to transform the retail experience. Based on their interests, SMART signage tailors advertising displays to customers as they move through the store, while MagicInfo provides detailed product info and pricing, using phone tagging and facial recognition to identify users. It can even suggest products you may be interested in.

Be in to win a QLED 55" TV



Are your user details up to date? Tell us about your Samsung products and we'll put you in the draw to win a Samsung QLED 55" TV (RRP $4,699). Entries close at midnight on June 30. See terms and conditions.
Legal | Privacy Policy

This email has been sent to members who have requested to join the mailing list.
If you wish to unsubscribe from this mailing list, please Click Unsubscribe

© Copyright 2018 Samsung New Zealand. All rights reserved.
24 The Warehouse Way, Northcote, Auckland 0627 NZ

*Do not reply. This e-mail address is for outgoing emails only.