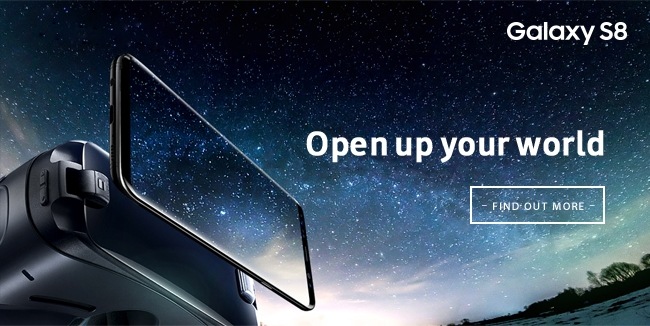 When Samsung designed the new Galaxy S8 and S8+, we began from the inside out, rethinking every part of the phone's design to break through the traditional smartphone barriers.

The result is a phone packed with Samsung innovations like Bixby and DeX that will put your current device in the shade. So if you're thinking of upgrading, now's the time.


Expand your vision
With Bixby, your camera is so much more than point and shoot. It's point and search, point and translate, point and learn, point and discover.
Turn your phone into a desktop
Samsung DeX connects your phone to a monitor, keyboard and mouse for a desktop experience. So you can turn any place into a workplace.
Step into another reality
Insert your Galaxy S8 and S8+ into the Gear VR* with Controller for virtual reality adventures near and far.
*Gear VR sold separately

Your life in 360 degrees
Record and capture the entire scene around you on the Gear 360*, then use the Gear 360 app to edit and perfect your 360 masterpiece.
*Gear 360 sold separately