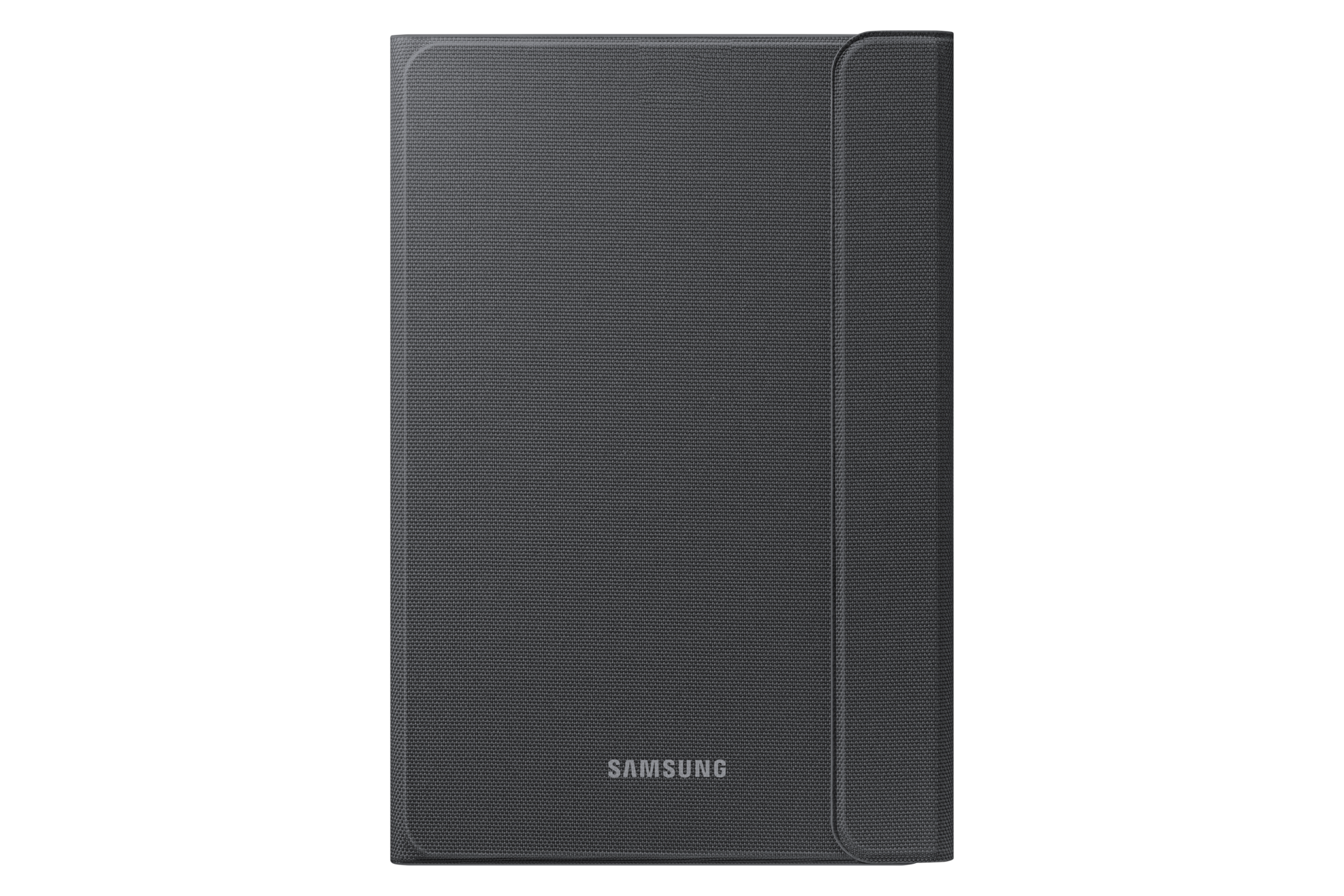 Tab A 8.0 Book Cover (Fabric) - Dark Titan
EF-BT350WSEGWW
Tab A 8.0 Book Cover (Fabric) - Dark Titan
is rated out of
5
by
30
.
Rated

5

out of

5
by
LuvSammy4Life
from
Beautifully Designed, easily installed & removed yet very secure
This case is a wonderful edition & a must have for any owner 8 inch Galaxy Tab A. Beautifully designed to snap on & off of the Galaxy Tab A while offering a reasonable amount of protection but adds very little to the original size & weight of the device all while the magnetic clasps will keep it securely closed & provides many viewing/standing angles. Lastly the canvas material allows you to keep a firm grip on your device & doesn't look half bad either. Easily the best low profile case or cover I've ever owned for any device. A true must have.
Date published: 2016-07-07
Rated

4

out of

5
by
TDawg1969
from
This cover is perfect for the tablet
I bought this Book Cover for my Galaxy Tab A 8" because I made the mistake a few years ago of not getting a cover for a different "reader"/tablet. I ended up dropping it and shattered the screen. When I first purchased the tablet, I noticed 2 "buttons" on the back that had no obvious use or function. I looked this up online and discovered what they were for. The SAMSUNG covers have small "knobs" built into them. AHHHHH that is it. When I got the cover and installed the tablet, it made perfect sense. The Tablet snaps in place and will not just fall out. It holds the tablet in place and with this there is never the issue of closing it and the tablet not being protected perfectly. I like the magnetic strips that hold it shut as well as turns the tablet off when closed. The cover can be folded backwards and the magnetic strips hold it in a "reading" or "viewing" position. I love this feature as well. The only 3 things I can see that could possibly make this combination better is: 1. The tablet should be equipped with a stylus 2. The cover should have more angles of positioning when reading or watching videos/movies. 3. Should be a way to protect the camera that is open and vulnerable on the back. Overall it is durable, not too flashy and slimline to fit the tablet. I would recommend anyone with a SAMSUNG tablet to purchase this cover.
Date published: 2015-12-23
Rated

5

out of

5
by
croach
from
Galaxy Tab A 8.0 Cover
Very sturdy, well constructed and does the job needed.
Date published: 2015-10-08
Rated

5

out of

5
by
Monty14
from
Best cover for this tablet
I've had this cover for my Samsung Tab A 8.0" for nearly 3 years and it has never snapped off or gotten flimsy from all its use, and I do use it daily. The only thing is the canvas corners are getting frayed because of age and I'm looking to replace it with the same cover; the tablet is still going strong. I highly recommend those who have problems with the snaps to make sure they have the right model for their tablet or have someone else try to snap the cover in place because you're doing something wrong.
Date published: 2018-07-20
Rated

5

out of

5
by
CompaqKidd
from
Canvas Book Cover
screen shuts off when closing front cover .. nice feature saving battery power light weight when connecting to tablet, make sure its on a hard flat surface like a table or counter top .. press edges down until it clicks.. try not to press on the screen itself when attaching this book cover to the tab-A might be a little annoying when trying to flip open ... the cover is magnet .. hard to open at times when in hurry over all great cover for this tablet
Date published: 2016-01-21
Rated

5

out of

5
by
ChrisAM
from
Fits like a Glove
I would tell Customers to purchase this cover. Its priced good, it is well made and functional. It cradles my tab A perfectly. Like a glove.
Date published: 2016-01-17
Rated

5

out of

5
by
Tadpole1
from
Best designed tab cover ever!!!
This cover fits my tab A just like a glove. The way it snaps on to the tab just amazes me and gives you that good secure feeling. The color, the material it is made from makes it easy to hold and not slip from your hand. The way you can flip the back up and set it on your lap is very comfortable to watch any program. Samsung is and always the way to go on any product.
Date published: 2016-01-16
Rated

5

out of

5
by
95678Spectre
from
Great cover
The only thing I'm concerned about is the magnet. It warms me not to put credit cards near the clasp so I can't put it in my glove box with my wallet? In not sure where the line is so I would rather be too careful than have an accident.
Date published: 2016-03-31
User manual & Downloads
Live Chat
* Key feature may different from Key Spec