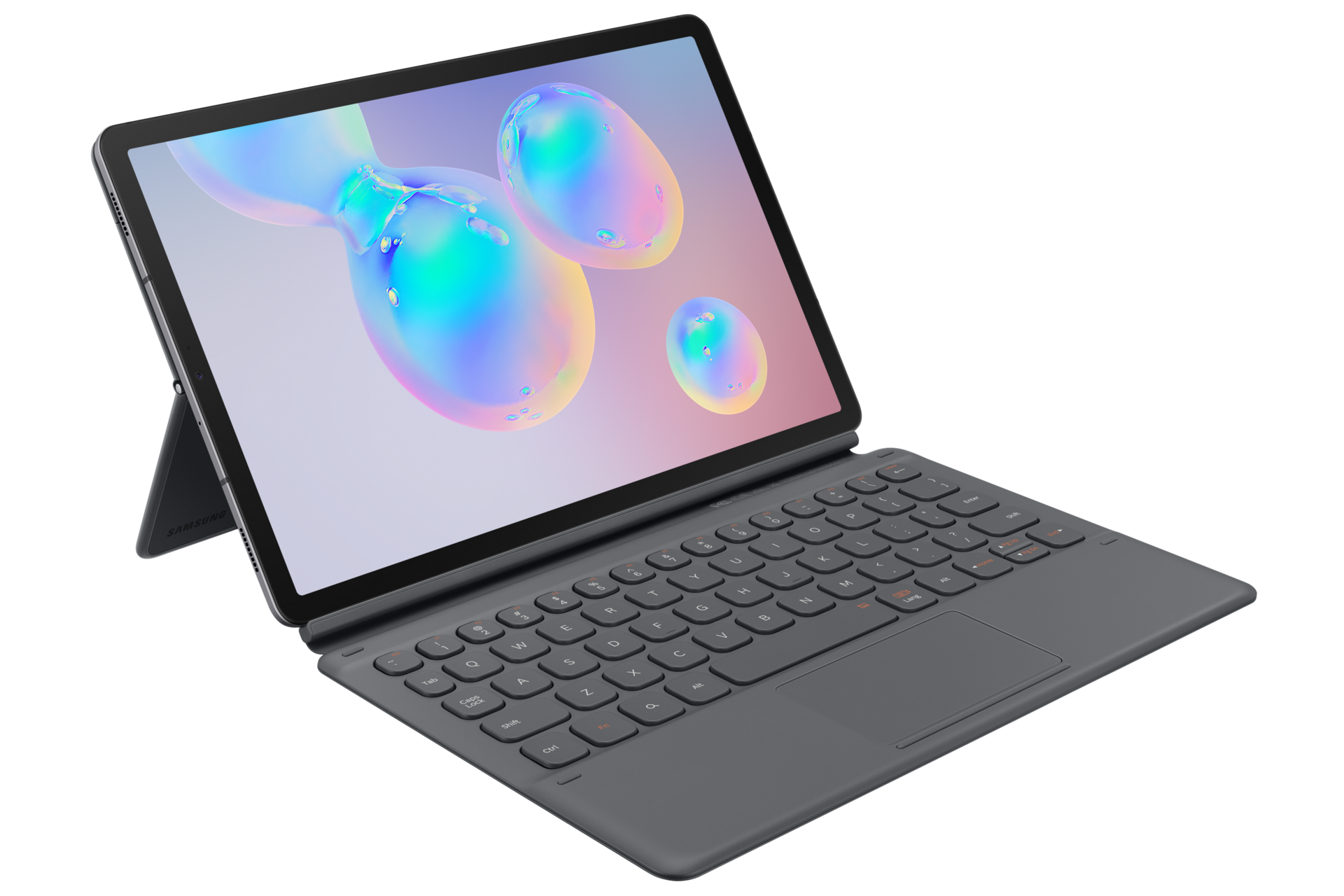 Galaxy Tab S6 Keyboard Book Cover
EF-DT860UJEGWW
Galaxy Tab S6 Keyboard Book Cover
is rated out of
5
by
132
.
Power your portable workstation
Connect the keyboard book cover in a snap with magnetic attachment and begin a PC-like experience in a flash. Use it the way you want with function keys and track pad to get to work, or detach the keyboard when it's not time to type. The embedded holder keeps the S Pen nearby for notes and revisions.
A desktop experience one shortcut away
Enjoy the PC-like experience of Samsung DeX in a slim tablet. Galaxy Tab S6 with keyboard book cover uses a dedicated key for quick DeX* access. Connect to another display with an HDMI cable* for even more screen space to get things done.
*Visit the official Samsung DeX page to view the large and growing list of supported apps and get more information on Samsung DeX. HDMI cable sold separately.
Rated

1

out of

5
by
Orimura
from
Terrible engineering on an otherwise great product
As numerous other reviews have said the adhesive used to attach the kickstand is terrible. Less than 2 months of use and it falls off all the time. The keyboard itself works perfectly but the kickstand makes it unusable.
Date published: 2019-11-24
Rated

2

out of

5
by
BigAl
from
Keyboard back cover magnetic strips too weak.
Hi Samsung, Pre-ordered the keyboard cover together with the Tab S6. Love the keynboard but not the back cover. The magnetic adhesive strips are too weak and can fall off easily, taking the S-pen with it. Also the magnetic adhesive strip is also a dust magnet. Samsung shkuld use stronger ore more magnets. The design of the cover is innovative with the S-pen cover but does not full protection of the tablet if accident dropped. The cover will easiky fall apart and damaging the tablet. I will be returning it for a refund.
Date published: 2019-09-16
Rated

2

out of

5
by
jessie
from
kickstand does not cut it
bought this product for college because it seemed to fit perfect with using all in one device and having the keyboard aspect helped sell this for me. after i used this product i started noticing how the kickstand didnt stay up. so i assumed i didt have it suctioned or something right and pressed harder well that didnt work either. this is a good idea and functionalilty case be better if it did what it was suppose to do which im dissappointed in.
Date published: 2019-12-04
Rated

2

out of

5
by
Masamoto15
from
Adhesive isn't strong enough!
I bought this keyboard cover thinking it would be a perfect addition to the tablet to allow me to use it for uni and work easily and more efficiently. While it does work well and the keys and trackpad feel pretty good, the adhesive on the tablet part doesn't do its job and the cover doesn't stay connected to the device. If you don't touch the device or try to use the kickstand it will stay on nicely, however, the moment you touch the kickstand it will come off. I contacted Samsung support and the person I spoke to implied very heavily that I would have put it on incorrectly and that the Samsung kiosk in my nearest centre would be able to provide the instructions I needed. The instructions included are non-existent with just two pictures saying place cover and enjoy. Overall, while the keyboard is great and I love that part of it, until I can actually use it as intended I wouldn't recommend this product to anyone who wants to actually be able to use it.
Date published: 2019-09-16
Rated

2

out of

5
by
WhatToDo
from
Excellent keyboard, poor stand
I cannot fault the keyboard and touchpad aspect that connects magnetically to the long edge of the tablet, it's a really well engineered and put together product! The magnetic/adhesive that connects the stand to the back of the tablet leaves a lot to be desired as this does not work. On the positive side the way this case secures the pen is a huge plus, especially compared to a iPad or Microsoft equivalent product. This however, does not outweigh the fact that the stand/back cover does not adhere to the tablet. I put up with several days of this coming off and my tablet falling flat onto hard surfaces before I took it in to a service centre. The service centre tried their best but were not able to fix this issue. It was then sent away to the Service Division and deemed faulty. Samsung contacted me directly the next day to start the refund process. I can't compliment the staff at the Service Division highly enough for their customer service and processing the refund. This does now leave me with a problem, I am without a keyboard and case for my tablet, both of which I require for it to be used as I intended and protect it during my frequent business travels. I don't want to buy another as it appears this issue has not been resolved and there is no 3rd party keyboard that matches this OEM product. What to do?
Date published: 2019-10-10
Rated

2

out of

5
by
Josh1778
from
Design Flaws
This cover is alright but has a few glaring design flaws. It doesn't protect the edges of the tablet if it's dropped (and it really should). A second removable cover to replace the keyboard cover when you don't need the extra weight should come with it or be sold separately. Additionally like others have said, even though I haven't had a ton of issues with the adhesive strip it really should stick better. I hope Samsung is hard at work in revision 2 as this product lets a good tablet down.
Date published: 2019-09-29
Rated

1

out of

5
by
asu2023
from
Awful keyboard, disappointing warranty service
An absolutely awful product. If I could give it a zero star I would. I love the tablet, but the keyboard is absolutely terrible. When it does work it is great, that is when it does work. Most of the time it doesn't work at all. The stand works just fine, I haven't had a problem with the adhesive at all. I have had to send this in for warranty exchange twice so far, and the process took about three months each time. This second time, I haven't even recieved the replacement yet, and the warranty will probably expire before that happens. They somehow never manage to have any in stock for exchange (bs). This keyboard is a headache, and as much as I dislike apple I would definetely reccomend an ipad due to the numerous problems I have had. Very disappointed.
Date published: 2020-05-24
Rated

1

out of

5
by
Medicdad73
from
Works for a Short time
I got this despite the reviews, the back held on for a few months and now it won't stay put and the back cover falls off. This is very disappointing from Samsung!! [This review was collected as part of a promotion.]
Date published: 2020-03-17
User manual & Downloads
Live Chat
* Key feature may different from Key Spec