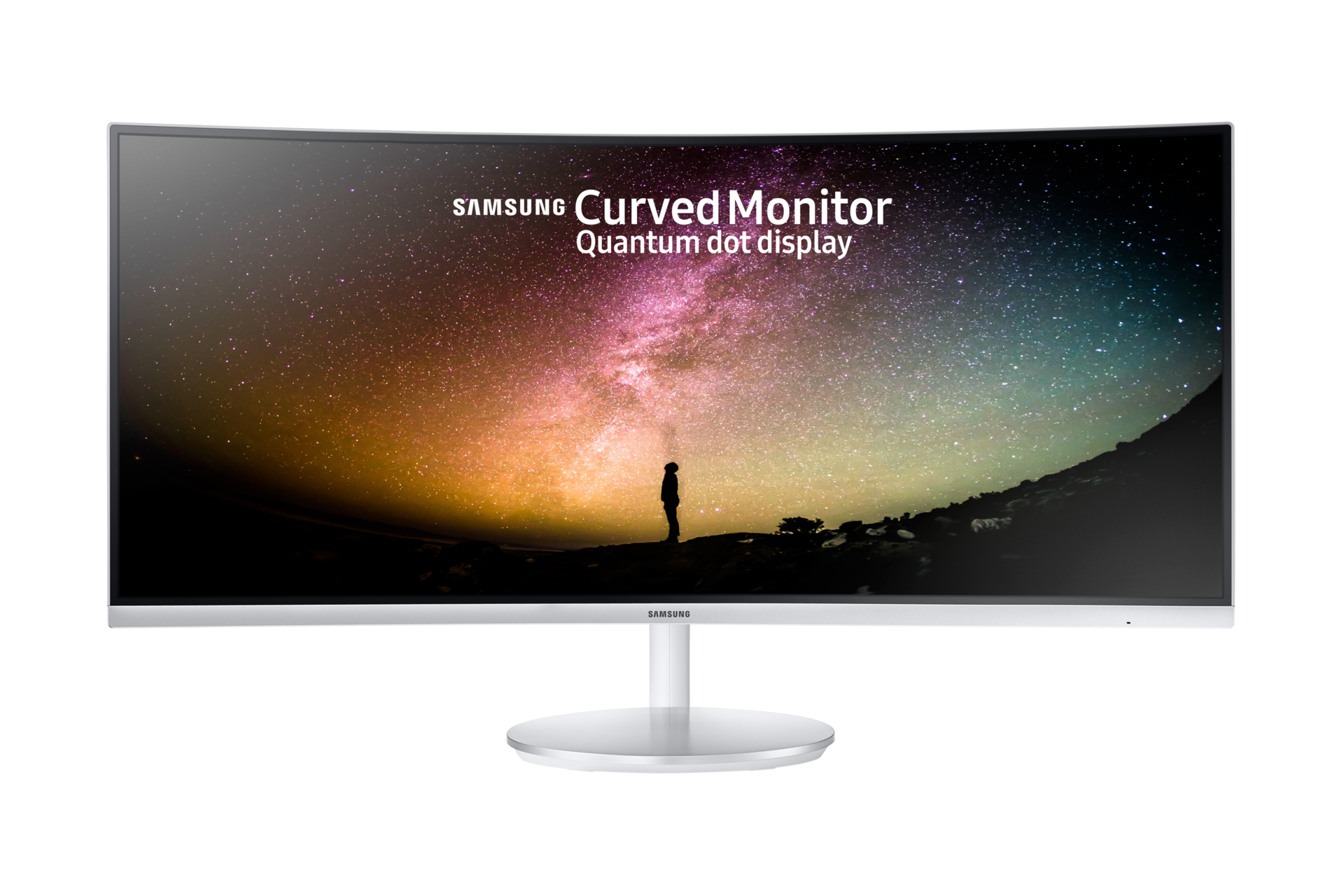 34" Premium Curved Monitor with greater viewing comfort
LC34F791WQEXXY
34" Premium Curved Monitor with greater viewing comfort
is rated out of
5
by
20
.
BUNDLE
300 cd/m²
Brightness (Typical)
3,000:1
Contrast Ratio Static
Multitask to the max on a single monitor
Forget about the inconvenience of dual monitors — with the 21:9 ultra-wide screen you can experience seamless multitasking on a single monitor. Samsung's Picture-by-Picture (PBP) function lets you connect two input sources using HDMI and DP while maintaining the original image quality. With Picture-in-Picture (PIP) you can resize the second image to cover up to 25% of the screen and position it anywhere.
30° screen curvature for an ultimate immersive experience
Whether you are watching blockbuster movies, designing, gaming or analysing spreadsheets, the 30° curvature of the screen provides a truly immersive viewing experience.
Ultra WQHD for incredible image detail and a wider workspace
Ultra WQHD enables a screen resolution of 3,440 x 1,440 — 2.5 times the pixel density of Full HD — that delivers razor-sharp images. The greater pixel density also creates a wider screen workspace, so you see more content at once without much effort scrolling and zooming when web surfing or viewing large files such as spreadsheets.
Quantum dot technology with 125% sRGB for more realistic colours
Supporting up to 125% sRGB colour space, Quantum Dot technology delivers colours that are bright, crisp, and natural — particularly reds and greens. And because every monitor is factory calibrated, you can be sure you always see accurate and life-like images.
1,500R

Aspect Ratio

21:9

Aspect Ratio

300 cd/m²

Brightness (Typical)

3,000:1

Contrast Ratio Static

3,440 x 1,440

Resolution

4 ms

Response Time
Rated

1

out of

5
by
Nothing but trouble
from
Only lasted 9 months
I bought this monitor on September 29, 2018. On June 26, 2019 it developed a column of dead pixels on the left side of the screen, and the bottom-right corner has started flickering. Before the blue line, the screen has been beautiful, something I've bragged about to my friends and family, and the ultra-wide form factor and picture-by-picture have done wonders for my workflow. Changing inputs, especially changing the the picture-by-picture settings is slow, and requires navigating through multiple levels of menus. Before the flickering and dead pixels, I thought this would be the only downside.
Date published: 2019-06-28
Rated

3

out of

5
by
Wracky
from
Overall very good... but not on all fronts
The pros: The ultrawide screen is very nice. The 1500R curve is awesome, and the colors/contrast are really nice and popping. I really enjoy it in every day usage. The cons: QLED isn't ready. We had the opportunity to try 4 of these screens, and they all have the same type of artifacts, although on some, it's really bad and on others it's hardly noticeable: Some colors display with horizontal patterns, where every other row will be slightly lighter/darker in a zebra pattern. The freesync implementation is lacking, and even the OSD warns for flickering, which it unfortunately does. Some gray pixel patterns make the monitor go SLIGHTLY darker sometimes. When the monitor is completely black, some deviations in the gray levels can be seen. We've returned one monitor that was really bad, and got it replaced with one that was acceptable, but they all showed these artifacts. Overall: I'm very happy with this monitor in every day usage. As long as I don't use freesync on "ultimate" mode, the other problems are not a big deal. But the screens have issues that they shouldn't have. There is just no 2 ways about it.
Date published: 2019-01-17
Rated

2

out of

5
by
Tvinn
from
Good Panel, but...
Bought this for 800€ about a year ag now and i both love and hate this display. The picture quality is excellent, it comes calibrated out of the box which is a nice plus. The 1500R curvature is very immersive and black levels are top quality. For the first half-year or so the only complaint is the stand (or actually the pivot mechanism) which is very "wobbly" with a gap of maybe 5°. I had it paired with a Nvidia card until this summer, and that was when I started to realize its real flaw. I got a more powerful AMD card (GTX980 --> Vega56) to take advantage of Freesync, but the implementation is really poor. Even with standard engine (80-100Hz) i get a lot of flicker, which is extremely annoying. Ultimate engine (48-100Hz) is completely unusable due to severe flickering. I´m not the only one with this issue as many reports about this problem can be found on various forums but Samsung seems to ignore this issue. I´ve tried every possible update, reinstall etc but Freesync is almost unusable on this monitor which is very bad for a display that costs $800.
Date published: 2018-11-05
Rated

5

out of

5
by
Atif Rehmani
from
Fabulous Monitor ... ;-)
My boss bought recently 3 monitors for us in the office and I am very excited because of I am graphics designer and what I want all my require thing like colours, resolution, wide etc. all are included in this model, Thanks Samsung
Date published: 2018-07-18
Rated

3

out of

5
by
The711
from
Don't buy this if you want to use free-sync.
PRO: Nice image quality beautiful design CON; The monitor only has 1 DP rest of them are HDMI. Black screen on DP with free sync Flicker screen on HDMI with free sync These are the known issues related to this product. If you want to use this for gaming, please search online for CF791 free sync issues before you make the decision.
Date published: 2017-12-23
Rated

5

out of

5
by
Anonymous
from
I love this monitor
I used to use three monitors now I only need this one. I use the monitor for both general use (internet, watching videos, occasional work) and for heavy gaming. I have yet to have a problem with the monitor. The picture and frame rate are great.
Date published: 2018-09-29
Rated

5

out of

5
by
damelloman
from
Amazing monitor
It's big and beautiful. I play games, do school work, watch tv/movies a little and it's just amazing. I'm a huge geek and love technology. Going from 1080 to 2k made my old video card subpar. I'm waiting for new 1100s to come out from Nvidia. I don't notice any ghosting. The refresh rate is great. Color/backlight is all amazing. The speakers are good for built in monitor speakers. If I had to complain about something I'd say the USB 3.0 cable for the hub is a tad short. I have my PC on the floor under my desk and it doesn't quite reach the monitor... but this is minor. I'd recommend it to anyone who doesn't mind spending money on high quality tech.
Date published: 2018-07-12
Rated

5

out of

5
by
FareSami014
from
This.... IS THE BEST MONTIOR I LAID MY EYES ON
It is just excellent! Everything feels so right and smooth Thanks Samsung!
Date published: 2018-08-18
User manual & Downloads
Live Chat
* Key feature may different from Key Spec