Samsungs new SUHD TV marks a monumental leap in picture quality
Apr 15. 2015
On sale May 1, 2015: See more, feel more with Samsung SUHD TV The new SUHD TV range from Samsung heralds a new era for TV with proprietary Samsung display innovation, stunning designs, and a more intuitive user experience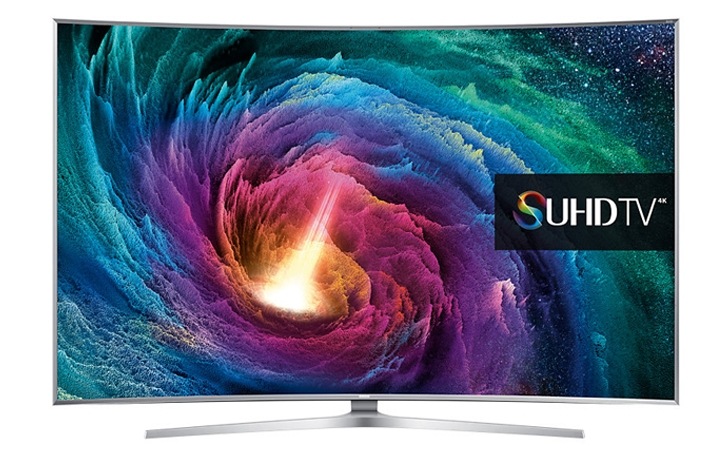 Auckland, New Zealand – April 15, 2015 – Samsung Electronics New Zealand has today announced the local pricing and availability for its 2015 home entertainment range of products, led by the SUHD TV – Samsung's new flagship TV category for 2015.
Heralded by critics globally, the UK's Trusted Reviews technology commentator website said Samsung's new SUHD TV is: "The biggest leap forward in TV picture quality we've seen in years".
On shelves in New Zealand from May 1, 2015 the SUHD TV offers more captivating colour, more revealing brightness and more striking contrast delivered by key technology features including:
Nano crystal colour technology – revealing a brighter, more true-to-life picture thanks to a wider range of colours made visible on the screen. Viewers can experience 64 times more colour expression than conventional Samsung TVs;
Re-mastering engine – producing darker blacks, elevated brightness up to 2.5 times brighter than conventional Samsung TVs, and a more accurate colour display;
Tizen operating system – providing users with quick and easy access to TV functions and their favourite video content; and
Minimalist and modern design – inspired by contemporary art and architecture, the SUHD TV delivers an immersive curved, yet stylish, viewing experience.
The number one selling TV brand globally for the last nine years, Samsung has been instrumental in catering to Kiwis who demand choice in their viewing options. Samsung smart TVs, including the new SUHD TV, have the largest and easiest-to-access range of content and internet streaming service apps available on screen than any other TV manufacturer on the market.
This year Samsung NZ will also launch Rugby Mode which allows viewers to stop, rewind, replay game highlights, zoom in on camera angles, and essentially be the referee in their own living rooms, just in time for the 2015 Rugby World Cup.
Head of Marketing for Samsung Electronics New Zealand, Mike Cornwell, says Kiwis will not have seen anything like the new SUHD TV before. "We are very excited by the arrival of this game-changing TV into New Zealand. No TV viewing experience can match the SUHD TV and we guarantee viewers will be able to see more and feel more of their favourite programmes and matches on our TVs," says Mike.
"The SUHD TV is a flagship breakthrough product for Samsung. The combination of nano crystal colour technology with our own proprietary software creates the ultimate in picture quality."
Samsung will offer three new series of SUHD TVs – JS9500, JS9000 and JS8000 – in six screen sizes from 55-inches to 78-inches.
Introducing superior picture quality and technology
Samsung SUHD TVs demonstrate groundbreaking advances in contrast, brightness, colour reproduction, and detail to deliver an overall superior picture quality experience.
The nano-crystal semiconductor transmits different colours of light to produce the highest colour purity and light efficiency available today, providing viewers with 64 times more colour expression than conventional Samsung TVs.
The SUHD re-mastering engineautomatically analyses the brightness of images to minimise additional power consumption. The engine can produce darker blacks, an elevated brightness up to 2.5 times brighter than conventional Samsung TVs, and twice the colour adjustment points for a more accurate colour display.
Sophisticated and improved curved designs
Taking cues from contemporary art and architecture, Samsung's curved SUHD TV screens are inspired by modern and minimalist designs to provide an attractive and immersive home entertainment experience.
The JS9500 model will feature Samsung's chamfer bezel design, adding more depth to the TV screen, and making the TV look like a piece of art. The JS9000 model has a soft, textured shirred design on the back, ensuring the TV maintains its stylish edge from any angle.
New Smart TV platform to make TV viewing easier
All of Samsung's 2015 TVs, including the new SUHD TV, will be powered by Tizen; an open-source platform that supports the web standard for TV app development. Tizen provides intuitive access, a more integrated entertainment experience, and more choices for content than ever before. Key features include:
Intuitive user interface – simplified to one main screen, the TV displays the most recent content and tailored content recommendations for a faster and simpler user experience;
Automatic recognition of Samsung smartphones – enabling viewers to share video content from Samsung smartphones to Smart TVs easily and also watch TV through compatible mobile devices;
Rugby Mode –– allows users to watch live games while simultaneously replaying highlights;– allows users to watch live games while simultaneously replaying highlights;
Briefing on TV – Samsung Smart TVs now act as an alarm, syncing with Samsung mobile devices to turn on and display important items such as the time, weather, and the upcoming schedule, with a large screen
The hub of the Smart Home – Tizen's compatibility with other devices establishes Samsung's Smart TVs as the control centre of any Smart Home.
New digital audio range
Samsung New Zealand also unveils a new range of audio products including the WAM7500/7501 speakers which will be released later this year and an expanded lineup of Curved Soundbars that match Samsung's Curved TVs (available May 1, 2015).
Unlike conventional speakers that project sound in a single direction, the WAM7500/7501 delivers an omnidirectional sound experience. This breakthrough approach to audio comes through the use of proprietary 'Ring Radiator' technology which allows sound to flow in a 360-degree radius.
Samsung also announces a new range of Curved Soundbars. The flagship HW-J8501 Curved Soundbar will offer enhanced sound quality with its 9.1 channel speakers, thanks to a central speaker and additional side speakers situated at both ends. This will further intensify the immersive experience of any Samsung Curved TV by delivering a wider sense of surround-sound for the New Zealand lounge room.
For more information on SUHD please visit: www.samsung.com/nz/suhd and for information on any of the new products announced, please visit: www.samsung.com/nz/tv
About Samsung Electronics Co., Ltd.
Samsung Electronics Co., Ltd. inspires the world and shapes the future with transformative ideas and technologies, redefining the worlds of TVs, smartphones, wearable devices, tablets, cameras, digital appliances, printers, medical equipment, network systems, and semiconductor and LED solutions. We are also leading in the Internet of Things space through, among others, our Smart Home and Digital Health initiatives. We employ 307,000 people across 84 countries with annual sales of US $196 billion. To discover more, please visit our official website at www.samsung.com and our official blog at global.samsungtomorrow.com
List
No Prev Page
No Next Page