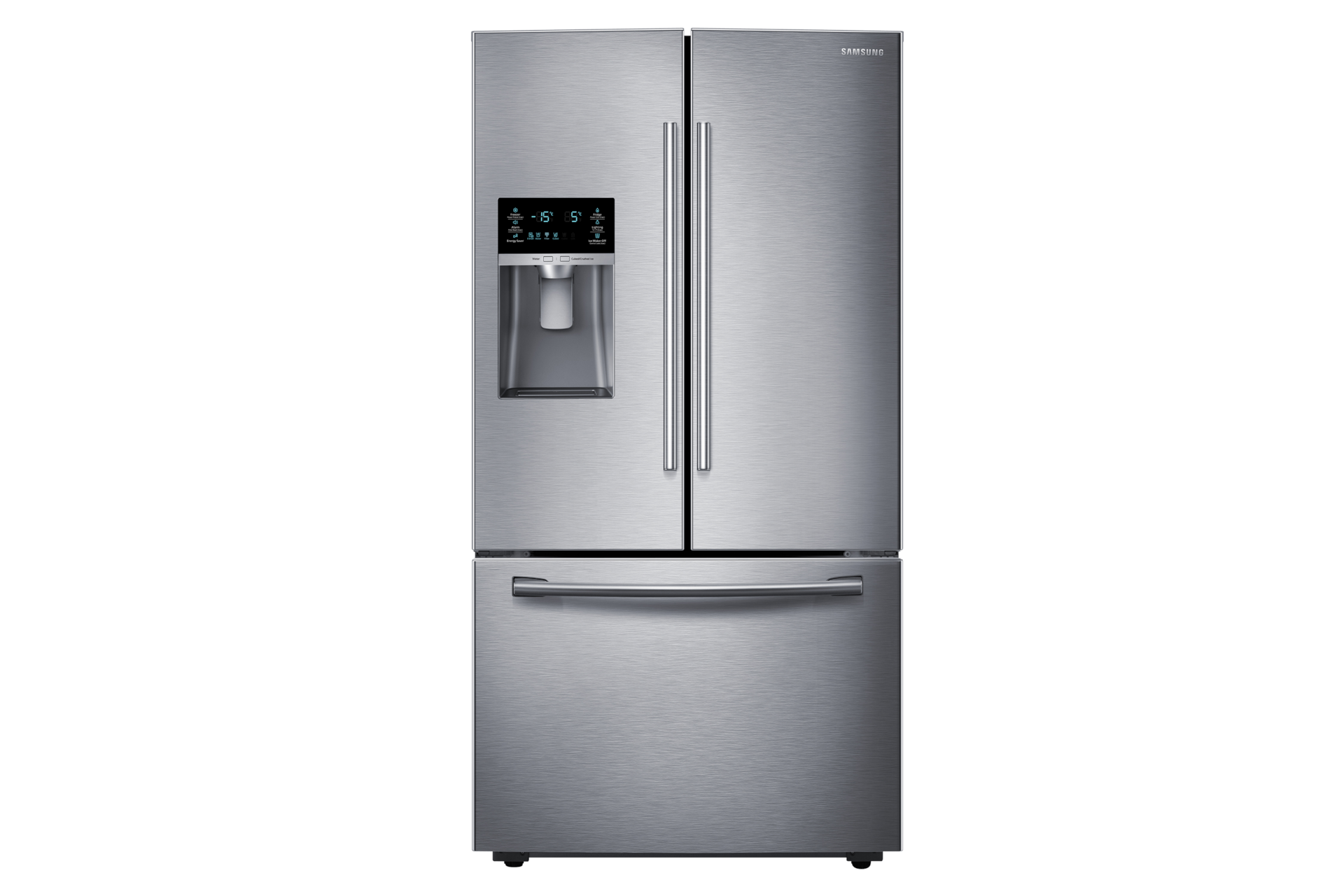 653L French Door Fridge (SRF653CDLS)
RF23HCEDBSR/SA
653L French Door Fridge (SRF653CDLS)
is rated out of
5
by
462
.
Twin Cooling Plus™
Bright LED Lighting
Plumbed Ice & Water
Digital Inverter Compressor
Counter Depth French Door Refrigerator with easier accessibility
Samsung's sleek new counter depth refrigerator incorporates flexible food storage with the convenience of a large open space.
Keeps food fresh
Twin Cooling technology in this refrigerator and freezer allow each compartment to maintain its ideal temperature, helping to keep your food fresh and avoid the mixing of odours.
Faster ice production in less space
The Ice Master opens up more shelf space for taller groceries such as bottled beverages.
LED lighting — more brilliant, more energy-efficient
Energy-efficient LED lighting placed on three sides of the interior makes it easier to find items in your fridge.
Wide open CoolSelect Pantry
The spacious wide open CoolSelect Pantry lets you store food at its optimal humidity level.
Designed to give you the space you need
The interior design lends a cool air of sophistication with spill proof tempered glass shelves, while increased height between shelves accommodates taller items. Two large drawers — with clear fronts for easy visibility — offer more usable space than many other refrigerators. Deep and wide door bins hold bulkier items.
908  

Net Width(mm)

1,777  

Net Case Height with Hinge(mm)

788  

Net Depth with Door Handle(mm)

138  

Net Weight(kg)
Rated

2

out of

5
by
Buyicebythebag
from
Really Tired of the Ice Maker
This is decent looking and convenient refrigerator. The ice maker, however, is nothing but problems. It seems to freeze the ice dropping mechanism and quits producing ice. The only fix I have had luck with is using a hair dryer to melt the ice and let it clear. The ice maker can't be removed easily for thawing purposes. The ice drawer can't be reached by hand, so the only way to make it work is pull it all the way out. I find that it's easier to buy ice from the store than to deal with this piece of junk. It's especially bad in higher humidity than during the winter.
Date published: 2018-07-23
Rated

1

out of

5
by
Scd0808
from
Buyer beware!! Do not buy!
I bought this maybe 2 years ago and it freezes up and stops making ice and then you need a hair dryer to melt it to get it to work temporarily! It also leaks water under the coolpantry drawer which then freezes into thick sheets of ice and freezes the wheel to open it. If you manage to pull the drawer open it'll dump sheets of ice and water all over your floors! The water will also drain into your coolpantry drawer soaking all your food in it as well! This is not a new problem!! Lots of complaints regarding these issues with the French door refrigerator and Samsung will not fix the issue!!!
Date published: 2018-07-15
Rated

1

out of

5
by
Angrycostumer
from
Ice maker freezes over
I will never buy a Samsung Refrigerator ever again. The ice maker freezes over and water always leaks out of it. Samsung should recall the ice makers and make it nice for their customers.
Date published: 2019-02-17
Rated

1

out of

5
by
LC462
from
LEAKS AND HAS CONSTANT ICE JAMS
Repeated ice build up in ice maker and it leaks water out of the ice dispenser door constantly. The catch tray fills up with water and then overflows all over the floor and door. They have been out to "fix" it 5 times and it still does the same thing! Buy a different model!
Date published: 2019-04-14
Rated

1

out of

5
by
RJfromtheNJ
from
The design has numerous flaws
Upon first glance, the refrigerator looked great. However, soon after, we began noticing little flaws in the design of the fridge. The top shelf is fixed to the ice machine on the left, leaving the top shelf unadjustable. The middle shelf is limited in how high it can get also due to the ice machine which leave the bottom shelf slightly too low for larger jugs such as milk or bottles of soda. The only good spot to keep the is on the door which does not have enough space for more than two bottles. When closing the doors, frequently, the left door will stay just a little open. This is enough for cold air to flow out of the fridge, but not easy to catch if you are looking directly at the fridge. The alarm on the door does not catch this, and we've returned to the kitchen to find the temperature in the 40's or 50's Another small oversight on our part, was the lack of a rack for a butter dish on the door. I know, its the little things, but they all add up. The next issue we have, is the lack of clearance for putting food in the top rack of the freezer. When we want to put a carton of ice cream in the freezer, we need to open the refrigerator doors to give us enough room to squeeze the carton in to the freezer.
Date published: 2017-04-24
Rated

1

out of

5
by
LaurenMinj
from
If I could give less than a 1 star.. Ice maker!!
The ice maker has been nothing but problems. It freezes up daily. Dethaw it to get the ice to work each day but now even that doesn't work.. I am beyond frustrated and all of the issues happened a day after our 3 year warranty expired. It is not a cheap fridge, so you'd expect the darn thing to work!
Date published: 2019-03-24
Rated

1

out of

5
by
SarahBC
from
This refrigerator is junk!
My refrigerator was manufactured in September 2015. Here we are in February 2019, and here is the list of repairs. Ice maker not working (class action lawsuit there), freezer handle broken two times, refrigerator fan broken, and now it is leaking coolant due to the poor quality aluminum based coils. Do not buy!!!
Date published: 2019-02-06
Rated

1

out of

5
by
Bruno03
from
Lots of capacity but not practical
Icemaker is in top of frig compartment. Unless you dispense ice every few hrs., the ice will freeze together and won't dispense well and you get a lot of 'crushed ice' with the cubes. Frig roomy but not well compartmentized. Have to move or dig around items to get to most things. Have to open both doors to open wide bottom tray.
Date published: 2019-02-01
User manual & Downloads
Live Chat
* Key feature may different from Key Spec