Why is there no sound in Sound & Shot photos from my Galaxy S4?
Last Update date :
Nov 23. 2020
* Please note, this section is designed to give you basic product troubleshooting information, also refer to your user manual for more information.
Sound & Shot allows you to record up to nine seconds of audio with a still image. It adds another layer of excitement to help you relive and share every moment of each picture much more vividly, thus, enriching pictures by adding background sounds for few seconds.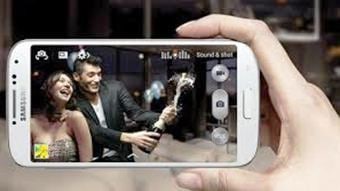 (Sound and Shot feature)
However, in using this feature, please keep in mind the following:
■ Shot and sound photos can only be played back with Audio on Galaxy S4 devices (or Android JellyBean 4.3 based phones). The sound in Sound & Shot photo will not work in other devices.
■ You can set the sound recording time before or after shooting. When you click the arrow in the preview screen, you can choose from automatic or manual. If you select t automatic, it will record sound for 9 seconds before shooting. if you select manual, it will record sound for 9 seconds after shooting . Check these settings to confirm the sound is set accordingly.
■ If you transfer the photo via Message, the sound is not supported and the image is only transferred.
If you transfer the photo via ChatON, you can transfer via ChatON menu through 'Share via' in gallery. The photo is transferred without the sound if you directly transfer from ChatON application.
■ Although, you can transfer between Galaxy S4 devices, the original photo must be transferred without editing to play the sound which is included in Sound & shot photo. So, when you transfer Sound & shot photo, use Bluetooth, NFC or Wi-Fi direct.
Note: Sound & Shot function can be supported only in Galaxy S4 devices at this time. So if you transferred Sound & Shot files to other device (not galaxy S4), the sound is not played. (will be supported only between Galaxy S4 devices).

■ The audio is recorded after (or before) the photo is taken. You can view and edit the photo in Gallery in your S4. However, if you copy the photo to your PC, it will be a normal photo without sound.
You can use this feature after opening the camera app. Just change the shot mode to Sound & Shot. Follow the steps below to enable Sound and shot feature on your Galaxy S4:
Step 1: On the Home screen, tap Apps.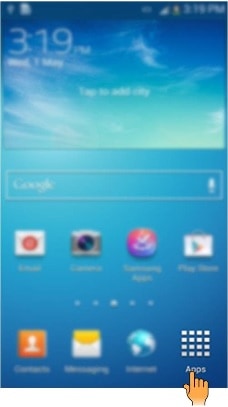 Step 2: Tap Camera.
Step 3: On the Camera screen, tap Mode as shown below.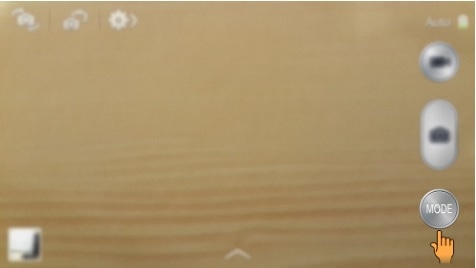 Step 4: Scroll on different modes, then select Sound and shot.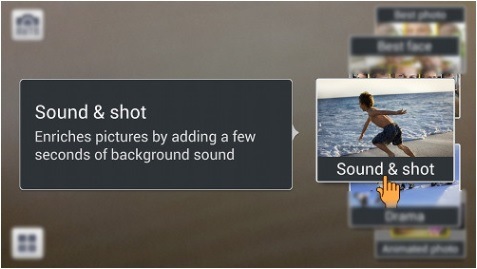 Step 5: Sound and sound is now enabled as shown below.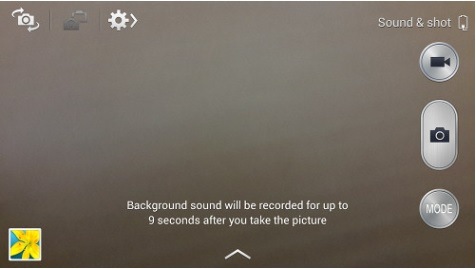 To view or share a Sound shot, open the Gallery app, tap on the photo indicated by a musical note icon as shown below.
Note: A user must covert a Sound Shot to a video or share it as an ordinary photo with no audio, if their recipient doesn't own a Galaxy S4.
** "To aid us in creating better support content for you, kindly complete the survey below if your query was resolved. Your rating and comments should only be based on the above content.

For all other queries or further technical assistance, please call Samsung Customer Care on 0800 726 786 or Live Chat with our Technical Team online, services are open 24 hours, 7 days."