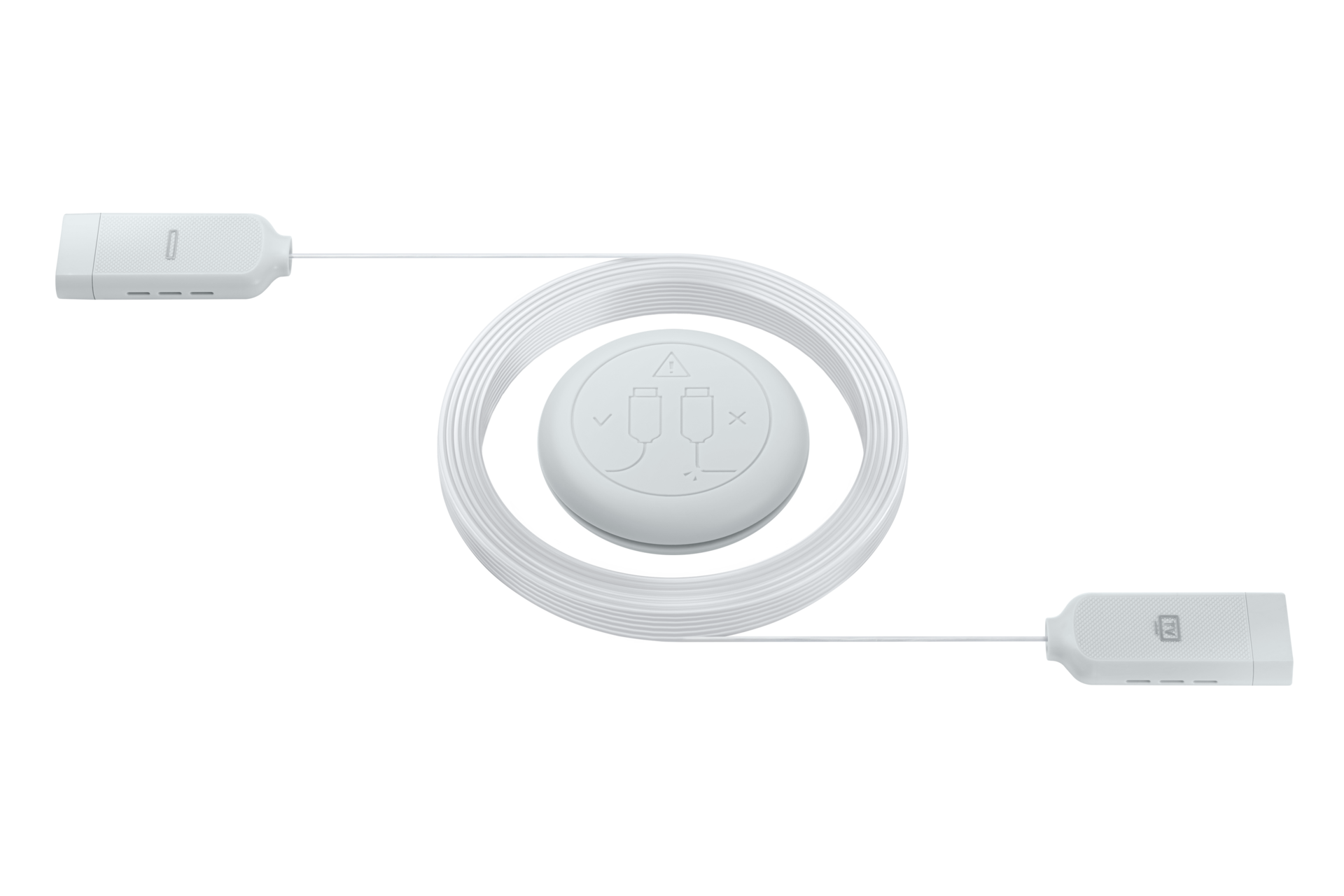 VG-SOCM15 Optical Cable
VG-SOCM15/NZ
VG-SOCM15 Optical Cable
is rated out of
5
by
32
.
15 metre Clear Connection*
Make better use of your space. With a single, nearly invisible optical cable, you can connect all devices without any messy tangled wires.
* The 'Clear Connection' refers to a single, transparent optical cable connected to the One Connect Box integrating external device cables, but it does not refer to the power cable of the TV or cables connected to other devices such as sound bar.
No clutter
Clear away the clutter. Take advantage of the long, 15 m optical cable to put your connected device nearly anywhere in the room.
The secret of the cable
Get lag-free entertainment. The single slim optical cable ensures ultra-high performance, delivering fast images, video, audio and IR signals
Stunning form and function
Elevate your décor with a range of TV accessories.* They are stunning from any angle and will fit beautifully with your living space.
* TV accessories sold separately.
Rated

1

out of

5
by
jbclamence
from
Terrible
I shared exactly the same experience as some users on this forum. It suddenly stopped working, one month and a half after having received the TV. The y claim it is damaged, but I don't see how it was working in the evening and not any more in the morning?
Date published: 2018-05-08
Rated

1

out of

5
by
chuck e
from
One Connect...and one only
This OneConnect concept stinks (a junction box that functions like an HDMI switchboard with Arc-like smarts but regrettably functions as the TV's dedicated driver and peripheral brain connected by a proprietary fiberoptic umbilical cord with no room for cleverly extending or piggybacking to my existing prewired walls with the clever use of baluns, etc. Not to be snob but my DIY days of creatively running exposed wires along baseboards, under carpets etc, are simply over. I've moved on to a world where wires aren't exposed , even wires that they consider "invisible" wires, puh=leez. With an AV closet far from the final destination TV nooks all has been slickly prewired and, I thought , future-proofed for; many generations of TV's to come. designed to be hidden and well protected in the walls.where wires should be, now thats "invisible". With this setup, the TV can only be connected to the brain via this one cable and I aint buying their extra long $200 proprietary accessory extension cable to run all the way to the av closet. Like a college kid running a spool of 12 g speaker wire under the bed, over the doorway, behind the sofa, round the toilet, with the final unused length coiled in the plant for his first set of stereo speaker incense-god monolithic speakers, I'm getting that vibe again as I realize that I'm gonna have to just leave the brain next to the TV and have another switchboard in the av closet, and keep the ROKU after all since the smart part of the TV has to stay at the end of the chain next to the TV doing me no good for all my peripherals. . ut, I for one am not thrilled by this setup, nor did I understand the limitation when purchased One Connect....Thats right...one and only One way to connect to this TV.
Date published: 2018-11-28
Rated

1

out of

5
by
Anonymous
from
Way too delicate
Wish I had read some reviews before I bought my tv. Everything worked great for about 6 months then I noticed that my tv would start to flicker and eventually reset. I didn't know what the problem was for the longest time and just thought that I was sold a lemon. Did some investigating and discovered that other people were having the same problem. Turns out that this "revolutionary" cable is quite brittle. I had bought this for my xbox one x, but I cannot even enjoy that anymore since I never know when the video feed is just going to shut off completely. This cable is way too expensive to simply just replace. Now I'm stuck with a really expensive tv that doesn't work properly.
Date published: 2018-11-04
Rated

1

out of

5
by
Vivek
from
Week one connect cable
Love how only positive reviews of this cable are copied from the post which look like written by employees. I have seen nothing but negative reviews every where else of this cable of how it break so easily being so expensive. It's been not even a year and it is broken with normal wear and tear. You guys don't have decency to offer a replacement to the customer a better product if you have sold them something which will break. Also you sell the same to them so expensive to further rip them off. Shame on you samsung. This is the first time I got samsung and I regret it. I was happy with Sony tv's.
Date published: 2019-03-12
Rated

1

out of

5
by
Catowner
from
The cable is broken
It is too fine. Is there an option to replace it with something the cat can't chew threw
Date published: 2019-02-03
Rated

2

out of

5
by
personalife
from
Very delicate connector! Can break if slightly pinched or bent beyond a certain angle
The cable is expensive because it's made of tiny optical wires instead of traditional copper wiring, giving it it's invisible look. Unfortunately the QLED one connect box does not have a wall mount if you are shooting for a wall-mounted solution - if you try to mount the one connect box vertically, make sure that the cable does not bend from the connector somehow (eg, because the box is mounted vertically like from a stand, the cable could potentially be hanging down from a higher place to the TV if you mounted it like that, meaning the cable would come to a slight bend). Sharp bends beyond its wound up configuration will destroy the cable. I'm unsure at this moment in time how to protect the cable, but Samsung should include some kind of cable guard coming from the ends of each connector so that it can properly curve the cabling in a vertical configuration.
Date published: 2017-07-30
Rated

1

out of

5
by
Sheridan
from
Far too easily damaged - too expensive to replace!
I purchased 2 months ago (with 'The Frame' TV) and having not moved anything it some how decided was going to stop working. The assumption is that I had damaged it but I had not touched anything between one evening and the following evening. The cables are horrendously expensive and the thought of having to buy an even longer cable (can only buy longer cables that that supplied) that will likely be damaged again fills me with dread! Good tv but a more robust cable needed - just make a robust white one - it isn't invisible so why bother pretending??
Date published: 2017-11-05
Rated

1

out of

5
by
LastAngryMan
from
Insane design decision.
Like many, I have already sorted out my cabling problems by running them inside the wall. But this cable is so fragile that I would not dare run it through the existing channel in case of damage. A single physical HDMI port on the TV would have alleviated this issue! And 200 pounds for a simple toslink optical cable with propriety connector?!? Madness. I won't be buying a Samsung because of this "feature", which is a real shame. Plus, the need for a power cable pretty much makes the "invisible" claim redundant for those who are actually buying it for the stated purpose, I'd imagine. Silly.
Date published: 2018-09-03
* Key feature may different from Key Spec