Beautiful in every moment
* Actual Product may differ from image shown. Please see our product gallery.
Samsung's most advanced TV is now a beautiful picture frame, turning your space into a gallery and bringing your life even closer to the incredible world of art. The Frame turns convention upside down and elevates your space with style and feeling.
Real frame design that goes beyond TV
Customise to your style
Customisable Bezel
The choice is yours when it comes to The Frame from Samsung. Pick the ideal customisable frame for your space, taste, or artwork - magnets make it simple to attach and detach for a different style.
* Each customisable bezel is sold separately.
Change the look with snap-on customisable frames
Hangs like a real frame
Slim Fit Wall-Mount
Installing The Frame is simple and quick, and you can just tilt it sideways, back, or forward for the ideal view. Gorgeous from all sides, it fits perfectly in your space.
Adjust 6° left or right to get it beautifully level and tilt top and bottom for the ideal view
* Slim Fit Wall-mount sold separately.
** Measured from rear end of the TV, the gap may differ based on the installation and wall type.
*** A small gap between the wall and TV may occur if wall is not 100% flat or is constructed off-angle to the floor or if installed incorrectly.
**** The actual angle when tilting may vary by product size.
Keeps the view clean
One Clear Connection
Make better use of your space. With a single near-transparent cable you can connect external devices without any messy tangled wires. Connect stylishly with The Frame TV.
The Frame TV is hanging on the wall and is using Samsung's One Clear Connection to neatly hide the cables, leaving a clean space with no clutter.
* Devices must be connected to One Connect.
** Compatible devices only.
The slim, One Clear Connection connects every device to the TV through the One Connect Box. That lets you place connected devices further away, so you can use the space to upgrade your home décor.
Transform your room into a gallery
Stand Options
Think different. Put The Frame anywhere you like with various TV stand options that match you and the style of your interior.
* Based on region or model, the Studio Stand may be sold separately.
** Studio Stands are compatible with 55"/65" The Frame TVs
*** The Frame is only available with VG-STSM11B.
What's in the Box
All Inclusive Slim Fit Wall-Mount and Stand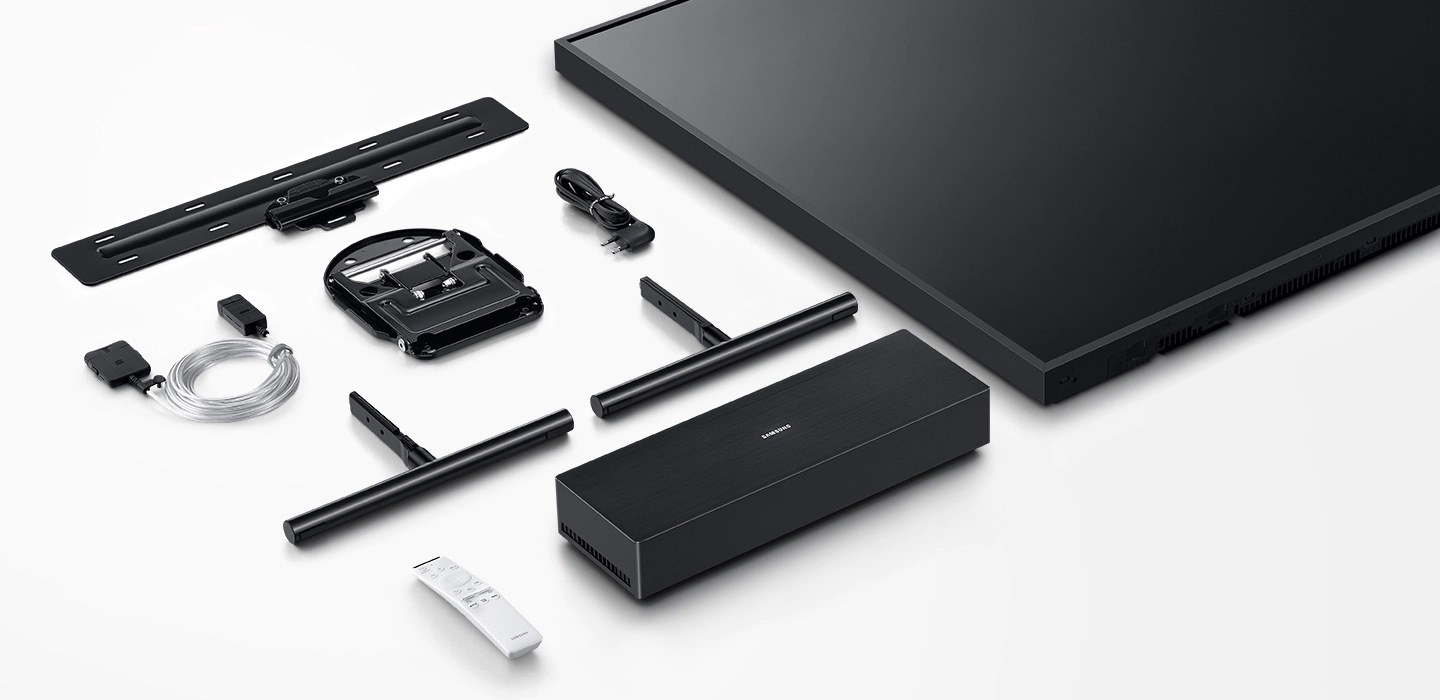 * The appearance specifications which do not affect product performance are subject to change without notice.