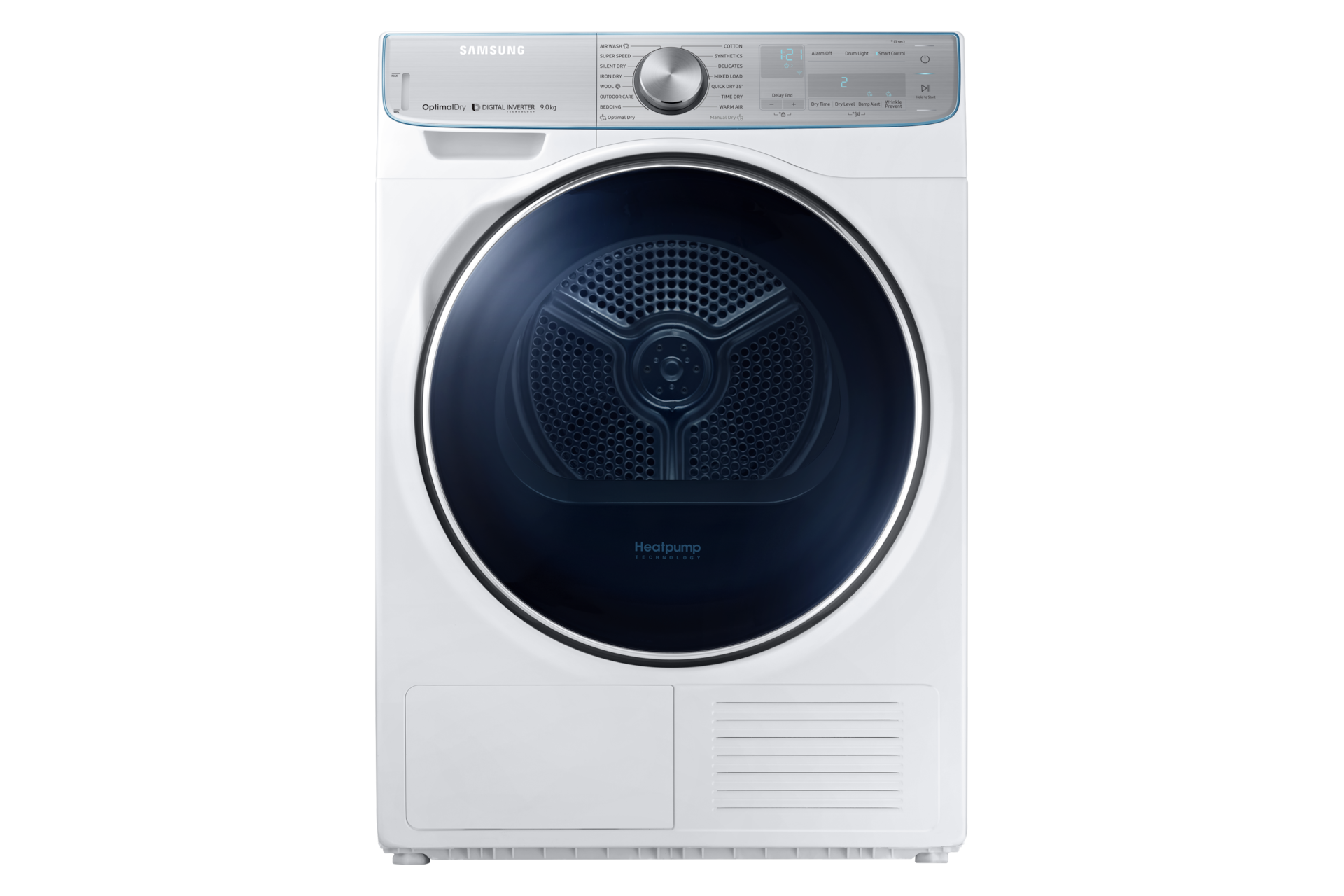 9kg Heat Pump Dryer with Quick Drive (DV90N8289AW)
DV90N8289AW/SA
9kg Heat Pump Dryer with Quick Drive (DV90N8289AW)
is rated out of
5
by
6
.
Heatpump Technology
Q-Rator
AirWash
Filter Clean Alarm
7 Star Energy Rating
Heatpump technology offers a more energy-efficient, cost-effective and gentle way* to dry your clothes.It has a 7 Star energy rating, as it uses 'refrigerant' instead of electricity to heat the air and recycles air to avoid wasting energy.
* Tested in accordance with IEC 61121:2013/8kg Wash load/Cotton Cupboard with Heatpump (DV80F5E4HGW) vs. without Heatpump (DV80H4100CW). Individual results may vary.
Intelligently dries
Optimise your drying performance effortlessly. OptimalDry uses 3 sensors to help achieve the best results. It monitors the humidity and adjusts the drying time, so laundry is ready quickly and efficiently. This also helps reduce wear to clothes.
Dry in 81 minutes
Get clothes clean and ready to wear in just 2 hours. The Super Speed course can dry a mixed load of cotton and synthetics in 81 minutes*. And using a Super Speed washing machine you can wash and spin-dry clothes in 39 minutes*. So garments can be washed and dried in 2 hours.
* Tested on an IEC standard load of 3kg.
Less disturbance
Do your laundry without disturbing neighbors or waking children at night. The Silent Dry design has an integrated noise reduction system. It includes sound absorbing materials and an algorithm that optimises the spinning speed to minimise noise. As a result, it has a low noise level of just 60dB.
Deodorise with air
Refresh your clothes without washing, scrubbing, or using detergent. Air Wash technology deodorises your garments and bedding, so they always smell fresh. Unpleasant odours are removed using only super-hot air.
Intelligent drying
Laundry Recipe
Use your dryer more easily and effectively. The Q-rator smart management system* enhances performance using data from user interactions**. 'Laundry Recipe' recommends the best drying cycles***. 'Laundry Planner' optimises your daily schedule****. 'HomeCare Wizard' enables remote troubleshooting.
Intelligent drying
Laundry Planner
Use your dryer more easily and effectively. The Q-rator smart management system* enhances performance using data from user interactions**. 'Laundry Recipe' recommends the best drying cycles***. 'Laundry Planner' optimises your daily schedule****. 'HomeCare Wizard' enables remote troubleshooting.
Intelligent drying
HomeCare Wizard
Use your dryer more easily and effectively. The Q-rator smart management system* enhances performance using data from user interactions**. 'Laundry Recipe' recommends the best drying cycles***. 'Laundry Planner' optimises your daily schedule****. 'HomeCare Wizard' enables remote troubleshooting.
* A Samsung application account is necessary and available on Android and iOS devices. A Wi-Fi connection is required. ** Stores user data, preferences and usage patterns to suggest the most useful options. *** The user will be solely responsible for any consequence(s) that may result, including but not limited to any damage or harm caused by incorrect information provided by the user. **** The recommended drying cycle is only based on time and may not be appropriate based on the type of fabric or stain level of the articles being dried.
Easy maintenance
Maintain your dryer more easily and optimise the drying performance and safety. An innovative Two-in-One Filter has a two-layered mesh filter. So there's no need for a Heat Exchanger filter, making it easier to maintain. Two alarms also remind you when the Filter and Heat Exchanger need cleaning.
Easy water tank check
Check how much condensed water has been collected much more easily. A Water Tank Indicator is a simple gauge that shows the amount of water that has been extracted from your clothes. You can quickly see if the water tank needs emptying before you start a load, so the dryer won't stop unexpectedly.
Eliminates bacteria
Worried about the bacteria on your clothes and other items? The Sanitize cycle can sanitise both dry and wet items* without affecting the drying performance. It eliminates 99.9% germs and bacteria. So you can sterilise your garments, household linen and even children's toys.
* 2kg dried laundry or 4kg wet laundry.
Choose from 3 modes
Save money or get your clothes dry faster. Simply select the Dry Mode that suits your needs. There is a choice of 3 modes: Normal, Eco and Speed. Eco mode uses a lower temperature, so it consumes less energy* and reduces the risk of heat damage. Or select Speed mode to get your clothes dry faster*.
* Tested using the EU Energy Standard (EN61121).
9.0 kg

Drying Capacity (kg)

600x850x600 mm

Physical specification

54 kg

Net Weight
Rated

5

out of

5
by
The Daddy 2000
from
Stylish, smart and great energy saving
Firstly Samsung have not cut back on style. It is sleek and modern looking. The 9kg is a real bonus though you may still want to put 1/2 loads if time is a concern. Though it can detect if some items have tried and therefore you can take those out before the cycle ends. The A+++ energy rating is great though possibly it isn't as fast as the Zanussi I used to have I think it is gentler and seems to generate less lint. The water collector at the top is a good feature as is the light. I wish the water level was a little clearer though my old device had none so still a bonus. I wasn't convinced about the Smart element initially but being told to my phone it is "ready" is great. I mainly used mix option which meant the non cotton items which dry quicker could be extracted 3/4 through the cycle. I liked the favourite option too which makes life easier for the less technical user. It is actually very easy to use. The lint double filter will no doubt increase the life span of the drier. It did make it candyfloss like and on occasions stubborn to remove. Be good to have a scraper tool to assist there. The warm air clean was good for those clothes which have been sitting in drawers for a season and much quicker than washing. There was a silent dry but to be fair the device was extremely quiet. The extra hour means I might not use that often. I did try some sodden clothes it did struggle to dry them on one cycle. I did use the bedding feature but not sure what it did different. They did come out fresh. I hadn't considered drying trainers but the rack option is a great bonus. Overall I do recommend this product. The price bracket is a little steep but combined with the washer not only look fab but do have really useful extras.
Date published: 2018-08-10
Rated

1

out of

5
by
Genevieve
from
Worst appliance i have EVER had.
Purchased this 28th Oct 2017 it has been " repaired" 3 times and sadly the last time we were told nothing was wrong with it. But if the dryer is not drying and it is related to the heat sensor in the door then it is built unsuitable and unfit for what it is designed for. I sopke to a few samsung staff who informed me this is how the dryers are designed to preform they will dry items 80% i needed to repeat this to her because it sounded unbelieveable but made my problems with this appliance make sense. This dryer turns itself off after 5-10mins and that means a load can take hours to dry to " 80%" because it is always stopping. I am going to be pushing for a refund or replacement although i want my washing 100% dry! I will not have an appliance in our home that is designed defective. I am sorry but feature, preformance, design, and value will be low because it does not do what i purchased it for which was to dry washing but also be able to dry our largest item specifically duvets inners.
Date published: 2018-11-14
Rated

5

out of

5
by
starsandthunder
from
Fantastic, futuristic tumble dryer
I received this tumble dryer from Samsung for product testing purposes - and boy I am glad to be using it! Before even using the machine, the first great thing is how it looks. It has a large door and very modern appearance - and brings a touch of class to a kitchen or utility room. There are so many features. Of course, it has the usual cycles that you would expect for cottons and synthetics. But it also has special cycles for bedding and my personal favourite - Air Wash, which is perfect for refreshing clothes that have only been worn for a short amount of time and don't warrant a full on wash & dry. It has a wonderful digital display and it is easy to see how much water is in the tank, meaning use and maintenance are easy. Another great feature is the Smart technology it uses. I can control the dryer from my mobile phone; no more wondering how long the cycle has left to complete as I can switch it on and check the timing from my phone. The 9kg capacity is brilliant, especially when drying towels. I have even trusted this tumble dryer on some of my most delicate items. I am not necessarilly recommening you do this as it goes against the instructions provided with the machine, but I successfully dried silk tops with sequins; the machine cared for them very well indeed. Yes, it is expensive but I think it's a fantastic dryer that feels like it will last for many, many years. And with the A+++ energy efficiency rating, what's not to like?
Date published: 2018-08-14
Rated

5

out of

5
by
davewo
from
Amazing Tumble Dryer
I received this tumble dryer from Samsung for product testing purposes and very glad to have got it. It replaced a very old one that we had so this was definitely a big upgrade. It is much quieter than the one it replaced and also does an excellent job of drying things quickly (the main purpose of a tumble dryer!). One of my favourite things about it is the size of the drum which means we can fit loads of clothes in it, which is a very useful when you have 3 children! It has a good amount of programmes you can use depending on the clothes that you are drying and also very helpfully it is integrated with the SmartThings app which will lead you to pick the right programme. Using the same app, you can remotely view how long is left on the cycle which is helpful for us as the tumble dryer is in a utility room/garage so can be difficult to hear. I couldn't think of anything that this tumble dryer could do better, it looks great, it is efficient A+++, has a light in the drum, dries clothes quickly and you can control from your phone. What more could you need from a tumble dryer!
Date published: 2018-10-16
Rated

5

out of

5
by
Rikvik
from
Superb dryer
I received this tumble dryer from Samsung for product testing purposes. When we received our Samsung tumble dryer, I was delighted. Although our previous dryer was still functioning, I found it frustrating that despite whatever setting I used, the temperature always seemed high. It was also noisy, the side of the machine vibrated. Well, this dryer is a star! I can control the temperature! I can dry delicates without worrying about damage, I can dry sheets and shirts quickly. I love the flexibility of the features. One new feature to me is the drying rack. I have used it a number of times and it does a fantastic job. We have even used the mobile phone app to determine the optimum cycle for a load – this is really helping me to get to grips with the settings but is also great for other members of the family who are not so familiar with the machine. It is also super quiet which is fabulous. Now, a few points for possible improvement. As there is flexibility with the temperature, why not make it easier for 'casual' users – e.g. our children. If the dial display had different colour lights for the setting, it would give a quick visual indication if they were putting their favourite T-shirts on a high temperature and then find them two sizes too small! Maybe blue for cool, white for medium and orange for high. I would certainly try another Samsung product and I have already raved about this dryer to everyone I meet – even at work!
Date published: 2018-09-08
Rated

5

out of

5
by
stevemp
from
A dryer that works and an app that helps
Ok first off I received this tumble dryer from Samsung for product testing purposes. Now my household has many Samsung products they have all been great. So onto this dryer. Quite simply a marvel of a dryer and finally one that matches the load weight as our washing machine. With a busy household that is a must. but also the fact that you can control the machine via the Smart things app and more so if you have a Samsung smart phone, Bixby integrates this app and is so simple but also a time saver telling you when the load has been completed. The dryer is easy to connect to the home wifi network and with all the settings on the app can mean ease of control of the machine. It also has a "recipe" guide to select the best programs for the items you may have. The operation is very quiet and with the clothing we have put in have come out perfect but did find the towels, if put on the highest setting, a little too dry. But that is a trial and error no matter what you use. In time you will find the perfect settings. Now while this has many programmes to use, I found two to stand out that as a 2A 2C family certainly is useful. The Air Wash Uses warm air to refresh items that may have been stored in the wardrobe or perhaps, as in my case, a shirt that could be refreshed. This is great feature and certainly one to use for a winter morning. The Optimal Dry feature uses sensors to measure moisture levels, which then adjusts the drying time and having had this on our other machine, it certainly works and for us they have improved this with loads being saving around 30 minutes on our normal loads. Quite simply one of the best dryers we have had and cannot see any reason why we would go elsewhere.
Date published: 2018-08-09
User manual & Downloads
Live Chat
* Key feature may different from Key Spec