9kg Heat Pump Dryer (DV90H8000HW)
DV90H8000HW/SA
9kg Heat Pump Dryer (DV90H8000HW)
is rated out of
5
by
28
.
Heat Pump Technology
Filter Clean Alarm
Instant Water Check
Large Crystal Blue Door
6 Star Energy rating
The Heatpump technology within the DV8000 offers a very efficient and gentle way to dry your clothes. With a 6 star energy rating, it uses 'refrigerant' instead of electricity to heat the air. So it consumes significantly less power than conventional condensing dryers* and also improves overall performance by recycling air to avoid wasting energy.

*Compared to Samsung condenser dryer DV80H4100
Crystal Blue Design
Designed to look as good as it functions, the Samsung Heatpump Dryer DV8000 features a translucent Crystal Blue door, created with Samsung's unique Crystal Gloss designed to refract light to create a delightful spectrum of colours. It is carefully designed to enhance the look of the machine's immaculate exterior, so it will blend seamlessly into any modern household.
Big capacity. Less laundry time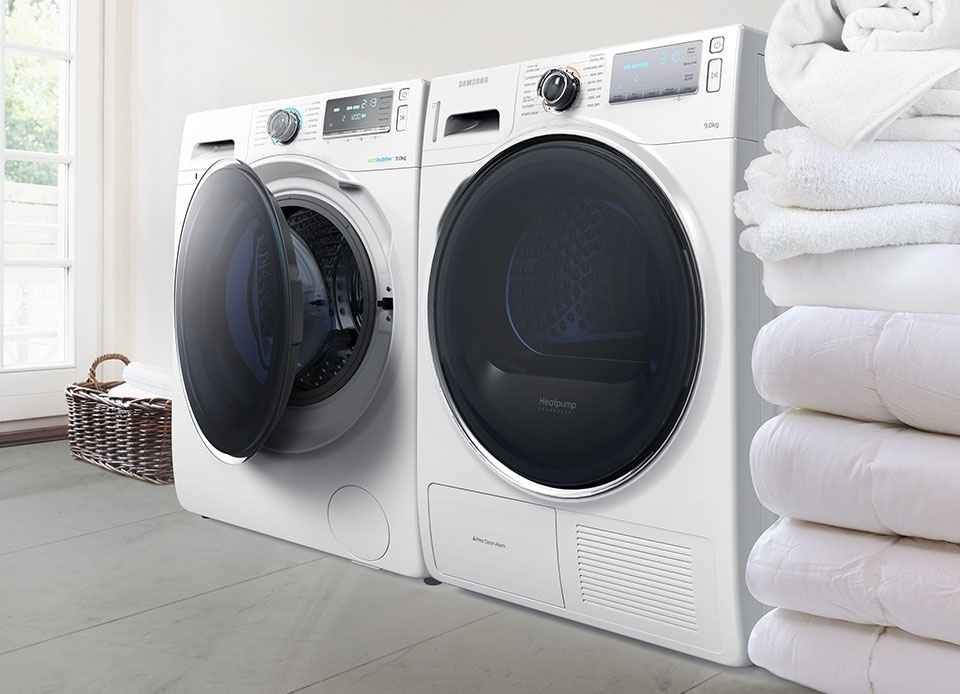 Extra large capacity lets you do more laundry in one load. Reduce your weekly laundry time by drying up to 9kg in one load!
Helpful reminder for filter cleaning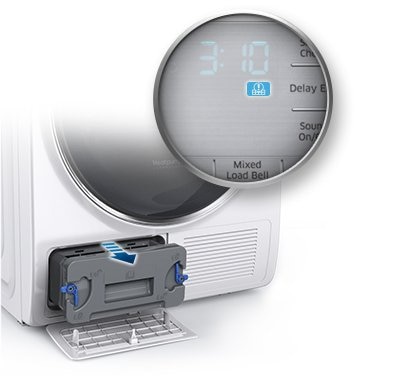 The condenser filter in clothes dryers needs regular cleaning, but it can be easy to forget to do this. The Filter Clean Alarm provides a helpful reminder when it's time, so your dryer can maintain optimal performance. A sensor on the cap will check that the condenser has been cleaned well before resetting the filter alarm counter to zero.
Instant water level check
The Samsung Heatpump Dryer DV8000 features a Water Tank Indicator display to show how much condensed water has been extracted from your clothes. This simple gauge measures the level of water collected in the tank, so you can quickly see if it needs emptying before you start another load – ensuring that the dryer won't stop unexpectedly if the tank gets full.
Easy troubleshooting
The Smart Check automatic error-monitoring system detects and diagnoses problems and provides easy troubleshooting solutions using the Smart Check Smartphone App*. Save time and avoid the cost and inconvenience of unnecessary engineer callouts.

*Wireless network required. Available for iOS and Android devices. iOS is a trademark of Apple Inc registered in the United States and other countries.
9.0 kg

Drying Capacity (kg)

600x850x600 mm

Net Dimension (WxHxD)

52 kg

Net Weight
Rated

1

out of

5
by
S Reynolds
from
Very disappointing
I bought this machine as we have the matching washing machine, which has been excellent. However, this is an awful machine. The sensor just isn't sensitive enough so always ends the cycle with clothes still very damp, regardless of which programme is chosen. The only way to get clothes fully dry is to use the '30 minute cycle' repeatedly and keep checking. I could have bought a much cheaper and more basic machine for this. I feel like I have really wasted my money and am so disappointed, having previously been very impressed with Samsung appliances.
Date published: 2016-07-15
Rated

1

out of

5
by
Ian P
from
Poor Job Samsung
I have had this machine quite a long time, 2 years. It has never reached the expectations I expected from Samsung. Bought it to match the washer, what a bad decision. It doesn't dry even nearly completely, runs sheets into a ball as the reverse tumble action only happens twice. I am trying to sell it on so I can buy another but everyone other than me has too much sense and I cant get a carrot for it. no more Samsung for me, even put me off buying their phone!!
Date published: 2018-02-08
Rated

1

out of

5
by
Muz177
from
A disappointment
Exactly same problems as other reviews - a dryer which does not dry and now getting the HE error code which will mean a support visit and cost. Such an expensive machine is very damaging to the brand when it clearly is not fit for role.
Date published: 2017-12-26
Rated

1

out of

5
by
jbbaehr
from
Poor performance
I bought this machine with high expectations but have been thoroughly disappointed by its performance - only 1 setting seems to actually dry clothes (sometimes). Worse the two stage filter is badly designed - ok so you have to clean the fluff filter regularly - nice and easy to access and expected. However, almost every other drying load I have to prise open the second stage filter and clean that out as well - if it was once a month - maybe not an issue, but once or twice a week its a problem. Even more problematic, my wife isn't technically inclined and she gives up when the secondary filter is full - she just comes complaining to me that the drier is working even worse than normal. Samsung - you need to fix this!
Date published: 2017-10-31
Rated

1

out of

5
by
Stevieweevie
from
If I could give it less I would
I'm a fan of Samsung normally but this dryer is beyond shocking it simply does not dry clothes we bought this dryer after some seeing some rave reviews but they seem to have dissapeared ! I wonder why it leaves all clothes damp and is simply not worth the money we paid for it , it constantly request the filter to be cleaned even after it has just been cleaned
Date published: 2018-03-09
Rated

1

out of

5
by
JacquiS
from
So disappointed
We have had this dryer now for nearly 12 months, it is the worst dryer I have ever owned and the most expensive. So frustrated with drying sheets and other things, they are never fully dry at the end of the cycle. I think the only thing it drys well is towels. Even the time based drying function stops before the time is finished so you can't seem to override the sensor which is not really effective if it is leaving things damp.
Date published: 2018-09-23
Rated

2

out of

5
by
Laundry guru
from
Doesn't dry very well
The drier can go all day and still everything comes out damp. I have tried it all - take some out, add some in, different cycles with the same results every time! To do a load of towels can take up to 6 hours and still not dry. Would not buy again.
Date published: 2018-04-15
Rated

1

out of

5
by
MeNotHim
from
Its going back - I want something that dries clothes, not leaves them damp
As the title says: The tumble dryer just doesnt work. Put it on for 1 hour, (a specific timed setting) it stops after 4-5 minutes. Someone else says that it should be set to dry level 3 on the extra dry setting. That stops after 4-5 minutes, too. The worst item to try and dry is bed linen. I ties stuff up in knots, tells you its dry, (when it blatantly isnt), then wont run for more than 5 minutes before stopping again, (to that annoying tune). We have an engineer coming out - I dont think they can fix this - its just a duff bit of a machine. Shame - because it looks great!
Date published: 2017-09-18
User manual & Downloads
Live Chat
* Key feature may different from Key Spec