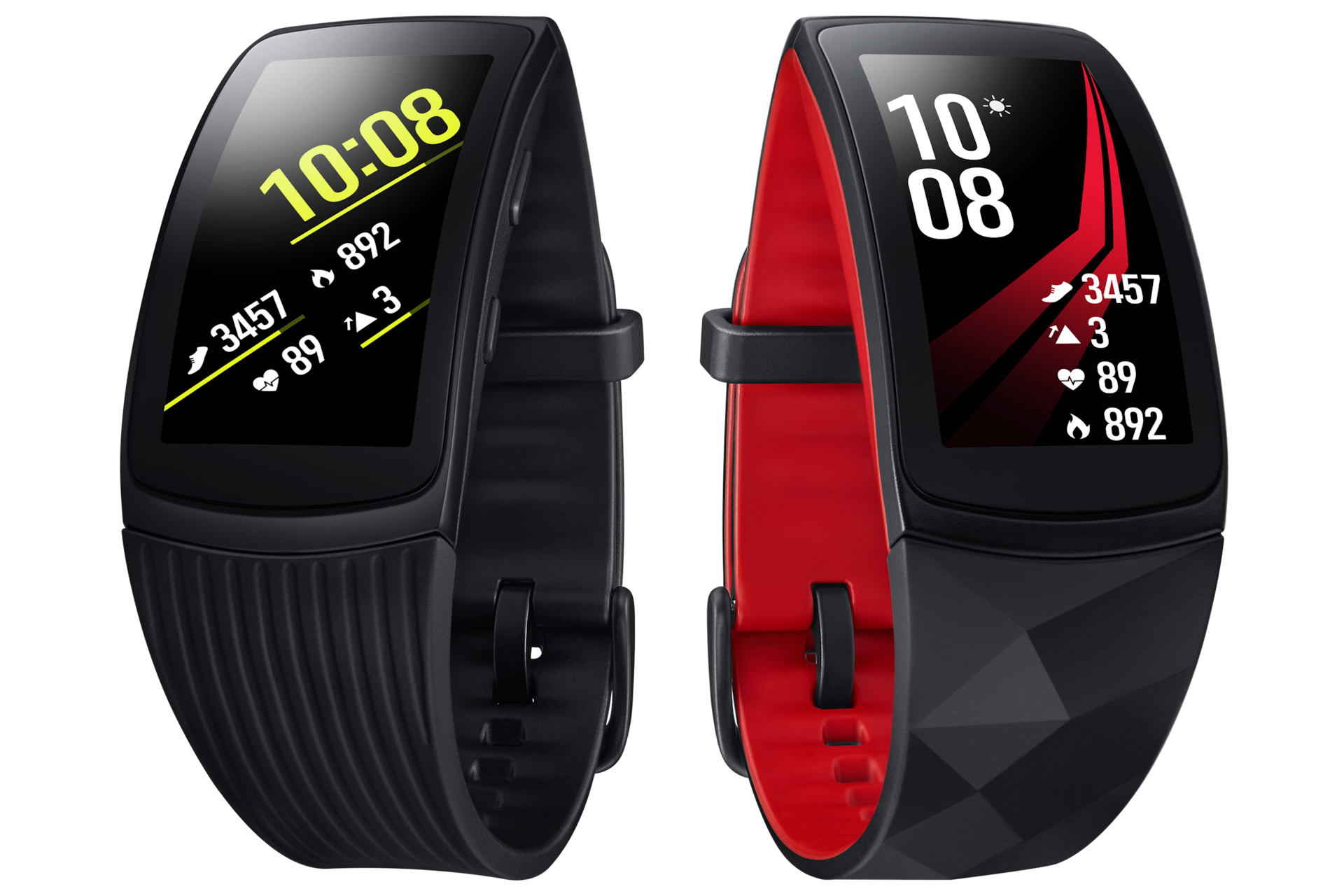 Gear Fit2 Pro (Large)
SM-R365NZKAXNZ
Gear Fit2 Pro (Large)
is rated out of
5
by
178
.
Water Resistant
Bluetooth v4.2
Bluetooth Version
1.5" (38.6 mm)
Size (Main Display) mm
Take the plunge
Now you can go from swimming laps to jumping in the shower. The Gear Fit2 Pro is water resistant up to 5 ATM*. And whether you choose the pool or open water, the Speedo** app developed for Gear Fit2 Pro tracks your stats and presents them in easy-to-read summaries.
*5ATMcertifiedwaterresistancecanwithstandwaterpressureupto50minastaticenvironment.Devicesuitableforswimmingandsnorkellingbutnotfordiving,watersportsorscubadiving.Rinsethoroughlyinfreshwaterafteruseinsaltorchlorinatedwater. **SpeedoAppcomespre-installedonthedevice.***Availability of the Speedo On app for Gear Fit2 Pro varies by country and region. The Speedo app for Gear Fit2 Pro is not available on iOS smartphone.
Motivation in 3 ways
Under Armour RECORD
See your activity, sleep, and workout stats in one dashboard and get insight into your health and fitness levels.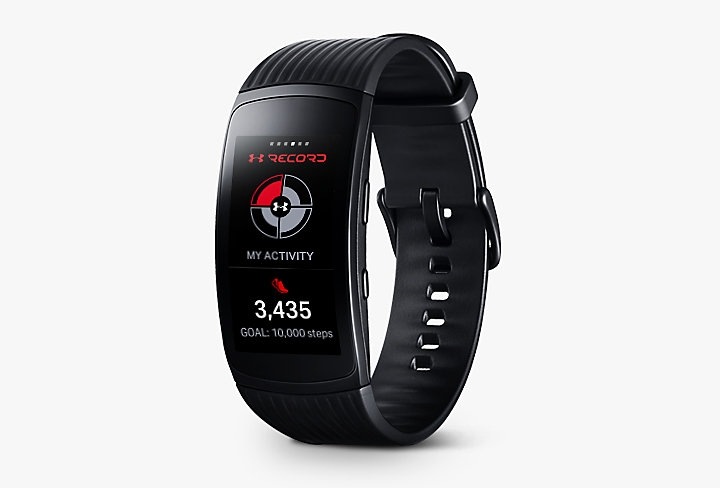 MapMyRun
Plan and track your routes with real-time maps and capture every run, ride, and walk.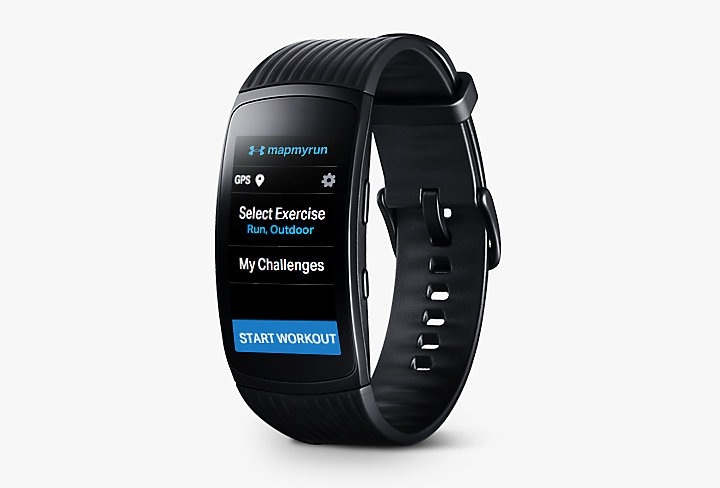 Endomondo
Join a global community of fitness enthusiasts as you reach your running goals with personal training plans.
Make your moves count
Whether they're tennis, basketball, or even dance moves, Gear Fit2 Pro automatically detects and logs the activity. It also measures your heart rate continuously throughout the day, indicating heart rate zones, to help you make better fitness decisions.
Choose your style
Go all black for a sleek, understated look at the gym or at work. Or kick things up a notch with a splash of red. Whichever colour you choose, both styles are made to fit comfortably with a clasp that ensures the Gear Fit2 Pro stays securely on whether it's swim or gym
Get apps and watch faces
With an array of different apps available and watch faces to choose from, including Spotify, you can customise your Gear Fit2 Pro to make it work for you. Go to the Galaxy App store to find the one you need and more.
*Availability of apps for Gear Fit2 Pro may vary by country, region, and OS.
Bluetooth v4.2

Bluetooth Version

1.5" (38.6 mm)

Size (Main Display) mm

4 

ROM Size (GB)

Accelerometer, Barometer, Gyro Sensor, HR Sensor

Sensors

34 g

Weight

200 mAh

Battery
Rated

1

out of

5
by
Matthew_Brady
from
Underwhelming performance, poor durability
Had this for a short while, already had to be shipped back to the manufacturer because it wouldn't charge. Got it back from warranty center and the clasp is so loose that the thing falls off my wrist at the slightest bump. This has resulted in a cracked screen. Overall it could have been a good product if they hadn't cut corners on design and ensured they product tested their goods. Yet another QA failure from this company.
Date published: 2018-08-23
Rated

1

out of

5
by
Jhayhoov
from
Have owned 2 both broke within 8months
I'm so sad over this product. I have owned 2 of these. The first one the strap cracked off and away from the screen 8 months after owning and wearing it like normal, never in water. I got a replacement one thru store warranty and after about the same amount of time the second one broke the same way! Now I'm without a watch and looking to purchase another brand. Sad.
Date published: 2018-12-04
Rated

1

out of

5
by
Poor Tech Sap
from
Watch was Great, until the band fell off.
I bought my watch on 17 August 2018. In early October 2018, I went for a run and my watch started to not work and the band fell off simultaneously. I bought the watch at a prominent retail store and purchased their protection plan, but that was bogus. Now I'm reaching out to Samsung for support. Thank you.
Date published: 2018-11-25
Rated

5

out of

5
by
Stanleyrf
from
Love this!
I had a Microsoft band 2, the band split after 6 months. Microsoft replaced it. The second one split after 6 months. Microsoft would not replace it. The Gear Fit pro 2 is designed better with all of the electronics in the watch part, not the band. Would not matter if the band split, would not require a full replacement. This little baby works great with my Samsung S8, it works great with my wife's iPhone 6. Doesn't really matter what phone you have I don't think other than my wife can not take part in the global exercise thingys but Samsung is working on that. It seems to be very accurate with sleep, which is important to me. I can reply to a text on it without touching my phone. Would for sure buy again!
Date published: 2018-02-14
Rated

5

out of

5
by
JimF03
from
Excellent Products with a few quirks ...
The Gear Fit Pro is a beautifully designed smart band. It has most of the features one would expect in a workout band, but obviously lacks in some areas, like a reminder function ... if you added a calendar, it should have a few more functions than just being able to view it's entries! Also, some more storage space would be nice also! Plus the sensors at times can act wonky and batty, more accurate readings would make this smart band a true gem! Otherwise, this band is worth every penny spent! I highly recommend it!
Date published: 2017-12-25
Rated

5

out of

5
by
RunMSP
from
Great Purchase
The Samsung Gear Fit2 Pro has been a great purchase! I love that it is low profile, comfortable, and stylish. I exercise several times a week and like the fitness tracking and continuous heart rate monitoring better than both the fitbit and the iWatch (Gear Fit2 Pro is more accurate). I LOVE that it has a standalone music player that I can use without my phone! My only complaint is that the clasp is a bit loose, but it hasn't ever fallen off. Overall, I am extremely happy with my Gear Fit2 Pro and would absolutely recommend it!
Date published: 2017-12-01
Rated

1

out of

5
by
Ransonck
from
I realy wanted to love this, but it just does not deliver.
I have now run with it 30 times and on only 1 occasion has it actually kept track. It cannot handle a basic out and back in Forest Park, Portland OR. It tracked correctly for 6 miles to the turnaround yet managed to lose two miles on the return, plain poor algorithms how on earth could I get back to the starting point and it loses 2 miles. Today was even worse I used the Under armour app in the hope it would track better, what a disaster. I was doing a 14 mile training run. First off it claimed my heart rate was at 206 for the whole run, It only tracked 10 of the 14 miles and then to add salt to the wound it shut off completely due to low battery with one mile to go, I started with a fully charged battery. What they don't say is you cannot listen to music and run a half marathon at the same time, it won't last the distance. I really wanted to love this thing great design nice form factor but it just does not deliver on the promise.
Date published: 2018-01-29
Rated

5

out of

5
by
Deebs
from
great features
Gear Fit 2 Pro has bright display, built in speakers, great music player, durable, light weight, GPS tracking, Heart rate tracking, sleep tracking & great step tracking. It easily connects to the gear a[pp on my Galaxy Note 8 phone. Also syncs well with the health app. Gear Fit Pro has a auto pick up for walking which stays on till I stop. Gear Fit Pro picks up any phone notifications including incoming calls and missed calls. Con is Gear Fit Pro only tracks 2 floors per week. No inside steps and few outside tall hills.
Date published: 2017-12-07
User manual & Downloads
Live Chat
All specifications and descriptions provided herein may be different from the actual specifications and descriptions for the product. Samsung reserves the right to make changes to this web page and the product described herein, at anytime, without obligation on Samsung to provide notification of such change. All functionality, features, specifications, GUI and other product information provided in this web page including, but not limited to, the benefits, design, pricing, components, performance, availability, and capabilities of the product are subject to change without notice or obligation. The contents within the screen are simulated images and are for demonstration purposes only.
* Memory size : User memory is less than the total memory due to storage of the operating system and software used to operate the phones features. Actual user memory will vary depending on the mobile phone operator and may change after software upgrades are performed.
* The bandwidths supported by the device may vary depending on the region or service provider.
1 GPS Battery time is based on our own laboratory measurements, and may vary depending on factors such as device settings, usage patterns and operating conditions.