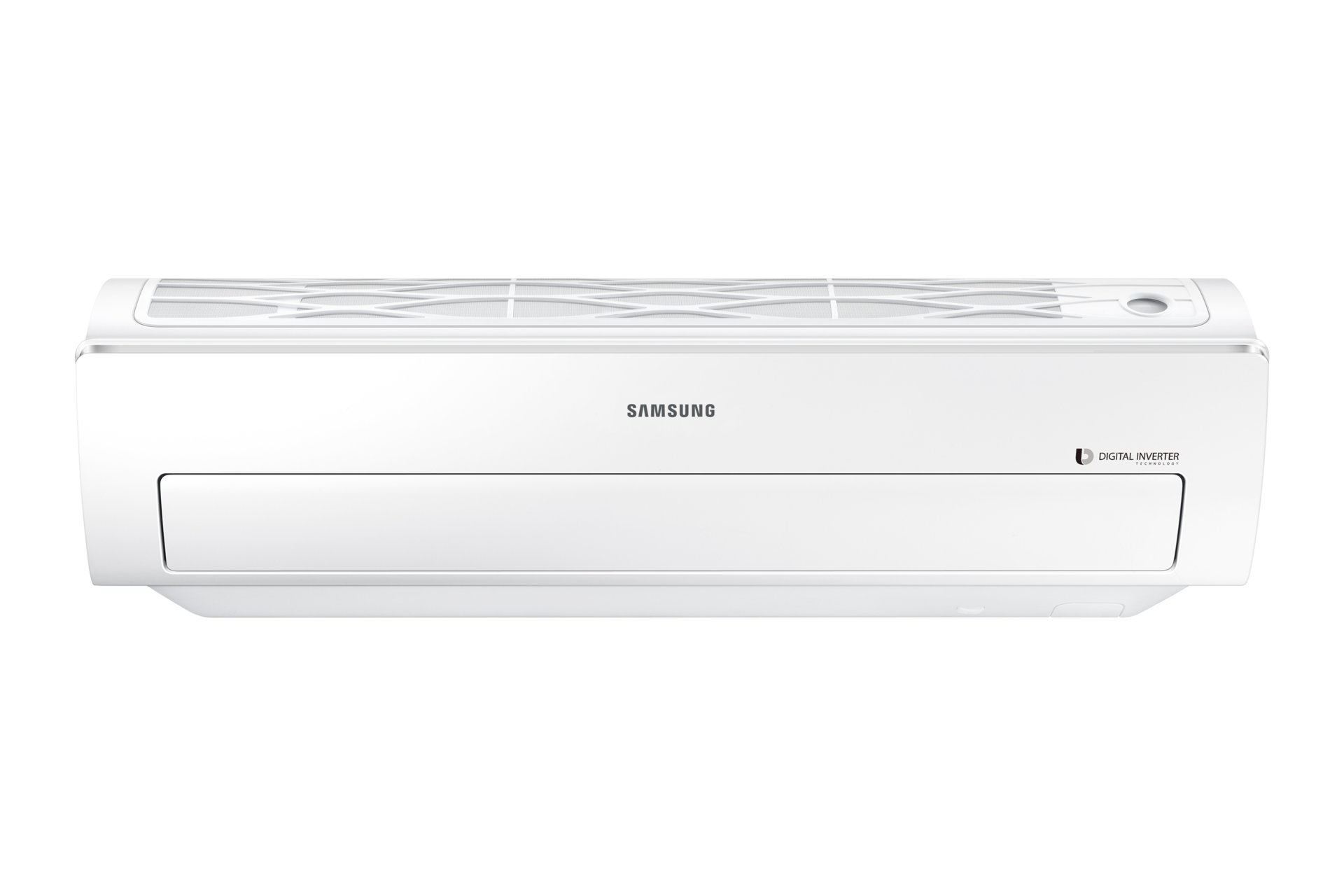 AR12MVFSBWKNTC 1.5 HP all-mount AC with Triangle Design
AR12MVFSBWKNTC
Sorry! This product is no longer available
Triangle Architecture
Easy Filter
8-Pole Inverter
Triple Protect Plus
38% Faster Cooling
An innovative triangle architecture cools the air 38% faster1, so you can quickly feel more comfortable. With a wider inlet and outlet* and more air flow using a bigger fan, its unique shape cools your room rapidly.
1TestedonAR09JSPFAWKcomparedwithSamsungconventionalmodelAR09JQFPAUR.
More air in
The Samsung Air Conditioner has been designed from the ground up to be outstandingly efficient. Its unique triangular design allows for a wider inlet, so more air can be drawn in.
More air flow
The Samsung Air Conditioner has been designed from the ground up to be outstandingly efficient. Its unique triangular design allows for a bigger fan to ensure that air is cooled and expelled faster.2
2TestedonAR09HSFSBWKmodel.ComparedwithSamsungconventionalmodelAQV09TWS.
More air out
The Samsung Air Conditioner has been designed from the ground up to be outstandingly efficient. Its uniquely triangular design allows for an outlet with improved width and angle, and extra v-blades ensure that air is expelled farther and wider. 3
3TestedonAR09HSFSBWKmodel.ComparedwithSamsungconventionalmodelAQV09TWS.
Spreads cool air even further
Cools evenly for corner to corner comfort. Extra v-blades, with a wider4 angle of movement, disperse cool air across a wider area and its upward air flow structure expels air over a longer distance.
4TestedonAR09FSSSBWKcomparedwithSamsungconventionalmodelAQV12TWS.
Works smart. Saves energy.
An energy-efficient Digital Inverter with a SEER 10.1 rating maintains the desired temperature without frequently turning off and on. So it consumes less energy5 and helps you to stay comfortable for long periods.
5TestedonAR09HSSDAWK/EUcomparedwithSamsungconventionalmodelAQ09TSB.
Optimized 2-step cooling
The Samsung Air Conditioner begins cooling the air fast using its Fast Cool mode. It then automatically changes to Comfort Cool mode to maintain the desired temperature, so don't have to keep changing the settings.
Save energy even when alone
Single User mode uses less compressor capacity, reducing power consumption6, while still providing a cool and comfortable environment. So you can use it when alone without worrying about the electricity bill.
6TestedonAR09FSSSCWK/SAcomparedwithSamsungconventionalmodels.BasedontheaccumulatedpowerconsumptionofNormalmodevs.SingleUsermode.
Saves energy – up to 68%*
Digital Inverter 8-Pole
A Digital Inverter 8-Pole consumes only 32% of the energy used by conventional models*. It maintains the desired temperature without frequently turning off and on, so it's much quieter, more durable and efficient.
*TestedonAR09MSPXASINEUcomparedwithSamsungconventionalmodelAQ09TSLXEA
Virus Doctor
Virus Doctor purifies the air by using S-Plasma ion technology to eliminate up to 99% of bacteria and viruses—including the Influenza A and Corona viruses7—keeping the air you breathe clean and healthy.
7BasedonKitasatoEnvironmentalScienceCenter(Japan)&YonseiUniv.(Korea)testresult.Effectiveon4viruser.IncludingSubtypeH1N1.andCertainbacteria.Datahasbeenmeasuredunderspecifictestingconditionsandmaydifferbasedonenvironmentalfactors.
Easy to clean filter
The Easy Filter is located outside, on the top, so it can easily be taken out and cleaned. Its anti-bacterial coating filters dust, dangerous airborne contaminants and allergens8.
8TestedinKoreatestlab(FITI/KEMTI)andJapantestlab(ITEA).Datahasbeenmeasuredunderspecifictestingconditionsandmayvarybasedonenvironmentalfactors.
Fin & Chassis Protector
The AR5500 Air Conditioner can endure extremely hot temperatures, due to a larger condenser and optimized refrigerant flow. It also has anti-corrosion coating that stops the condenser and chassis from rusting.11
11TestonAR09HPSDDWK/SG.ComparedwithSamsungconventionalmodelAR09HPSDFAP/RC
Compressor protector
The AR5500 Air Conditioner keeps going even in the most challenging environments with its Triple Protector Plus technology, which protects the compressor from low-voltage shock caused by an overload of power surges.12
12TestonAR09HPSDDWK/SG.ComparedwithSamsungconventionalmodelAR09HPSDFAP/RC
Controller Protector
Triple Protector Plus also includes technology that protects the controller from high-voltage discharge caused by fluctuating electrical currents13, so you don't need to use a separate voltage stabilizer.
13TestonAR09HPSDDWK/SG.ComparedwithSamsungconventionalmodelAR09HPSDFAP/RC
22179 Btu/hr

Capacity (Cooling, Btu/hr)

6.5 kW

Capacity (Cooling, kW)

2.86 watts/watts

EER (Cooling, W/W)

880*638*310 mm

Net Dimension (Outdoor, WxHxD, ㎜*㎜*㎜)
User manual & Downloads
Live Chat
All specifications and descriptions provided herein may be different from the actual specifications and descriptions for the product. Samsung reserves the right to make changes to this document and the product described herein, at anytime, without obligation on Samsung to provide notification of such change. All functionality, features, specifications, GUI and other product information provided in this document including, but not limited to, the benefits, design, pricing, components, performance, availability, and capabilities of the product are subject to change without notice or obligation. The contents seen on or with the product are oftentimes simulated and are for demonstration purposes only.