CY-TE75ECC/EN
Touch Overlay (For ED Series)
Quick Installation for Advanced Functionality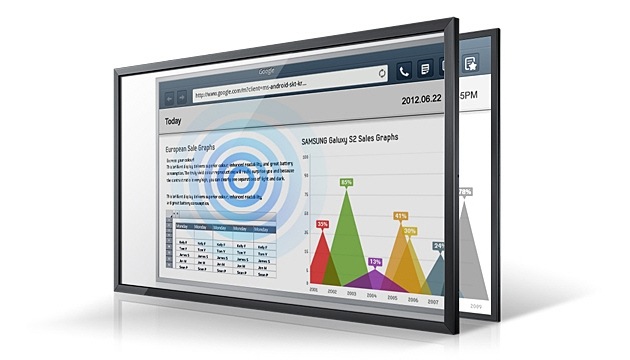 Optimize the Functionality and Longevity of LFDs
In today's unstable economic environment, businesses are constantly looking for ways to "do more with less" and to enhance equipment functionality with as little expenditure as possible. Samsung overlay accessories can upgrade a company's existing LFDs and eliminate the need to purchase new displays.
Transform Existing LFDs into Interactive Touchscreens
The Touchscreen Overlay Accessory converts a standard LFD into a touchscreen LFD for a more interactive viewing experience. A special treatment on the front of the panel provides a realistic writing experience that is similar to writing on a conventional whiteboard.
Add Value to an LFD with Quick Overlay Installation
Samsung overlay accessories offer installation that is designed to be quick and uncomplicated. The installation process enables businesses to upgrade LFDs within minutes, as compared to competitor all-in-one products that require additional steps. Samsung overlay accessories are lighter, slimmer and less expensive than most conventional LFDs that have touchscreen and protective glass features.
Specification
Display

Screen Size

75"

Type

VE Touch Overlay

Mechanical Specification

Dimension

Set Dimension (WxHxD)

1,739.2 x 1,017.2 x 29.6

Package Dimension (WxHxD)

1,890 x 1,136 x 265

Weight

Set Weight

19.5

Package Weight

29.6

glass thickness

3.2

Glass Film

AG (Front), PET (Rear)

Glass Reflection Rate

≤ 10%

Glass Haze

≤ 15%

Frame Material

Aluminum Extrusion

Bezel Width(mm)

37.9 mm

Touch Technology
Number of Simultaneous Touch

1 Drawing + 4 Point Touch

Accessory

Included

Software

Magic IWB 2.0 Basic(e-Board S/W)

Hardware

Pen
Product Information stated herein is meant as a guide for the consumer and may not be accurate at all times. Features, specifications, design, color, and price may be changed without prior notice to the public.

Features and specifications indicated have been verified as accurate at the time when the product was introduced to the market. However, these features and specifications may be updated, modified, or removed as required by local conditions. Such changes may be effected without prior notice to the public.

Certain features may require the collection and use of personal information, and the consumer must explicitly consent to such collection and use of information for said features to function.

Images depicted herein are only meant as an illustrative guide for the consumer regarding the design and use of the product. The actual appearance of the product, in terms of design and color may be different depending on variants available in the local market. Product design and color may also be updated and modified without prior notice to the public.
Certain Samsung Smart TV features may not be available
without express consent to the collection and use of personal information.