Roasted Garlic & Rosemary Focaccia
A staple focaccia recipe built with simple, classic ingredients.
This classic focaccia is simple to make and easy to pair. It features a warm, fluffy, roasted garlic-infused crumb enveloped by a crisp, golden crust seasoned with olive oil, fresh rosemary, and crunchy flakes of sea salt.
Ingredients
· 500g strong white bread flour, plus extra for dusting
· 7g sachet fast-action yeast
· 2 tbsp finely chopped rosemary, plus a few of sprigs
· 3 roasted garlic cloves, chopped or crushed to a paste
· 1 tsp fine sea salt
· 2 tbsp olive oil, plus 3 tbsp and more for greasing
· 300ml warm water
· A pinch sea salt flakes
Nutrition Information of Roasted Garlic & Rosemary Focaccia

| Kcal | Fat | Saturates | Carb | Sugars | Fibres | Protein | Salt |
| --- | --- | --- | --- | --- | --- | --- | --- |
| 200 | 5g | 1g | 32g | 0g | 2g | 5g | 0.5g |
Simple artisan focaccia for any occasion
Step 1. Roast garlic & prep dough
Place a foil wrapped garlic bulb on a baking tray and roast for 25 mins at 175°C Convection until soft, then chop or crush to a paste. Sift flour into a bowl, add yeast, chopped rosemary, garlic, salt, oil and water, and combine into a rough dough with fingertips. Make into a ball, tip onto a lightly floured surface, and knead for 10 mins until smooth and elastic.
Step 2. Allow the dough to rise
Transfer to a clean bowl, cover, and leave to rise for 1-2 hrs until doubled in size. Once doubled in size, knock back in the bowl, then stretch the dough into an oiled 25 x 35cm baking tray or shallow roasting tin. Cover again and leave to rise for 30-40 mins until doubled again in size.

Step 3. Top with oil and rosemary
Fill the oven water reservoir to the max fill line. Heat the oven to 180°C on the Steam Convection function on medium steam. Scatter over the rosemary sprigs and drizzle the remaining 3 tbsp oil over the dough.
Step 4. Dock and scatter salt
Gently dock the dough with your fingertips, leaving small indentations on the surface, then scatter with the coarse sea salt flakes.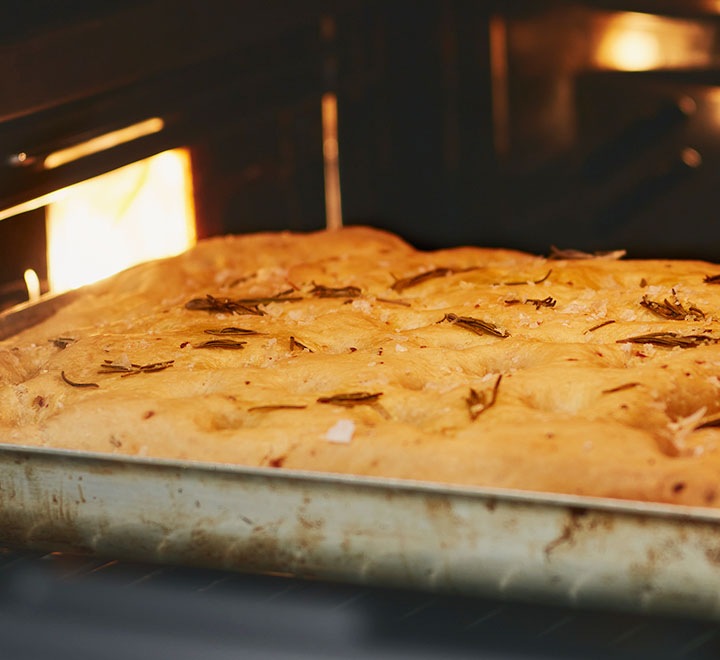 Step 5. Bake until golden
Insert the baking pan or roasting tin into the pre-heated oven and bake for 30-35 mins until the crust is golden and crisp, and the bottom sounds hollow when tapped.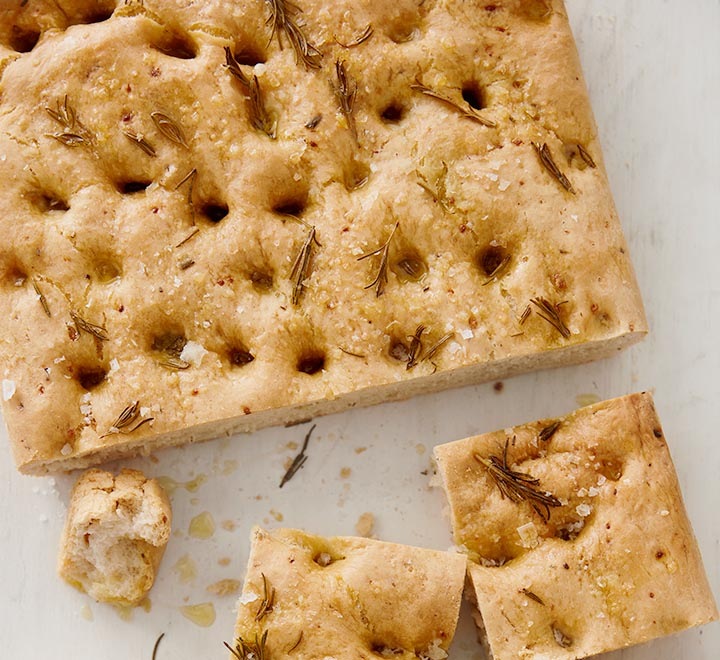 Step 6. Cool, cut, and serve
Leave on a rack to cool before cutting into squares. The versatile flatbread can be served as a snack or appetizer, plain or with added toppings, dipped in sauce or eaten with soup, or made into a sandwich.